115th US Open: Dave Tindall rates the leading players for event, Open Championship and current strokeplay form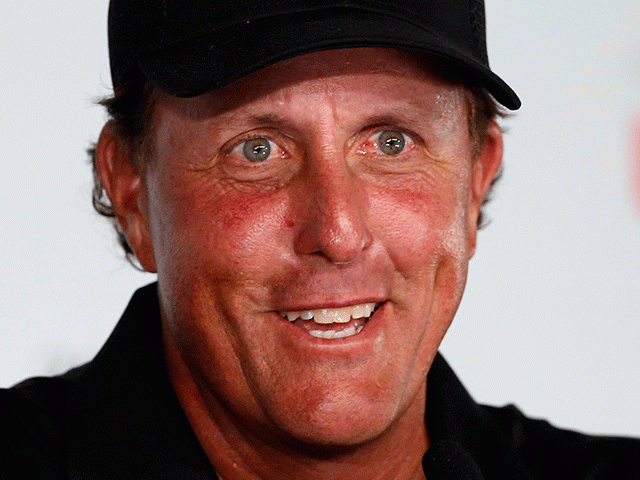 Phil likes what he sees at Chambers Bay
Dave Tindall arms you with the stats that matter for a punt on the Top 5 and Top 10 Finish markets ahead of this week's showdown at Chambers Bay...
"Mickelson is a six-time runner-up in this event, has made the top five in three of his last five strokeplay events and has a win and a second in two of the last four Open Championships. Mickelson certainly believes the latter is a good form guide for Chambers Bay."
Rory McIlroy
Here's Rory on Chambers Bay: "It's really like playing an Open Championship in the United States, apart from the fact that it's about 20 degrees warmer. I really like the golf course. I think it sets up well for my game. You've got to be aggressive off the tee. You've got to hit driver."
The World No.1 added in his press conference that the firm, fast conditions reminded him of Muirfield in 2013 before it was pointed out that he didn't do very well there (MC after shooting 79-75). McIlroy countered with, "I had no control of my golf game at that point in time," although his record shows he's much better in soft conditions (it played that way at Congressional when he romped to victory in the 2011 US Open and rain took the sting out of Hoylake last year). Overall, his combined US Open/Open record is pretty spotty and he's a tempting lay after successive missed cuts (he's won his four majors off finishes of 5-5-14-1). However, he's a mile clear on the All-Around stats this year and that's always a good pointer to US Open success so probably the picture is too muddy to be confident either way.
Last four events: MC-MC-1-8
US Open record: 23-41-MC-1-MC-10
Open record: 1-MC-60-25-3-47-42
Last 50 starts - Win: 16%, Top 5: 36%, Top 10: 56%

Jordan Spieth
It's well documented that Spieth has a slight edge at Chambers Bay given that he's played it several times before and bagman Michael Greller is a member at the course and even got married there. Speaking of the advantage it may give him, the Masters champ said: "I think it's going to help driving the ball, sight lines and understanding when things get firm he's going to know where it would run off to a little better." As for the state of his own game, Spieth revealed: "I'm pleased with the way my ball-striking has come on in the last month. I wish the tournament started two days ago, I'm striking the ball really well."
Spieth also turned up early, playing 18 holes on Saturday and another 18 on Sunday. "I felt like I got two really good solid rounds in. I really enjoy the layout," he said. The World No.2 even likes his tee-time. "I like late-early. I think that's going to be a good wave for me. I was hoping I would get that wave." After a couple of decent goes in this event and the Open Championship and two top 3s in his last three starts, he looks ready to make a big challenge.
Last four events: 3-30-2-MC
US Open record: 17-MC-21
Open record: 36-44
Last 50 starts - Win: 6%, Top 5: 34%, Top 10: 44%

Phil Mickelson
Everything points towards another big US Open challenge for Phil. He's a six-time runner-up in this event, has made the top five in three of his last five strokeplay events and has a win and a second in two of the last four Open Championships. Mickelson certainly believes the latter is a good form guide for Chambers Bay.
"It's really a wonderful golf course. It's playing and set up much like what we're used to at a British Open. And I think this year is going to be very similar to St Andrews. I find them to be very similar golf courses. I feel that it has characteristics of playability similar to Augusta, characteristics of St Andrews that allow you to play and allow you to play it less than perfect. You don't have to hit perfect golf shots here to be able to score and get around it. You can miss shots and reasonably still salvage pars, rely on short game."
One other key angle is that the firm, fast conditions are being likened to Muirfield where Phil won the 2013 Open (he was three shots better than anyone on the weekend when the course was at its most fiery). Mickelson noted the comparison in his press conference, saying: "That gives me much more confidence that I'm going to play well here."
Last four events: 3-65-4-MC
US Open record: 28-2-65-54-3-2-18-MC-2-33-2-55-2-7-16-2
Open record: 23-1-MC-2-48-19-MC-22-60-3
Last 50 starts - Win: 4%, Top 5: 20%, Top 10: 22%

Justin Rose
Noting that USGA course set-up guru Mike Davis said the winner this week is likely to be someone who had played many practice rounds, Rose arrived early at Chambers Bay and did three loops of the course before most players had arrived. He even walked it with course designer Robert Trent Jones Jr, picking his brains as they went. "It's not your traditional U.S. Open course," said Rose. "People are going to love it or hate it and I am going to love it." Trent Jones Jr. said of their walk, "I watched a shot-maker play. He was piecing it together, bit by bit, analysing and breaking down my puzzles."
Rose has the perfect calm, unflappable temperament for US Open golf and that's half the battle so there looks a strong chance he could win this title for the second time in three years. His game is in great shape again after a second place at Memorial last time while he was also runner-up at Augusta. The one nagging negative is that his Open record is poor but it would a surprise if he doesn't contend seriously this week - and I have already put him up as an each-way bet to win the whole thing.
Last four events: 2-38-MC-1
US Open record: 12-1-21-MC-MC-MC-10-MC-5
Open record: 23-MC-MC-44-MC-13-70-12-MC-22-30-MC-4
Last 50 starts - Win: 8%, Top 5: 32%, Top 10: 42%

Rickie Fowler
"Well, it's definitely been a little bit of a different outlook on a U.S. Open golf course, not the typical tight fairways, thick rough, small, firm greens. This is a little bit more like links golf, and it's fun for me. I love playing over in The Open Championship. This is going to be a great week here. I'm looking forward to the challenge."
Fowler didn't arrive until Monday but has played down the idea that you need to have multiple practice rounds to give yourself the best chance. "Sometimes you have to make game-time decisions. You can't always know exactly where you're going to be before the tournament actually happens. So when the gun goes off, that's where it all happens. My game is ready and I really have enjoyed what I've seen on the golf course so far."
Fowler has made the top 10 in his last two US Opens, the top five in two of his last four Open Championship and has finished T19 or better in seven of the last eight majors. Add that to his big win at The Players Championship last month and he deserves his place near the front of the betting.
Last four events: MC-30-1-MC
US Open record: 2-10-41-MC-MC-60
Open record: 2-MC-31-5-14
Last 50 starts - Win: 2%, Top 5: 18%, Top 10: 34%

Dustin Johnson
DJ hasn't been called into the press room at the time of writing but he did put up this tweet on Tuesday after a practice round with Tiger Woods and Jason Day: "Really like #ChambersBay...big fairways and greens with lots of undulation! Big carries off the tees here but tough USGA pins expected." His excellent record in Open Championships bodes well, as does his near-miss at Whistling Straits (likened to Chambers Bay) in the 2010 US PGA Championship. A WD from the St Jude Classic last week due to "illness" shouldn't concern anyone (he was +3 at the time and probably thinking about winning his first major rather than plodding on there) so better to focus on the encouraging form he'd shown in the previous two events. The concern would be that Chambers Bay has too many traps he might fall into, but he's better on tough courses than many think and has had a lot of success at coastal venues (two-time champ at Pebble Beach and also a winner on the wide fairways and huge, undulating greens of Kapalua).
Last four events: 13-8-69-43
US Open record: 4-55-MC-23-8-40-48
Open record: 12-32-9-2-14-MC
Last 50 starts - Win: 4%, Top 5: 22%, Top 10: 36%

Hideki Matsuyama
Matsuyama's rise has been rapid and he's adapted quickly to the rigours of the majors. He made back-to-back Masters cuts as an amateur and has already reeled off three top 10s in eight starts as a pro. That includes a T10 on his US Open debut at Merion in 2013 and a fifth at Augusta this year. He paid an early visit to Chambers Bay in May but saw it in very different weather to what's expected this week so he may have formed a better opinion since. Asked about it at Memorial, he said: "I played one round. It's really, really hard. And it was really cold. And it was rainy, there was hail blowing sideways. It's a tough, tough track."
A sixth in firm, fast conditions at Muirfield in the 2013 Open could be a good pointer and he warmed up nicely with a T5 at Memorial so the Japanese ace could play a prominent part in this week's title battle.
Last four events: 5-20-17-5
US Open record: 35-10
Open record: 39-6
Last 50 starts - Win: 8%, Top 5: 24%, Top 10: 32%

Henrik Stenson
"It's a beautiful venue. It's a golf course that's a bit different from the normal US Opens. We normally don't play links-style golf courses. I enjoyed Pinehurst last year when we played a different set-up compared to the other seven that I played before, which is more of a hack out if you miss the fairway. In Pinehurst, you had a second shot most of the time, and this will be the same."
Stenson had his first look back in April (he was under the weather at the time so chose to walk the course rather than play it) but felt he saw enough to develop a game plan with his caddie. His strong Open Championship record (three top 3s in the last six years) shows his aptitude for links golf. Stenson also adds: "If you're going to do any good around here this week, you've got to be pretty solid from eight feet in, because you're going to have a lot of six, eight, five-footers for par on this golf course, so you've got to hole out well." Interestingly, Stenson is ranked 10th on the PGA Tour this year in putting from 4-8 feet.
Last four events: 13-58-17-19
US Open record: 4-21-23-29-9-MC-MC-26
Open record: 39-2-68-3-13-3-MC-48-34-MC
Last 50 starts - Win: 8%, Top 5: 42%, Top 10: 46%

Bubba Watson
Bubba has done plenty of goofing around on social media at Chambers Bay - "periscope is my new favorite app!" - so we know he's been there early and had a good look. The long, curling putt he sinks when standing with his back to the hole on one of the greens has had over 19,000 likes on Facebook. The long course should suit him while the two-time Masters champ lost a play-off at Whistling Straits which has similar characteristics to Chambers Bay. There are obvious negatives though. In a combined 14 US Open/Open starts, he's missed 50% of his cuts and managed just one finish better than T18.
And where is his current form? He's played just three times since a disappointing T38 at Augusta and has done nothing of note.
Last four events: 42-29-38-3
US Open record: MC-32-MC-63-18-MC-5-MC
Open record: MC-32-23-30-MC-MC
Last 50 starts - Win: 6%, Top 5: 20%, Top 10: 26%

Jim Furyk
Furyk, who didn't play his first 18 holes at Chambers until Tuesday, has a rather different take on the course. He told Golfweek: "It's got the same grass as a links course, but this is a golf course played in the air. You can't stand on the ninth tee and call this a links."
As for his lack of length being a concern, Furyk said: "Unless it's just set up really strange, I don't think it's going to be a necessity to be long. I don't think you are going to see the top 10 players and eight of them be bombers. It's going to be a good mix of players."
One thing worth noting is that 10 of Furyk's last 11 top 10s in majors were actually top fives so that's the market to back him in. When he's good, he's very good. A fifth place at Memorial last time coupled with April's win at Hilton Head will give him plenty of confidence coming in.
Last four events: 5-MC-56-1
US Open record: 12-MC-4-MC-16-33-36-2-2-28
Open record: 4-MC-34-48-MC-34-5-12-4-MC
Last 50 starts - Win: 2%, Top 5: 28%, Top 10: 44%

Conclusion
There may be a temptation to look to lay the big names on a course so alien but the market reflects that uncertainty and offers backers a decent way in.
History says it pays to be aggressive when supporting the top players so I'm going to put up three to back in the Top 5 market. Success for any will produce a handsome profit.
As this column has noted before, Phil Mickelson's good weeks result in top fives rather than top 10s. He's finished T2, T4 and T3 in his last five starts while his last 10 top 10s in majors were all top 5s (two wins, five seconds, a third, a fourth and a fifth). In the US Open, eight of his top 10s were top 5s.
The course looks ideal for Phil and a big challenge is expected.
Rickie Fowler made the top five in all four majors last year (T5, T2, T2, T3) so, like Mickelson, operates at a high level when he's really on his game and doesn't just creep inside the top 10.
Martin Kaymer won last year's US Open just a few weeks after taking the title at Sawgrass so hopefully Fowler can follow suit and use his Players Championship win as a slingshot for further success here.
Henrik Stenson's top five percentage (42%) over his last 50 events is very similar to his top 10 (46%) so, again, it's worth taking the bigger odds.
Like Mickelson and Fowler, he doesn't mess about and limp into the top 10 when he plays well in the big events. Overall, seven of his last nine top 10s in majors were top fives and the last five were T3, 2, 3, T4, T3.

Recommended Bets
Back Phil Mickelson for Top 5 @ 6.25/1
Back Rickie Fowler for Top 5 @ 7.06/1
Back Henrik Stenson for Top 5 @ 8.615/2
Discover the latest articles