US Open 2015: Rose can bloom again at Chambers Bay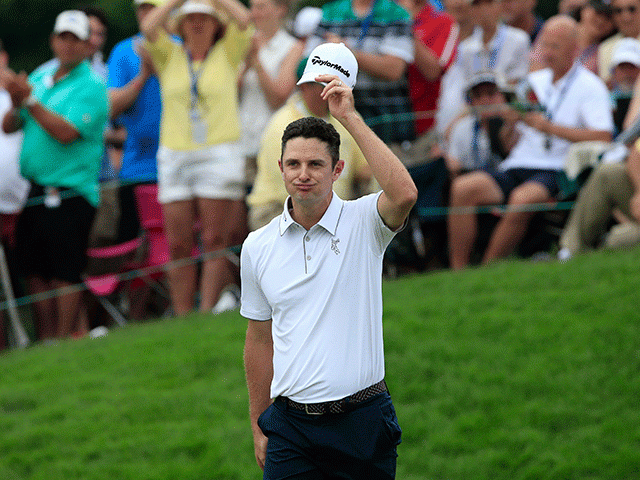 Justin Rose is Dave's selection from the boys at the top of the betting
Dave Tindall brings us his analysis and each-way tips for this week's US Open...
"The top six in the betting look strong but this test of patience and guile looks ideal for Justin Rose and he has the solid all-round game to win his second US Open in three years."

Favourites - best bet: Justin Rose @ 17.016/1

Each-way terms: ¼ odds, 6 places

In my first look at the US Open last week, I noted that the key stat for success in the year's second major is the All-Around ranking (as it sounds, a measure of all aspects of the game: Scoring, Putting, Eagles, Birdies, Sand Saves, Greens In Regulation, Driving Distance and Driving Accuracy).
This tied in with USGA chief executive Mike Davis saying that a U.S. Open should "challenge every aspect of the game". His course set-ups have certainly identified the player with the best all-around game to the extent that the last 10 champions were ranked 1st, 1st, 3rd, 1st, 2nd, 1st, 1st, 8th, 3rd and 3rd in that category during the week of their wins. That plays out to an average ranking of just 2.3.
Of course, this is all well and good if we're looking back and seeing who did what well.
But, the key question for punters is this: could we predict that those 10 winners were going to show up strongly on the All-Around stats?
Thankfully, the answer is 'yes'. After crunching the numbers and looking at long, short and medium term patterns, a very obvious trend emerged and it's this: six of the last eight US Open winners ranked in the top 10 for All-Around performance on their previous start.
They were Kaymer (1st BMW PGA), Rose (8th Memorial), McIlroy (4th Memorial), McDowell (2nd Wales Open), Woods (7th Masters) and Cabrera (6th BMW PGA).
So, the logical next move is to pick out the players in this week's field at Chambers Bay who were ranked in the top 10 for All-Around on their latest starts.
Thankfully, the list is fairly short: Jordan Spieth, Andy Sullivan, Justin Rose, Adam Scott, Hideki Matsuyama, Jimmy Walker, Byeong-Hun An, Marc Leishman, Kevin Kisner, Danny Willett, Tony Finau, Francesco Molinari, Kevin Chappell, Tom Hoge.
If the All-Around ranking trend plays out again at Chambers Bay, there's a 75% chance that the winner will come from the above group!

Favourites - best bet: Justin Rose @ 17.016/1
The top six in the betting look strong but this test of patience and guile looks ideal for Justin Rose and he has the solid all-round game to win his second US Open in three years.
Looking at All-Around performance, he ranked second in that category at The Masters (finished runner-up) and also second at Bay Hill. As for the latest measure of it, in his last two events he's also been in the top 10, ranking 9th in the All-Around at Wentworth and 8th at Memorial.
Davis says playing plenty of practice rounds is a must on a course that needs a lot of learning so the fact that Rose arrived late last week is a big plus.
He also made the shrewd move of walking the course with designer Robert Trent Jones Jr. Rose is diligent and has been putting in the hours.
In an interview with The Guardian over the weekend, Rose said: "It's a good test of golf and it's one that takes a lot of attention and learning; there's nothing by accident out here.
"Every slope has been thought about; every reaction to a good shot and a bad shot has been calculated. If you wrongly use a slope and you get unlucky, or what you think is unlucky, it's really not unlucky. There is a way to play the golf course.
"I'm trying to figure out a game plan, get comfortable off the tee and with the approach shots, which ridges to use and which to avoid. There are pin placements that deserve a lot of respect and others where you can make some birdies. I think it's going to be what I'd say is a real U.S. Open."
Eight of the last 20 US Opens have been won in par or over par so Rose loves a true test having triumphed with one-over at Merion.
After a sticky start to the year, he now has a win and two second places in his last five strokeplay events and that includes a second place at Memorial on his latest start.
Tiger Woods, Retief Goosen, Ernie Els, Payne Stewart and Lee Janzen have all lifted the US Open trophy twice in the last 25 years and Rose, who has three top 10s to his name in this event, can join that list.

Mid-range - best bet: Adam Scott @ 34.033/1
This is a toss-up between Hideki Matsuyama, Adam Scott and Jimmy Walker.
Scott's putting is a concern but that's not really the name of the game this week on huge, undulating greens which will level out the playing field.
In any case, Scott might have a leg up in that department. After much persuasion, 'supercaddy' Steve Williams is back on Scott's bag for the year's final three majors and the Kiwi's ability to read greens (a skill that helped Scott win the Masters) will be just one of several boosts.
If Chambers Bay really does play like a "British links" - the words of Phil Mickelson and many others - then Scott's superb Open record must be a huge plus. He's made the top five in each of the last three years (Lytham, Muirfield and Hoylake) and relishes the test of imagination and shot-making skills.
Chambers Bay has also been likened to Whistling Straits so no harm that Scott finished T9 there (his second best major finish at the time) in 2004.
True, he hasn't been setting the world alight this year but he's coming in under the radar and the Williams factor shouldn't be underestimated. The duo were early arrivals at the course so have put in the necessary prep and let's remind ourselves that 2013 Masters winner Scott has finished outside the top 15 just twice in the last 14 majors.
At Colonial last month, he said: "The game's good, balancing out nicely and I think it's nearly there. I feel this year I've really gotten the least out of my game."
This could be the week where it all comes together again.

Long-shot - best bet: Marc Leishman @ 101.0100/1
Tony Finau at 200/1 could be worth a look but Leishman's extra guile and experience gets him the nod.
For starters, he's already posted two recent top fives in the majors - the first when T4 at the 2013 Masters and the second when T5 in last year's Open Championship at Hoylake. A 12th in the 2013 US PGA Championship was a decent knock too.
Secondly, the Aussie finished 1st in the All-Around ranking in a classy field at Memorial on his latest start so all parts of his game are clicking at the perfect time for another title challenge in a major.
That helped him finish T5 at Jack's place and built upon a couple of decent finishes at The Players Championship (T24) and the Crowne Plaza (T27) so he looks to be peaking.
Interviewed at Memorial, he said: "You know, feeling good. Earlier in the year I was feeling good, but the results were pretty terrible, so it's nice to be feeling good and feel like the game's in a good place and actually getting a few decent results. Still haven't had any awesome results, but hopefully I'll change that in the next couple of weeks."
While others gripe about this week's course, Leishman has perspective after his wife, Audrey, suffered a rare ailment called Toxic shock syndrome and was told she had a 5% chance of living. That was in April and Leishman gave this update at Memorial: "She's on the road to recovery. Obviously there for a while it wasn't so good. But that really just makes you appreciate your health and just being out here and playing golf, playing the game you love. So it's just good to be back out and enjoying my golf."
Leishman's worst stat is Driving Accuracy (181st) so that would explain why he's done well on courses with a bit of width (Augusta National, Muirfield Village). The wide-open fairways at Chambers Bay will be ideal for him.
He's also 1st in Putting from 10 to 15 feet so should be able to hole a few on these vast greens.

Other US Open 2015 Betting Articles from the betting.betfair Golf team:
Jordan Spieth's caddy can be his secret weapon says Ralph Ellis
The oldies can strike back at Chambers Bay argues Paul Krishnamurty
Paul Krishnamurty also chips in on in-play betting at the 2015 US Open
A comprehensive US Open Preview from golf writer Dave Tindall
Romilly Evans has some worries about Rory McIlroy and weather
The fourth man of the b.b. editorial team Mike Norman looks at the early US Open Market Movers
Our weekly each-way tipsters make their US Open 2015 each-way tips
Paul Krishmamurty looks at the 100/1+ options on the Betfair Exchange
Look at how the big names are doing on the Betfair Exchange

New Customer Offer:
Enjoy £30 in Free Bets when you sign-up and bet £10 on the US Open. To enjoy this offer then please click on this link (New Customers only)
Dave's 2015 P/L (based on £5 e/w per selection)
Staked: £600
Returned: £262.50
P/L: -£337.50
(Includes last week's St Jude)
Discover the latest articles