US Open Betting: Why this could be the major where the oldies strike back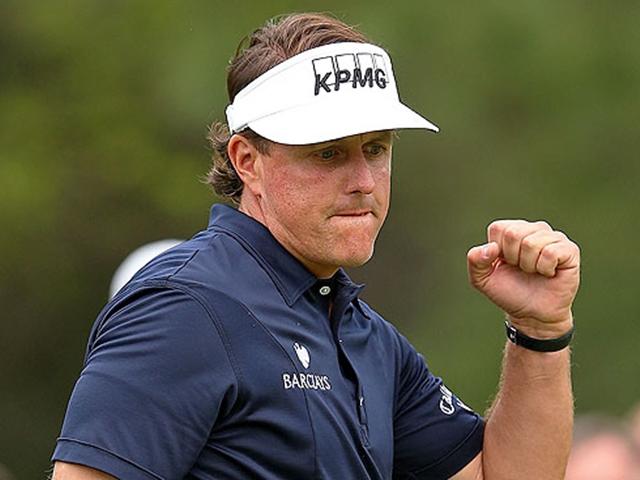 Is this the year Phil finally breaks his US Open hoodoo?
Only one of the last 47 majors played in the USA has gone to a player over the age of 40, but Paul Krishnamurty argues that the unique conditions at this year's US Open mean the oldies will never get a better chance...
"By finishing runner-up in the last two majors, 45 year-old Phil proved that a player of his age can still win majors."
In light of 22-year-old Jordan Spieth's remarkable win at the Masters and seemingly unstoppable rise, it is increasingly difficult to dispute the saying that golf is now a young man's game. There are undoubtedly more brilliant youngsters around, breaking through ever earlier.
Of course the flipside of that argument is that there's no unavoidable physical impediment to older players keeping their form, and the likes of Miguel Angel Jimenez and Fred Couples prove one can remain highly competitive even beyond the age of 50. Nevertheless, the stats in majors tend to bear the wider trend out. Since Payne Stewart won the US Open in 1999, Vijay Singh is the only player over the age of 40 to win a US major, at the 2004 USPGA.
Interestingly though, the numbers are completely different in the UK, at the Open Championship. Three of the last four champions - Phil Mickelson, Ernie Els and Darren Clarke - were in their forties when lifting the Claret Jug. Tom Watson and Greg Norman both challenged seriously for the Open when well past 50.
The key difference is the nature of the majors in question. Links golf is different in so many ways from the US norm, and experience of it is invaluable. Keeping the ball in play, patience, understanding the vagaries of the wind and having the full array of shots are the keys to mastering the links challenge. Even brilliant youngsters brought up on links, such as Rory McIlroy, can lack consistency in these conditions.
For once, we have a US Open that will be more like an Open Championship. As Joe Dyer points out in his analysis of the best Open performers, studying this form could be the keys to cracking this year's US Open code. So here's a look at the best of the older brigade and their prospects for Chambers Bay.

Phil Mickelson
Odds: 29.028/1
By finishing runner-up in the last two majors, 45 year-old Phil proved that a player of his age can still win majors. Not so long ago, I would have immediately written him off for this, though, because a young Mickelson was incapable of showing his best in links conditions.
The fact that he eventually mastered them, finishing runner-up in the 2011 Open then completing the Scottish Open/Open double in 2013, perfectly demonstrate the point that links courses reward experience. He's been runner-up in the US Open six times and must rate a big candidate to win the one major to elude him. The emphasis on short-game excellence at Chambers Bay will suit him down to the ground.


Jim Furyk
Odds: 42.041/1
Besides perennial runner-up Phil, the one man who deserves another US Open title is Furyk. Since winning this major in 2003, he's been runner-up twice and led on the 71st tee in 2012.
Now 45, Furyk has defied the ageing process better than anyone. He's a winner this season at The Heritage and landed yet another place at The Memorial. That win at Harbour Town Links further demonstrated his credentials for seaside golf and he landed his fifth top-five place in the Open last summer. A rock-solid contender.

Lee Westwood
Odds: 90.089/1
At 42 and struggling to recapture his best form on any sort of consistent basis, it increasingly looks like a major title will elude Westwood after numerous near misses. Nevertheless, he has a superb majors record and at 90.089/1, is at bigger odds than we've seen in at least a decade. Many always felt the US Open was Lee's best chance, but he's actually fared better in the Open and he really should have at least reached a play-off in 2010.

Ernie Els
Odds: 200.0199/1
As a dual champion of both this major and the Open Championship, nobody in this field has better long-term pedigree than Els. The best links player of his generation will love this set-up, especially if the wind blows.
The problem, of course, is that Ernie is undoubtedly in decline and has shown very little this season. However, that is reflected by odds of 200.0199/1, (he'd have been about 10.09/1 at his peak), and the Big Easy remains capable of the odd great week. Indeed he's contended on three of the last five US Open Sundays, despite starting each time as an outsider.

Angel Cabrera
Odds: 300.0299/1
The 2007 champion is another whose recent form suggests his best days are gone but Cabrera has always been an inconsistent type, albeit with enough class to win two majors. Indeed, he's come closer than any fortysomething to breaking that US majors drought when losing the Masters play-off two years ago. If finding the spark, he has all the credentials to master Chambers Bay - length off the tee, good wind form and above all, superb scrambling skills.
Other US Open 2015 Betting Articles from the betting.betfair Golf team:
The Punter's full 2015 US Open Betting Preview
Jordan Spieth's caddy can be his secret weapon says Ralph Ellis
Paul Krishnamurty also chips in on in-play betting at the 2015 US Open
A comprehensive US Open Preview from golf writer Dave Tindall
Romilly Evans has some worries about Rory McIlroy and weather
The fourth man of the b.b. editorial team Mike Norman looks at the early US Open Market Movers
Our weekly each-way tipsters make their US Open 2015 each-way tips
Paul Krishmamurty looks at the 100/1+ options on the Betfair Exchange
Look at how the big names are doing on the Betfair Exchange
Dave Tindall brings his historical data to the fore as he makes his US Open 2015 picks
New Customer Offer:
Enjoy £30 in Free Bets when you sign-up and bet £10 on the US Open. To enjoy this offer then please click on this link (New Customers only)
Discover the latest articles