US Open In-Play Guide: Trading tips for Chambers Bay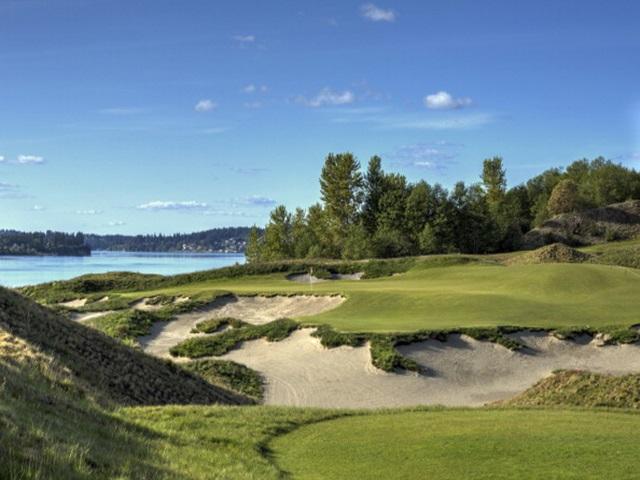 The par-three 3rd hole is typically exposed to the wind
Golf betting doesn't get more exciting than in-running at a major and this year's US Open venue looks made for drama. Paul Krishnamurty provides a series of clues to watch out for and betting angles to exploit once the tournament gets underway...

"The nature of those final four holes mean we could see plenty of late drama in the outright market, with a three or four shot swing perfectly realistic."
Keep a constant watch on the weather, wind direction and daily hole averages
The first and most basic rule for betting on a links course is to watch the weather, particularly the wind speed. If you can correctly predict the period when the wind is at it's strongest, there's a huge betting angle in following players out at the easiest time, and opposing those suffering the worst of it.
Wind will also have a profound influence on the playability of each hole. There are seven long par-fours every day, which depending on the direction and speed, could be short, birdie opportunities or impossibly long.
In addition to that daily uncertainty, the Chambers Bay course card will change significantly during the tournament. The 1st and 18th are to be played as par-fours and par-fives on alternate days. Equally, there are numerous options to move tees and radically alter holes. In some cases, the difference after all these factors could be in excess of 150 yards.

Note where the best birdie opportunities and tough stretches of holes lie
The way to stay ahead of those gamechangers and capitalise on their market effects is to monitor the hole averages as each round develops, identifying the holes where players are likely to be moving forwards or backwards.
From a broad overview, Chambers Bay runs like this. The 1st could be the easiest hole on the course during the two rounds it plays as a par-five, but one of the toughest as a par-four. In the first scenario, this is an ideal time to be backing players, because the next two holes are two of the better birdie opportunities. Some will doubtless birdie the first three.
Next, we should be looking to lay back as holes 4-7 are, in course manager Matt Allen's words, 'the heart of the course'. All are par-fours over 480 yards, with the 7th tipped to be the hardest on the course. Get through this quartet in par or one over and you should be moving forward, with birdie opportunities looming.
This is a good time to start backing again as the only really tough hole in the next five is the long par-four 11th, and any loss there should be compensated on either the par-five 8th or driveable par-four 12th. After that, though, two long par-fours await so it may be best to lay back.
All the par-threes on this course offer potential two-shot swings, potential birdies but a likely bogey for anything even slightly off target. The 15th could prove the most dramatic, as it's fully exposed to the prevailing wind and it's length will vary from a mere 167 yards to a brutal 246.
16 could prove a decisive, risk-reward, swing hole. Wind depending, it could be driveable but this is the smallest green on the course. At 218 yards into the wind, the 17th looks the toughest of the par-threes. Finally, just like the 1st, the 18th could be an eagle opportunity on it's two days as a par-five or a great par-four.

Back high, lay low in-running in expectation of a volatile leaderboard and dramatic swings in the betting
The nature of those final four holes mean we could see plenty of late drama in the outright market, with a three or four shot swing perfectly realistic. Links courses are generally great for producing volatile, fast-changing leaderboards, as we've seen in various Open Championships. Likewise, the US course often compared is Whistling Straits, which produced two of the most dramatic major finishes when hosting the 2004 and 2010 USPGAs.

Unless it's very windy, expect a lower winning total than most US Opens
Another key in-play betting angle involves trying to predict what will constitutes a good end-of-round position. For example if an early starter finishes on -3, how many will pass him and by how many shots. Back or lay ahead of the market developments and it is possible to close your position out at even half or double the odds, before he's even hit a ball the next day.
When asked to name the winning score, Matt Allen hedged his bets saying "Most players would say if you give me even par right now I'd forgo hitting a tee shot, and a couple of occasions elsewhere, one guy really got hot, and that's OK. Somebody shoots -9 or -10 here, good on them."
The fact he even mentioned those last two scores, outlandish by historical US Open standards, is a clue. Chambers Bay is certainly a tough course, but there are good scores to be made. The fairways are wide, running fast and the rough doesn't look too penal. Without strong winds, the main defence is the undulating greens, which will bamboozle many but won't be enough to defy to great approach shots.
The winning total in the last four majors has vastly bettered pre-tournament expectations and this could be another. -10 is well within range, so I'll be looking at the winning score and lowest round markets. After day one, anything under par is in contention.
Other US Open 2015 Betting Articles from the betting.betfair Golf team:
The Punter's full 2015 US Open Betting Preview
Jordan Spieth's caddy can be his secret weapon says Ralph Ellis
The oldies can strike back at Chambers Bay argues Paul Krishnamurty
A comprehensive US Open Preview from golf writer Dave Tindall
Romilly Evans has some worries about Rory McIlroy and weather
The fourth man of the b.b. editorial team Mike Norman looks at the early US Open Market Movers
New Customer Offer:
Enjoy £30 in Free Bets when you sign-up and bet £10 on the US Open. To enjoy this offer then please click on this link (New Customers only)
Discover the latest articles