US Open 2015: Don't stop believing, Phil can find that winning feeling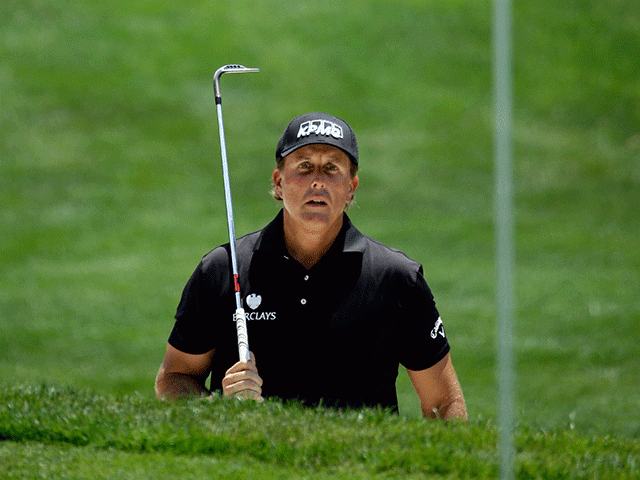 If imagination around the greens is going to be key then this man must have a very big shout
Romilly Evans assesses Phil Mickelson's chances of finally completing a famous Career Slam at the US Open, where he's endured six previous second places
"Six runner-up spots have left Phil with a severe case of the bridesmaid blues, a condition so rare it can only be treated with USGA silverware"
Cinderella doesn't always get to go to the ball. Invariably, the clock strikes midnight, the fantasy fades, pumpkins prevail and gritty reality steals back into the mix. Leaving you exposed to the winds of fickle fate and two overbearing older siblings. Your moment may never come.
Fairytales can accordingly raise a child's hopes for a collision with the future in which no fairygodmother is around to ensure their wish fulfilment. Praise be, then, for Phil Mickelson, who has single-handedly proved that dreams do come true at the major balls, even when his early body of his work pointed to perennial frustration.
Now the proud owner of five major championships at the ripe old age of 44, only one final frontier remains for Mickelson the cross: the US Open. Victory at this year's second showpiece will finally complete the last leg in a career Grand Slam, and unequivocally install Lefty in the Hall of Fame as one of the all-time greats.
Phil, of course, has had more than his fair share of heartache at his native Open. Six runner-up spots have left him with a severe case of the bridesmaid blues, a condition so rare it can only be treated with USGA silverware. Most have given up on him beating the odds now, but Mickelson has made a habit of proving the doubters wrong in golf's four tentpole events.
After all, belated victory after a succession of near-misses has always been the trend for this fan favourite. And his US Open history could soon look like a microcosm of his broader major CV: initially thwarted but ultimately triumphant.
Indeed, Mickelson only shook the monkey off his back nine during his early thirties, far removed from the promises of multiple majors which had greeted his gleaming collegiate career. Despite being continually fried in the vortex of competition, though, Mickelson never wavered. Instead, he repeatedly returned to the battlefield looking for a fight. All the while knowing that the media's sword of Damocles hung by a thread over his head, waiting to cut him down for another close shave.
When you have 10 second places (only Jack Nicklaus has more) and seven third-place finishes at the game's high-table events, it's not easy to stave off the demons. Eventually, though, they finally got to Lefty at the 2002 Players ("the fifth major") after he had backed up an opening 64 with a second-round 75 in trademark unpredictable fashion.
You couldn't have predicted his reaction either: "Listen, it's my dream to play aggressive golf," he stated.
"I may never win a major playing that way, but I believe if I'm patient, I will. If I change the way I play, I won't enjoy the game as much, and I won't play to the level I've been playing. So I won't ever change. Not tomorrow, Sunday or at Augusta, even the U.S. Open."
The lesser-known "I Have A Dream" speech, perhaps. But Mickelson had a point. And within two years he'd finally made it, birdying five of the last seven holes of Augusta National to slip on the Green Jacket for the first time.
Time, it appears, does wait for Big Phil. And he'll be hoping to cash that final ticket this month at Chambers Bay. The venue itself would provide a fitting location for Mickelson to complete the grandest of slams. Little is known of the course, but much expected since USGA director, Mike Davis, caused a storm by questioning whether anyone could win in this corner of Tacoma without repeated visits before the action begins.
Lefty has already heeded Davis' advice, stopping off for an extensive sparring session with this Washington brute last week. He took short-game guru, Dave Peltz, along for back-up as well. And their recce more closely resembled an archaeological dig than a day-trip, so meticulously did they unpack the greens and unique run-off areas (spending 30 minutes on the opening hole, and nearly four hours on the front nine).
Phil's assessment? Well, with tongue firmly in cheek, that Chambers Bay is a "very interesting course." Although when pressed, he expanded that this track is as close to a British links layout as it gets Stateside, while its myriad tee-boxes afford the organisers "huge versatility in set-up".
What is for certain, however, is that Chambers Bay places a premium on creativity and imagination, the cornerstones of Mickelson's game. And while the extensive reconnaissance mission alone is not enough to recommend his current price of 26.025/1 to back, it does tell you that he's leaving no stone unturned in a tournament where more than half the field will simply talk themselves out of contention.
Mickelson, second in the last two majors, will just keep on believing. Five majors and 37 more PGA Tour wins have taught him to maintain faith through disappointment of every colour. Which ensures that even in US Open week, he'll only see a chance to succeed, rather than another opportunity to fail.
This attitude separates Mickelson from the rest in a scarring game. He has long since separated himself from them in terms of domestic popularity. So in the week of Father's Day and his own 45th solar cycle, don't bet against Lefty delivering one more emotional Hallmark Moment with his family on the 18th green to a gallery rendition of "Happy Birthday To Phil".
It would seem too much to hope for. But with this Cinderfella, hope dies last.
Discover the latest articles