US Open 2015: Best bets for Moving Day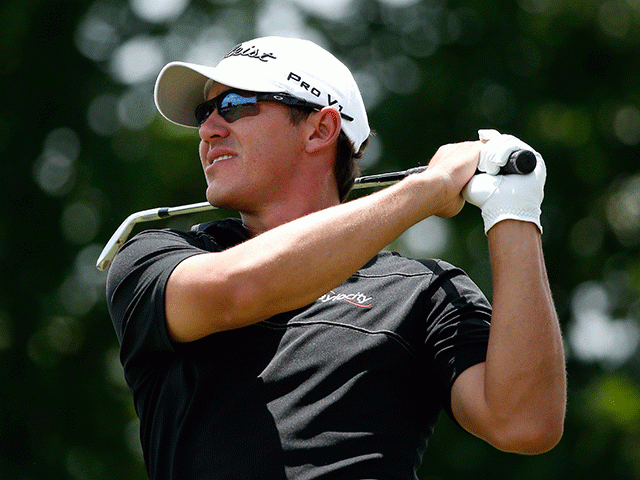 Brooks Koepka's power offers a significant advantage in today's match-up
We've reached halfway at the US Open and Jordan Spieth remains on course to land the second leg of the Grand Slam. Paul Krishnamurty updates the state of play and recommends six bets in the finishing positions and 2-ball markets...
"Bigger hitters are undoubtably enjoying a significant advantage at Chambers Bay and that may explain why Furyk is, for once, struggling in a US Open. He's at a huge disadvantage off the tee compared to top prospect Koepka."

Back Brooks Koepka to beat Jim Furyk @ 2.47/5
The last six majors were all won by the halfway leader and, after yet another scintillating performance to assume pole position, Masters champion Jordan Spieth is a red-hot favourite to keep that run, plus his Grand Slam bid, alive.
After the way he pulverised the rest at Augusta, it looks pretty ominous for the rest. His current -5 tally will almost certainly be a winning one if maintained and he just doesn't seem to hit poor rounds. There's plenty of class in the chasing pack - most notably Dustin Johnson and Patrick Reed from just a shot behind - but their task is considerable.
Nevertheless, two broader trends offer hope for those prepared to take on the favourite. First, this sequence of front-runners is not really in keeping with the history of golf. If it was always like this, fewer of us would watch, let alone bet in-running. Rather, we are used to topsy-turvy, dramatic weekends where the leaderboard and betting fluctuates.
Second, the evidence from the first two days play is that this course gets harder in the evening, significantly so in the last couple of hours of play. Only ten shots separate first and last and there have been a few very good scores. There is definitely an opportunity for an early starter to shoot 66, get under par, then watch almost everyone else come back to them.
Indeed, scoring looks like following the usual US Open trajectory. There are 16 players currently under par and that is expected to drop to no more than a handful at the end. Anyone sitting on level par or better after round three will be in contention.
So far as finding an alternative to Spieth is concerned, the list is long and hard to separate. I'm quietly confident that Find Me a 100 Winner pick Branden Grace will hang around, but yesterday's three picks left plenty to be desired. If Jason Day isn't feeling any effects of his shocking collapse from vertigo on the final hole yesterday, he's a frontline candidate, but it's hard to feel confident now.
My plan for Moving Day, therefore, is to focus on other markets, while hoping Spieth lets my runners in. First, the Top 20 Finish market could offer a significant angle. US Open weekends on drying, firm, fast courses are brutal. Some will run up huge scores, most will find it extremely gruelling. 73 will be a good score.
This is absolutely perfect for Ernie Els. Nobody has played these conditions better in the past 20 years, enabling him to win four majors and build a huge portfolio of high finishes. Even as his career has slipped into terminal decline, Ernie's last three US Open weekends yielded an average round of 71, well above the average. At +2, he's not out of the tournament yet and 3.814/5 about another top-20 looks a steal.
Another former US Open champion well poised is Geoff Ogilvy. These conditions - firm, fast, minimal wind - are his forte and it's notable he's never hit 80 over the weekend in this major. At +1, he's well within range of a top-ten finish, currently a 8.515/2 chance.

Recommended bets (see also Betfair Sportsbook fixed odds)
Back Ernie Els for a Top-20 Finish 6u @ 3.814/5
Back Geoff Ogilvy for a Top-10 Finish 2u @ 8.515/2

2-Balls
Back Morgan Hoffman to beat Sergio Garcia @ 3.02/1 (Starts 16.25)
As always in this and other tough majors, the name of the game at this stage is finding vulnerable favourites, especially if they're prone to losing interest. Sergio Garcia, who complained about the greens after round one, then struggled in round two before sneaking in on the cutline, is exactly such a candidate. His opponent Hoffman is no mug either, earning good finishes in strong tournaments and boasting a fair weekend record.

Back Brooks Koepka to beat Jim Furyk 4u @ 2.47/5 (Starts 17.42)
Bigger hitters are undoubtably enjoying a significant advantage at Chambers Bay and that may explain why Furyk is, for once, struggling in a US Open. He's at a huge disadvantage off the tee compared to top prospect Koepka, and that could be exacerbated over the weekend as greens become impossible to hold.

Back Tommy Fleetwood to beat Louis Oosthuizen 3u @ 2.47/5 (Starts 19.32)
Trying to predict injury-prone Oosthuizen is never easy, as illustrated by this week's rounds of 77 and 66. Obviously yesterday's efforts suggest he's not playing in desperate pain but the former Open champion is hardly the type to be backing as favourite. Moreover, Fleetwood is fancied for a good finish. He's been in good form, catching the eye as an improver, and was raised playing links golf. He won't mind this firm, fast test.

Back Alexander Levy to beat Henrik Stenson 3u @ 3.211/5 (Starts 21.33)
This bet is as all about the odds. Obviously Stenson starts favourite, but he's just endured a very tough round that saw him slip from the lead to four shots back and he's not got a great weekend record in this major. US Open debutant Levy is in-form, enjoying the course as a big-hitter and has a better chance of winning this 18-hole bet than the odds imply.
Discover the latest articles