US Open 2015: The best way to profit on golf's biggest names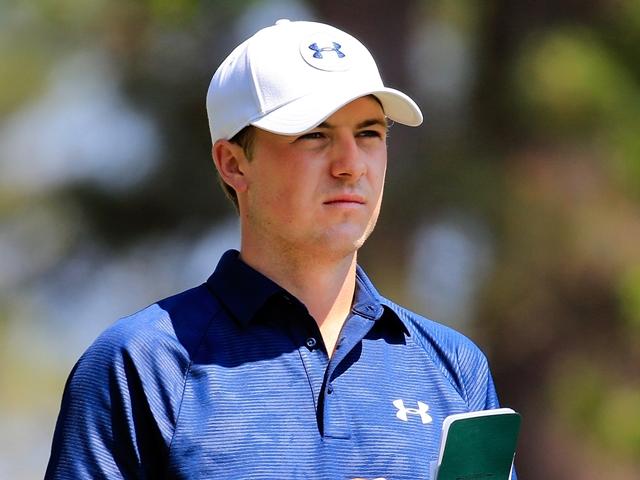 Golf's rising star Jordan Spieth has everything in his favour to contend at Chambers Bay
Making a profit at this week's US Open isn't purely down to finding the winner, in fact there are a plethora of ways to boost the betting bank. Mike Norman is keen to back five of the world's most famous golfers in markets that offer a very good chance of punting success...

"Mickelson is very likely to contend throughout the week, and for that reason our wager will be to play him in the Top 10 Finish market for which is available to back at a generous 2.77/4 at the time of writing."

Tiger Woods
Odds to Win US Open: 80.079/1

Age: 39
Major Wins: 14
European/PGA Tour Wins: 87
US Open Form: 4-DNP-21-32-DNP
Current Form: MC-WD-17-69-71

Tiger is undoubtedly still the biggest name in golf, one of the biggest names in any sport in fact, and he'll continue to be so for as long as he plays. Unfortunately, it's the way that he is playing that is making all the headlines at the moment.
For Woods, 2015 has been nothing short of a golfing disaster. He has made just five starts, missing the cut in Phoenix, withdrawing from the Farmers Insurance Open, and finishing way down the field in both the Players Championship and Memorial Tournament. The shining light was a tie for 17th at the US Masters, but at this stage we have to take that bright piece of form as an exception rather than the norm.
Woods arrives at Chambers Bay on the back of a last place finish at Muirfield Village thanks to a third round 85, his worst 18-hole score as a professional. The wide fairways will help his wayward driving this week, but his short game and clutch putting is in such a poor state that it's impossible to see him getting anywhere near a leaderboard.
The Bet - Back No @ 1.865/6 in Woods To Make The Cut market




Phil Mickelson
Odds to Win US Open: 20.019/1

Age: 45
Major Wins: 5
European/PGA Tour Wins: 45
US Open Form: 4-54-65-2-28
Current Form: 2-MC-4-65-3

Tiger's rival to being the biggest name in golf has been Phil Mickelson for the best part of 15 years now, but when it comes down to the most popular player in the game there's undoubtedly no-one to rival Lefty - a gentleman both on and off the course and a wonderful ambassador for the game.
There won't be a golf fan in the world who would begrudge Mickelson a US Open, the only Major championship that he is yet to win. He's come close many times before with no less than six runner-up finishes to his name, and with Chambers Bay set to play like a British links venue that will require tremendous skill around the greens, this is possibly Lefty's last big chance of winning his home Open.
Mickelson is very likely to contend throughout the week, and for that reason our wager will be to play him in the Top 10 Finish market for which he is available to back at a generous 2.77/4 at the time of writing.
The Bet - Back Mickelson @ 2.77/4 in Top 10 Finish market




Rory McIlroy
Odds to Win US Open: 9.417/2


Age: 26
Major Wins: 4
European/PGA Tour Wins: 16
US Open Form: MC-1-MC-41-23
Current Form: 1-8-1-MC-MC

When Tiger and Phil are no longer able to compete at the highest level - some will say that stage has already been reached for the former - the title of being the biggest name in the world of golf could well be fought out by current world numbers one and two, Rory McIlroy and Jordan Spieth.
For now we just rate Rory the bigger name but our opinions could well change come Sunday evening if the Northern Irishman struggles for a third consecutive tournament. Not for the first time Rory was blown away at a windy links venue last time where his touch around the greens was extremely poor. That's the hope we're clinging on to this week.
Although the weather forecast doesn't look too bad at this stage it wouldn't be the biggest surprise in the world should the winds blow a bit stronger than expected, and with the Chambers Bay greens set to bamboozle most players, not least those who don't have the greatest temperament and patience - as some would describe Rory - we're happy to lay McIlroy at odds-on in the Top 20 Finish market.
The Bet - Lay McIlroy @ around 1.654/6 in Top 20 Finish market




Jordan Spieth
Odds to Win US Open: 10.09/1


Age: 21
Major Wins: 1
European/PGA Tour Wins: 3
US Open Form: DNP-DNP-21-MC-17
Current Form: 17-MC-2-30-3

Jordan Spieth's rise to the very top of the golfing world isn't yet complete, but at the age of just 21 he has plenty of time on his hands. He has just McIlroy to pass in the world rankings and he is already being described as the next Mickelson in terms of being the all-American hero.
Spieth is already a Major winner of course having led from start to finish to win this year's US Masters, and his overall form continues to be incredibly consistent - as six top-two finishes since March and a third place finish at the Memorial last time testifies.
He has a lot going for him this week too, not least his caddie Michael Greller having tremendous knowledge of Chambers Bay. So how do we play Spieth? He is very likely to contend and a wager in the Winner market wasn't dismissed lightly, but we just prefer the safer option of a Top 5 Finish at odds of 3.55/2.
The Bet - Back Spieth @ 3.55/2 in Top 5 Finish market




Sergio Garcia
Odds to Win US Open: 42.041/1


Age: 35
Major Wins: 0
European/PGA Tour Wins: 19
US Open Form: 22-7-38-45-35
Current Form: 17-34-2-22-MC

Sergio Garcia hasn't quite lived up to the expectations that were heaped upon him as a youngster but 19 combined wins on the European and PGA Tours isn't a bad return for one of the most popular players in the game.
In fact the only thing missing from Sergio's CV is a Major championship, and like Mickelson, few would begrudge him a victory this week after so many near misses in the biggest tournaments in the world, including eight top-10 finishes in the Open Championship this century.
And it's that Open Championship connection that gives Garcia a tremendous chance this week. Chambers Bay has a British links feel to it, and there are very few players in the field better than the Spaniard at this unique test of golf. The worry is that Garcia's putter can hold him back, but if he has a decent week with the short stick then he should have few problems recording a high-ranking finish.
The Bet - Back Garcia @ 2.68/5 in Top 20 Finish market
Other US Open 2015 Betting Articles from the betting.betfair Golf team:
Jordan Spieth's caddy can be his secret weapon says Ralph Ellis
The oldies can strike back at Chambers Bay argues Paul Krishnamurty
Paul Krishnamurty also chips in on in-play betting at the 2015 US Open
A comprehensive US Open Preview from golf writer Dave Tindall
Romilly Evans has some worries about Rory McIlroy and weather
The fourth man of the b.b. editorial team Mike Norman looks at the early US Open Market Movers
Our weekly each-way tipsters make their US Open 2015 each-way tips
Paul Krishmamurty looks at the 100/1+ options on the Betfair Exchange
Dave Tindall brings his historical data to the fore as he makes his US Open 2015 picks
New Customer Offer:
Enjoy £30 in Free Bets when you sign-up and bet £10 on the US Open. To enjoy this offer then please click on this link (New Customers only)

Discover the latest articles