US Open 2015: The Punter's preview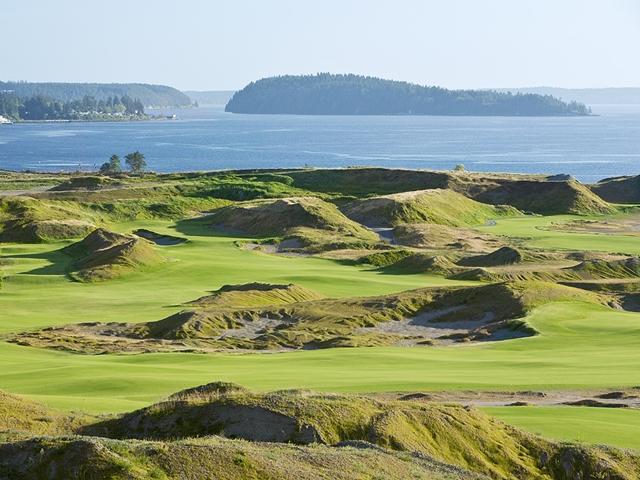 Chambers Bay is set to produce the ultimate golfing examination
Steve takes a comprehensive look at the 2015 US Open - including tournament history, what it will take to win the world's toughest event on the much talked about Chambers Bay course, all the major trends, in-play trading tactics, the main contenders, and of course, his fancies for the year's second major. Read his in-depth preview here...

"I can't really see why Jordan Spieth is quite as big as he is. On current form I'd have him favourite over Rory McIlroy and I couldn't resist him at 11.010/1. With an old head on young shoulders and ably assisted by Greller, I can see him plotting his way to his second major, soon after his first."
Tournament History
Run by the United States Golf Association (USGA), the US Open is the year's second golf major. England's Horace Rawlins won the inaugural event in 1895 and this will be the 115th edition of the Championship.

Venue
Chambers Bay, University Place, Washington

Course Details
Par 70, 7,874 yards
As recently as the 1980s, if you'd have stood and looked over the piece of land where this year's US Open will be staged - an old sand and gravel quarry - the chances are you'd have seen off-roaders playing with their bikes or four-by-fours. That's how new Chambers Bay is.
Designed by Robert Trent Jones Jr and opened in 2007, Chambers Bay hosted the 2010 Amateur Championship - won by Peter Uihlein - and a number of changes were made after the event.
The course is described as resembling a British links with very wide fairways and fescue grass throughout, including on the large undulating greens.
Given its out-of-the-way location, very few have played the course with any sort of regularity and some of those who have - have criticised it. Ryan Palmer said, "As far as the greens are concerned, it's not a complete championship golf course. Put a quarter in the machine and go for a ride!"
And Ian Poulter caused plenty of controversy by tweeting. "Well several players have played Chambers Bay in prep for US Open. The reports back are it's a complete farce. I guess someone has to win."
It obviously won't be a farce and those two are probably beat before they even start but it is hard to assess before the off. Paul Krishnamurty has produced this excellent guide to assist us and this piece with lots of quotes from those who played in the 2010 Amateur Championship is well worth a read too.
There are a number of videos that give a great feel for the course but the two I found most useful were this one with the USGA's agronomist, Larry Gilhuly, talking about the course and the changes that they felt were essential, and this video here showing the highlights of the 2010 Amateur Championship. It basically looks like an Open Championship course after a hot dry summer.
There are a few other quirky differences to what the players normally encounter this week too. Some of the tee boxes will be uneven and holes 1 and 18 will change par throughout the week - alternately playing as par 4s or 5s to keep the par at 70.

Useful Sites
Event Site
Course Site
Course Tour
Tee Times
Weather Forecast
You can read my US Open in-play Betting blog behind the link
TV Coverage
Live on Sky Sports all four days, starting at 17:00 on Thursday.

Last Ten Winners
2014 - Martin Kaymer -9
2013 - Justin Rose +1
2012 - Webb Simpson +1
2011 - Rory McIlroy -16
2010 - Graeme McDowell Even 
2009 - Lucas Glover -4
2008 - Tiger Woods -1 (playoff)
2007 - Angel Cabrera +5
2006 - Geoff Ogilvy +5
2005 - Michael Campbell Even

What Will it Take to Win The US Open?
The big misconception that gets rolled out every year about this major is that you need accurate straight hitters. As Dave Tindall highlights in this superb piece, power off the tee has been of far more use than accuracy of late and given how wide the fairways are, and how long the course is, big-hitters look like they should hold a considerable advantage again this year.
Brooks Koepka, who played in the 2010 Amateur Championship, was asked what he thought to Chambers Bay after his first round at the FedEx St. Jude Classic on Thursday and he was pretty convinced that the power hitters will hold sway. "It's perfect for bombers, I think it's great. Fairways are 60 yards wide sometimes, close to 100 yards wide it feels like, so if you're a bomber and hit over 300 yards I think it's paradise for you." The fairways are indeed generous and the one on the 13th hole actually measures a staggering 104 yards wide.
Dave comprehensively covers which stats we should be looking at if history is anything to go by and I agree wholeheartedly with his assessment but the more I've looked at the course, the more I've been convinced that the key stat is going to be Scrambling again.
Martin Kaymer ranked number one for Scrambling 12 months ago and I wouldn't be in the least bit surprised if this year's winner tops the Scrambling stats as well as the leaderboard again this time around.
Given the size of the greens, the ability to putt from long distance is going to be key so two other stats I think are well worth browsing are 3-Putt Avoidance and Approach Putt Performance.

Is There an Angle In?
This is going to play more like an Open Championship than a US Open so look to the best links exponents to shine. Joe Dyer's piece here looking at the top-20 players, by average Open score, is essential reading and it wouldn't be a big surprise if the winner were to be listed there.
In addition to Open Championship form, check out the 2010 USPGA Championship from Whistling Straights. Although Pete Dye designed, as opposed to Trent Jones Jr, it's a similar man-made links-style course and I've read on numerous occasions that the two courses correlate quite nicely.
How the event pans out will depend an awful lot on the weather and on how hard the wind blows in particular. When I checked the forecast as recently as yesterday, the only day that the forecast suggested wind would be a significant factor was Friday but in the space of 24 hours that forecast has changed completely.
When I looked yesterday, the forecast suggested that those playing early on Thursday and late on Friday may just get the worst of the wind on Friday afternoon but that doesn't seem to be the case anymore. A late start on Thursday could still be beneficial though given it's a course so few have played. Watching the early TV coverage before setting out and seeing what is a good score, may be of benefit.

Is There an Identikit Winner?
Americans have won only three of the last 11 renewals and on this track it could easily be three from 12 come Sunday. Europeans and maybe Brits in particular, may well take to this venue better than the majority of the home contingency. Many British players grow up playing lots of links golf and they may feel more at home here than the Americans.

In-Play Tactics
If past US Open history is anything to go by, you can just about get away with a slow start but you need to be right on the premises after two rounds. Since 1996, five winners have overcome a six or seven shot deficit after round one but only one of the last 19 winners has been any further than two adrift at halfway - Webb Simpson in 2012.
It's not easy to make ground up at an Open Championship either so it makes sense to concentrate on the leaders from very early on here, although the third round leader may be vulnerable.
Unless you're an in-form Tiger Woods or you're already miles clear, converting a third round lead hasn't been easy of late. Kaymer cruised to victory from five clear 12 months ago and Rory was fully eight shots clear in 2011 but the only other third round leader, or co-leader, to get the job done in the last 10 years is Tiger and even he needed a playoff to get the better of Rocco Mediate.

Market Leaders
World number one, Rory McIlroy, arrives at Chambers Bay on the back of two missed cuts and had the forecast been awful I'd have happily put a line straight through him at a single-figure price but it's never that simple. Rory is notoriously inconsistent so he could very easily bounce back to form and the fact that he doesn't look like encountering too much wind, suggests he'll love the test.
We saw in no uncertain terms how well he plays links golf when the elements aren't too challenging at last year's Open Championship at Hoylake and he could very easily take to Chambers Bay like a duck to water but I'm a bit concerned that until Saturday, he hadn't even seen the place so I'm happy to leave him out of my plans before the off.
The same can't be said of the world number two and reigning US Masters Champ though, who appears to have far more positives than negatives.
Jordan Spieth smashed the stats as well as the field when winning at Augusta at such a tender age in April so I'm certainly not concerned he's too young but there are a couple of slight niggles. He hasn't done much in two Open Championships (44th on debut in 2013 and 36th last year) and he only ranks 67th on the PGA Tour's Driving Distance stats but that's all that puts me off.
He ranks inside the top-10 for ALL the other stats worthy of close inspection - Scrambling, 3-Putt Avoidance, Approach Putt Performance and All-Round Ranking. He arrives here on the back of a great third place at the Memorial Tournament, where he ranked 1st for Scrambling and 13th for Putting Average, and, as Ralph Ellis details here his caddy, Michael Greller, knows Chambers Bay intimately.
And the cherry on the top could be the draw - Jordan tees-off in the afternoon on Thursday alongside Jason Day and third favourite, Justin Rose.
Having finished just behind Spieth at Augusta, Rose finished just in front of him last time out in the Memorial Tournament but he'll be disappointed not to have won there. He led by three with a round to go but was far from convincing on Sunday and ended up losing a playoff to David Lingmerth. I'm sure he'll shrug that disappointment off readily enough but there are enough negatives for me to leave him out.
Although he's won a Scottish Open on a links course, his Open Championship form is poor. He finished 4th as an amateur way back in 1998 but since then he's missed five of 12 cuts and never made the top-ten. He languishes all the way down in 155th for Scrambling on the PGA Tour this season and he often hinders his chances by starting far too slowly. And if he does start well, as he showed last time out, he can be vulnerable in front. At the prices, others are preferred.
Dustin Johnson withdrew from the FedEx St. Jude Classic last week due to illness but assuming he's recovered, he has a fantastic chance to win his first major - something he looked liked doing years ago.
He was desperately unlucky with a ruling at Whistling Straights in the 2010 USPGA Championship after he'd thrown away the 2010 US Open at Pebble Beach, having led by three with a round to go, and he was second to Darren Clarke in the 2011 Open Championship, after blasting his approach shot out of bounds at the par 5 14th, just when he looked like swooping. His major record cooled somewhat after that but he appears to be building nicely now having already won a WGC event this season and having finished 6th at Augusta.
Johnson is a great fit statistically, he's a great links exponent and he should love Chambers Bay but will he come unstuck somewhere along the line? He has a nasty habit of doing something daft at just the wrong time and that's enough to put me off.
Rickie Fowler came back from the dead to snatch victory at the Players Championship recently but he disappointed in Ireland three weeks later and missed the cut at the Memorial Tournament last time out so he'll need to bounce back here if he's going to contend.
Fowler famously finished inside the top-five at all four majors last year, is a fabulous links player and is another player many thought would have won a major before now. Had the forecast been really poor, he'd have been very high up on my list as he's a fabulous poor weather performer but given how mild the forecast is, and how seldom Rickie gets his head in front, he doesn't look a great price.

Selections
I can't really see why Jordan Spieth is quite as big as he is. On current form I'd have him favourite over Rory McIlroy and I couldn't resist him at 11.010/1. With an old head on young shoulders and ably assisted by Greller, I can see him plotting his way to his second major, soon after his first.
I took 30.029/1 about Phil Mickelson on Thursday and he's also my each-way selection. Here is what I've written about Lefty's chances.
After just edging out Mickelson at Pinehurst in the 1999 US Open, at the age of 42 and just months before his tragic death, an emotional Payne Stewart told Lefty "You'll win yours, you'll win yours." Well, Mickelson turns 45 on Tuesday so age is most definitely against him completing the career grand-slam now but as Paul Krishnamurty quite rightly points out here, this venue should suit the more experienced players and it may just offer up Lefty his last big chance of proving Stewart right.
Since that first runner-up finish, the popular left-hander has finished second another five times, as well as third in 2010. He's a US Open specialist extraordinaire with all the right skills for Chambers Bay and given that he now targets the majors with meticulous preparation and that he's finished runner-up in each of the last two, any price around 26.025/1 represents superb value.
South Africans have a rich major championship tradition and 27-year-old Branden Grace, already a six-time winner on the European Tour, looks a good fit here to add to that history. Grace is long off the tee, a brilliant links exponent, and a terrific scrambler, and I can see this place fitting his game perfectly.

Selections:
Jordan Spieth @ 11.010/1
Phil Mickelson @ 30.029/1
Branden Grace @ 180.0179/1

*You can follow me on Twitter @SteveThePunter
Other US Open 2015 Betting Articles from the betting.betfair Golf team:
Jordan Spieth's caddy can be his secret weapon says Ralph Ellis
The oldies can strike back at Chambers Bay argues Paul Krishnamurty
Paul Krishnamurty also chips in on in-play betting at the 2015 US Open
A comprehensive US Open Preview from golf writer Dave Tindall
Romilly Evans has some worries about Rory McIlroy and weather
The fourth man of the b.b. editorial team Mike Norman looks at the early US Open Market Movers
Our weekly each-way tipsters make their US Open 2015 each-way tips
Paul Krishmamurty looks at the 100/1+ options on the Betfair Exchange
Look at how the big names are doing on the Betfair Exchange
Dave Tindall brings his historical data to the fore as he makes his US Open 2015 picks
New Customer Offer:
Enjoy £30 in Free Bets when you sign-up and bet £10 on the US Open. To enjoy this offer then please click on this link (New Customers only)
Discover the latest articles