US Masters Market Movers: Lefty and Sergio proving popular with punters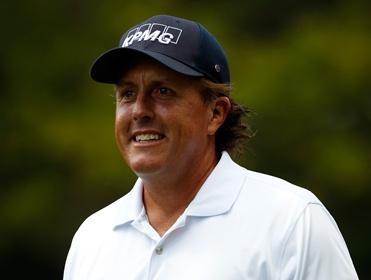 Mickelson has been well backed to win another US Masters
With 24 hours to go before the first Major of the season gets underway, Mike Norman tells us who is hot, and who is not, in Betfair's US Masters Winner market...
"Despite his recent injury concerns Mickelson has shown in the last two events in Texas that his short game is at the level that's required for this week's test..."

It's been an unusual start to the 2014 golf season with some unfamiliar names winning on both the European and PGA Tours, while some of the game's star attractions have been less than successful as they build up to this week's US Masters.
And with Tiger Woods not even making it to the first tee on Thursday at Augusta, recent injury concerns surrounding Phil Mickelson and Jason Day, and both Adam Scott and Rory McIlroy already blowing golden opportunities to win tour events in 2014, then the general consensus is that this week's battle to don the Green Jacket is set to be one of the most open contests in many years.
But that hasn't stopped the Betfair backers and layers putting their money where their mouth is, and virtually all of the leading contenders have seen some significant market moves in the run up to this year's first Major of the season.
The market moves listed below are from the end of last week up until Wednesday morning, but the named players' highs and lows since the market opened are also noted;

Rory McIlroy - 9.5 out to 13.5
(high of 23.0, low of 6.8)
Phil Mickelson - 19.5 in to 16.015/1
(high of 25.0, low of 13.0)
Sergio Garcia - 30.0 in to 23.022/1
(high of 70.0, low of 23.0)
Dustin Johnson - 23.0 out to 29.028/1
(high of 48.0, low of 18.5)
Henrik Stenson - 26.0 out to 34.033/1
(high of 75.0, low of 17.0)
Lee Westwood - 75.0 in to 50.049/1
(high of 85.0, low of 22.0)
Gary Woodland - 130.0 in to 75.074/1
(high of 280.0, low of 70.0)
Fred Couples - 260.0 in to 170.0169/1
(high of 370.0, low of 48.0)

Not surprisingly the likes of Mickelson, Lee Westwood, and loveable veteran Fred Couples have come in for support in recent days. All three are Augusta specialists and arguably the biggest weapon you can have on your side when the tournament commences on Thursday is course experience.
Despite his recent injury concerns Mickelson has shown in the last two events in Texas that his short game is at the level that's required for this week's test, and both he and Westwood recorded eye-catching top-20 finishes at the weekend that have undoubtedly contributed to their market support.
Sergio Garcia was third at the Shell Houston Open in Texas, and combined with his extremely consistent form over the last six months (has finished inside the top 20 in every tournament he's participated in) he is also proving very popular amongst punters.
Going the other way in the market, which may come as a surprise to some, are the likes of Rory McIlroy, Dustin Johnson, and Henrik Stenson. McIlroy has enjoyed a decent start to his season though layers are perhaps latching on to the fact that he lost at least two tournaments from winnable positions, and also famously threw this tournament away on the back nine in 2011.
It's not just in the last seven days that significant moves in this year's Winner market have been witnessed however, some players have seen their odds slashed since demonstrating good form in the last 12 months, of which the most noteable are listed below.

Jason Day - matched at a high of 50.0, now 18.017/1
Matt Kuchar - high of 80.0, now 26.025/1
Bubba Watson - high of 85.0, now 30.029/1
Zach Johnson - high of 85.0, now 38.037/1
Patrick Reed - high of 320.0, now 65.064/1
Jimmy Walker - high of 360.0, now 70.069/1

Whoever you've backed, whoever you intend to back, we wish you the very best of luck during one of the greatest four days of golf you could ever wish for.

*The US Masters commences at 12:45 BST on Thursday, 10 April and the Winner market will immediately be switched to In-Play
Discover the latest articles