US Masters In-Play Trends: Rely on history to profit after rounds one and two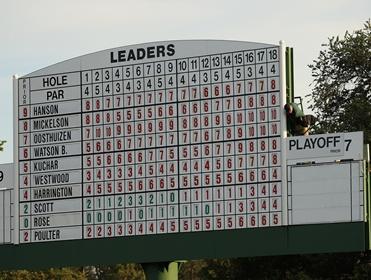 Keeping an eye on the leaderboard is essential for In-Play bets
In the second part of his 21st century trends analysis, Mike Norman details his strategy for betting In-Play after rounds one and two at the 78th US Masters...
"It appears then that the Masters is one of the strongest events of the whole year for needing to be up with the pace in the early rounds, while at the same time having a very poor record for all-the-way winners."

Seven days ago I put together my Six to back based on 21st century trends preview of next week's US Masters, and using the information outlined in that article it's now time to roll out my In-Play betting strategy.
I won't be recommending specific golfers to wager pre-tournament here because I'm dependent on positions on the leaderboard of certain players after both rounds one and two before I press the 'back' button. But all will become clear and I will update this guide next Friday and Saturday morning with the players who we should be getting on the right side of.
I've studied that last 14 winners of the US Masters, and in particular their positions on the leaderboard after rounds one and two, their score, and how far behind (or in front) they were at various stages of the event.
Since the turn of the century we've had shock champions and fancied champions, tournaments played in wet conditions and dry conditions, high-scoring winners and low-scoring winners, and yet some remarkable trends have emerged year after year...

Round One
As the table below shows, one of the most surprising trends this century is that not a single player who held a sole lead after the opening 18 holes went on to win the tournament. Only Trevor Immelman went on to win the Masters after having a first round lead but the South African was tied for that position with Justin Rose. Every other winner trailed at the end of round one.
The first rule then is a simple one - when you wake up next Friday morning, don't back the sole leader should there be one.

*click graphic to enlarge image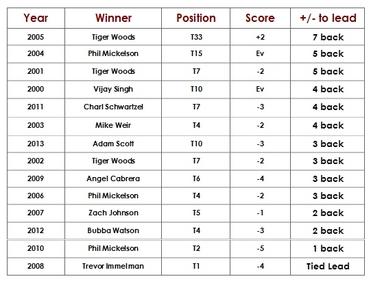 Also very worthy of note is the position of the eventual winner after the first day's action. Only one player - four time Champion and Augusta specialist Tiger Woods - was outside of the top 15 and more than five strokes back so it seems absolutely essential that, although you don't want to lead after the first 18 holes, you do need to be handily positioned on the leaderboard.
Scores are perhaps less significant as, depending on weather conditions, it's where a player is in relation to the lead that is the most important factor to consider. Having said that, Woods' winning performance in 2005 is the only time this century that a Masters champion has opened with an over-par first round.
With all this in mind then, I'll be looking to back any player within five shots of the lead and/or in the top 15 after round one should they match some of my criteria outlined last week.

Post Round One Analysis
(*this section added at 09:00 Friday 11 April)
Bill Haas leads the US Masters on -4, and if 21st century trends continue then he is the first player to rule out this morning as no player who has held a clear first round lead this century has gone on to win the tournament.
The next rule is to consider players within five shots of the lead, but given that there are 39 of them I'm inclined to also add in my other rule, which is to consider only those who are in the top 15, or in this case those on -1 or better of which there are 19 players.
The likes of Adam Scott - available to back at 6.411/2 - and Rory McIlroy (10.09/1) are two players well worth considering, but I'm going to wait until after round two before I consider getting them on side.
Three players stand out this morning, of which I've already backed two - Bubba Watson (9.28/1) and Brandt Snedeker (23.022/1) - pre-tournament, so my only In-Play wager at this stage is a man who I very nearly backed before the start - Jimmy Walker.
As outlined in my pre-tournament preview, players who have performed well at courses like Pebble Beach, Torrey Pines, and Riviera have a great record at Augusta. So given that Walker was third last year at the AT&T Pro-Am (Pebble Beach) and won it this season, and also has recent form in the book at the other two venues, then I thought he was a must-bet at 34.033/1 considering that he's nicely placed at -2, just two shots off the lead.
For the record, the only reason that I didn't back him pre-tournament was because of his Masters rookie status, but everything considered he looks a very fair price after round one.

Round Two
The trends for betting In-Play after round two aren't too dissimilar to those after round one, especially in terms of position.
Again, it's not ideal to be leading at the halfway stage with only Immelman and Mike Weir converting a 36-hole lead in the last 14 years. Weir had a four shot lead when winning in 2003 so that makes the record of those with just a slender lead even less impressive.
Like after round one, it may pay to take on the leader after round two. Ideally, if the lead is held by one of the players we've already backed (either pre-tournament or after round one) then we'll be able to lock in some profits at this stage.

*click graphic to enlarge image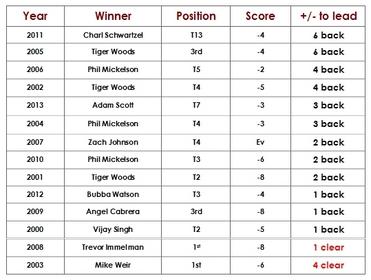 Also very noticeable from the above table is that only one winner - Charl Schwartzel in 2011 - has come from outside of the top seven after the second round. Incredibly, 12 of the last 14 winners were positioned in the top five after 36 holes, and the same number (12 of 14) were no further from the lead than four shots back.
It appears then that the Masters is one of the strongest events of the whole year for needing to be up with the pace in the early rounds, while at the same time having a very poor record for all-the-way winners.
The strategy for round two will be to back any player in the top five and within four shots of the lead who meet some of my pre-tournament criteria (if not backed already).

Post Round Two Analysis
(*this section added at 09:00 Saturday 12 April)
Yet again a clear first round leader at the Masters looks set to miss out on a Green Jacket after Bill Haas completed his second round in 78 shots, and now sits outside of the top 25 and a full nine shots behind halfway leader Bubba Watson.
Leading at this stage isn't ideal with only two players this century (from 14) going on to win the title, but perhaps that record will improve this weekend. Watson is a man at the top of his game right now, he's a previous winner at Augusta, and perhaps more importantly, he has a sizeable lead (three shots).
Thankfully Watson was one of our pre-tournament selections so we're sitting pretty at this stage. He's now just 3.052/1 to back in the Winner market.
According to our trends the only players to concentrate on this morning are those within four shots of the lead, and that is a grand total of just six. Of those it's hard to see John Senden (21.020/1) winning, while Jordan Spieth (15.5) and Jonas Blixt (40.039/1) will do very well to win on their Augusta debuts.
A better case can be made for European Tour veteran Thomas Bjorn (30.029/1) but for my money the only danger to Watson from here is defending champion Adam Scott.
At 6.05/1 to back the brilliant Aussie is my In-Play wager today and I'll stake enough money on him to make a profit on the tournament should he win. But by far my best winner will be Watson - fingers crossed he can improve that record of halfway leaders at the Masters.

Post Round Two Selection
Back Adam Scott @ 6.05/1

Post Round One Selection
Back Jimmy Walker @ 34.033/1

Pre Tournament Selections
Back Dustin Johnson @ 22.021/1
Back Bubba Watson @ 30.029/1
Back Brandt Snedeker @ 42.041/1
Back Charl Schwartzel @ 48.047/1
Back Graeme McDowell @ 65.064/1

Click here for original preview, first published Wednesday, March 26.
Discover the latest articles