US Masters: Five times Cash Out would have saved your bacon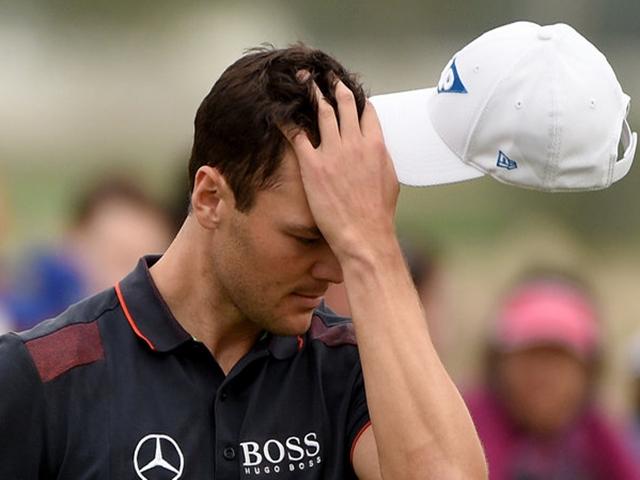 Martin Kaymer - collapse at Abu Dhabi this year but helped win the Ryder Cup in 2012
We all remember Rory McIlroy throwing away a four-shot lead at the Masters in 2011 but thanks to Betfair's Cash Out facility not everyone who backed the Northern Irishman lost out. With this year's renewal just over a week away Mike Norman tells us about five other times when Cash Out would have come in useful...
"Betfair wasn't around in 1999, Cashing-Out a bet was simply a distant dream of some innovative bods. But if ever they got their idea from somewhere, then perhaps watching Jean van de Velde play the 18th hole at Carnoustie in 1999 was the source of their inspiration."
1. Martin Kaymer blows a 10-shot lead
Abu Dhabi Championship - 2015
Martin Kaymer had won the Abu Dhabi Championship on three different occasions already, it was a tournament, and a venue, that he simply loved. It was no wonder then that punters were willing to back him at very short odds when he started the fourth round of this year's renewal with a big lead, it was even less surprising when he was getting matched at 1.011/100 when stood on the sixth tee with a massive 10-shot advantage.
What happened next will probably go down as the biggest collapse in golf. A bogey at the sixth and the failure to make birdie at the par 5 eighth unsettled the previously unflappable German. A double at nine, a triple at 13, and no further birdies meant Kaymer went from leading by 10 to losing by two to Frenchman Gary Stal, who not surprisingly was matched at 1000.0 In-Play.
Although no-one can be excused for thinking that Kaymer had the event in the bag when leading by 10, it's still worth remembering that with three hours of golf to be played, Cashing-Out for just the tiniest of reduction on what you'd have collected had the German triumphed, would, with the benefit of hindsight admittedly, been the most sensible thing to do.

2. Europe produce the Miracle at Medinah
Ryder Cup - 2012
Traditionally, Team USA have always been stronger when it comes to the Singles at the Ryder Cup, so holding a 10-6 advantage on home soil in 2012, needing to take just 4½ points from the 12 available to win, hardly anyone expected them to lose this one.
Davis Love III's men were matched at a low of just 1.061/18 ahead of the final day's play, and that was as good as your Cash Out offer would get as first Luke Donald, then Paul Lawrie, Ian Poulter, and Rory McIlroy put points on the board for Team Europe, bringing the scores level at 10-10.
America were still heavily odds-on when they edged back ahead 12-11 and had plenty of matches still seemingly going their way, but two miraculous victories by Justin Rose and Sergio Garcia turned the tide firmly in Europe's favour, and when Martin Kaymer holed his par putt on the 18th to edge out Steve Stricker, the Ryder Cup was retained.

3. Adam Scott's four-bogie finish
Open Championship - 2012
Following rounds of 64, 67, and 68, Adam Scott - going in search of his first Major title - went into the final round of the Open Championship at Royal Lytham with a four-stroke advantage over the rest of the field. He was long odd-on to win, but if you hadn't cashed-out at the start of the day then you were probably in two minds whether to do so with your man still leading by four with just four holes to play.
At that point Scott was trading at just 1.021/50 to win, the Cash Out offer would have been extremely tempting, and those who took it will have been delighted at what happened next.
Scott went on to bogey the last four holes, seemingly not through nerves, but by simply making a few mistakes. His drive on 18 rolled into a pot bunker, but the Aussie kept his head, played out sideways, and hit a great approach to seven feet. A par would see him make a play-off, but yet another missed putt handed the Claret Jug to popular South African Ernie Els.

4. Jason Dufner surrenders a five-shot lead with four to play
US PGA Championship - 2011
In 2011 Jason Dufner was a relatively unknown American golfer still searching for his first victory on the PGA Tour. At the season's final Major he nearly achieved his maiden win in spectacular fashion.
Tied for the lead going into the final round Dufner was handed a five-shot lead when nearest pursuer Keegan Bradley made triple bogey at the tough 15th hole. Dufner, playing in the group behind Bradley, had four holes to play but would give a shot back to the field immediately, though a bogie at 15 still left him four shots clear. He was trading long odds-on to win.
But back-to-back birdies from Bradley, including a successful 50-foot putt on 17, heaped more pressure on Dufner, and not surprisingly he would make three bogies in a row to fall into a share for the lead. Dufner would par the 18th to make a play-off, but he lost to his great friend Bradley and yet another famous collapse was now written in the record books.

5. Jean van de Velde's final hole disaster
Open Championship - 1999
And finally...
Betfair wasn't around in 1999, Cashing-Out a bet was simply a distant dream of some innovative bods. But if ever they got their idea from somewhere, then perhaps watching Jean van de Velde play the 18th hole at Carnoustie in 1999 was the source of their inspiration.
Van de Velde held a three-shot lead standing on the tee of the tough par-4 18th, but even in a world of Betfair he would have been trading at 1.011/100. He could make double bogey and still win; no need for a driver off the tee, no need for aiming at pins, just play the hole in a well-thought-out, three-shot manner as if it was a par five. Yeh, right!
The Frenchman hit driver off the tee, 40-yards to the right of where he aimed, but got lucky. His approach flew into the grandstand, but again he got lucky, the ball bouncing back into the thick rough - yes, that was lucky! His third shot went into Barry Burn, as too did Van de Velde before common sense - eventually - prevailed.
He took a penalty drop, chipped into the bunker for five, and then splashed his sixth shot to 10-feet before bravely making the triple bogey putt to make the play-off. Inevitably he lost to Scotland's Paul Lawrie, but perhaps, and just perhaps, Betfair's Cash-Out idea was born.
Discover the latest articles