US Masters Betting: Six to back based on 21st century trends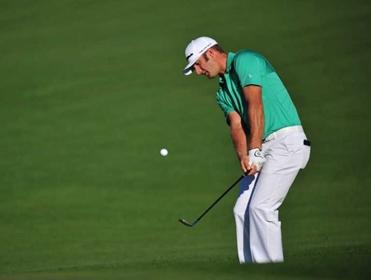 Can Dustin Johnson swap his green shirt for a Green Jacket?
Mike Norman has studied the profiles of the last 14 US Masters tournaments, linking those that won with previous Augusta form and performances at other events to see if he can come up with some noticeable trends that we can follow for this year's renewal...
"Whether Johnson is value or not at 22.021/1 to back I'll let you be the judge, but there aren't really any more boxes that this talented American can tick in all honesty."

Course Form
No debutant has won round Augusta's beautifully prepared fairways and greens since Fuzzy Zoeller defeated Ed Sneed and Tom Watson in a play-off almost 35 years ago, so it goes without saying that previous course knowledge is essential when it comes to becoming a US Master.
But don't fall into the trap of backing someone who has played just 36 or 72 unspectacular holes at Augusta prior to this year's tournament, as having vast experience of the course or some excellent performances in previous years seems almost essential to any potential winner.
In fact every winner this century had made the cut at the US Masters in the year immediately preceding their victory, so backing someone who played at the weekend in 2013 appears to be key. And perhaps also very significant, of the 14 champions since the year 2000, 11 of them had recorded a top-30 finish in the year before their success.
Although the superb course records of Tiger Woods and Phil Mickelson are known to us all, many other Masters champions had plenty of previous course form to recommend them also;

- Vijay Singh, three top-30 finishes prior to his win in 2000
- Mike Weir, also three top-30s before winning the 2003 Masters
- Trevor Immelman, four visits including a 5th place finish prior to winning in 2008
- Angel Cabrera, three top-10s before his win in 2009
- Bubba Watson, made the cut in all three visits before success in 2012
- Adam Scott, three top 20s including a T2 and T8 before winning last year

In addition to the six champions above, Mickelson and Woods have won six Green Jackets between them this century so that just leaves 2007 champion Zach Johnson and the winner from three years ago Charl Schwartzel, who incidentally finished T32 and T30 respectively the year immediately before their success.
In summary, and to put it very simply, good course form is essential here.

Pebble Beach and Doral links
When looking at every winner of the Masters this century, studying their form leading up to the first Major of the year, and how they performed in the season previous, a few tournaments stood out as possible form guides for future US Masters, perhaps none more so than the AT&T Pebble Beach Pro-Am, and any tournament staged at the Blue Monster, Doral.
Johnson (2007), Immelman (2008), and Cabrera (2009), and the last three Masters champions, Schwartzel, Watson, and Scott, didn't play in the Pebble Beach Pro-Am in either the year that they won at Augusta or the previous year, but that doesn't diminish the strong link between the two tournaments.
Every other Masters champion this century that did play in the event - where at least two rounds are staged at the demanding Pebble Beach course - around the time that they donned a Green Jacket all had some strong performances at the links venue to their name.
Singh finished second in the AT&T Pro-Am in 2000, just a few months before winning at Augusta, while Woods won the event in 2000, finished 13th in 2001, and 12th in 2002 before consecutive Masters victories in 2001 and 2002.
Weir finished third at Pebble Beach in the year that he won his Major, while Mickelson finished 3rd, 38th, and 8th at the AT&T Pro-Am in the three years that he won the Masters, but he'd also won the event the year before his 38th-place finish.
You need to be mentally focussed and perhaps rely on patience at Augusta, so maybe this is where the link between the Pebble Beach Pro-Am (three different courses, amateur partners for three days) and the Masters comes from.
Even more eye-catching is the performances of Masters champions at Doral, especially in recent years since the course became host to the WGC - Cadillac Championship.
Last year's winner Adam Scott finished third at the Blue Monster venue just weeks before going to Augusta, 2012 winner Bubba Watson finished second in the year he won the Masters, while South African Charl Schwartzel also finished second at Doral in the season before his victory in Georgia.
More form links between Doral and Augusta, though perhaps less significant because of their abilities to regularly play well at most venues, can be found through Woods and Mickelson. The former finished second in 2002 and first in 2005 around the Blue Monster before donning Green Jackets in the same years, while the latter also won at both courses in quick succession - Doral in 2009 and Augusta in 2010.
As we know, the course had a huge redesign this year but we still have the 2013 renewal of the Cadillac Championship to guide us, and I certainly wouldn't rule out this year's form in a hurry either.

Torrey Pines and Riviera Links
Because Woods has virtually owned Torrey Pines during his career it's difficult when using him as an example to say that there are some definite links between that venue and Augusta. However, the current world number one is not the only Masters champion to have played well at the San Diego venue in either the same season or the one previous to becoming a Major winner.
In both 2003 and 2004 Mickelson finished fourth in the Buick Invitational (now the Farmers Insurance Open) at Torrey Pines before claiming his first Masters title, and he also finished eighth there in 2006, the year he won his second Major.
Weir - the 2003 Masters champion - had a very creditable performance at Torrey Pines the year before his success, and lastly, Watson won at the famous venue in 2011, one year before he won the Masters in spectacular fashion.
Finally, don't discount Riviera Country Club - home of the Northern Trust Open - as an excellent guide to the US Masters either. In the last 20 years a host of Masters champions have triumphed at Riviera including the likes of Craig Stadler, Nick Faldo, Weir, Scott, Mickelson, and Watson.
Weir won the then Nissan Open in 2003, the same year he won the Masters, Woods finished seventh in 2005, the last time he donned a Green Jacket, Cabrera finished a respectable 13th around Riviera in 2009 behind Mickelson (2010 Masters Champion), and last year Scott recorded a top-10 finish before going on to beat Cabrera in a play-off at Augusta.

Age
This is a very simple trend to follow if you believe it's of any significance; and it's that no winner of the US Masters this century has been in their 40s. In fact every winner since the year 2000 has been between the age of 25 and 39 with those in their 30s enjoying the most success.
Perhaps the ever growing number of golfers who put a premium on fitness is having an impact, after all, the week of the Masters and the build-up to it can be mentally tiring at least, but personally I'm of the opinion that age is a statistic that you can manipulate here.
If you fancy a player who falls into the 25-39 age bracket then you can be slightly more encouraged, but if your selection isn't of this age then I really don't think it's anything to worry about.

Summary and Selections
With world number one Tiger Woods in poor form, last year's FedEx Cup and Race to Dubai champion Henrik Stenson also below his best, and both Adam Scott and Rory McIlroy failing to capitalise on excellent winning opportunities already this season, then this year's US Masters is set to be a wide open affair.
Based on what I've outlined in this preview then we're ideally looking for someone who has experienced Augusta at least three times, made the cut at last year's tournament (preferably finishing inside the top 30), and has played well either this season or last at a number of the venues mentioned - Pebble Beach, Doral, Riviera, and Torrey Pines.
One man sticks out like a sore thumb. Dustin Johnson.
Johnson has played at the US Masters on four occasions now, making the cut and finishing no worse than 38th each time. He finished in a tie for 13th last year after leading at one stage which makes his Augusta record remarkably similar to the likes of Singh, Weir, Immelman, Cabrera, and Watson before they tasted success.
What's more, Johnson has some tremendous form around our key venues.
He has played some of the best golf of his career at Pebble Beach but for the purpose of our 'trends' he finished second in the AT&T last year (he has previously won the event twice). He also fiished 12th at Doral in 2013 as well as finishing fourth at the revamped venue this season. And to complete the strong pointers, DJ also finished second at Riviera this season. And of course, he falls into the right age bracket.
Whether Johnson is value or not at 22.021/1 to back I'll let you be the judge, but there aren't really any more boxes that this talented American can tick in all honesty.
Adam Scott (12.011/1), last year's winner, third at Doral and 10th at Riviera in 2013, and Tiger Woods (13.012/1), multiple winning course form, and a winner at both Doral and Torrey Pines last season, will undoubtedly be on many people's shortlists, but I don't really want to be backing those right at the top of the market at this stage.
At 42.041/1 and 48.047/1 respectively both Brandt Snedeker and Charl Schwartzel are worth a wager given they also match our criteria.
Snedeker's last three Masters appearances read T15, T19, T6, again, very much like the fit of previous first-time winners, and he also has excellent form at both the AT&T (winner in 2013) and Torrey Pines (winner in 2012, third last year). He hasn't been in the best of form this season but his stats are too strong to ignore to let that be of concern.
2011 champion Schwartzel meanwhile also made the cut last year and finished in our preferred position of the top-30 (T25). He finished third at Riviera in 2013 before following that up with a fifth place finish at the same venue this year. A top-10 finish in the Cadillac Championship a few weeks ago also offers encouragement.
Our final selection from those who meet all our criteria is Fredrik Jacobson - available to back at a 250.0249/1 currently.
The Swede - who is by one year the right side of 40 - has played in four Masters tournaments in his career, the last two being in 2012 and 2013 where he finished 19th and 25th. Jacobson's best performances at our key venues all came last year too - seventh at the AT&T, 16th in Doral, and third at Riviera - so if he can recapture some of that sparkle he's not to be discounted at huge odds.
Finally, two players that fail on the 'top-30 finish at last year's Masters' trend but are strong contenders none the less are Bubba Watson (30.029/1) and Graeme McDowell (65.064/1).
Both have ample experience of Augusta (2012 Masters champion Watson did make the cut last year but finished outside the top 30, while McDowell missed the cut but finished T12 the year previous) and have been in excellent form this season, including at Pebble Beach, Doral, and Riviera.
Watson won this year's renewal of the Northern Trust Open at Riviera and finished second at the new look Blue Monster at Doral, while G-Mac finished seventh in this year's AT&T, third at Doral in 2013, and ninth at the same venue this season.

Recommended Bets
Back Dustin Johnson @ 22.021/1
Back Bubba Watson @ 30.029/1
Back Brandt Snedeker @ 42.041/1
Back Charl Schwartzel @ 48.047/1
Back Graeme McDowell @ 65.064/1
Back Fredrik Jacobson @ 250.0249/1
Discover the latest articles