Masters Betting: Tiger's back to his best and he's third favourite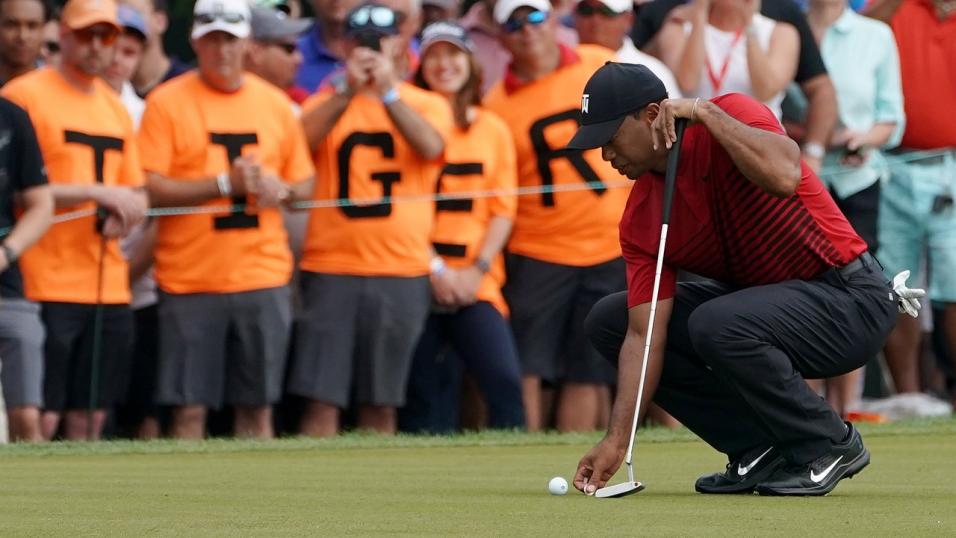 The man the world wants to see - Tiger Woods lines up a putt
Paul Casey's triumphant first PGA Tour win since 2009 has been completely overshadowed by the guy who finished second. Ralph Ellis charts the latest stage of the Tiger Woods comeback.
"Woods is due to play again this week in the Arnold Palmer Invitational, an event where he always did well, and has been installed as the 8.07/1 favourite."
One of my old sports editors, I'll call him Jim, had a simple ethic when deciding his agenda for the day. "We don't write about losers," he would say. "I only want to know about the guy who finished first."
Wonder what he would make of today's priorities, then? I can just imagine myself asking him if he wanted a piece about Paul Casey.
After all it's a fantastic story, Englishman, 40-year-old new dad, has just won a PGA Tour event for the first time since 2009, has fought his way back after shoulder problems and a messy divorce that saw him drop out of the top 150, took just 21 putts in his final round to collect the Valspar Championship.
It gets even better because the win has moved him to 12th in the World Rankings and the Masters is a few weeks away. Casey could be a contender - he's 25/1 with the Betfair Sportsbook.
"No chance," Jim would say today, with a few expletives thrown in. "Rules have changed. All we want to know about is Tiger Woods and I don't care if he finished second. He is the story."
And he wouldn't be wrong because the golf world is holding its breath this morning wondering if Woods, the man who has always been the sport's biggest story, is about to provide the most incredible chapter of the whole tale.
Amazing 45 foot putt
It was in early December, when Woods began his comeback at his own Hero World Challenge Event, that I first thought he could be ready to surprise us all.
He had his Masters odds slashed to 24.023/1 after that promising first public appearance but we all knew there was plenty more to do. Then February's Honda Classic showed even more progress.
Well no apologies for writing about Tiger again after last night, and especially the 45 foot putt that snaked this way and that across the 17th green before dropping into the hole. The magic has returned.
Woods is now just 13.5 third favourite for the Masters behind Dustin Johnson 10.519/2 and Justin Thomas 13.012/1 and could well end up arriving at the gates of Augusta as the favourite.
Record viewing figures
He's due to play again this week in the Arnold Palmer Invitational, an event where he always did well, and has been installed as the 8.07/1 favourite ahead of Jason Day 14.5 and the horribly out of touch Rory McIlory 19.018/1.
He has a bit of work to do still. His iron shots weren't as accurate as he might have liked, too often giving himself a little bit too much to do on the greens.
But whatever the surgeon who performed his latest back operation did to his spine - inserted some sort of magic elastic I should imagine - is clearly working. On Saturday he recorded the fastest swing speed seen on tour this year at 129mph.
Most of all he is as mesmerising as ever. American TV had its best viewing figures for a regular tour event in 12 years last night and the numbers would have been well up here too as we sat up to watch the final holes unfold.
Pleased for Paul Casey to finally get over the line, but there's only one tale in the golf town today and that's Tiger. Roll on Augusta.
Discover the latest articles
Read past articles