US Masters 2018: Dave Tindall rates the top 10 for current, course, majors and long-term form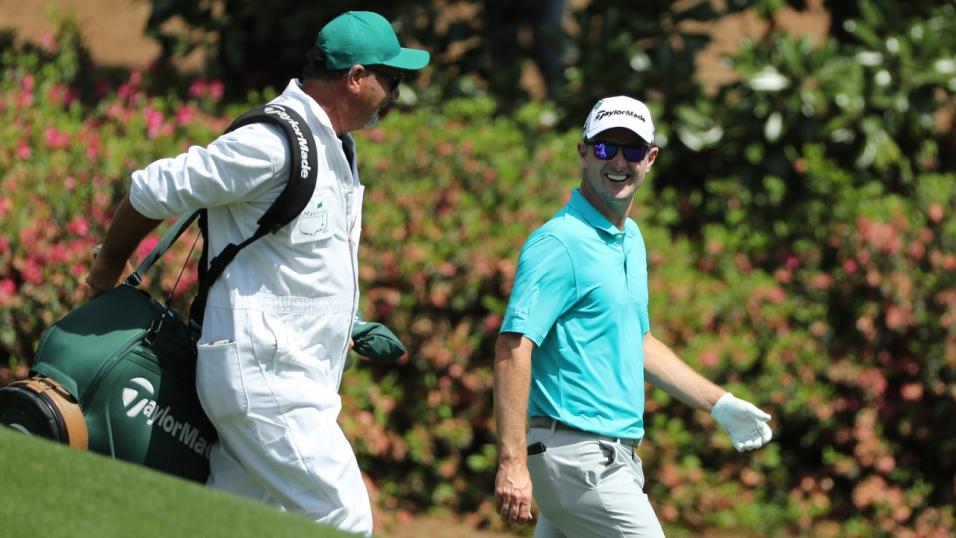 Justin Rose has made the top 10 in the last three US Masters
Dave Tindall arms you with the stats that matter for a punt on the Top 5 and Top 10 Finish markets ahead of the US Masters...
"Rose has the most robust greens in regulation stats at Augusta National of any player in the field this week and that will get you the top 10s."
Jordan Spieth - Feels like Texan is ready to win again
Spieth's putting, of all things, has held him back in 2018 but there were timely signs of improvement in Houston last week when he finished third and his tee-to-green play there was superb. In short, this Augusta specialist looks ready to challenge again. "The Masters is my favourite golf tournament. I like the elevation changes, the sidehill lies, the pull to Rae's Creek and the way that affects putts. It's imaginative golf. It's feel golf, and I really enjoy when I can move away from technicality and toward feel. It's an advantage for me when I can do that." Top two in his first three Masters, he was also just two back after 54 holes last year. Last year's Open champion looks a worthy favourite despite the class around him.
Last four events: 3-17-MC-14
Course form: 11-2-1-2
Last 10 majors: 28-1-35-11-13-30-37-2-2-4
Last 50 starts - Win: 10%, Top 5: 26%, Top 10: 46%
Rory McIlroy - Top 10 last four years but form a worry
After admitting last year that he's always "a complete prick in the week leading up to Augusta", Rory is trying to stay more relaxed this time. "I can be as prepared as I possibly can be - but I can't be robotic," he told BBC Sport. "I need to have fun, play with a smile on my face, that's when I can play my best golf, play freely and let my subconscious take over, rather than over-thinking it." Even though he's been frustrating in the outright market, McIlroy has delivered profit for top 10 backers in each of the last four years so he's adept at putting a 72-hole score together at Augusta National. Less solid is his play this year which has oscillated between mediocre and brilliant.
Last four events: 36-1-MC-59
Course form: 7-10-4-8-25-40-15-MC-20
Last 10 majors: 22-4-MC-7-MC-5-MC-10-17-9
Last 50 starts - Win: 12%, Top 5: 40%, Top 10: 50%
Justin Thomas - Still learning the Augusta challenge
Thomas has failed to crack the top 20 in two starts at Augusta National so is still rather dipping his toe in despite his current status as one of the favourites for victory after some superb golf over the last 18 months. Interviewed by CBS on the range this week, he noted: "There's just no event like this, no buzz like this. We need to have a plan and schedule practice and stick to it because you can so easily wear yourself out out here. The course in itself is gruelling and draining enough. You don't need to make it any more tiring." To try and boost his knowledge, he arranged a practice round with Tiger and Fred Couples. Also, he arrives here as a major champion having landed last August's US PGA so the pressure should ease from that point of view.

Last four events: 4-2-1-9
Course form: 22-39
Last 10 majors: 1-MC-9-22-66-53-32-39-18-MC
Last 50 starts - Win: 14%, Top 5: 30%, Top 10: 44%


Dustin Johnson - Highest top 10 percentage in field
"I've always liked the course, always thought it suits my game very well. It's a tough golf course, and everything in your bag needs to be working for you to play well around here," With top six finishes in each of his last two appearances, the words match up and he'll be extra keen to tee it up this week having missed the tournament last year after falling down some stairs and hurting his back. "Last year I was about as confident as I've ever been, so it (confidence level) was probably a 10. This year it's probably a nine-and-a-half." While his habit of making too many mistakes at this venue casts doubt over his Green Jacket chances, contending shouldn't be an issue and it's worth noting that his top 10 percentage (58%) over the last 50 events is higher than anyone's in the field.
Last four events: 59-7-16-2
Course form: 4-6-MC-13_38-38-30
Last 10 majors: 13-54-MC-MC-9-1-4-7-49-2
Last 50 starts - Win: 16%, Top 5: 42%, Top 10: 58%
Tiger Woods - Place wager the best way to back Tiger
"If you watched him play today, there's not much of a back problem. He's hitting it a long way, and it looks beautiful. Today wasn't any different than it was 10 years ago when I played with him," said 1992 Masters winner after playing a practice round with Woods on Monday. The "Tiger is back" message continues to gather speed and many believe that this is the week where he'll complete his incredible renaissance after looking as if he might never play competitively again due to the mass surgeries. Second and fifth on his last two starts, Woods will now look to add to a body of work at Augusta National which shows four wins and nine other top 10s, seven of those top fives. If you can't quite see Tiger getting it done, a top 5 or top 10 punt could be a very good way of cheering him on.
Last four events: 5-2-12-MC
Course form: 17-4-40-4-4-6-2-2-3-1
Last 10 majors: MC-MC-MC-17-MC-69-40-6-32-4
Last 50 starts - Win: 10%, Top 5: 26%, Top 10: 34%


Justin Rose - Place machine looks ready to play
"I really have positive and fond memories of last year. I hit a lot of great shots, and I don't feel like it was a tournament that anybody lost really," said Rose on Monday when reflecting on last year's play-off loss to Sergio Garcia. "It was great to be a part of an exciting back nine on Sunday with birdies and eagles. Over the years I've really dedicated myself to amassing knowledge of the golf course, keeping notes and carrying those notes forward year on year." Rose's "love affair" with Augusta started in 2003 when he finished T39 and that's actually his worst finish! Since then, he's bagged three top fives and a further two top 10s, with five other top 25s. His superb iron play is the key to that consistency and two top fives on his last three starts suggests he'll be right up there again.
Last four events: ?-3-5-37
Course form: 2-10-2-14-25-8-11-20-36-5
Last 10 majors: MC-54-MC-2-22-22-MC-10-4-6
Last 50 starts - Win: 8%, Top 5: 28%, Top 10: 44%
Bubba Watson - Two-time winner ready to feast again?
"I always feel like I have a chance at Augusta because it's always in perfect shape and you get excited around that place. The tee shots are pretty generous for me. I like to cut the ball. It sets up well for me." With two wins at Augusta National and two wins in 2018, including the WGC-Dell Match Play on his last start, Bubba deserves huge respect even though his record in this event is rather feast or famine and hence a little problematical for top 5/10 backers. Asked why on Monday, he replied: "It's the way I play golf, so sometimes it's good, sometimes it's bad." It's amazing how skinny he looked when watching re-runs of last year's Masters so a fit, healthy and in-form Bubbba is certainly capable of a big challenge again.
Last four events: 1-66-9-1
Course form: MC-37-38-1-50-1-38-42-20
Last 10 majors: MC-27-MC-MC-60-39-51-37-21-MC
Last 50 starts - Win: 6%, Top 5: 8%, Top 10: 24%
Jason Day - Past form hints at place payout
With a second, a third and a T10 in his seven Masters, Day should be considered a popular punt in these top 5/10 markets and he's a winner this year after a second victory at Torrey Pines - a hint that he has certain favourite venues with Augusta National being one of them. His sometimes wayward driving isn't punished as much at this venue although he's just put a brand net set of irons in the bag after a poor Match Play. "Hopefully with this current change that I have with the irons I think that will slowly kind of bring everything in hopefully and give myself a few more opportunities on the greens," he said on Monday. "And I've been putting great, so if I can get myself on the greens and give myself the opportunities, hopefully the putter will take over and I can get myself in contention on Sunday."
Last four events: 36-22-2-1
Course form: 22-10-28-20-3-WD-2
Last 10 majors: 9-27-MC-22-2-22-8-10-1-4
Last 50 starts - Win: 10%, Top 5: 28%, Top 10: 40%
Phil Mickelson - Tough to discount consistent Lefty
"There's not a course that I feel more comfortable on. The thing about Augusta is that for me personally, I don't feel like I have to be perfect, so it relaxes me. Even though I may not have my best stuff on any given day, I still feel like I can shoot in the 60s." Mickelson has been a perennial challenger in this event for over 20 years and, if adding in his three wins, he's placed in the top five 11 times. The count rises to 15 for top 10s and that's a 60% strike-rate. He's been a little more patchy in recent editions but Lefty arrives this time showing his most consistent form in a long while, topped off by a first win since the 2013 Open. That victory in the WGC-Mexico Championship was a huge morale-booster and it will be a surprise if he's not a contender this week.
Last four events: 24-17-1-6
Course form: 22-MC-2-MC-54-3-27-1-5-5-24-1
Last 10 majors: MC-MC-22-33-2-MC-MC-18-20-64
Last 50 starts - Win: 2%, Top 5: 18%, Top 10: 28%
Rickie Fowler - Top 10 punt could just pay
"I know the amount of times that we have been here, this being my eighth Masters, plenty of experience, know how to play the golf course, it's just about piecing it together. I think it's more of a mental challenge than it is a physical challenge this week. I know I can hit all the shots needed around here. I know I'm a great putter and can make putts here. One of my best putting days, I think it was first round a few years back, I doubled the first and doubled 10 and shot 68 with 21 putts. I can make putts here." Hitting greens in regulation is important too and he found over 70% in both Mexico and Houston so the pieces are coming together. While he has just one finish inside the top 10 at Augusta National, T11 and T12 in the last three years back up the idea that he'll always give you a run for your money in these markets on this course.
Last four events: 43-14-37-MC
Course form: 11-MC-12-5-38-27-38
Last 10 majors: 5-22-5-11-33-46-MC-MC-30-30
Last 50 starts - Win: 2%, Top 5: 22%, Top 10: 38%


Conclusion
I couldn't quite pull the trigger on Justin Rose in the outright market but I have no hesitation making him my best top 10 punt here.
Rose has the most robust greens in regulation stats at Augusta National of any player in the field this week and that will get you the top 10s.
He's currently on a run of three straight after 2-10-2 in his last three visits while he also took T8 in 2012 and T5 back in 2007
Take him at 2.427/5 for another.
I can definitely see Tiger Woods and Phil Mickelson being part of the picture too so will back both for top 10s at 2.8815/8 and 2.8415/8 respectively.
Both can play this course in their sleep and I want to cash in on their combination of experience and impressive recent form.
Dave's 2017 Top 5/10 P/L (based on £10 per selection)
Staked: £40
Returned: £0
P/L: -£40
Recommended bets
Back Justin Rose for Top 10 @ 2.466/4
Back Phil Mickelson for Top 10 @ 2.8415/8
Back Tiger Woods for Top 10 @ 2.8815/8
Discover the latest articles
Read past articles