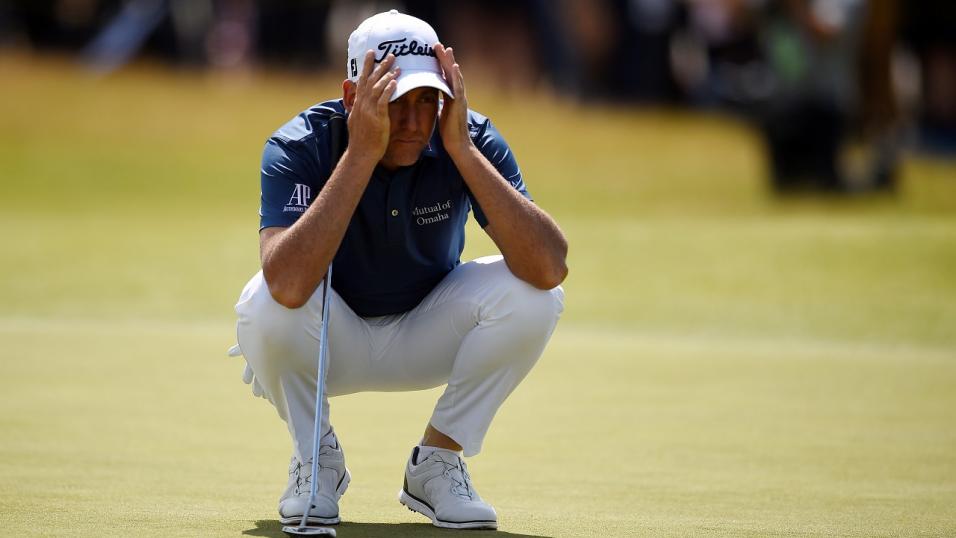 Ian Poulter is rated a good value bet to beat Tiger Woods
Patrick Reed takes a two-stroke advantage into Masters weekend but can he resist the inevitable charge from the chasers on Moving Day? Paul Krishnamurty is confident and makes him the value bet at halfway...
"Reed may well not win, because there are many classy alternatives, but I'll be very surprised if he bottles it, or isn't right in the thick of tomorrow's back-nine battle. There are few players I'd rather have onside in a pressure situation."

Back Patrick Reed 10u @ [4.6]
Two gruelling days at Augusta National have sorted the wheat from the chaff, leaving fewer than 20 players in with a realistic chance of US Masters glory. Those still in the hunt, though, are of the highest pedigree and going into Moving Day, everything is perfectly set up for a classic major weekend.
Just 24 hours ago, the fear was that Jordan Spieth would turn this Masters into a procession, depriving us of betting drama over the weekend. That fear lasted all of one hole of Spieth's second round, as pretty much everybody who wasn't already on cheered his double-bogey/bogey start. The 2015 champion is still right there in a tie for fourth but this won't be a procession. At least not for him.
If we could design a perfect halfway leaderboard, this might well be it. Two major virgins - albeit with no shortage of world-class pedigree - will be in the final group. Their five closest pursuers have no fewer than 10 major titles between them, eight of which were won during the last four seasons. The leaders have a cushion but lack the crucial winning experience of the chasers, who are bound to start eating into their deficit from the start of Moving Day.
The pressure on Patrick Reed and Marc Leishman will be immense, but don't bank on either struggling to handle it. Reed has as much bottle as anyone in the game, as seen in two Ryder Cups. Leishman fared well enough when contending here in 2013 - the first time he'd done so in a major - and when top-six of the last three Opens.
Plus the long-term trends very strongly point in their favour. In 18 renewals this century, 13 champions were within three of the lead at this stage and only two were further behind than four strokes. The two latter cases - Charl Schwartzel in 2011 and Tiger Woods in 2005 - were only able to overhaul six-stroke deficits because the leader (Rory McIlroy and Chris Dimarco respectively) fell apart in the heat of battle.
This is really important to bear in mind when weighing the chances of McIlroy, Spieth, Dustin Johnson and Justin Thomas. All may be well positioned inside the top-seven and well capable of making up the deficit, but history is against them. Even third-placed Henrik Stenson is further behind than 13 of the last 18 winners.
Normally at this stage, I would be looking at that lot or bigger-priced chasers, to capitalise on easier scoring conditions on Moving Day. I'm sure plenty will indeed make a charge tonight but for my money, the best value is for once at the top of the leaderboard.
Reed was not on my radar pre-tournament despite some promising recent form, entirely because he'd achieved so little on four previous visits to Augusta. Like so many before him, it has taken a few years but he seems to have learnt it now. Last night's three-putt on 16 was his first since last year's second round.
There could lie the key. The biggest challenge for any Masters leader over the weekend is scrambling and putting for par. The par-fives will always offer chances, so it is essential to avoid losing too many shots on the other holes. Reed has always been a fine scrambler and if he maintains that record on the greens over the weekend, he'll be hard to beat.
Reed may well not win, because there are many classy alternatives, but I'll be very surprised if he bottles it, or isn't right in the thick of tomorrow's back-nine battle. There are few players I'd rather have onside in a pressure situation. His bottle was evident when winning on each of his four years on the PGA Tour, usually belying dismissive odds, and has become legendary in Ryder Cups.
Another crucial factor to consider is the weather forecast. It is impossible to predict the timing with confidence, but it seems we are set for strong winds and rain, perhaps with some thunder and therefore a sizeable break. If that turns out to be the case, it would help the leaders because they would return from any break to softened greens, and maybe lesser winds.

Back Patrick Reed 10u @ [4.6]
A quintet of two-balls for Moving Day
Back Ian Poulter to beat Tiger Woods 4u @ [2.64] (Starts 15.40)
What better way to enjoy the early coverage than a punt on this mouthwatering match-up? The selection, for me, is a no-brainer. Tiger is battling his heart out and did well to make the cut after many disasters, but he is evidently nowhere near back to his best yet and should be priced accordingly.
Ignoring last year when in nowhere near the form that landed last week's Houston Open, Poulter has a fine weekend record at Augusta. He'll relish this match-up and the tough conditions.

Back Russell Henley to beat Hao-Tong Li 5u @ [1.92] (Starts 17.40)
Pre-tournament I would have measured a huge gulf between the chances of this pair. As it turned out, Li started brilliantly and briefly held the lead while Henley has had to battle back from terrible starts in both rounds. Having done so, I reckon the Amercian will enjoy a good weekend and retains hopes of bettering last year's 11th place. Li was erratic even when scoring well on Thursday and has much to learn yet about this test.

Back Adam Hadwin to beat Tommy Fleetwood 3u @ [2.64] (Starts 17.40)
The outsider looks excellent value here. Hadwin has been mostly excellent so far and is expected to bounce back from a poor finish to last night's round. This consistent type has the short game to go well over a weekend here, whereas Fleetwood has yet to prove himself on and around these greens. That's not ideal given that today's pin positions should be generous, making it imperative to hole a high share of birdie putts.

Back Zach Johnson to beat Hideki Matsuyama 3u @ [2.64] (Starts 18.00)
The key factor here could be the weather. Matsuyama has a good early Augusta record and could well come with a weekend charge, but he has not looked comfortable in wind and rain previously. In contrast we know from his Open record that Zach Johnson is a master of these conditions. The greater the emphasis on pitching and scrambling to soft greens, the better his chance.
Recommended bets
Outright
Back Patrick Reed 10u @ [4.6]
2-balls
Back Ian Poulter to beat Tiger Woods 4u @ [2.64] (Starts 15.40)
Back Russell Henley to beat Hao-Tong Li 5u @ [1.92] (Starts 17.40)
Back Adam Hadwin to beat Tommy Fleetwood 3u @ [2.64] (Starts 17.40)
Back Zach Johnson to beat Hideki Matsuyama 3u @ [2.64] (Starts 18.00)