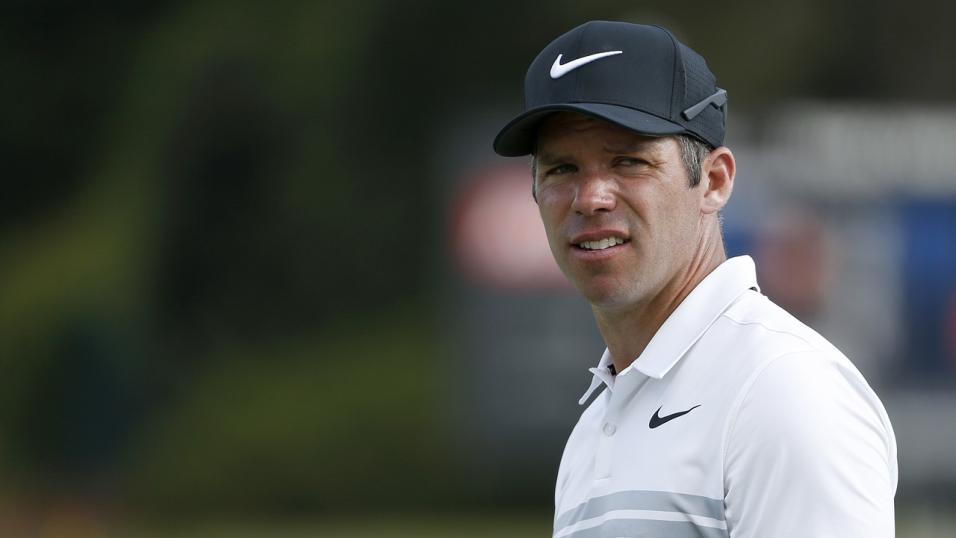 Paul Casey is today's two-ball banker
Surveying the final round at Augusta, Paul Krishnamurty updates what is now a promising outright position on Patrick Reed and recommends five bets from our two-ball coupon...
"On the last three Masters Sundays, Casey has shot 68/67/68 and he broke 70 yesterday... Li is still learning Augusta and the PGA Tour in general so I don't expect he'll set anything special as a target."

Back Paul Casey to beat Hao-Tong Li 5u @ [1.7] (Starts 17.10)
Superlatives can be over-used in sports so we should probably wait for this Masters to finish before employing them but, make no mistake, last night's round was something special. A perfect mix of drama, swings and sheer brilliance.
So brilliant that there wasn't one standout star of the show. Surely that award would go to the guy who started two shots ahead, was caught early and put under severe pressure by chasers holing everything in sight, only to respond with a 67 to extend that lead? Patrick Reed indeed produced a magnificent display of front-running but was outscored by Rory McIlroy, Rickie Fowler and Jon Rahm, all of whom shot 65.
Sure, the greens were receptive and the forecast strong winds never materialised, making conditions easier than before, but there was no hint of that sort of scoring in the afternoon. Anyone who merely played well was left behind and the winner will now almost certainly come from that elite quartet.

Whilst it is too early to write off Rahm or Fowler, tonight's narrative is all about the dual in the final group. A repeat of Reed and McIlroy's unforgettable clash at the 2016 Ryder Cup. Patrick emerged victorious on all fronts then but Rory's performance all week has felt like a personal best. Certainly, to complete his career Grand Slam by downing Reed would be the defining moment of his career.
When watching any golf tournament, there are always particular moments - a chip-in, a lucky bounce out of the trees, for example - that feel like they'll be remembered as decisive. On that score, it feels like Rory will come through. Without his chip-in for eagle on 8, the miraculous par on 13 or the unlikely birdies on 15 and 18, this Masters would be all but over.
Instead, a three-stroke deficit is very much within range. Catch-up golf remains extremely difficult on a Sunday at Augusta, but Danny Willett won from starting the final round three back in 2016, as did Bubba Watson in 2012. The biggest deficit overhaul this century was four strokes, by Charl Schwartzel in 2011, after McIlroy's scorecard imploded under the Sunday heat.
Nevertheless, I am not prepared to ditch yesterday's analysis that led me to back Reed at [4.6]. As demonstrated, this is one of the toughest front-runners in the game. It was no surprise to see him step up a gear just when his lead disintegrated last night. Whereas most would be nervous, or even terrified, at the prospect of facing Rory in the final group tonight, Reed will be relishing it.
That said, I will of course be looking to cash out. If you took yesterday's advice at [4.6], I recommend placing a lay order for 25 units at [1.8] on the leader. That way we'll be guaranteed at least 11 units profit on our outright bets whoever wins, including the four units lost on Matt Kuchar after day one.
Already advised: Back Patrick Reed 10u @ [4.6]
Updated advice: Place order to lay Patrick Reed 25u @ [1.8]
Two-balls
Back Rafa Cabrera-Bello to beat Tiger Woods 3u @ [2.8] (Starts 16.10)
Opposing Tiger Woods has been a smart strategy all week, even if Ian Poulter failed to fulfil his side of the bargain yesterday. There is simply nothing to suggest Tiger should be priced at the same level as the leading players. Considering he shared the lead at one stage on Friday, Cabrera-Bello has been bitterly disappointing, reinforcing the impression that he lacks bottle. That won't matter in this early group though and I still reckon he's suited to Augusta.

Back Paul Casey to beat Hao-Tong Li 5u @ [1.7] (Starts 17.10)
This could be the day's banker. On the last three Masters Sundays, Casey has shot 68/67/68 and he broke 70 yesterday to improve on a very disappointing start. Li's respectable position is mostly due to a great, if slightly erratic, first round. He's still learning Augusta and the PGA Tour in general so I don't expect he'll set anything special as a target.

Back Adam Hadwin to beat Hideki Matsuyama 3u @ [2.8]
This bet is all about value, rather than taking on Matsuyama. Yes, the Japanese star has been disappointing but I wouldn't be surprised to see him shoot very low today. However I reckon his opponent is worth chancing at the odds. Whenever I've seen Hadwin this week, he seems to be playing well and enjoying himself. He's been harshly pitched against players on fire all week - first Reed and Hoffman, then Fleetwood yesterday.

Back Cameron Smith to beat Dustin Johnson 3u @ [3.3] (Starts 18.50)
Perhaps uniquely, there is not a single pre-tournament outsider even in distant contention. Of those available at 99/1 or better, Cameron Smith is two clear of his nearest challenger, yet 11 shots off the lead! Evidently not good enough yet but the Aussie has performed tremendously and upsetting the odds to win this match is perfectly realistic. Especially with Dustin below his best.

Back Patrick Reed to beat Rory McIlroy 3u @ [3.25] (Starts 19.40)
Regardless of our outright positions, this is a must-bet simply because of the odds. Should anyone sitting on -14 after 54 holes at Augusta be a [3.25] chance? The odds assume that the chaser will make ground but it often isn't like that at Augusta. This is a front-runners' course where playing conservatively pays dividends. If Reed can avoid bogeys on the shorter holes, while attacking the quartet of par-fives, that should set a daunting target, while Rory will be compelled to take risks.

Follow Paul on Twitter @paulmotty
Recommended bets
Already advised: Back Patrick Reed 10u @ [4.6]
Updated advice: Place order to lay Patrick Reed 25u @ [1.8]
Back Rafa Cabrera-Bello to beat Tiger Woods 3u @ [2.8] (Starts 16.10)
Back Paul Casey to beat Hao-Tong Li 5u @ [1.7] (Starts 17.10)
Back Adam Hadwin to beat Hideki Matsuyama 3u @ [2.8] (Starts 17.20)
Back Cameron Smith to beat Dustin Johnson 3u @ [3.3] (Starts 18.50)
Back Patrick Reed to beat Rory McIlroy 3u @ [3.25] (Starts 19.40)