US Masters 2017: Dave Tindall rates the top 10 for current, course, majors and long-term form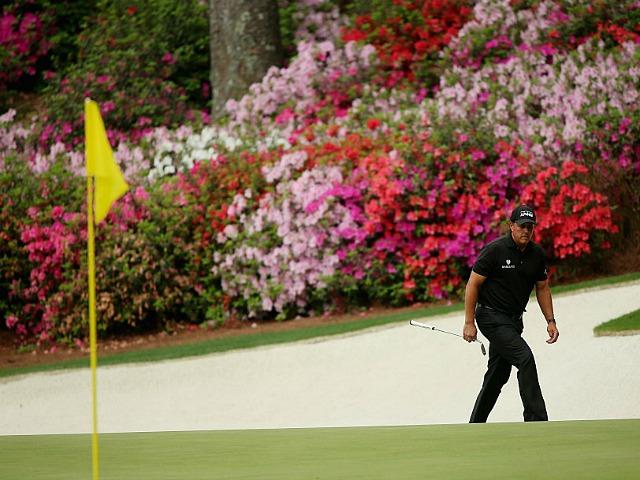 Phil Mickelson can flourish again at Augusta
Dave Tindall arms you with the stats that matter for a punt on the Top 5 and Top 10 Finish markets ahead of the Masters at Augusta National...

"That famed short game looks to be in strong working order again and Mickelson sits 2nd in Strokes Gained: Around-The-Green and 17th in Strokes Gained: Putting."
Dustin Johnson

DJ arrives on the back of three straight wins and all achieved since he became World No.1. The market says he's the man to beat and many are convinced this is his time. "I've always liked the course, always thought it suits my game very well. It's a tough golf course, and everything in your bag needs to be working for you to play well around here. The last couple years, I've done a little better and felt like I've had a chance. My short game is going to be very important around here. If it's blowing 27 miles per hour like the forecast says, it's going to be tough to hit the greens," he told the gathered press on Tuesday. The elevation of his short game is a big key to DJ's domination. He's 6th in Strokes Gained: Around-The-Green and 21st in Scrambling; two seasons ago he was 160th and 119th respectively in those two categories. In terms of these markets, he's had seven top 10s in his last 10 majors.

Last four events: 1-1-1-3
Course form: 4-6-MC-13_38-38-30
Last 10 majors: MC-9-1-4-7-49-2-6-12-4
Last 50 starts - Win: 14%, Top 5: 42%, Top 10: 64%

Jordan Spieth

"The Masters is my favourite golf tournament. I like the elevation changes, the sidehill lies, the pull to Rae's Creek and the way that affects putts. It's imaginative golf. It's feel golf, and I really enjoy when I can move away from technicality and toward feel. It's an advantage for me when I can do that." The big question about him this year is how will he respond after blowing a five-shot lead in the final round 12 months ago. He was sanguine in Tuesday's press conference. "It happens in this game," said Spieth. "It was one of many tournaments I have lost given a certain performance on a hole or a stretch of holes." In terms of recent record, no-one has played the course better than him and he poured in 28 birdies when matching Tiger's 18-under from 1997 and going wire-to-wire in 2015. The negatives would be the lack of a top 10 in the last three majors and some iffy recent form which resulted in a missed cut in Houston last week and a group stage Match Play exit.

Last four events: MC-30-12-22
Course form: 2-1-2
Last 10 majors: 13-30-37-2-2-4-1-1-MC-36
Last 50 starts - Win: 16%, Top 5: 40%, Top 10: 52%

Rory McIlroy

Rory told Golf Digest's Brian Wacker in a recent interview that the first word he thinks off whenever the Masters is mentioned is "stressful". "I am, ask anyone who knows me, a complete prick in the week leading up to Augusta." It's an admirable piece of self-admission although not one that comes as a surprise. He needs this one to complete the set of all four majors and it's tormented him since he blew a four-shot lead in 2011 on just his third go round. Imagine how many green jackets the Northern Irishman might have now if he'd seen it through. That said, he's still cracked the top 10 in his last three visits and this quote from 2013 is typical: "The layout and the shots that you have to hit around here, I feel like it's a place that I could do well at for sure." He'll arrive with very little golf under his belt after an injury lay-off but that extra freshness could just work in his favour, as could a softer course if the rains hit hard.

Last four events: 30-4-7-2
Course form: 10-4-8-25-40-15-MC-20
Last 10 majors: MC-5-MC-10-17-9-4-1-1-23
Last 50 starts - Win: 14%, Top 5: 46%, Top 10: 62%

Jason Day

Day's participation here was in doubt but he revealed in Tuesday's press conference that his mother would not now need chemotherapy following surgery for lung cancer. "I feel kind of a lot lighter in a sense that my mind is not weighing very much heavily on the situation that my mom was going through." Day hopes she'll be well enough to join him at Augusta for the first time this week on the course where he finished runner-up on debut in 2011, third two years later and top 10 for the third time in six starts last year. Can he challenge again this week after his stressful build-up? "I'm a little bit unprepared, to be honest," he said. "Usually I have a week or two more weeks of tournaments under my belt, maybe a week or two more weeks of practice as well. I didn't pick up a club from Match Play until (last Friday). Maybe it's a good thing." If Day does find his sharpness quickly, this is a perfect course for him. He booms it long and has a wonderful short game, skills which have helped him post six top 10s in the last 10 majors.

Last four events: 58-23-64-5
Course form: 10-28-20-3-WD-2
Last 10 majors: 2-22-8-10-1-4-9-28-15-58
Last 50 starts - Win: 16%, Top 5: 38%, Top 10: 50%

Hideki Matsuyama

"Of course, it is my goal to win a major. That would mean a lot to me and I think also for the game in Japan. This is the place to play golf, this is the stage to play golf, that is why I have the strong urge to win here," he told Masters.com. "Since the end of last year, I started playing better and won a few tournaments but my performance deteriorated over the month or so and I haven't been playing my best, so I feel a bit concerned. But I have been training hard." Backers will be worried too after that drop-off in form although he definitely holds plenty of good memories here having finished as the low amateur (T27) on debut in 2011 and posted top 10s in each of the last two years. Stats-wise, he's 13th in Strokes Gained: Around-The-Green but only 185th in Strokes Gained: Putting and it's the latter which has definitely dipped again after his flatstick temporarily got hot during his streak of wins at the back end of last year.

Last four events: 51-45-25-MC
Course form: 7-5-MC-54-27
Last 10 majors: 4-MC-MC-7-37-18-18-5-35-39
Last 50 starts - Win: 10%, Top 5: 26%, Top 10: 38%

Rickie Fowler

Asked in Monday's press conference why he thought he could win this week, Fowler replied: "I'm making a lot of birdies right now, and that bodes well around this golf course. You're going to make mistakes. You're going to have to settle for bogeys here and there. So having a lot of offense and a lot of that these last two tournaments is something that I want to feed off. The work that Butch and I got in Monday and Tuesday last week at Lochinvar, yeah, I'm ready for a fun ride coming in." T3 in Houston on Sunday made it three top fives in five starts and the other results in that sequence were T16 and T12. He's only had one previous top five at Augusta National but on this form (his stats are superb - 9th SG: Putting, 3rd Scrambling, 1st Sand Saves), another one looks very much on the cards.

Last four events: 3-12-16-1
Course form: MC-12-5-38-27-38
Last 10 majors: 33-46-MC-MC-30-30-MC-12-3-2
Last 50 starts - Win: 10%, Top 5: 24%, Top 10: 40%

Jon Rahm

Rahm plays with Rory for the first two rounds and, while McIlroy is feeling stress, the young Spaniard is like a kid in a sweet shop, saying in Monday's press conference: "I had the hour of my life just being on the chipping green." He added: "The year I was born, Olazabal won his first Masters. Seve had already won two. It really is a place that seems to suit the Spanish game character, the Spanish way of playing. If I didn't think I could win it, I wouldn't be here. I do think it suits my game. It certainly suits my eye. I usually like putting on places like this where you know that you have a lot of break and it just makes it a lot more fun and gets the creative side out of me." After a win at Torrey Pines, T5 at Pebble, third at the WGC-Mexico, runner-up at the WGC-Dell Match Play and even T10 in Houston last week, his form is only second to Johnson's. A huge debut looks very possible.

Last four events: 10-2-3-5
Course form: Debut
Last 10 majors: 59-23
Last 50 starts - Win: 4.5%, Top 5: 32%, Top 10: 41%

Justin Rose

Rose is more Rahm than Rory in the sense that he just has a simple love affair with Augusta National and sees only the positives. And that's understandable given that he's made all 11 cuts, three times held the first-round lead and finished runner-up to Spieth in 2015 with a score (-14) only ever bettered six times. "The fact that it's the one we play at the same venue every time makes it special. You have your own memories there. Memories of the other great plays and great tournament wins from other guys throughout the years. Your playbook, your way of playing the course, and you have your stats. In some ways it makes it a little less work. You can kind of enjoy the Masters and your practice round a bit more than other venues, it's a treat and a pleasure. It's always a fun week from Monday to Sunday, whereas normally you can't wait to get to Thursday." Some say his putting isn't sharp enough to take ultimate glory here but it certainly is for a top five or 10 and he looks one of the most reliable plays here given his course record.

Last four events: 15-13-38-4
Course form: 10-2-14-25-8-11-20-36-5-22-39
Last 10 majors: 22-22-MC-10-4-6-27-2-24-23
Last 50 starts - Win: 6%, Top 5: 26%, Top 10: 38%

Phil Mickelson

It's common knowledge that this is Mickelson's favourite tournament of the year and he's built a wonderful record at Augusta National with three wins (2004, 2006 and 2010), a total of 11 top fives and 15 top 10s. "There's not a course that I feel more comfortable on. The thing about Augusta is that for me personally, I don't feel like I have to be perfect, so it relaxes me. Even though I may not have my best stuff on any given day, I still feel like I can shoot in the 60s." His last notable performance was T2 in 2015 so they keep on coming and many believe Phil has another big one in him this year after some eye-catching play and recent top 10s in the two WGC events. "If I can play anywhere close to the way I played at the British Open last year or at the Ryder Cup I should be able to give myself a good opportunity for Sunday," he said in Tuesday's press conference. That famed short game looks to be in strong working order again and Mickelson sits 2nd in Strokes Gained: Around-The-Green and 17th in Strokes Gained: Putting.

Last four events: 55-5-7-34
Course form: MC-2-MC-54-3-27-1-5-5-24-1-10-1-3-3-3
Last 10 majors: 33-2-MC-MC-18-20-64-2-2-23
Last 50 starts - Win: 0%, Top 5: 20%, Top 10: 24%

Henrik Stenson

It's never really happened for Stenson at Augusta National. In 2012, he was all set to post the first-round lead after playing the first 17 holes in 5-under before he somehow shot a quadruple-bogey 8 at the last, matching the highest score ever there. He finished T40 that week after closing with an 81 and in 11 attempts he's still to register a single top 10. A positive spin is that he's made the top 25 in each of his last four visits but maybe that's about as good as he can do on a course where he's never managed a round in the 60s on Thursday, Friday or Saturday. He returns this year as a major winner for the first time but also on the back of missed cuts at Bay Hill and Houston. Many will see him as an obvious lay, even at 4.1. Two years ago, he said: "I've tried to play a little too defensive here in the past, and if you're looking at the winners they all tend to make about 20 birdies this week. There's no point going out there with a strategy to try and make 14 birdies and no bogeys. That's still going to come up short. My strategy is to play a little bit more aggressive and shoot a bit more for the pins."

Last four events: MC-MC-7-2
Course form: 24-19-14-18-40-MC-MC-38-17-17-MC
Last 10 majors: 7-1-WD-24-25-40-27-19-3-39
Last 50 starts - Win: 4%, Top 5: 36%, Top 10: 52%

Conclusion

What kind of world do we live in where Henrik Stenson is currently trading at the same price as Phil Mickelson to have a top 10 in the Masters?!

Stenson has never had one whereas Mickelson has racked up 15 over his favourite course in the world.

It's 4.03/1 for another and I'm more than happy to take that and cheer on Phil again around Augusta National.

He's double the price for a top five but there's so many big guns around these days that he could get squeezed out so top 10 seems safer while still offering a nice reward.

Justin Rose has three top fives and a couple of recent top 10 near misses (T13 Bay Hill and T15 Houston) in his seven starts this year so is certainly playing some solid golf.

But it's his Augusta National record and always positive vibes at the place that really make me want to play him at 3.55/2.

Back Rose for a third straight top 10 and fourth in six years here as there's nothing to suggest he won't be a strong leaderboard presence again.

Finally, Rickie Fowler comes to this Masters playing some of his best ever golf and all the numbers point to a green jacket challenge.

I'll up the ante and play him for top five at a shade under 5/1.

If any of the three bets land, we make a profit.

Recommended Bets
Back Justin Rose for Top 10 @ 3.55/2
Back Phil Mickelson for Top 10 @ 4.03/1
Back Rickie Fowler for Top 5 @ 5.95/1

***


For all the latest Masters betting tips and previews, check out our dedicated category.
Dave's 2017 Top 5/10 P/L (based on £10 per selection)
Staked: £40
Returned: £68
P/L: +£28
Discover the latest articles