US Masters 2017: DJ primed for Augusta glory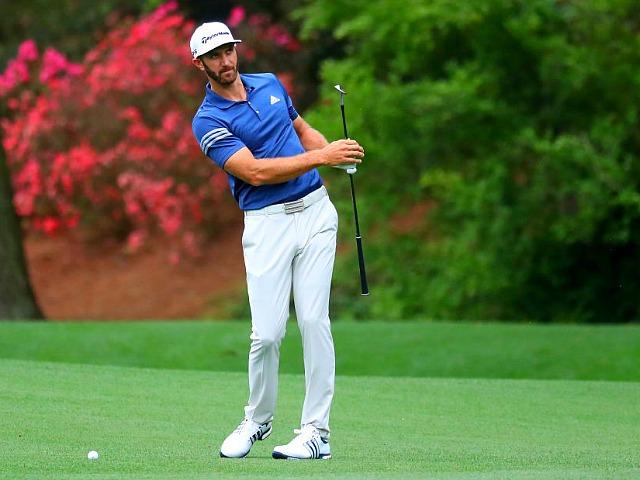 Dustin Johnson can blow the field away
Dave Tindall previews the 81st Masters at Augusta National...

"DJ got the monkey off his back thanks to a brilliant and bold display in last year's US Open and, with the weight lifted, I expect more majors to follow quickly."

Main Bet: Back Dustin Johnson to win @ 7.513/2
Each-way terms: 1/5 odds, 6 places

I've thought long and hard about this over the last few weeks and I've finally come to the conclusion that Dustin Johnson will win the 81st Masters at Augusta National - and possibly by some distance.

When DJ starts breaking Tiger's records, you have to realise that he is a very, very special talent.

And although the game is littered with top-class players right now, DJ is the one who will head to Augusta National in the form of his life.

When the game's best athlete is playing at the very peak of his powers, it's a killer combo that makes him almost impossible to stop.

No-one has managed that in recent weeks and Johnson became the first player since Rory McIlroy to post three straight wins on the PGA Tour when he added the WGC-Dell Match Play title to his quickly expanding trophy cabinet following victories at the Genesis Open and WGC-Mexico Championship.

That made him the first player to sweep all four current World Golf Championship events, overtaking Tiger, who had never won the HSBC Champions in China.

Rory's streak contained two majors and a WGC and it's not a coincidence that when a mega talent is flowing in confidence, he wins lots and he wins big.

Johnson is in that place right now and, for the first time, he'll arrive at the Masters as a major winner.

DJ got the monkey off his back thanks to a brilliant and bold display in last year's US Open and, with the weight lifted, I expect more to follow quickly.

There were 10 years between Nick Faldo's Augusta debut and his first green jacket so we can forgive Johnson for taking his time to crack the code at Augusta National.

This is his eighth appearance in the year's first major and the knocks at the door are getting louder. In 2013 he posted his then best of T13, improved to T6 in 2015 and last year he was just a couple of shots behind winner Danny Willett before a late double bogey left him T4.

Make no mistake, DJ could easily have won last year's Masters. Playing the last three holes in 2-under (very possible) would have put him in a playoff but, with wedge in hand for his second, he doubled the 17th and his race was run.

That's the sort of mental error which used to haunt him in the majors but his record (13 top 10s now since 2009) suggested it was incredibly harsh to think he'd never win one.

As well as getting his head together, the other key element required was to turn himself into a more all-round player with better wedge play and putting. He's brought those elements up to top-notch level and when you add them to his incredible long game, the results have been explosive.

Right now in the various Strokes Gained categories, he's 2nd in Off-The-Tee, 10th for Approach-The-Green, 6th Around-The-Green, 1st Tee-To-Green and 29th in Putting. Add in 1st in Driving Distance, 1st for Greens In Regulation and 21st in Scrambling and he really is the complete package.

One hugely important factor at the Masters - and this is the final clincher with Johnson - is being able to avoid the big numbers.

Check out the Bogey Avoidance stats for this season and you'll see DJ in fifth place. He may give the impression that he wins due to making a load of birdies and eagles while frittering shots away elsewhere; the reality says he cashes in on his great play almost as well as anyone nowadays by keeping bogeys or worse off his scorecard.

Five of the last seven winners at Augusta National gave fewest shots back in terms of bogeys and double bogeys for the week. Or, to put it another way, their bad holes added up to less than everyone else's.

For example, Adam Scott made just six bogeys and nothing worse when winning in 2013 while Jordan Spieth accumulated eight bogeys and a double during his 2015 triumph.

When totting up only the blemishes, all those seven winners had bogeys/worse adding up from +6 to +10.

Johnson's cumulative errors at Augusta National actually translate into a very simple downwards graph. His bad stuff added up to +20 on debut, +19 in 2010, +17 in 2011 and 2013 and +15 the last two years.

He still has to clean up the errors to find that sweet spot from +6 and +10 but he's getting better each year and on this season's evidence he can do it and find that perfect balance between attack and defence.

Johnson was 145th in Bogey Avoidance for the season as a young buck in 2011, still 65th in 2014 but he improved to 15th last year and is now 5th.

Perhaps the best evidence, though, is that he showed his ability to avoid errors when winning last year's US Open. He made just five bogeys and a double that week. Every other player who made the cut racked up at least 10 bogeys.

Players from the Southern States (Spieth, Bubba) have always done well at Augusta National and it's time for the man from South Carolina to book his Masters spot for life. Go win only at 13/2.

DJ's dominance does cast a shadow over the rest of my thinking but here at Betfair there's a market offering betting without Johnson, McIlroy and Spieth.

It's not beyond the realms that this trio finish 1-2-3 so you could back a player in this market and land the jackpot if he comes in fourth.

Spieth is 2-1-2 at the Masters and has led for seven of the last eight rounds and Rory has been slowly repairing the mental damage he suffered when blowing a four-shot lead in 2011.

McIlroy has repeatedly shot himself in the foot by carding a 77 or over in six of his last seven Augusta starts but he's still managed 10-4-8 the last three years and could easily set a PB this time even though I personally can't quite see him winning due to a combination of the course being in his head and his less-than-stellar putting.

Rickie Fowler is as short as 16s in some places but to get him at 14s without DJ, Spieth and McIlroy has to be good business and I think it makes sense rather taking him at 22s outright. I'd still be delighted if he won but, as stated, he could still land the full 14/1 by finishing second, third or third.

As I noted when tipping him in Houston last week, the American has a better win percentage over the last 50 events than Henrik Stenson, Justin Rose and Sergio Garcia and he hasn't just been picking up easy victories in low-key events.

On Fowler's CV already are triumphs at the Players Championship, the Wells Fargo Championship, the Deutsche Bank Championship (FedEx Cup play-off event) and the recent Honda Classic. All were high-quality fields.

In WGC events, the 28-year-old has racked up seven top 10s in his last 12 appearances and, of course, in 2014 he finished in the top five (5-2-2-3) in all four majors. Only Rory was in front of him at the Open that year so it would have been very handy to have played him in a market without the favourite(s) back then.

At Augusta, Fowler followed his T5 in 2013 with T12 in 2014 before missing his first cut in six starts due to a bizarre opening 80 last year. I can forgive him that.

Looking at the breakdown of his stats, it has to be significant that Fowler was ranked 1st for Putts taken in both 2013 and 2014 after needing just 108 swishes of the blade each time.

He was double digits under par (-10) on the par 5s in both 2013 and 2015 so he can really attack the long holes so it's just a question of limiting the mistakes.

As with DJ, the encouragement for that comes from looking at this year's Bogey Avoidance stats where Fowler is ranked 4th (he makes one on just over 10% of his holes).

Other very Augusta-friendly Strokes Gained stats from Fowler are 9th in Putting, 4th Tee-To-Green, 24th Driving Distance, 3rd Approach-The-Green, 1st Scoring Average, 1st Sand Save Percentage (nearly 80%) and 3rd Scrambling.

If he can bring all those parts of his game to Augusta, he must have a golden chance of landing his first major.

Although some might say he should have won in Houston last week, tied third place was still an impressive warm-up (rather that than the miss the cut like Spieth, Stenson and Scott) and he did finish strongly after a wobble at the end of round three and start of round four.

Explaining that, he said: "Just an alignment problem that cost me a few shots. Nice that I got it turned around and started to make some good swings (he played his last seven holes in 4-under)."

Taking the WGC-Dell Match Play off means he'll still be fresh heading to Augusta and the Houston warm-up looks ideal. His big finishes at the 2014 majors were preceded by a strong performance the week before (three times he had a top 10, including T6 in Houston) so his prep, which included some good sessions with Butch Harmon, looks spot on.

With form of 4-1-16-12-3 heading to the Masters, Fowler looks all set for a massive week and his ability to handle windy conditions could be very useful given the forecast for the first two days (gusts of 30-35mph Thursday and 25-30mph Friday).

How about an Englishman handing the green jacket to another Englishman?

25/1 Justin Rose could be that man but at double the odds I'm going to make Paul Casey my final bet.

Some players arrive at Augusta National fearing the worst, others are hopeful that they might do well and contend. Casey is very much in the bracket of player who thinks he can win.

It's a feeling he's had since his debut in 2006 when he turned up at his first Masters and finished T6 after middle rounds of 69-68.

He overcame an opening 79 to finish T10 in the ultra-tough Masters of 2007 (won by Zach Johnson in 1-over) and added T11 the following year when fourth going into the final day.

Casey made it four top 20s in five visits in 2009 and, after a dip, has been right back on it in the last two years with T6 in 2015 and T4 last year.

In the last two Masters, he's shot five rounds in the 60s. To give that some context, Henrik Stenson has managed just three in his whole career at Augusta National.

At the WGC-Dell Match Play, where he finished T9, Casey said: "The beautiful thing about Augusta is I know the shots I need to hit, so it's just the case of working on a few things and a few key shots, some hooky, draw 3 woods for the tee shots on 10, a lot of distance control, speed control with the putter."

Summing up why he does so well there, Casey said in 2016: "It certainly suits my game. I think the fact I've got a high ball flight; the ability to hit the driver a little bit right to left. I've always felt I'm a good lag putter, whether the stats show it or not, I've always felt comfortable on really fast greens."

This year his putting stats aren't great but he does rank 5th for Strokes Gained: Around-The-Green, 25th for Approach-The-Green and 7th for Scrambling so his short game does look sharp. And back to that Bogey Avoidance stat, he's a very healthy 13th.

I also like these Casey quotes from earlier in 2017. "I feel that I've got a better understanding of my golf game than I've ever had. Even when I got to No. 3 back in 2009, I didn't have this knowledge that I have now.

"I'm loving my golf more than I ever had. So the fun thing is, let's see what we can do in those next four or five years."

Only three players have made the top six at Augusta for the last two years - Spieth, Johnson and Casey. He's in elite company.

Quite simply, getting 50/1 about a player with a great course record and who sits 16th in the world rankings is enough to lure me in.

Of course, I could play the 28s without DJ, McIlroy and Spieth but that drop of 22 points feels like I'm giving too much up. Let's go for the jackpot.

Others I looked very close at were Marc Leishman at 66s and Adam Hadwin at 80s. They're 8th and 1st respectively in Bogey Avoidance and both are recent winners on the PGA Tour.

Slight preference is for Leishman as the Aussie has a T4 here from 2013 while Hadwin is a first-timer.

Bill Haas is another at a big-looking 100/1 while, at 110s, I've always felt Ryan Moore has a big Masters in him at some point.

At opposite ends of the age scale, it wouldn't surprise me at all if three-time winner Phil Mickelson and Spanish sensation Jon Rahm are part of a Sunday showdown.

I'll also hope for big runs from Louis Oosthuizen and Brooks Koepka, who came out as the best fits in my 10-year-trends preview - selections decided by the numbers rather than personal opinion of course.

But, for me, this is DJ's while Fowler and Casey can make a really serious challenge too.

***


For all the latest Masters betting tips and previews, check out our dedicated category.
Dave's 2016/17 PGA Tour P/L (based on £5 e/w per selection outrights, £10 win top 5s/10s)
Staked: £590
Returned: £1105.31
P/L: +£515.31
(After Shell Houston Open)
Discover the latest articles