The Punter's US Masters In-Play Blog: Rose in the driving seat after brilliant back nine charge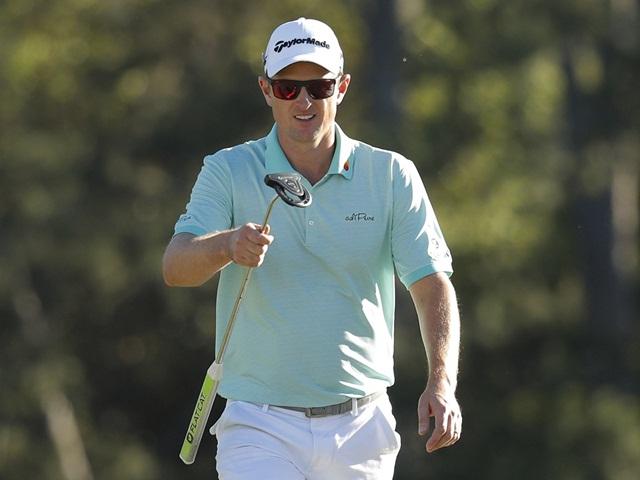 Justin Rose – the joint-leader and clear favourite at Augusta
There's just one round to go at the 81st US Masters and the tournament couldn't be set up any better. It's a tight affair and a really tough one to call so read Steve's thoughts on all the contenders here ahead of tonight's fourth and final round...

"Already a major champion, having won the US Open in 2013, and now the Olympic Champion too, Rose has plenty of experience to draw on today and he has an outstanding chance of donning a famous Green Jacket."
10:45 - April 09, 2017

A fabulous late run, that saw him birdie five of his last seven holes of round three at the US Masters, has taken the Olympic champion, Justin Rose, to the top of the leaderboard and to the head of the market. Here's the 54-hole leaderboard with prices to back at 10:35.

Justin Rose -6 4.1
Sergio Garcia -6 6.05/1
Rickie Fowler -5 5.79/2
Jordan Spieth -4 5.04/1
Ryan Moore -4 17.016/1
Charley Hoffman -4 22.021/1
Adam Scott -3 17.5
Charl Schwartzel -2 46.045/1
-1 & 60.059/1 Bar

Danny Willett sat fifth and three off the lead before winning 12 months ago but he was the first to win from outside the first four places with a round to go since Nick Faldo sat tied ninth and five adrift back in 1989. And we have to go back more than 20 years, to 1996, to find the last winner to be more than four strokes adrift. Faldo had trailed Greg Norman by six with 18 to play before the Australian's infamous collapse. It's highly likely that the winner is listed above. Let's start with the favourite.

Justin Rose, who Sarah Stirk was keen on before the off, seemed to be treading water on the front nine yesterday but from the 12th hole on he played magnificently, birdying five of the last seven holes, and he's the one they all have to beat now.

Already a major champion, having won the US Open in 2013, and now the Olympic Champion too, Rose has plenty of experience to draw on today and he has an outstanding chance of donning a famous Green Jacket. He had every right to be well-fancied before the off but his putting put me off. I've seen him putt poorly on numerous occasions of late and his stats back that up but he positively thrived on the faster surfaces yesterday - averaging 1.61 putts per hole. To put that into context, by far his best tournament average so far this year was 1.67 at the Genesis Open in February. On three occasions this year he's averaged 1.8 or above. Either he loves the fast greens at Augusta or he's chosen exactly the right week to find his touch. Maybe it's a bit of both.

This is the 21st time Rose has entered the final round of a tournament leading or tied for the lead and he has a 50% strike rate so far. He wasn't the safest of conveyances in the early days of his career but he's usually rock solid now.

Second favourite, Jordan Spieth, will be playing his fourth final round at Augusta later today and it will be the first time he's began the day trailing! He made a quadruple bogey nine on the 15th hole on Thursday and history suggests that's put pay to his chances. He trailed by 10 strokes after round one and the only person to win a major form that far back after 18 holes was Harry Vardon in the Open Championship in 1898. Nobody has ever won the Masters after such a slow start or having made anything worse than a double-bogey. If Spieth is to overcome the two stroke deficit and create Augusta form figures reading 2-1-2-1, he needs to rip up the history books but he's more than capable of that and if Rose flinches, he'll catch him.

Close friend, Rickie Fowler, will play alongside Spieth in the penultimate group and having Jordan by his side will help Rickie but having backed him before round three, I'd have wanted him to be in a better position that he is at this stage and I'm much cooler on his chances now.

Fowler sounded a bit nervous after his third round and putting on extra pressure by saying things like "It would be special to win for Arnie" won't help his cause. I really like Rickie and I'd love to see him win the major his talent deserves but I can't help thinking he might get jittery today. Johnnie Millar got some stick for being harsh on Rickie when he scrambled home at the Honda Classic in February, saying. "A win is a win, but you've got to learn to finish out Sundays like a true champion. He hasn't learned how to do that yet."

Harsh it may be but there's more than a grain of truth in what Millar said and Rickie arguably should have won last week in Texas too where he traded at long odds-on. He's going to have to show tremendous mettle today and he's going to have to keep putting as well as he has so far this week. He made two three-putts in round one but he's been oh so solid since then and he's averaging 1.46 Putts Per Green so far. Unsurprisingly, that's better than anyone else. He's also played the par fives better than anyone else and they're big plusses, stats wise.

Alongside Rose in the final two-ball is Sergio Garcia and of the big four at the head of the market, he's definitely the one I fancy least. He's had a few bits of luck so far this week and some will say that that the fact that Seve would have been 60 today is an omen. I'm not one for omens, I'm more of a facts and figures fella and the fact that Sergio hasn't yet won a major after 70 odd attempts is enough to have me fearing for his chances today.

He does seem to be in a better place mentally than he's been in years and to his credit, he won the Dubai Desert Classic (the same event Danny Willett won before winning here 12 months ago) in fine fashion from the front so I could be overplaying his mental fragility.

Some may see playing with Rose today is a plus but I'm not so sure. Justin is a thoroughly decent bloke and impossible to dislike but he's a steely competitor and I doubt very much we'll see the type of laughing and joking that Charley Hoffman and Sergio enjoyed yesterday to keep the Spaniard loose and relaxed. If Rose spots any sort of weakness from Sergio, make no mistakes, there'll be no sympathy, it will inspire the Englishman. He has the ruthless streak that I fancy the Spaniard lacks.

Below the big four, the one I like best is Ryan Moore. It was remiss of me not to mention him yesterday and I can see him hanging tough. He finished low amateur in 2005 (tied 16th) and he has pedigree. He's a five time PGA tour winner, he ran Rory McIlroy close at the Tour Championship in September (lost in a playoff) before getting the winning point in the Ryder Cup. On a day when the sad passing of Arnold Palme in September and the 60th birthday for Seve will be a big part of today's narrative, bear in mind that Ryan lost his grandmother on Thursday. He said on Friday that she's the inspiration for his fine three-under-par 69 in round three and he followed that up with another yesterday. At 34, this former US Amateur has paid his dues and he can't be dismissed lightly.

It's testament to how well Charley Hoffman's played this week that he's only two off the pace with a round to go and he's already had two fairly bad blips. He played the six holes between six and 11 in five-over par on Friday and he played holes 14, 15 and 16 in three-over yesterday. A highly likely third mini meltdown would prove fatal but I really hope it doesn't happen. I can't envisage it happening, but the Hoff fighting back and winning today would be one hell of a story and the one I'd enjoy most.

Adam Scott's tee-to-green game has been almost immaculate and being just off the pace will be in his favour but I don't see him as value given he's outside the top-six. His scrambling and putting haven't been as good as those ahead of him so far and he hasn't made the most of the par five like the leaders have either. If he won a second Green jacket I wouldn't be surprised but he's no value to do so.

I have to mention Charl Schwartzel, given he trails by four strokes. That's how many he trailed by with a round to go when he won in 2010 but I just can't see him winning again this year. He's the only man in history to have birdied the final four holes to win the title and he'll need something similarly miraculous to win again today.

Rose is the man to beat but having already backed a few, it's too close to call for me to get any further involved. I'll shout on Fowler, more in hope than expectation, and I'll be back tomorrow with the De-Brief.

11:15 - April 08, 2017

We've reached the halfway stage of the 81st US Masters and four men are tied at the top. Here's the halfway leaderboard with prices to back at 11:00.

Rickie Fowler -4 4.94/1
Sergio Garcia -4 7.413/2
Thomas Pieters -4 10.09/1
Charley Hoffman -4 17.016/1
William McGirt -3 50.049/1
Justin Rose -1 14.5
John Rahm -1 15.5
Ryan Moore -1 40.039/1
Fred Couples -1 130.0129/1
Jordan Spieth EV 8.615/2
Adam Scott EV 26.025/1
Phil Mickelson EV 28.027/1
Rory McIlroy +1 14.013/1
+1 & 50.049/1 Bar

After two days of competition we look set for a fantastic weekend at Augusta. The game's elite are jostling for position, the troublesome winds that have played havoc over the first two days will disappear and with Saturday pin placements offering up probable chances to score, we could see plenty of fireworks today in round three but from a betting perspective, it looks like a minefield.

Stats wise, history tells us you need to be up with the pace. Charl Schwartzel, tied 12th in 2011, is the only winner to be outside the top-10 at halfway since Jack Nicklaus won from tied 17th in 1986. Like Jack, Charl was six strokes adrift and that was the same number of strokes that Tiger Woods trailed Chris DiMarco in 2005. Although he was six back, Tiger was only third so he didn't have too much traffic to pass. Every other winner, going all the way to Mark O'Meara in 1998, who sat tied for ninth and five off the pace, has been inside the top eight places and no more than four off the lead. Augusta is a hard place to play catch-up.

The market suggests Rickie Fowler is the man to beat now and I can't disagree with it. If he were to win he'd be the first to do so having missed the cut the previous year since Tiger Woods in 1997 and he would be the first to shoot an over-par first round and win since Woods in 2005. He's also looking to win his first major so they're all the negatives out of the way but I wouldn't necessarily worry about any of them. The missed cut is irrelevant, the first round scoring average this year (74.98) is the highest since 2007 so a high (ish) first round score is excusable and surely it's only a matter of time before someone as brilliant as Rickie bags a major.

After two rounds, Rickie only ranks 46th for Greens In Regulation, having only hit 20 of 36, but he ranks fourth for Scrambling and second for Putts Per Round (1.44) so he could get really hot if he starts finding a few more greens. Given he won the Honda Classic, and finished tied-third at the Shell Houston Open last week, he has the same current form profile as the last three winners and being the world number eight in his sixth Masters at the age of 28 he's your archetypical Green Jacket candidate. He's never won a major before but on the other hand, he's never led a major before. He's now put that one to bed and he's the one they all have to beat.

Second favourite, Sergio Garcia, has been brilliant over the first two days, rankling fifth for Driving Distance, second for Driving Accuracy, Sixth for GIR, first for Sand Saves (4/4) and third for Scrambling but he's the only one of the leading quartet to rank outside the top-10 for putting and that would be a worry. Can the long game remain so good and will the putter save him if it doesn't?

El Nino is playing in his 74th major and although he ticks lots of the right stats boxes and is clearly playing well, I just can't back him at this stage. I touched on his mental frailties in yesterday's update and nothing's changed in the last 24 hours.

Next up in the betting is Jordan Spieth and he has an awful lot to do. Not only does he need to make up a lot of ground on the leaders but he has to overcome quite a damning stat. Nobody has ever won the US Masters having made a seven or worse at any stage and on Thursday, at the 15th hole, he made a quadruple-bogey nine! He clearly loves Augusta and I can see him making a charge but making up ground is so tough here and he can't afford many more mistakes. I don't think he's playing well enough to keep the errors of the card and he's of no interest to me at a single figure price.

Horton Smith won the first US Masters in 1934, and having not played in the inaugural event a year earlier, Gene Sarazen won on his first Augusta appearance in 1935 but the only other debutant to take the title is Fuzzy Zoeller way back in 1979. Jason day and Jordan Spieth have both finished second on their debuts recently and many dismiss the Zoeller stat, arguing it's only a matter of time before a first timer wins again.

I can see why. This new generation appear to play without fear and Thomas Pieters is the epitome of that. He's a joy to watch and a rare talent and I wouldn't put anyone off him but I can't dismiss the no debutant stat lightly. He's impossible to dismiss given how well he's playing but he got himself in a tangle on the back-nine on Thursday and I can't back him at a single-figure price, although I won't pretend I'm not tempted.

Rory McIlroy still has plenty to do and he's still making too many mistakes. Obviously capable of closing the gap and winning but he's no value to do so as far as I'm concerned and Justin Rose is far harder to dismiss at around the same price.

The Englishman has hit more greens than anyone else so far but he's struggled when he has missed them as he currently ranks 85th for Scrambling. I'm still concerned that his putting is a little suspect too and although I respect his chances greatly, I don't want to back him at this stage.

For Jon Rahm, see Thomas Pieters. The two have very similar profiles and they're both playing here for the first time. And there are only so many times I can type Fuzzy Zoeller.

First round leader, Charley Hoffman, had a bad day yesterday and I suspect the bleeding hasn't stopped yet. I can't trust Adam Scott's putting and Old Father Time looks like it's caught up with Phil Mickelson. He got himself into a fantastic position after he'd birdied the 13th hole to get to three-under-par yesterday but he finished poorly, leaking strokes at 14, 16 and 17 and I couldn't help but think he blew his chance over that stretch. It's perhaps daft to dismiss such a great champion and I sincerely hope I'm wrong but I can't help thinking he has far too much to do now.

I've had a small bet on Rickie Fowler at 4/1 but it's a really difficult event to evaluate at this stage and I won't even pretend to be confident. That doesn't mean I'm not looking forward to it though. It may be tough to sort, betting wise, but the tournament is set up perfectly and I can't wait for it to start.

I'll be back in the morning with a look at the state of play with a round to go.

09:00 - April 07, 2017

At least one player has shot a round in the 60s in round one at the US Masters in every year since 1958 but for much of yesterday's opening round it looked like that run may come to an end. Blustery conditions played havoc with the early starters but as the day wore on the breeze eased and the birdies dropped. And one or two late starters went positively bonkers!

Lee Westwood birdied five holes in-a-row and Paul Krishnamurty's each-way pick, Charley Hoffman, made four straight from the 14th to set the early pace. A rash of late birdies made it look easier than it was and only two men broke 70. And Paul tipped them both up in his Fine Me a 100 Winner column at odds of 150/1 (Hoffman) and 730.0729/1 (McGirt)!

In fact, it's been a really good start here at Betting.Betfair. In addition to Paul's incredible long-shot picks, four of the six each-way selections have started well, Dave Tindall's Top-10 and Top-5 picks are all in-the-mix and only one of Sarah Stirk's fancies has started slowly, and there's an excuse for Brandt Snedeker's slightly tardy 75 as he's reportedly struggling with a hand injury.

Anyway, that's more than enough back slapping so early on - here's the first round leaderboard, with prices to back at 08:30.

Charley Hoffman -7 7.06/1
William McGirt -3 42.041/1
Lee Westwood -2 24.023/1
Justin Rose -1 12.011/1
Phil Mickelson -1 18.017/1
Sergio Garcia -1 18.5
Matt Fitzpatrick -1 44.043/1
Russell Henley -1 40.039/1
Jason Dufner -1 55.054/1
Kevin Chappell -1 110.0109/1
Andy Sullivan -1 110.0109/1
Rory McIlroy Level 7.613/2
Jon Rahm +1 30.029/1
Jason day +2 30.029/1
Jordan Spieth +3 21.020/1
Level Par & 38.037/1 Bar

Although I was disappointed to see pre-event favourite, Dustin Johnson, pull out, I really enjoyed the first round yesterday. I can't help but wonder what the world number one would have done in the final group had he not withdrawn with a back injury, given the latter starters seemed to have unexpectedly gotten the best of the draw.

It's irrelevant now and pondering how he'd have fared is an exercise in futility so let's focus on the current state of play and I'll start by looking at the new favourite - Rory McIlroy.

The Irishman started poorly and after he'd bogeyed the par five eighth to be three-over-par for the day, he looked in trouble but three terrific up-and-downs at 10, 11 and 12, and a fortuitous birdie at the 13th saw him kick into gear.

His price spiked to 19.018/1 after his second shot to the easy par five 13th looked to have paid a visit to Rae's Creek but it had held up on the bank and that was the turning point. After birdying 13, he picked up two more strokes on 15 and 16 and parred his way in thereafter.

Rory's still up against it as far as I'm concerned though and I'm certainly not convinced he's value given how far back he is and how many mistakes he seems to make around Augusta. He also has to buck the in-running trends too.

As highlighted in the preview, Tiger Woods and Phil Mickelson are the only two men to win the event having finished day one outside of the top-10 since Mark O'Meara won from tied 25th and five off the pace in 1998. The last 11 winners have all been inside the top-10 and within four strokes of the first round lead so if we take that seriously it's a two-man race already! That would be ridiculous of course, but with 11 players under-par after day one, in an event that favours front-runners, Rory has some traffic to pass.

Of those 11 inside the top-four and ties, Sergio Garcia ticks the most stat boxes. He started in the afternoon yesterday, like the last seven winners, he has form at Riviera, like many a Masters champ, and he's already a winner this year, at the Dubai Desert Classic - the event Danny Willett won last year before winning the Masters.

Yesterday's bogey-free 71 was an impressive start and given Seve would have been 60 on Sunday, there wouldn't be a dry eye in Georgia if the popular Spaniard finally broke his major duck but he's not for me. He once famously said he wasn't capable of winning a major and while I think he's improved mentally of late, he's not one to go to war with.

I looked carefully at those under-par and the three I like at the prices after round one are Phil Mickelson, Russell Henley and Jason Dufner.

I've been a huge fan of Lefty for donkey's years and I backed him when he won on the last two occasions he's won the US Masters, in 2006 and 2010, so I fiddled about getting him onside in-running at an average of 38.037/1 but I still think he's generously priced at anything above 15.014/1. He hasn't won anywhere since winning the Open in 2013 and were he to win, he'd be the oldest ever winner of the Masters but they're the only negatives.

He's clearly playing well and nobody knows Augusta better than Lefty. And with another blustery day today drying out the circuit ahead of calmer weekend conditions, all that experience will be a huge asset.

It's asking a lot of Henley to follow last week's victory at the Shell Houston Open with a first major title but he's a short game wizard and he was too big at 50.049/1 and so too was the 2013 USPGA champ, Dufner, at 55.054/1.

Pre-Event Selections:
Dustin Johnson @ 7/1 (Non-Runner)
Paul Casey @ 66/1 (each-way)
Brandt Snedeker @ 75.074/1
Marc Leishman @ 80.079/1

In-Play Picks:
Phil Mickelson @ an average of 38.037/1
Russell Henley @ 50.049/1
Jason Dufner @ 55.054/1
Rickie Fowler @ 4/1 (Sportsbook)

*You can follow me on Twitter @SteveThePunter

***


For all the latest Masters betting tips and previews, check out our dedicated category.
Discover the latest articles