The Masters 2019: Major championship form ahead of the Augusta showpiece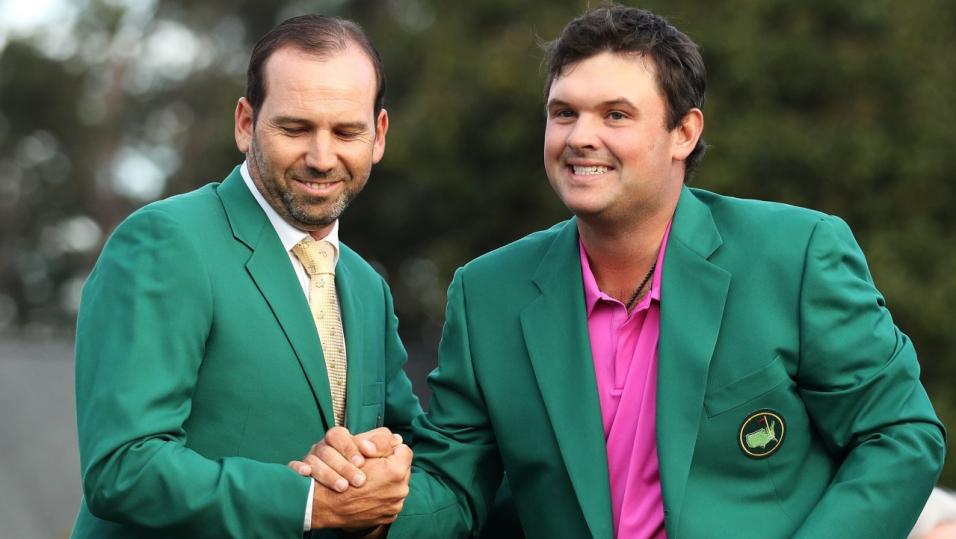 Sergio Garcia and Patrick Reed: The two most recent recipients of Augusta's coveted Green Jacket
With the first round of The Masters starting on Thursday, Andy Swales delves into all the recent Major Championship form for those teeing-up at Augusta...
"Since 1990, 22 (76%) of the 29 champions had finished either first or second in a tournament since the start of the calendar year."
It's extremely rare for a player to arrive at The Masters out of form, yet end up wearing the Green Jacket.
It does happen, from-to-time, although history shows it's mighty difficult for a golfer to conquer Augusta's putting surfaces and lightning fast slopes, if their game is lacking in both sharpness and confidence.
Turning bad into good during practice does not happen easily at this venue.
• Since 1990, 22 (76%) of the 29 champions had finished either first or second in a tournament since the start of the calendar year.
• One of other seven golfers (Adam Scott) had posted a podium finish in their penultimate warm-up event, with another (Zach Johnson) registering a top 10 just seven days before teeing-up in Georgia.
• Of the remaining five, three were former Masters' champions who had also previously finished runner-up at Augusta (Ben Crenshaw, Jose Maria Olazabal, Phil Mickelson), while Angel Cabrera had won the US Open less than two years earlier.
• This leaves Trevor Immelman as the only champion of the past 29 years who had neither form nor history on his side, going into The Masters. In 2008, the South African played seven strokeplay events before Augusta, missing the cut in four and having a best finish of tied-40th. He did manage to win one game in the WGC Match Play event but that was it. Even the surprise winner of 2016, Danny Willett, had won in Dubai, and had stood on the podium in the WGC event at Doral, and was also world No 12 at the time.
So the general rule of thumb seems to be that former champions may possibly be able to dig deep into their cavern of experience and turn things around during tournament week, while potential first-time winners - especially those without any major victories on their CV - must be reasonably hot by the time they reach Alister MacKenzie's sacred design.
Ten To Watch In 2019
Rory McIlroy: Chasing the one major that would complete his set of four grand slam titles. His six strokeplay starts of 2019 have all yielded top-six finishes, including a victory at TPC Sawgrass.
Dustin Johnson: Despite holding a top-three position in the World Ranking for the past 34 months - and at No 1 for more weeks than anyone else during this period - the 20-time winner on the PGA Tour is still viewed as an underachiever in the majors. There has been just a single top-six finish in one of these slam events since he won his solitary major in June 2016. However, will still be one of the fancied runners this week.
Brooks Koepka: Seeking to become only the second golfer of the past 100 years to win three successive Majors on American soil. Best finish in 2019 is a tie-for-second at PGA National, in an otherwise unconvincing start to the calendar year. However, his major form is supreme - three titles from his most recent six starts.
Justin Rose: Back at No 1 in the World Ranking thanks to a series of consistent performances. Is a two-time runner-up at Augusta where he rarely plays poorly.
Jordan Spieth: Falls into the category of a former champion whose game is out of shape right now. His last top-10 was nine months ago. However, his last two T-10s have come in majors, so can't be ruled out this week. In last year's event he started the final round nine strokes off the pace before closing with a 64 to finish third. In five Augusta starts has stood on the podium on four occasions.
Francesco Molinari: During the past 11 months has won four times - these include The Open, Wentworth PGA and more recently at Bay Hill. Also won all five matches at last year's Ryder Cup, so can he keep the magic flowing? His Masters form is not great but since last year's event his stature and confidence has grown sky high. The big test will be his putting but don't be surprised if in contention on Sunday afternoon.
Rickie Fowler: Golf's major bridesmaid of recent seasons. Second here 12 months ago. Won at Scottsdale in early February and followed this up by finishing joint second at the Honda Classic. The world No 9 tied-17th in Texas on Sunday.
Phil Mickelson: Less than three months short of his 49th birthday, Leftie would become the oldest major champion of all time with a fourth Masters success this week. Was a winner at Pebble Beach during February. No major top-20s from his last eight starts but this is Augusta.
Matt Kuchar: The consistent 40-year-old has posted a trio of top-five finishes at Augusta and another one is certainly on the cards this week. But does he have what it takes to stand on the top step of the podium?
Bubba Watson: A two-time champion and fifth last year. Major form has been poor of late - other than at Augusta in 2018 - but current form solid. Tied-4th at his most recent strokeplay event in Tampa Bay.
BEST AVERAGE POSITIONS IN MAJORS (2014-18)
Average (No. of Majors)
15.41: Brooks Koepka (17)
21.45: Jordan Spieth (20)
24.25: Justin Rose (20)
26.85: Jason Day (20)
27.11: Rory McIlroy (19)
29.35: Rickie Fowler (20)
33.10: Henrik Stenson (20)
33.15: Adam Scott (20)
33.21: Louis Oosthuizen (19)
33.72: Dustin Johnson (18)
33.82: Tony Finau (11)
33.90: Hideki Matsuyama (20)
Min. No. of Majors = 8
MOST MAJOR TOP-10s (2014-18)
11: Rory McIlroy
9: Dustin Johnson
9: Jordan Spieth
8: Jason Day
8: Brooks Koepka
7: Rickie Fowler
7: Justin Rose
6: Matt Kuchar
6: Adam Scott
6: Henrik Stenson
Check out the latest betting data for this week's Masters Tournament at Augusta National.
Twitter: Andy Swales@GolfStatsAlive
The table below lists the Last 10 Major Performances of those teeing-up at Augusta on Thursday
| Player | PGA-18 | BO-18 | USO-18 | MAS-18 | PGA-17 | BO-17 | USO-17 | USM-17 | PGA-16 | BO-16 |
| --- | --- | --- | --- | --- | --- | --- | --- | --- | --- | --- |
| Dustin Johnson | 27 | MC | 3 | 10 | 13 | 54 | MC | | MC | 9 |
| Justin Rose | 19 | 2 | 10 | 12 | MC | 54 | MC | 2 | 22 | 22 |
| Rory McIlroy | 50 | 2 | MC | 5 | 22 | 4 | MC | 7 | MC | 5 |
| Brooks Koepka | 1 | 39 | 1 | | 13 | 6 | 1 | 11 | 4 | |
| Justin Thomas | 6 | MC | 25 | 17 | 1 | MC | 9 | 22 | 66 | 53 |
| Bryson DeChambeau | MC | 51 | 25 | 38 | 33 | MC | MC | | | |
| Francesco Molinari | 6 | 1 | 25 | 20 | 2 | MC | MC | 33 | 22 | 36 |
| Patrick Reed | MC | 28 | 4 | 1 | 2 | MC | 13 | MC | 13 | 12 |
| Rickie Fowler | 12 | 28 | 20 | 2 | 5 | 22 | 5 | 11 | 33 | 46 |
| Jon Rahm | 4 | MC | MC | 4 | 58 | 44 | MC | 27 | | 59 |
| Jordan Spieth | 12 | 9 | MC | 3 | 28 | 1 | 35 | 11 | 13 | 30 |
| Xander Schauffele | 35 | 2 | 6 | 50 | MC | 20 | 5 | | | |
| Paul Casey | MC | 51 | 16 | 15 | 13 | 11 | 26 | 6 | 10 | MC |
| Tiger Woods | 2 | 6 | MC | 32 | | | | | | |
| Tommy Fleetwood | 35 | 12 | 2 | 17 | 61 | 27 | 4 | MC | | MC |
| Jason Day | 19 | 17 | MC | 20 | 9 | 27 | MC | 22 | 2 | 22 |
| Tony Finau | 42 | 9 | 5 | 10 | 44 | 27 | | | MC | 18 |
| Matt Kuchar | MC | 9 | MC | 28 | 9 | 2 | 16 | 4 | MC | 46 |
| Bubba Watson | MC | MC | MC | 5 | MC | 27 | MC | MC | 60 | 39 |
| Marc Leishman | 71 | 60 | 45 | 9 | 13 | 6 | 27 | 43 | 60 | 53 |
| Louis Oosthuizen | | 28 | 16 | 12 | 2 | MC | 23 | 41 | 22 | MC |
| Patrick Cantlay | 27 | 12 | 45 | MC | 33 | | | | | |
| Phil Mickelson | MC | 24 | 48 | 36 | MC | MC | | 22 | 33 | 2 |
| Gary Woodland | 6 | 67 | 36 | MC | 22 | 70 | 50 | MC | MC | 12 |
| Webb Simpson | 19 | 12 | 10 | 20 | 33 | 37 | 35 | MC | 13 | 39 |
| Kevin Kisner | 12 | 2 | MC | 28 | 7 | 54 | 58 | 43 | 18 | 76 |
| Hideki Matsuyama | 35 | MC | 16 | 19 | 5 | 14 | 2 | 11 | 4 | MC |
| Sergio Garcia | MC | MC | MC | MC | MC | 37 | 21 | 1 | MC | 5 |
| Cameron Smith | 56 | 78 | MC | 5 | MC | MC | | | | |
| Adam Scott | 3 | 17 | MC | 32 | 61 | 22 | MC | 9 | 18 | 43 |
| Alexander Noren | MC | 17 | 25 | MC | 67 | 6 | MC | MC | 49 | 46 |
| Rafa Cabrera-Bello | 10 | 74 | 36 | 38 | MC | 4 | 42 | MC | 49 | 39 |
| Ian Poulter | 31 | MC | 25 | 44 | 22 | 14 | | | | |
| Keegan Bradley | 42 | 79 | MC | | 33 | | 60 | | 42 | 18 |
| Matthew Fitzpatrick | MC | MC | 12 | 38 | MC | 44 | 35 | 32 | 49 | MC |
| Matt Wallace | 19 | MC | MC | | | | MC | | | |
| Tyrrell Hatton | 10 | 51 | 6 | 44 | MC | MC | MC | MC | 10 | 5 |
| Hao Tong Li | Wd | 39 | 16 | 32 | MC | 3 | 68 | | | |
| Henrik Stenson | MC | 35 | 6 | 5 | 13 | 11 | MC | MC | 7 | 1 |
| Eddie Pepperell | 59 | 6 | | | | | 16 | | | |
| Billy Horschel | 35 | | | MC | 48 | MC | MC | | 79 | MC |
| Kiradech Aphibarnrat | MC | 75 | 15 | 44 | | | | | 66 | MC |
| Branden Grace | 27 | MC | 25 | 24 | MC | 6 | 50 | 27 | 4 | 72 |
| Lucas Bjerregaard | | | | | | | | | | |
| JB Holmes | MC | | | | 28 | 54 | 12 | 50 | MC | 3 |
| Charles Howell | 71 | MC | 25 | | 73 | MC | | | | |
| Kyle Stanley | MC | 39 | MC | 52 | MC | MC | | | | |
| Justin Harding | MC | | | | | | | | | |
| Shane Lowry | 12 | MC | MC | | 48 | MC | 46 | MC | MC | MC |
| Brandt Snedeker | 42 | MC | 48 | | | | 9 | 27 | 56 | 22 |
| Thorbjorn Olesen | 56 | 12 | MC | | 44 | 62 | | | MC | MC |
| Kevin Na | 19 | 51 | | | MC | 44 | 32 | MC | 22 | 22 |
| Emiliano Grillo | 31 | MC | MC | | MC | MC | MC | 51 | 13 | 12 |
| Keith Mitchell | | | | | | | | | | |
| Si Woo Kim | MC | 67 | MC | 24 | Wd | MC | 13 | MC | MC | |
| Satoshi Kodaira | 59 | 35 | MC | 28 | 48 | | 46 | | | MC |
| Aaron Wise | MC | | MC | | | | | | | |
| Shugo Imahira | MC | | | | | | MC | | | MC |
| Danny Willett | MC | 24 | MC | MC | MC | 76 | Wd | MC | 79 | 53 |
| Corey Conners | | | | | | | MC | | | |
| Zach Johnson | 19 | 17 | 12 | 36 | 48 | 14 | 27 | MC | 33 | 12 |
| Charley Hoffman | MC | 17 | 20 | 12 | 48 | 20 | 8 | 22 | MC | 77 |
| Stewart Cink | 4 | 24 | | | | MC | 46 | | | |
| Patton Kizzire | MC | MC | | MC | | | | | 49 | 68 |
| Kevin Tway | | | | | | | | | | |
| Charl Schwartzel | 42 | MC | MC | MC | 48 | 62 | MC | 3 | 42 | 18 |
| Jimmy Walker | 42 | MC | 56 | 20 | MC | 54 | MC | 18 | 1 | MC |
| Adam Long | | | | | | | | | | |
| Andrew Landry | 50 | MC | | | | | | | | |
| Martin Kaymer | 42 | MC | MC | 48 | | 37 | 35 | 16 | 7 | 36 |
| Michael Kim | MC | 35 | | | | | | | | |
| Trevor Immelman | | | | MC | | | | MC | | |
| Vijay Singh | 78 | | | 49 | 66 | | | MC | MC | MC |
| Takumi Kanaya | | | | | | | | | | |
| Angel Cabrera | | | | MC | | | MC | MC | | |
| Bernhard Langer | | 24 | | 38 | | | | MC | | |
| Fred Couples | | | | 38 | | | | 18 | | |
| Jose Maria Olazabal | | | | MC | | | | MC | | |
| Mike Weir | | | | MC | | | | MC | | |
| Sandy Lyle | | MC | | MC | | MC | | MC | | MC |
| Larry Mize | | | | MC | | | | 52 | | |
| Ian Woosnam | | | | MC | | | | MC | | |
| Viktor Hovland | | | | | | | | | | |
| Jovan Rebula | | | | | | | | | | |
| Kevin O`Connell | | | | | | | | | | |
| Alvaro Ortiz | | | | | | | | | | |
| Devon Bling | | | | | | | | | | |
Discover the latest articles
Read past articles