US Masters Build-Up: Five of Augusta's greatest final day shots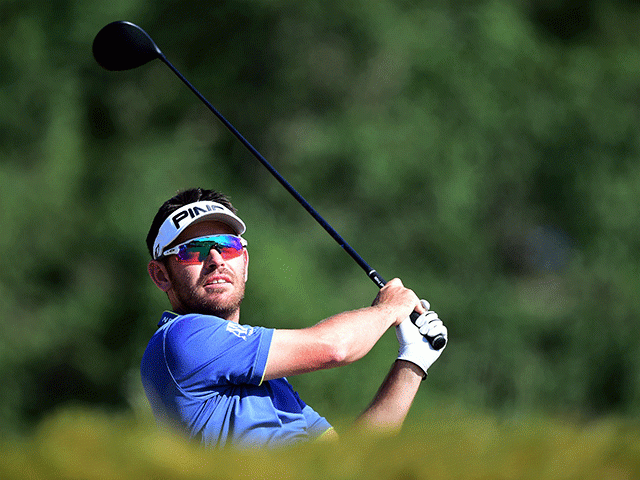 Louis Oosthuizen owns two of the greaest Sunday shots at Augusta
With just a week to go before the start of the 2017 US Masters, Mike Norman whets our appetites by recalling five of the greatest ever final round shots at Augusta...
Louis Oosthuizen's hole in one - 2016
Wow Factor: 5/5
Luck Factor: 4.5/5
Significance: 0/5

In one of the most remarkable, and scarcely believable shots you'll ever see on a Sunday at the US Masters, Louis Oosthuizen's tee shot on the par 3 181-yard 16th hole eventually found the bottom of the cup to record the third ace of the 2016 renewal and the 27th in the tournament's history.

The South African's tee shot was played perfectly to the apex of the slope, but as his ball gathered pace and headed towards the hole it was seemingly stopped in its tracks when it bumped into the ball of JB Holmes who had just moments earlier played a beautiful shot himself. Holmes' ball was knocked just inches past the hole, but incredibly, Oosthuizen's ball headed back towards the cup and had the exact amount of momentum to reach it and drop in.

I doubt we'll ever get tired of seeing this shot which is why it scores maximum points for wow factor. Oosthuizen was six over par at the time hence his ace had no significance to the outcome of that year's Masters, but where the debate will continue to rumble on is when we discuss how lucky the shot was. I'd say it was extremely lucky, but given that the tee shot had to be hit in the right spot I've just stopped shy of giving Oosty the full set of luck points.
Bubba Watson's banana wedge - 2012
Wow Factor: 4.5/5
Luck Factor: 0/5
Significance: 5/5

Bubba Watson has never been afraid to try the impossible, but what he attempted on the second play-off hole as he went on to don his first Green Jacket will live long in the memory.

His drive on the par 4 10th went way right into the trees, leaving Bubba completely blocked out from going straight at the green. But it didn't matter, from the pine straws the mercurial left-hander produced a one-in-a-million shot, hooking his ball some 45 yards with a gap wedge onto the green, some 10 yards from the pin. He would take two puts from there to claim his first of two Masters titles, beating Ooshuizen to the Green Jacket.

It was a pretty jaw-dropping shot so scores highly on the wow factor, and it was all skill and ability, so no luck needed here. And in terms of significance it doesn't get any more important than being the last approach shot Bubba would hit in that year's tournament before becoming the 2012 US Masters champion.
Louis Oosthuizen's albatross - 2012
Wow Factor: 4/5
Luck Factor: 4/5
Significance: 4.5/5

Another stunning shot from Oosthuizen as he holed his approach on the par 5 second shot on Masters Sunday to record just the tournament's fourth albatross (or double eagle if you're American) in its illustrious history.

Oosthuizen's sweetly struck four iron, from approximately 260 yards, landed perfectly at the front of the left-to-right-sloping green and fed its way to the hole. As his ball gathered pace on the ideal line it soon became obvious that it was destined for the bottom of the cup, and the South African would imminently have the lead in the 2012 US Masters.

It was an incredible shot no doubt, but in terms of wowing us it wasn't quite up there with some of the other shots listed here. And it was pretty damn fortunate too, any shot that finds the bottom of the cup from over 250 yards has to have a large element of luck attached. The eagle did help Oosthuizen get into a play-off however, but it doesn't get the maximum significance points given he would go on to lose the play-off to Bubba.
Phil Mickelson's tree shot - 2010
Wow Factor: 4.5/5
Luck Factor: 0/5
Significance: 5/5

Phil Mickelson reached the par 5 13th hole on Masters Sunday with a two-shot lead over Lee Westwood, but after a wayward tee shot on the 'gettable' par 5 suddenly the door was ajar for his nearest pursuers.

With just under 200 yards to the green, Rae's creek ready to gobble up any inaccurate shots, a couple of trees directly in front of him, and his ball on the pine straws, the percentage call for Lefty was to lay up. But Mickelson saw something different; he shuffled his feet into a stable stance, took aim and pulled the trigger, sending his ball high into the air in the direction of the flag. His ball landed softly, just five feet short of the cup, setting up an eagle opportunity that effectively slammed the door firmly closed on the chasing pack.

Mickelson missed the eagle putt, but that incredible approach guaranteed a birdie that maintained his two-shot lead, which he would eventually stretch to three as he claimed his third Green Jacket, so the significance of the shot isn't in question. Neither is the luck, it was a brave and superb approach that required all of Mickelson's skill. Lefty has since said his ball was lying perfectly, and that the trees weren't really in his way, so for that reason we're not giving him maximum wow factor points, but it was still pretty damn impressive.
Tiger Woods' chip in - 2005
Wow Factor: 5/5
Luck Factor: 1/5
Significance: 5/5

"Oh wow, in your life have you seen anything like that", bellowed American commentator Verne Lundquist as Tiger Woods produced one of the most memorable Augusta moments of all time.

With a single-shot lead over fellow countryman Chris DiMarco, Tiger's tee shot on the par 3 16th hole went beyond the pin and just off the green. He faced an almost impossible chip shot with a slope directly in front of him that was likely to escalate the speed of his ball as it approached the cup. It needed a touch of genius, and boy did it get one.

Tiger took his time, but a carefully thought-out shot was executed to perfection as he skidded his ball onto the apex of the slope. His ball almost came to a halt before turning right as it began to roll towards the cup. It reached its destination at virtually a snail's pace, before coming to a halt again, half of the ball hanging over the edge of the hole. But just as the patrons were about to applaud a stunning chip shot, Tiger's ball fell into the cup for birdie, giving him a two-shot lead with two holes to play in the most dramatic fashion.

The shot scores maximum points for both wow factor and significance; without the birdie Tiger wouldn't have made a play-off that he would later win. But it does get a small score for luck. It was a stunningly-played shot with lots of skill admittedly, but his ball could easily have stopped an inch short. Tiger had a tiny bit of luck on that hole, and without it he wouldn't have won his fourth Green Jacket.

***

Click here for all our 2017 Masters content
Discover the latest articles