The Masters 2017: Course and current form stats for the season's first major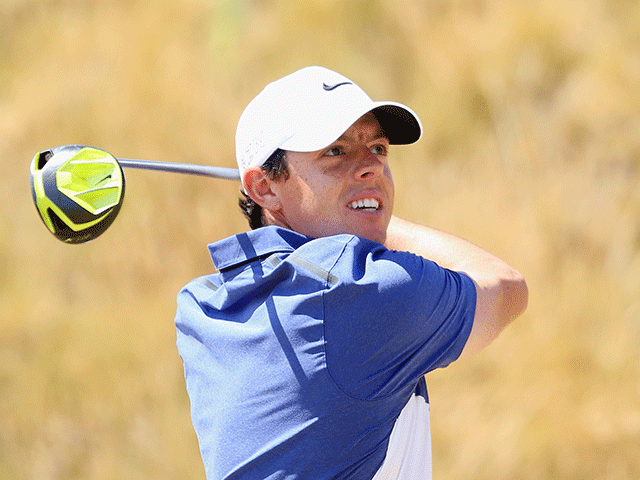 Can Rory McIlory justify being one of the favourites for the 2017 Masters?
Andy Swales returns with analysis of both course and current form stats ahead of the Masters, focusing on the market leaders. Can Dustin Johnson maintain his incredible form? Will Jordan Spieth bounce back from his 2016 nightmare? Here's the lowdown...
"Jordan Spieth is a mentally-strong competitor and it would be a massive shock if he didn't contend this week."
One of the most fascinating aspects of this week's Masters Tournament will be watching world No 1 Dustin Johnson attempting to continue his remarkable recent run.

The big-hitting American has won his last three events and another on Sunday would make it seven successes during the past 10 months.

However, the pressure on the 32-year-old to clinch a second Major title will be immense and how he copes with the expectation of it all will provide some of the most compelling viewing this weekend.

Gut reaction says he will not make it four-in-a-row, although it would be a massive surprise if he failed to finish in the top half-a-dozen either.

DJ tied-for-fourth 12 months ago and was sixth in 2015.

Another golfer under pressure this week will be Jordan Spieth who in Georgia last year appeared to be coasting towards a successful defence of his Masters title, midway through his final round.

But a back-nine collapse allowed Danny Willett to become an unlikely champion, although Spieth did manage to recover his composure to cross the line in a tie-for-second.

The 23-year-old Texan has never finished lower than second in three Augusta starts and, despite last week's debacle in Houston, he will go into this week's major championship in reasonable, if not tip-top, shape.

His second round 77 in the Shell-sponsored event on Friday was his worst PGA Tour round for over 13 months.

But Spieth is a mentally-strong competitor and it would be a massive shock if he didn't contend this week.

Historically, the cream of world golf usually finds a way of reaching the top end of Augusta's leaderboard by Saturday evening.

This is largely because the Masters has a small select field and that it is played on the same course every year - unlike the other three majors.

There is always a sizable number of former ageing champions who are no longer able to contend with today's top young guns.

It is also a notoriously difficult venue for rookies to learn. Even though recent winners such as Charl Schwartzel (2011), Spieth (2015) and Willett (2016) all triumphed on their second visit to the tournament, only one rookie has worn the Green Jacket in over 80 years - Fuzzy Zoeller in 1979.

So taking into account former winners over the age of 50, amateurs and rookies, you can reduce the size of an already small field by at least one-third.

Thus experience counts for a lot in the season's first major and making his ninth appearance in the tournament is Rory McIlroy who will be hoping the various pressures on DJ and Spieth will weigh heavily on their shoulders this week.

The 28-year-old will always tee-up as one of favourites, although the one factor that could go against him is his lack of tournament golf in recent months.

Due largely to injury, the Northern Irishman has contested just 12 competitive strokeplay rounds during the last 18 weeks, which is an issue also facing Jason Day - the fourth and final member of the 'World's Big Four'.

The Australian is also undercooked and may struggle emotionally having spent time with his terminally ill mother.

And what about Phil Mickelson who is in decent shape too? His experience around Augusta is immense and, at just a few months short of his 47th birthday, would love to become the oldest-ever Masters champion taking over from Jack Nicklaus who won in 1986 at the age of 46 years and two months.

Masters Stroke Averages
Last five years @ Augusta Nationsl
Average (Rounds)
69.92: Jordan Spieth (12)
71.30: Justin Rose (20)
71.40: Lee Westwood (20)
71.58: Tiger Woods (12)
71.70: Paul Casey (10)
71.71: Dustin Johnson (14)
71.75: Matt Kuchar (20)
71.80: Rory McIlroy (20)
71.89: Louis Oosthuizen (18)
71.94: Phil Mickelson (16)
71.94: Jason Day (17)
Min. No. of Rounds = 10

***

For all the latest Masters betting tips and previews, check out our dedicated category
| Player | W13 | W12 | W11 | W10 | W9 | W8 | W7 | W6 | W5 | W4 | W3 | W2 |
| --- | --- | --- | --- | --- | --- | --- | --- | --- | --- | --- | --- | --- |
| Dustin Johnson | | 1 | | | 1 | | 1 | 3 | | MC | 2 | |
| Rory McIlroy | | 30 | 4 | | 7 | | | | | | | 2 |
| Jason Day | | 58 | 23 | | | | 64 | 5 | | MC | | |
| Hideki Matsuyama | | 51 | 45 | | 25 | | MC | | 1 | 33 | | 27 |
| Henrik Stenson | MC | | MC | 7 | Wd | | | | 2 | | 8 | |
| Jordan Spieth | MC | 30 | | | 12 | | 22 | 1 | 9 | | | 3 |
| Adam Scott | MC | | | | 45 | 14 | 11 | | | | 9 | |
| Justin Thomas | | 39 | | MC | 5 | MC | 39 | | MC | | | 1 |
| Rickie Fowler | 3 | | 12 | | 16 | 1 | | | 4 | MC | 36 | |
| Alexander Noren | | 5 | 49 | | 55 | | MC | | | 21 | 13 | |
| Sergio Garcia | | 30 | | | 12 | 14 | 49 | | 1 | | 11 | |
| Patrick Reed | MC | 51 | | 38 | 61 | | 59 | 23 | 68 | | 12 | |
| Justin Rose | 15 | | 13 | | 38 | | 4 | 39 | | 4 | | 2 |
| Jon Rahm | 10 | 2 | | | 3 | | | 5 | 16 | 1 | 34 | |
| Tyrrell Hatton | | 17 | 4 | | 10 | 4 | | | 3 | | 13 | |
| Paul Casey | | 9 | 41 | | 16 | 11 | 39 | | | 28 | 58 | MC |
| Danny Willett | | 39 | | | 69 | MC | | 5 | 54 | | MC | |
| Bubba Watson | | 9 | 34 | MC | 38 | | Wd | | MC | | | |
| Phil Mickelson | 55 | 5 | | | 7 | | 34 | 65 | 16 | 14 | 21 | |
| Branden Grace | | 39 | MC | | 32 | Wd | 22 | | | | 13 | 13 |
| Matt Kuchar | MC | 30 | | 22 | 20 | | 22 | MC | 9 | | | |
| Brandt Snedeker | | 17 | 28 | | 7 | | MC | 4 | | 9 | | MC |
| Russell Knox | | 39 | | MC | 70 | MC | | | MC | | | 11 |
| Jimmy Walker | MC | 39 | | | 25 | 21 | 11 | 55 | | MC | | MC |
| Brooks Koepka | | 9 | MC | | 48 | MC | MC | | 42 | MC | | |
| Rafael Cabrera-Bello | MC | 17 | | 5 | 38 | 37 | | 34 | 11 | 6 | 19 | |
| Marc Leishman | | 9 | 1 | | | 27 | MC | | 24 | 20 | | 20 |
| Louis Oosthuizen | | 17 | 28 | | 48 | 21 | 5 | | 3 | 41 | | |
| Charl Schwartzel | | 17 | 45 | 6 | 38 | | MC | MC | | | | |
| Matthew Fitzpatrick | | 17 | 13 | | 16 | 68 | | | 5 | | MC | |
| Francesco Molinari | | 58 | 7 | | 20 | 14 | MC | | | 14 | 12 | |
| Emiliano Grillo | | 51 | 7 | | 52 | 43 | | | 63 | 33 | MC | |
| Tommy Fleetwood | | 39 | 10 | | 2 | | | 12 | MC | MC | 1 | |
| Thomas Pieters | | 30 | MC | | 5 | MC | 2 | | 23 | | MC | |
| Gary Woodland | | 39 | | 58 | 38 | 2 | | 5 | MC | 20 | | 6 |
| Kevin Kisner | | 17 | 2 | | 11 | 48 | | 10 | | | 25 | 4 |
| JB Holmes | MC | 51 | | | 12 | | 34 | 23 | 24 | 33 | | |
| Ryan Moore | | 30 | 34 | 18 | 28 | | MC | | 61 | | | |
| Bill Haas | | 3 | | 41 | 32 | | 11 | | | | 17 | 13 |
| Daniel Berger | 5 | 39 | | MC | 16 | MC | | | 7 | MC | | 45 |
| Bernd Wiesberger | 23 | 17 | | | 45 | | | 3 | 32 | 37 | 4 | |
| Yuta Ikeda | | 51 | | | 61 | | | | | MC | MC | |
| Kevin Chappell | 44 | 39 | 49 | | 55 | | MC | 48 | 75 | MC | | |
| Martin Kaymer | | 17 | 23 | | 23 | 4 | | | 23 | 48 | 4 | |
| Scott Piercy | | 58 | | MC | 32 | | MC | 55 | 73 | | 41 | 57 |
| Adam Hadwin | | | 6 | 1 | | | 34 | 39 | 12 | 49 | 2 | |
| Jeunghun Wang | | 58 | 23 | | 71 | | | MC | MC | 1 | 11 | |
| Hideto Tanihara | | 4 | | | 32 | | 15 | | | 22 | 9 | 27 |
| Ross Fisher | | 5 | | | 3 | | | MC | MC | | 19 | |
| Zach Johnson | | 9 | 66 | | 58 | 27 | | | 12 | | MC | 6 |
| Kevin Na | | 9 | MC | MC | 52 | | 4 | | 16 | | 70 | 36 |
| Charley Hoffman | 23 | | 2 | MC | | | 4 | MC | 24 | 54 | MC | |
| Lee Westwood | MC | 17 | | | 28 | | 17 | 26 | 23 | | 8 | |
| William McGirt | | 9 | MC | | 28 | MC | | 66 | 24 | | MC | 49 |
| Byeong Hun An | | 58 | 49 | 49 | 48 | | 55 | | 6 | 49 | 13 | |
| Brendan Steele | | 30 | | | 48 | 14 | 39 | | 16 | 20 | 6 | |
| Jim Furyk | | 30 | | 41 | 58 | | 39 | 66 | | | | |
| Chris Wood | 49 | 39 | | | 28 | | | | 19 | 11 | MC | |
| Soren Kjeldsen | | 5 | | 27 | 32 | 37 | MC | | | MC | MC | MC |
| Andy Sullivan | 15 | 58 | | | 20 | | | | MC | 28 | 73 | MC |
| Jhonattan Vegas | 15 | 17 | | | 38 | 4 | 15 | | | 28 | 34 | |
| Pat Perez | | 17 | 17 | | 38 | | 28 | 14 | Wd | 4 | | 69 |
| Shane Lowry | | 51 | | | | | Wd | 14 | 16 | 33 | | |
| Webb Simpson | | 58 | MC | 41 | | | 39 | MC | 2 | | 66 | 13 |
| Si Woo Kim | Wd | 30 | 49 | Wd | 72 | MC | MC | MC | MC | Wd | | |
| Jason Dufner | 12 | 51 | | 11 | 23 | 14 | | | | | 25 | MC |
| James Hahn | 49 | | 49 | 41 | | | 28 | 58 | MC | MC | | 36 |
| Hudson Swafford | 6 | | 10 | 38 | | MC | MC | | | MC | 1 | 13 |
| Sean O`Hair | 49 | | MC | Wd | 65 | 11 | | 66 | 47 | | 9 | 11 |
| Roberto Castro | MC | | MC | | 45 | | | MC | MC | 28 | 50 | |
| Daniel Summerhays | | | MC | MC | | 52 | 55 | MC | 16 | | MC | 36 |
| Russell Henley | 1 | | 45 | 9 | | 43 | | | 16 | | MC | 13 |
| Steve Stricker | | | | MC | | | | 23 | 42 | | | |
| Mackenzie Hughes | 23 | | MC | | 32 | 66 | MC | 10 | MC | 54 | | 27 |
| Billy Hurley | | | MC | MC | | 52 | 28 | MC | | 77 | | 20 |
| Brian Stuard | | | MC | 38 | | 27 | 39 | MC | 16 | 77 | MC | 45 |
| Rod Pampling | | | MC | 41 | | | | MC | MC | MC | | 64 |
| Vijay Singh | | | MC | MC | | | MC | MC | | | | 57 |
| Ernie Els | MC | | MC | MC | | MC | MC | | | 13 | MC | MC |
| Bernhard Langer # | | | | | | | | | | | | |
| Jose Maria Olazabal | | | | | | | | | MC | MC | | |
| Mike Weir | | | | | | | | MC | | | | |
| Trevor Immelman | | MC | MC | | 29 | MC | | | MC | MC | MC | |
| Angel Cabrera | 34 | MC | | | | | MC | 54 | | | MC | |
| Fred Couples # | | | | | | | | | | | | |
| Ian Woosnam # | | | | | | | | | | | | |
| Mark O`Meara # | | | | | | | | | | | | |
| Larry Mize # | | | | | | | | | | | | |
| Sandy Lyle # | | | | | | | | | | | | |
| Curtis Luck | | | Dq | | | | 47 | MC | 23 | | 49 | |
| Scott Gregory | | | | | | | | | | | | |
| Brad Dalke | | | | | | | | | | | | |
| Stewart Hagestad | | | | | | | | | | | | |
| Toto Gana | | | | | | | | | | | | |
| # Play Senior Tour Golf | | | | | | | | | | | | |
| Player | 2016 | 2015 | 2014 | 2013 | 2012 | 2011 | 2010 | 2009 | 2008 | 2007 |
| --- | --- | --- | --- | --- | --- | --- | --- | --- | --- | --- |
| Dustin Johnson | 4 | 6 | MC | 13 | | 38 | 38 | 30 | | |
| Rory McIlroy | 10 | 4 | 8 | 25 | 40 | 15 | MC | 20 | | |
| Jason Day | 10 | 28 | 20 | 3 | Wd | 2 | | | | |
| Hideki Matsuyama | 7 | 5 | MC | | 54 | 27 | | | | |
| Henrik Stenson | 24 | 19 | 14 | 18 | 40 | MC | MC | 38 | 17 | 17 |
| Jordan Spieth | 2 | 1 | 2 | | | | | | | |
| Adam Scott | 42 | 38 | 14 | 1 | 8 | 2 | 18 | MC | 25 | 27 |
| Justin Thomas | 39 | | | | | | | | | |
| Rickie Fowler | MC | 12 | 5 | 38 | 27 | 38 | | | | |
| Alexander Noren | | | | | | | | | | |
| Sergio Garcia | 34 | 17 | MC | 8 | 12 | 35 | 45 | 38 | MC | MC |
| Patrick Reed | 49 | 22 | MC | | | | | | | |
| Justin Rose | 10 | 2 | 14 | 25 | 8 | 11 | | 20 | 36 | 5 |
| Jon Rahm | | | | | | | | | | |
| Tyrrell Hatton | | | | | | | | | | |
| Paul Casey | 4 | 6 | | | MC | 38 | MC | 20 | 11 | 10 |
| Danny Willett | 1 | 38 | | | | | | | | |
| Bubba Watson | 37 | 38 | 1 | 50 | 1 | 38 | | 42 | 20 | |
| Phil Mickelson | MC | 2 | MC | 54 | 3 | 27 | 1 | 5 | 5 | 24 |
| Branden Grace | MC | MC | MC | 18 | | | | | | |
| Matt Kuchar | 24 | 46 | 5 | 8 | 3 | 27 | 24 | | | |
| Brandt Snedeker | 10 | MC | 37 | 6 | 19 | 15 | | MC | 3 | |
| Russell Knox | MC | | | | | | | | | |
| Jimmy Walker | 29 | 38 | 8 | | | | | | | |
| Brooks Koepka | 21 | 33 | | | | | | | | |
| Rafael Cabrera-Bello | 17 | | | | | | | | | |
| Marc Leishman | MC | | MC | 4 | | | MC | | | |
| Louis Oosthuizen | 15 | 19 | 25 | MC | 2 | MC | MC | MC | | |
| Charl Schwartzel | MC | 38 | MC | 25 | 50 | 1 | 30 | | | |
| Matthew Fitzpatrick | 7 | | MC | | | | | | | |
| Francesco Molinari | | | 50 | MC | 19 | MC | 30 | | | |
| Emiliano Grillo | 17 | | | | | | | | | |
| Tommy Fleetwood | | | | | | | | | | |
| Thomas Pieters | | | | | | | | | | |
| Gary Woodland | | MC | 26 | | Wd | 24 | | | | |
| Kevin Kisner | 37 | | | | | | | | | |
| JB Holmes | 4 | MC | | | | | | | 25 | |
| Ryan Moore | MC | 12 | MC | 38 | | 35 | 14 | | | |
| Bill Haas | 24 | 12 | 20 | 20 | 37 | 42 | 26 | | | |
| Daniel Berger | 10 | | | | | | | | | |
| Bernd Wiesberger | 34 | 22 | | | | | | | | |
| Yuta Ikeda | | | | | | MC | 29 | | | |
| Kevin Chappell | | | | | 44 | | | | | |
| Martin Kaymer | 49 | MC | 31 | 35 | 44 | MC | MC | MC | MC | |
| Scott Piercy | 29 | | | 54 | | | | | | |
| Adam Hadwin | | | | | | | | | | |
| Jeunghun Wang | | | | | | | | | | |
| Hideto Tanihara | | | | | | | | | | MC |
| Ross Fisher | | | | | 47 | 15 | MC | 30 | | |
| Zach Johnson | MC | 9 | MC | 35 | 32 | MC | 42 | MC | 20 | 1 |
| Kevin Na | 55 | 12 | | 59 | 12 | MC | MC | | | |
| Charley Hoffman | 29 | 9 | | | | 27 | | | | |
| Lee Westwood | 2 | 46 | 7 | 8 | 3 | 11 | 2 | 43 | 11 | 30 |
| William McGirt | | | | | | | | | | |
| Byeong Hun An | MC | | | | | | MC | | | |
| Brendan Steele | | | | | MC | | | | | |
| Jim Furyk | | MC | 14 | 25 | 11 | 24 | MC | 10 | 33 | 13 |
| Chris Wood | 42 | | | | | | MC | | | |
| Soren Kjeldsen | 7 | | | | | | 30 | MC | | |
| Andy Sullivan | MC | | | | | | | | | |
| Jhonattan Vegas | | | | | | MC | | | | |
| Pat Perez | | | | | | | | MC | | |
| Shane Lowry | 39 | MC | | | | | | | | |
| Webb Simpson | 29 | 28 | MC | MC | 44 | | | | | |
| Si Woo Kim | | | | | | | | | | |
| Jason Dufner | MC | 49 | MC | 20 | 24 | | 30 | | | |
| James Hahn | | MC | | | | | | | | |
| Hudson Swafford | | | | | | | | | | |
| Sean O`Hair | | | | | 32 | MC | 30 | 10 | 14 | |
| Roberto Castro | | | MC | | | | | | | |
| Daniel Summerhays | | | | | | | | | | |
| Russell Henley | | 21 | 31 | MC | | | | | | |
| Steve Stricker | | 28 | 31 | 20 | 47 | 11 | 30 | 6 | MC | MC |
| Mackenzie Hughes | | | | | | | | | | |
| Billy Hurley | | | | | | | | | | |
| Brian Stuard | | | | | | | | | | |
| Rod Pampling | | | | | | | | | | 37 |
| Vijay Singh | MC | 54 | 37 | 38 | 27 | MC | MC | 30 | 14 | 13 |
| Ernie Els | MC | 22 | MC | 13 | | 47 | 18 | MC | MC | MC |
| Bernhard Langer | 24 | MC | 8 | 25 | MC | | MC | MC | MC | MC |
| Jose Maria Olazabal | | MC | 34 | 50 | MC | MC | | MC | MC | 44 |
| Mike Weir | MC | MC | 44 | MC | MC | MC | 43 | 46 | 17 | 20 |
| Trevor Immelman | MC | MC | MC | 50 | 60 | 15 | 14 | 20 | 1 | 55 |
| Angel Cabrera | 24 | 22 | MC | 2 | 32 | 7 | 18 | 1 | 25 | 37 |
| Fred Couples | | MC | 20 | 13 | 12 | 15 | 6 | MC | MC | 30 |
| Ian Woosnam | MC | MC | MC | MC | MC | MC | MC | MC | 44 | Wd |
| Mark O`Meara | MC | 22 | MC | MC | | MC | MC | MC | MC | MC |
| Larry Mize | 52 | MC | 51 | MC | MC | MC | MC | 30 | MC | MC |
| Sandy Lyle | MC | MC | 44 | 54 | MC | MC | MC | 20 | 45 | 43 |
| Curtis Luck | | | | | | | | | | |
| Scott Gregory | | | | | | | | | | |
| Brad Dalke | | | | | | | | | | |
| Stewart Hagestad | | | | | | | | | | |
| Toto Gana | | | | | | | | | | |
Discover the latest articles