2018 Masters Betting: Woods has found his magic wand again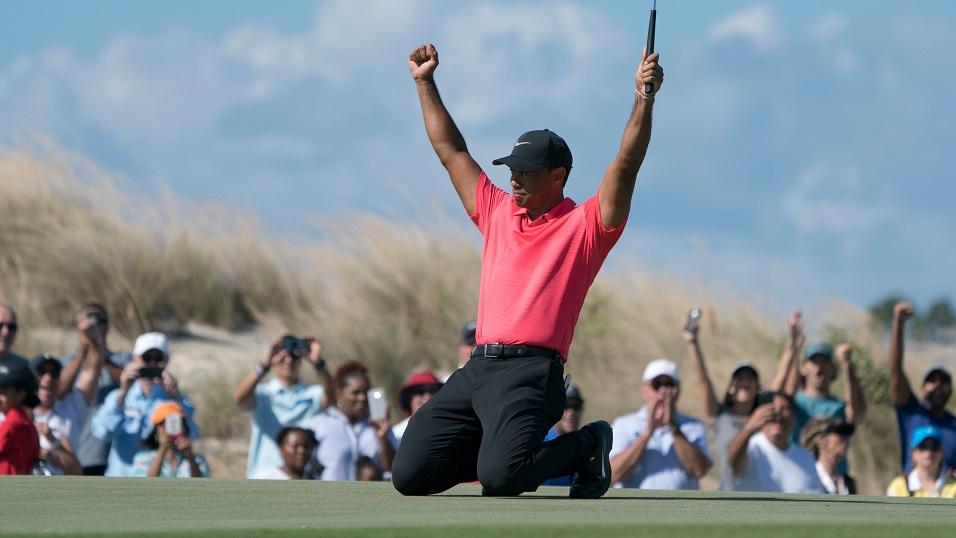 Tiger Woods produced a very satisfactory comeback to golf
Tiger Woods returned to the golf course with an astonishing performance at the Hero World Challenge. Ralph Ellis wonders if he really can get back to his best...
"Harry Potter would have been proud of the 335-yard tee-shot to the green on the par four seventh, and even more so of the 25 foot putt he rolled in for an eagle."
Finished tied ninth in a field of 18, three-putted from 15 feet on the last hole, lost his way in the wind on day three. There can't be another golfer in the world than Tiger Woods who would have his odds to win the Masters slashed after that.
But then Tiger Woods isn't just another golfer. In fact he's never been just another golfer. For all his travails of the last nine years he remains one of the sport's icons.
That's why four days in the Bahamas have made us wonder if Woods, barely seven months after undergoing massive surgery to have his spine fused, is ready to contend again.
Twenty years after he announced himself as golf's greatest young talent by waltzing away from the field to win his first Green Jacket, could he really return to the top by making Augusta the venue of his long-awaited 15th Major?
Plenty of Betfair's punters seem to think so. Matched at one time at 65.064/1 for next April's first big event of the golfing summer, this morning you can back him to be the 2018 Masters Winner at 24.023/1. To put that in context, defending champion Sergio Garcia is 34.033/1.
There is a long way to go. According to all the medical journals recovery from the sort of surgery Woods underwent in April normally takes up to a year, during which time it's recommended to "avoid twisting and bending".
Quite how that fits with Tiger's phenomenal golf swing, who knows? During his comeback at the Hero World Golf Challenge it was recorded at a swingspeed of 180mph, faster than the likes of Garcia, Justin Rose and Paul Casey have achieved all year.
To maintain that and build on it will put huge stress on his body and whatever the promises of his medical staff, sheer common sense says that there is a big danger of further niggling problems.
But what it does tell you is that if - and again it is a very big if - Tiger's back can stand up to the amount of work and practice he will have to do between now and April then he really can become a contender again.
The magic is still there. Harry Potter would have been proud of the 335-yard tee-shot to the green on the par four seventh, and even more so of the 25-foot putt he rolled in for an eagle. It was a flash of the Tiger of old.
There is of course a lot of wishful thinking about this. Tiger's return to the top is the story everybody has been hoping for.
And it will be a different matter when he tries to play a full tour event, complete with half way cut, compared to the friendly environment of his own private party in the Bahamas where he only entered because, as the "committee of one", he got to choose the line-up.
Really the evidence of the last four days should have made Rickie Fowler 19.5 or even Tommy Fleetwood the talk of those looking for potential Augusta winners outside the obvious favourites Jordan Spieth 8.615/2 and Dustin Johnson 9.417/2.
But Woods has always been different. Woods has always been the exception. That's why you can't help but wonder if his story has one more remarkable turn to take.
Discover the latest articles