World Super 6 Perth: Time to get trading again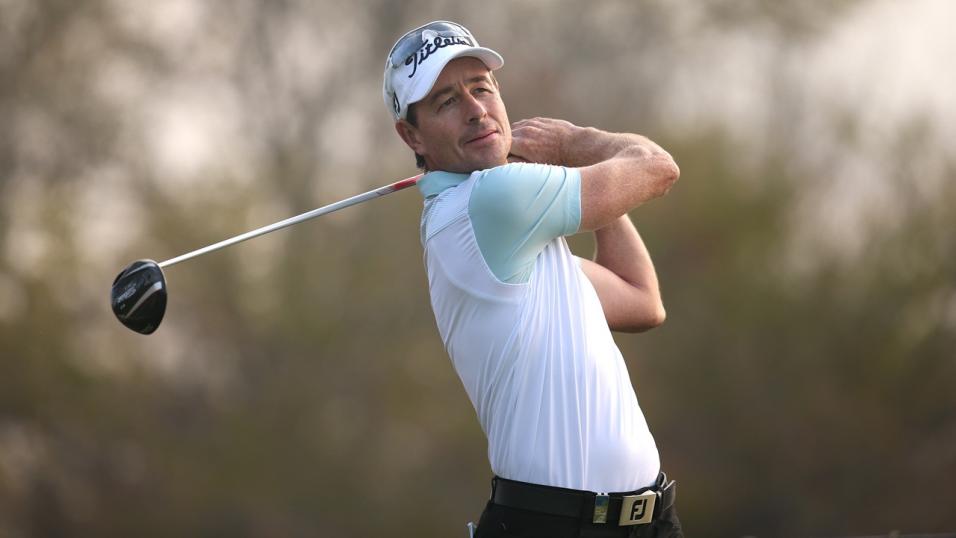 Last year's winner – Brett Rumford
The European Tour moves South from Malaysia to Perth, Australia, for the second edition of the intriguing stroke play/match play combo at Lake Karrinyup Country Club. Read Steve's in-depth preview ahead of Thursday's start here...
"There's lots to consider here and if you don't fancy getting up early or getting too involved then it might be worth waiting until we reach the knockout phase on Sunday – or at least keeping some stake money back. I quite enjoyed the Sunday match play element last year and if you don't mind an early start (if you're in the UK) it's worth getting up for."
Tournament History
The European Tour heads Down Under for the second edition of the ISPS Handa World Super 6 Perth - an event that last year replaced the Perth International on the European Tour schedule. It's a tri-sanctioned event between the European Tour, the Asian Tour and the PGA Tour of Australasia,
It's a unique stroke play - match play hybrid tournament with a format (see below) that's a bit quirky but that doesn't mean it won't offer up the chance to trade profitably.
Format
The ISPS Handa World Super 6 Perth starts like any other stroke play event with the field being reduced to the top-65 and ties after 36 holes of stroke play but it all changes significantly after that...
Assuming no changes to last year's format, the field is cut again to a hard top-24 after 54 holes. The top eight players receive byes to the first round of the six-hole match play ties played on Sunday, with the tiebreaker being the overall third round score, then the last nine, then six, then three, and then the final hole to break ties. Any ties for the 24th place will be determined in a sudden-death playoff from a brand new tee to the 18th green which measures 100 yards. That hole is to be called the 'Shootout Hole'. Last year, eight players played off for the final five spots.
On the final day, only the six holes listed below will be used for the match play element.

10th par-4 (369 yards)
11th par-5 (553 yards)
13th par-4 (453 yards)
14th par-4 (330 yards)
12th par 3 (148 yards)
18th par 4 (444 yards)
The ninth placed player on the final standings from the stroke play element plays the 24th placed player, the 10th placed plays the 23rd placed player, and so on and so forth.
Should any ties be all-square after the sixth hole, the players return to the 100-yard Shootout hole. The Shootout hole will be played out once and if players remain tied, they will return to the new tee and continue to play from this tee until a winner is determined by stroke play. This person will then progress to the next round.
In the second round, the eight winners from the first round will play the eight players that did not play in the first round (the top eight after the stroke play element). In the third round, the eight winners participate in the quarter-finals. The four winners then participate in the semi-finals, and the finalists will then play in the final six-hole match of the tournament.
There were playoffs to determine the places down to eighth last year but I wouldn't be certain they'll do that again this year as it did seem a bit pointless to have playoffs to work out who was fifth, sixth, seventh or eighth. A third-place playoff for beaten semi-finalists is bad enough!
One change to last year is that players are going to be mic'd up this time around which should add even more interest to what's already an enjoyable change - especially on Sunday.
If you want more info on the format, the tournament website (here) is pretty decent.
Venue
Lake Karrinyup Country Club, Perth, Western Australia
Course Details
Par 72, 7,143 yards
Stroke index in 2017 - 71.32
Lake Karrinyup was the venue for all five editions of the Perth International and it was also used for the Johnnie Walker Championship in 2002 and 2003, when South Africans, Retief Goosen (-14) and Ernie Els (-29) won with plenty to spare by eight and ten shots respectively.
It's a fairly hilly course with wide eucalyptus-framed fairways. The greens are described as undulating and firm with tricky run-off areas and the rough is minimal.
TV Coverage
Live on Sky all four days, starting on Thursday, Friday and Saturday at 5:00 UK time and at 4:00 on Sunday
Last Year's Result
Final
Brett Rumford bt Phachara Khongwatmai 2&1
Losing semi-finalists
Adam Bland and Jason Scrivener
What Will it Take to Win the World Super 6 Perth?
The first two winners of the Perth international ranked tied third and 11th for Driving Accuracy and being straight is clearly advantageous here but there's more room off the tee than there appears when watching on TV, and Thorbjorn Olesen won despite ranking just 66th for DA. Last year's runner-up, Alex Levy ranked 73rd for DA. The winner, Louis Oosthuizen, ranked 15th.
Jin Jeong only ranked 64th for Driving Distance when he won and only two of the top-21 last year ranked inside the top-ten, so power isn't an essential prerequisite either but finding the greens has been key with all four winners ranking inside the top-eight for Greens In Regulation. Oosty ranked number one last year.
Is There an Angle In?
With just one renewal to evaluate, it's clear that we don't have too much to go on but despite a I'd definitely concentrate on the home contingent, even though a Thai player reached the final.
The only other non-Australian to reach the last-eight was course winner, Louis Oosthuizen, and the eventual winner, Rumford, and beaten semi-finalist, Jason Scrivener, are both locals. Rumford comes from Perth and Scrivener is from Mandurah, just south of Perth, so he both had bags of course experience.
In-Play Tactics
There's lots to consider here and if you don't fancy getting up early or getting too involved then it might be worth waiting until we reach the knockout phase on Sunday - or at least keeping some stake money back. I quite enjoyed the Sunday match play element last year and if you don't mind an early start (if you're in the UK) it's worth getting up for.
For anyone trading the event a bit more seriously there are plenty of things to take in to consideration. There are bound to be punters getting involved that don't fully know the rules and I suspect the stroke play leaders will be over-bet on Saturday. Remember, eighth place after round three is just as good as first and whoever finishes ninth is in the same boat as the person who finishes 24th. I very much doubt the market will factor that in correctly and there are almost certainly going to be opportunities for those sharp enough to exploit them.
After that, bear in mind that the top-eight have one less match to play on Sunday. Is that a good thing? That should be beneficial but those that have had to play round one may well be sharper in round two and with only six holes being played, having already played on Sunday morning could be quite an advantage. It was split down the middle last year with four of the top-eight in the stroke play element losing in round two.
Interestingly, the eventual winner, Rumford, was in front after the stroke play element and the man he beat in the final, Khongwatmai, was one of the eight men to playoff for the final five match play places.
If you're betting in-running on the matches, even though they're short six hole matches, we witnessed lots of changes last year. As it is this year, the field was fairly weak 12 months ago and progressing in the match play element was a big deal for most. As a result, leads were swallowed up and this is not a tournament in which to assume anyone up early is just going to canter to victory. They will be getting jittery.
Market Leaders
This is a very open betting heat with nobody trading at less than 20.019/1 - reflecting what an incredibly tricky tournament it is to bet on.
If having to name a market leader to side with I'd go with the defending champions, Rumford, who knows the course intimately but I'm going to gamekeeping rather than poaching this week. Please see below.
Trading Plans
Given the very well-backed Rumford led the stroke play by five after the three rounds, it was fitting that he won the whole event last year. He was clearly playing really well and so it could be argued that the best player won and that talk of the tournament being a lottery is nonsense but I don't buy that.
The winner could have very easily been beaten in the second round had he lost to Wade Ormsby at the second Shootout hole and even though Rumford began his semi-final well, with two birdies to go two up, he could have easily lost that tie too. He opened the door wide for Adam Bland but he failed to capitalise. And in the final itself, Khongwatmai went odds-on at the fourth hole when he looked highly likely to take the lead before he really fluffed his lines with a terrible chip.
I'm not by any means crabbing the winner's achievement but he could have very easily lost any one of his final three ties and six-hole match play has to be considered a dicey format to bet on. Hence I'm more than happy to be the layer.
Last year I layed 30 players before the off that were priced at 95.094/1 and below and although three of them reached the semi-finals, only eight of the 30 made it through to Sunday. I didn't invest much cash or time because of the timing of the tournament 12 months ago but I'm going to repeat the exercise again and see how it all pans out. I could have easily backed back the eight that made it to the match play element last year to make a profit and there were plenty of twists and turns in the individual matches so I'm happy to give it another go. Given I had two thirds of the field running for me on day four last year I was arguably a bit unlucky to find myself on the back foot by the semi-finals and I fancy it's well worth doing again.

*You can follow me on Twitter @SteveThePunter

Discover the latest articles