WGC-HSBC Champions: Brand-new world number one Koepka can go back-to-back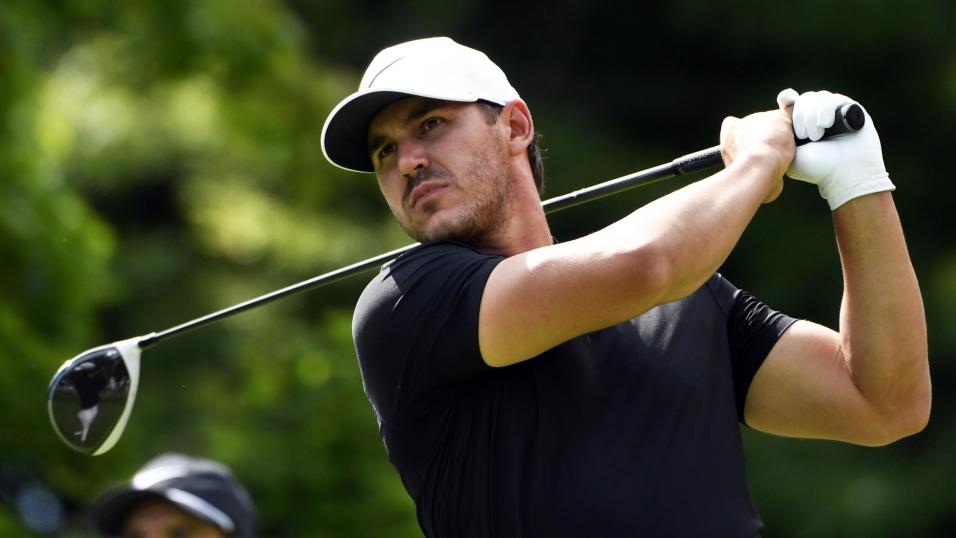 Brooks Koepka - fancied by The Punter to win again
We're off to China this week for the final WGC event of the year and our man has the lowdown ahead of Thursday's very early start here...
"DJ and Koepka are very similar players to my mind, with incredibly similar games. In fact, I think of Brooks as a sort of DJ mark two, and at the moment, he's arguably an improvement on the original model. He certainly has less scratches. Given he's won three of his last 12 starts (including two majors!), he deserves to be on top of the world rankings and he deserves to be the favourite to win here."
Tournament History
David Howell won the inaugural HSBC Champions event in November 2005 when it kicked off the 2006 European Tour season. For the first four years the event was co-sanctioned between the European, Asian and Sunshine Tours, as well as the PGA Tour of Australia, and then in 2009 it was upgraded to World Golf Championship status.
Mission Hills hosted the event in 2012 but the Sheshan International Golf Club has hosted the event on every other occasion and this will be the 14th staging.
Following the CIMB Classic in Malaysia and the CJ Cup in Korea, the WGC-HSBC Champions is the third leg of a mini Asian Swing for a large number of PGA Tour professionals.
Although limited to only 78, as you'd expect for a WGC event, it's a strong field with four of the world's top-five and 19 of the top-30 in attendance.
Venue
Sheshan International Golf Club, Shanghai, China.
Course Details
Par 72, 7,261 yards
Stroke index in 2017 - 72.29
Sheshan International was designed by Robin Nelson and Neil Haworth, who were also responsible for the CIMB Classic venue, TPC Kuala Lumpur, which featured on the PGA Tour two weeks ago.
The average width fairways are a mixture of rye grass and Seashore Paspalun, of average width and tree-lined and the undulating and often raised greens, which usually run at around 11 on the stimpmeter, are bentgrass. There are plenty of changes of elevation and water is in play on 11 holes.
There were a number of changes to the course prior to the 2014 renewal, with new bunkers added to holes 8, 14 and 18. The right-hand fairway bunker on the 5th was reshaped and extended to make the carry from the tee in excess of 300 yards. The 13th hole was extended to bring water back in to play and in addition to having two new bunkers added, the par 5 14th had its green extended to offer up another pin position but the holes length was reduced by 31 yards.
There were further changes to the course again two years ago. There was a reshaped fairway bunker on the first, a green redesign on the eighth, creating two new pins positions, and the second shot landing zone on the finishing hole was also redesigned.
Prior to last year's renewal, greenside bunkers were redesigned closer to the greens on holes six, 12 and 13 so it's a course that's constantly tweaked but I haven't yet heard of any changes prior to this year's renewal.
TV Coverage
Live on Sky Sports all four days, beginning at 3:00 UK time on Thursday and Friday and 4:00 over the weekend.
Last Five Winners
2017 - Justin Rose -14
2016 - Hideki Matsuyama -23
2015 - Russell Knox -20
2014 - Bubba Watson -11 (playoff)
2013 - Dustin Johnson -24
What Will it Take to Win the WGC-HSBC Champions?
There were no Driving Distance stats produced in 2015 but nobody could describe the first and second that year, Russell Knox and Kevin Kisner, as powerful players renowned for their length off the tee. That was an unusual result for a number of reasons though and Knox is not you archetypical HSBC winner. He was a 240.0239/1 shot playing in his first WGC event, whereas the majority of winners are highly ranked, and the majority, unlike Knox, give it a good biff off the tee.
Henrik Stenson must have concentrated on hitting it straight off the tee last year because he ranked number one for Driving Accuracy and 72nd for DD but the other three players to occupy the first four places ranked first, third and fifth for that stat and having ranked sixth on the long holes, Rose became the sixth winner in-a-row to be ranked inside the top-ten for Par 5 Performance. Matthew Southgate, who finished tied for 24th, played the long holes better than anyone else and he was the first to rank number one for Par 5 Performance and to finish outside the places in seven years, so that's a key stat.
The par fives here are all tough for the shorter hitters. The 18th is the only one of the four to measure under 550 yards but that plays over water so all four are three-shot holes for those that lack length off the tee. It's no wonder the power players shine here as a rule. Not only do they benefit on the par fives, but the par-four 16th is reachable off the tee for those that can give it a proper whack.
The number one Scrambler for the week has finished inside the top-five places in each of the last five years so that's a key stat to ponder also.
As you can see by the winning scores, this is usually a birdie-fest where aggressive low-scoring types fare well and although the scoring wasn't so good last year, because of the wind, nobody made more birdies than the winner, Rose. Nobody bettered 11-under-par in 2014, when persistent rain in the weeks leading up to the event had produced thick and penal rough, but 20-under-par and deeper is what's required most years if the wind doesn't blow.
I don't suspect we'll quite get that low this year, as once again, there's wind in the forecast.
Is There an Angle In?
Previous course form is a plus but it isn't at all essential. Hideki's course form figures read a bizarre looking WD-T41-WD before he won two years ago and first-timers do well. Knox was playing here for the first time when he won in 2015 and so was Johnson five years ago, Phil Mickelson in 2007 and Sergio Garcia in 2008.
Given its position in the calendar, I thought it worth checking out whether the winners came here fresh or had been playing in Asia or Europe but it's an even spread.
Rose hadn't played anywhere in over a month, having finished tenth at the Tour Championship in his last outing, the two winners before him had played in the CIMB Classic the week before, Bubba Watson, in 2014, hadn't played anywhere in eight weeks and Dustin Johnson, 12 months earlier, had played just once in the five weeks previously, a fortnight before he won here.
Last week we witnessed just the second edition of the CJ Cup in Korea, so it's far too early to make a judgement as to whether an outing there is a plus or a minus but playing in the CIMB Classic might be a positive given the two courses are designed by the same team.
Although the winners are evenly spread between those that have or haven't been in recent action, it would be remiss of me not to highlight the fact that the first four home 12 months ago were all playing for the first time in at least a month.
Is There an Identikit Winner?
There doesn't seem to be any strong trends or patterns to follow here. Europeans had the upper hand for a while, and of course Rose won 12 months ago, but Phil Mickelson has won the title twice and big-hitting Americans won both the 2013 and 2014 editions. In Knox, we got an American-based Scottish winner and in Matsuyama, a Japanese PGA Tour star.
Although Knox was matched at a high of a 300.0299/1 before the off three years ago and plenty of outsiders contend for the title, this isn't an outsider's event and the cream tends to rise to the top. The majority of winners are quite well fancied beforehand and the Knox result looks like a bit of a one-off. Rose was generally a 28.027/1 chance last year and that was as high as Matsuyama was matched at before the off the year before.
Class-acts tend to win here and six of the last eight winners (with the exceptions being Knox and Matsuyama) had all won a WGC event or a major prior to winning this event.
In-Play Tactics
A fast start is very important and Bubba Watson is the only winner here not to shoot a first round in the 60s. As already stated above, conditions were tougher in 2014 and even though he opened up with a 71, he still trailed by only four strokes and only one winner, Phil Mickelson in 2009, has been any further back than that after round one. He sat tied for ninth and five adrift.
Although getting off to a quick start is very important, you don't necessarily want to be in front early. Rose sat tied for six and three adrift 12 months ago and Francesco Molinari, back in 2010, is the only first round leader to go on to win. And he did it wire-to wire.
Remarkably, all 12 course winners have been within four strokes at halfway and five of them have led or co-led after 36 holes. And finally, five of the last eight winners, and seven of the 12, have been in front after three rounds, although that really doesn't tell the real story as this place has created all sorts of drama...
Dustin Johnson, who was matched at just 1.061/18 in-running, having begun the day as a 1.11/10 chance, lost a six-stroke 54-hole lead and Rose was matched at a high of 200.0199/1. An incredible turnaround but one that we were perhaps due looking at the tournaments history and one we could see again.
Back in 2014, the lead changed hands several times and when the final three-ball stood on the 17th tee, five men were tied for the lead on ten-under-par. Bubba, playing in the penultimate group, having led with three to play, had imploded with a bogey at 16 and a double at 17 and he trailed the leaders by a stroke as he played the final hole.
Having been matched at a low of 1.282/7 he drifted out to 55.054/1 when he found the greenside bunker with his second shot on the 18th. The game looked up but he produced an astonishing eagle from the sand to jump ahead of the five tied at the top. Tim Clark was the only one of the five on ten-under-par to birdie the par five 18th so he and Bubba played off before Watson sank a 20-foot birdie putt at the first extra hole to take the title.
Just like Bubba, Dustin Johnson also lost the lead before rallying again 12 months earlier and Phil Mickelson also looked to have thrown the event away in 2009, so don't be surprised if we get a thrilling finish. With just the smallest of twists of fate, we could be looking at four players trading at long-odds-on before losing and not just one.
Market Leaders
With form figures reading 1-5-35-2, Dustin Johnson clearly loves the venue. Although he hasn't won since July (Canadian Open) he's been in fine form of late and on the last occasion we saw him he was finishing third at the Tour Championship, so they're all plusses. Last year's result suggests his little break since could be a positive too and I can see why he's the favourite but I'm not entirely convinced he should be.
The common perception with DJ is that he doesn't think deeply enough to have scar tissue - to be affected by previous happenings - but again, I'm not convinced. I think his poor weekend display at the US Open must have left its mark and although he's won here before, he definitely should have won last year's renewal and one could argue he should have finished much better than fifth in 2015, when he traded in-running at a low of 2.3811/8. I can't believe he won't be asked about last year, I can't believe he won't be thinking about last year, so for as much as I respect his chances, I'm happy to swerve him.
For such a big hitter, Brooks Koepka's par five performance is probably something he's looking to improve upon, so that's a slight negative here. The fact that he's attempting to win back-to-back is also a negative and the fact that he played last week may also count against him given last year's top-four were so fresh (although, to counter that, when Matsuyama won here two years ago he'd won and been second in the two weeks previous), but for all that, he's still the man to beat.
DJ and Koepka are very similar players to my mind, with incredibly similar games. In fact, I think of Brooks as a sort of DJ mark two, and at the moment, he's arguably an improvement on the original model. He certainly has less scratches. Given he's won three of his last 12 starts (including two majors!), he deserves to be on top of the world rankings and he deserves to be the favourite to win here. I've backed him modestly at 11.010/1.
Justin Rose has drifted since the market opened and I'm not surprised. Defending is never easy and he looked shattered when hosting the British Masters a fortnight ago. He looks in dire need of a rest and I suspect he'd have had one had he not been defending. One to swerve for me this week.
It's hard not to envisage Rory McIlroy not figuring this week. His course form figures read an extremely impressive 4-5-4-6-11-4 and on the last couple of occasions he's played he's putted well. If he can find his touch on the greens again he's almost certain to figure but he can lose that touch with the flatstick as quickly as he finds it so I'm not convinced his month off since he finished seventh at the Tour Championship is a plus.
Selections
I've played Koepka in the win market and he's also my each-way selection this week. After that, it's a trio of outsiders.
Ian Poulter loves China and although he won this title at Mission Hills, despite his lack of length off the tee, he also plays this track well too. I thought he was big enough to chance modestly at 80.079/1 after a decent week in Korea and I've also backed a couple of bang-in-form Europeans making their course debuts - Lucas Bjerregaard and Matt Wallace - who have been overlooked given their length off the tee, general form, and form in China.
Selections:
Brooks Koepka @ 11.010/1
Ian Poulter @ 80.079/1
Lucas Bjerregaard @ 90.089/1
Matt Wallace @ 130.0129/1
I'll be back later with my Sanderson Farms Championship preview.
*You can follow me on Twitter @SteveThePunter

Discover the latest articles
Read past articles