The Punter's In-Play Blog: Tough to call in New Orleans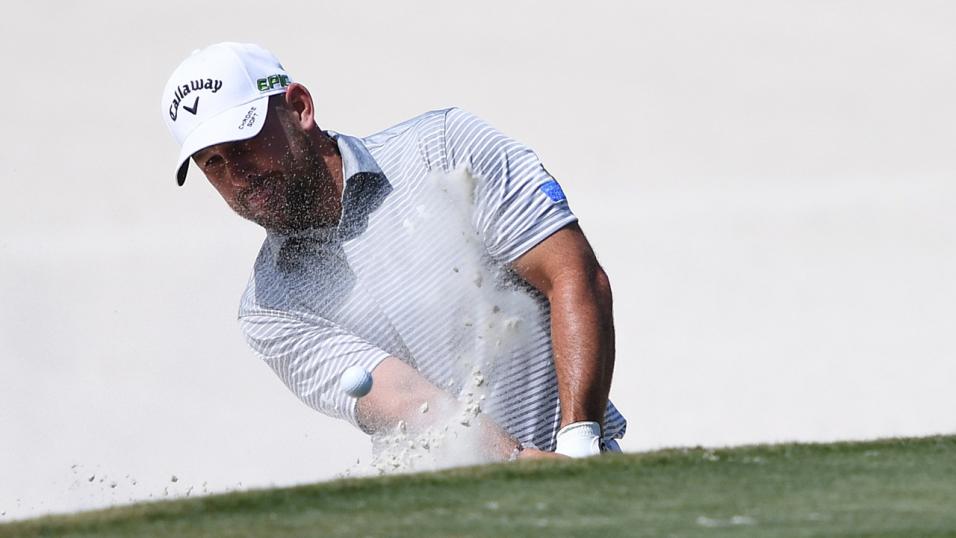 Scott Brown, hoping to gain redemption alongside Kevin Kisner
There's just a round to go at the Zurich Classic of New Orleans so our man takes a look at the 54-hole leaderboard here...
"If any of the teams three back or more are going to prosper, they're going to need help from the leaders and the 3.9 on offer about Kisner and Brown looks fair enough."
11:05 - April 29, 2017
Alexander Bjork has won the Volvo China Open but I'll look at that result in tomorrow's de-brief as there's still a round to go at the Zurich Classic of New Orleans. Here's the 54-hole leaderboard with prices to back at 11:00.
Kisner/Brown -20 3.953/1
Finau/Summerhays -19 5.79/2
Kim/Putnam -19 9.08/1
Garnett/Hadley -18 9.417/2
Dufner/Perez -17 14.5
Horschel/Piercy -17 16.5
Merritt/De Jonge -17 44.043/1
-16 and 27.026/1 bar
Low scores were again the order of the day in New Orleans yesterday, with three pairings firing 11-undr-par 61s, but it'll be a whole different ball game in round four today. The format flips back to foursomes and just concentrating on making par will be the order of the day. Only five teams broke 70 on Friday playing foursomes and that was before the cut. Getting to the leaders is going to be tough.
Kevin Kisner and Scott Brown have shortened up all morning and I can see why. Having finished second last year, beaten in a playoff, they have good experience of the event in this new format and they did OK on Friday, shooting a two-under-par 70. If they repeat that, it's very hard to see them getting beat.
Second favourites, Tony Finau and David Summerhays, may well prove to be the biggest dangers to the leaders but the latter has never won on the PGA Tour and if he gets nervous, disaster can soon strike in this format.
Michael Kim and Andrew Putnam were one of the five pairings to break 70 on Friday (shot 69) but neither has won a PGA Tour event before so it's debatable whether they can hold it together under the gun in round four.
Chesson Hadley keeps threatening to win and Brice Garnett just has (impressively in the Dominican Republic) so if confidence is going to be an issue, they might be the two to catch Kisner and Brown but they need to improve in this format. They shot 73 on Friday.
If any of the teams three back or more are going to prosper, they're going to need help from the leaders and the 3.9 on offer about Kisner and Brown looks fair enough.
Whilst I can see it has its merits, I haven't been enthused by the tournament and it's certainly a tough one to bet on. Apart from a tiny wager on the Ben Crane/Alex Cejka pairing before the off, I haven't got involved at all and I'm happy to continue that stance.

11:20 - April 28, 2017
The third round of the Volvo China Open has just finished and halfway leader, Matt Wallace, has been caught by Adrian Otaegui. Here's the 54-hole leaderboard with prices to back at 11:15.
Matt Wallace -12 6.86/1
Adrian Otaegui -12 7.06/1
Alexander Bjork -11 10.09/1
Jorge Campillo -11 13.5
Julien Guerrier -11 15.014/1
Paul Dunne -10 11.521/2
Jeunghun Wang -10 17.016/1
Nacho Elvira -10 19.018/1
Sihwan Kim -10 27.026/1
Andrea Pavan -10 32.031/1
Jinho Choi -10 32.031/1
Alexander Levy -9 15.014/1
-9 and 55.054/1 bar
Having been matched at just 3.02/1, when he looked like he may open up a clear gap on the field, Matt Wallace finished his third round scruffily with a lengthy par save on the par three 16th, a bogey at 17 and only a par at the reachable par five finishing hole.
He didn't play sensationally by any means but he kept mistakes of the card until the end and I thought he was a little unlucky on the 18th. His tee-shot was far from great and left of the fairway but he finished right up against a tree and he had no choice but to play out sideways.
It's hard to play with the lead and conditions were a little tougher in the afternoon than they'd been in the morning, when all the low scores were posted, so all in all Wallace's three-under-par 69 wasn't a bad knock and he's still the man to beat.
Having backed him at 95.094/1, I traded Wallace a bit this morning, laying him a couple of times and at a low of 3.55/2 before backing the lays back at circa 4.3100/30 as he played the 17th. In hindsight that was clearly a mistake but I fancied him to get up-and-down on the penultimate hole and suspected he'd make a four on 18.
I don't have any regrets, you have to play it as you see it and at the close of play I was very surprised to see him so big. He's playing well and knows how to win so quite why he's drifted so much I'm not sure but I've greedily topped up on him at 6.86/1 now. The market had made Adrian Otaegui favourite and I thought that was wrong. The 25-year-old Spaniard is yet to win a stroke play event on any tour. Wallace once won five Alps Tour events in-a-row and he's won two European Tour events in the last 12 months. They're incomparable experience-wise and Wallace should be the clear favourite.
None of the three players tied for third have impressed in-the-mix, or won on the European Tour, and if the two leaders fail tomorrow I suspect the winner is lurking a bit further back. Last week's winner, and the defending champ, Alex Levy, is a huge danger if he gets on a roll. He was lucky to make the cut after his poor second round but a reaction to last week's win was always likely and now it's out of his system he's very dangerous, even from three adrift.
I'm happy to have Jeunghun Wang onside, even though he missed a tiddler for birdie on 18, and having topped up on Wallace, I'm happy to leave the market alone for now. I'll be up nice and early again tomorrow and I'll look to trade my way to a profit. Fingers crossed.
Even though they've now reached the halfway stage of the Zurich Classic of New Orleans, it still looks like a punting minefield. They're back to the four-ball format today and the scoring will be super low again. Michael Kim and Andrew Putnam, who were matched at 400.0399/1 before the off, are out in front but I suspect the leaderboard will look completely different tomorrow and it remains a tournament to swerve at this stage.

16:15 - April 27, 2017
We've reached the halfway stage of the Volvo China Open and Matt Wallace leads on nine-under-par. Here's the 36-hole leaderboard with prices to back at 16:10.
Matt Wallace -9 8.07/1
Nacho Elvira -8 12.011/1
Sihwan Kim -8 20.019/1
Jason Scrivener -8 24.023/1
Jorge Campillo -7 14.5
Adrian Otaegui -7 18.017/1
Julien Guerrier -7 27.026/1
Soomin Lee -7 36.035/1
-6 and 16.015/1 bar
I thought I'd be getting stuck in to this event now. I thought we'd see lower scoring and a bit of separation. Pablo Larrazabal led by three on -14 at this stage 12 months ago and he was six clear of George Coetzee and Thomas Detry who were tied for fifth. This time around, there are 49 players within six strokes. It's tough.
I'm obviously pleased to be on Wallace from the start and I'm pleased with his position and with how he played today. The wind was up all day today and conditions were far tougher than those encountered yesterday morning so he and his fellow Thursday morning starters caught a break. They averaged almost a stroke less than those drawn afternoon-morning over the first two days.
I watched Wallace's back-nine in its entirety today and he wasn't giving himself many chances but he putted well enough to stay on track. This par on the brutish par four 14th was the highlight for me.
Up-and-down to save par @mattsjwallace #VolvoChinaOpen#whereitsAT pic.twitter.com/YkiYxxEmVm

? Asian Tour (@asiantourgolf) April 27, 2018
Given how bunched the leaderboard is, I'm not getting too involved at this stage but I have added one more speculative in-play pick and it's another Korean.
Jeunghun Wang has already won three European Tour titles so he's always one to keep on the right side of when he gets in to contention and he looks dangerous from just three back.
The second round of the Zurich Classic of New Orleans is underway and the teams are playing foursomes today so we won't see scoring anywhere near as good as we did yesterday, when two teams, Chez Reavie and Lucas Glover and Zecheng Dou and Xinjun Zhang, skipped round in 12-under-par.
I don't like the event from a betting perspective so I'm continuing to bide my time. I'll take another look at halfway and I may make a move then but I can see me waiting until the end of round three.

14:00 - April 26, 2017
I know it's completely stupid, but I like to take my initial look at the leaderboard from the bottom up - especially when first waking to see how my picks have fared overnight after the opening round. All that research and preparation and in a few seconds hopes can be dashed, so a slow and deliberate scroll from bottom to top, just delays matters fractionally. Or at least that's the whacky idea behind the ridiculous idiosyncrasy but I turned the European Tour app on - on my phone this morning, blurred my eyes slightly (essential so as not to reveal the leaders immediately), whizzed down to the bottom of the list of scores at the Volvo China Open and blinked a few times to clear my eyes. It was still there though. Haydn Porteous +7.
I was disappointed, I really quite fancied Porteous this week. I know he's not been in the best of form this year but this tournament looked perfect for him so it wasn't a great start. Up I scrolled, past two other picks on level par, Alvaro Quiros and Lucas Bjerregaard, who hadn't long started their rounds, and when I started to approach the top-ten or so I decided it was time for another of my loony moves. I hadn't seen the name of one of my four, Matt Wallace, which meant one of two things. A- He's inside the top-ten or so, or B - I've missed his name.
From past experience, I've long since learnt that the disappointment of B can be so much more bitter when my brain's thinking A, so the scroll back down and up manoeuvre, even more deliberately, is a wise (it's not wise, it's ridiculous) move. And it's even worth looking right at the bottom of the list for the initials DQ or WD.
Up, up and up I went for a second time and eventually, there he was in second place, having shot a seven-under-par 65. Lovely.
It was an eventful morning after that. Bjerregaard did no more than OK to post -2 and Alvaro had a typical old school Alvaro day. He made seven birdies, an eagle, three bogeys and a triple! All that added up to three-under-par and he's not without a chance from five off Daxing Jin's lead.
I've added a couple more to the mix. Marcus Kinhult's name came up a few times when I was researching the event and so I've added him after his opening four-under-par 68 and I've also backed Soomin Lee on the same score. The Korean has been in the doldrums of late but he won the Shenzhen International in China almost exactly two years ago and he was ninth in this event 12 months ago.
Pre-event favourite and defending champion, Alex Levy, still heads the market after an opening three-under-par 69.
The Zurich Classic of New Orleans (previewed here) has only just kicked off and I probably won't get involved there today. The teams are playing four balls today so the scoring is going to be really low and it would be very easy to get over enthusiastic and go in too early at too short a price.
I don't like the event from a punting perspective and I'm more than happy to bide my time.
Volvo China Open Pre-Event Selections:
Matt Wallace @ 95.094/1
Alvaro Quiros @ 100.099/1
Haydn Porteous @ 140.0139/1
Lucas Bjerregaard @ an average of 230.0229/1
In-Play Picks:
Marcus Kinhult @ 100.099/1
Soomin Lee @ 100/1 (Sportsbook)
Jeunghun Wang @ 25/1 (Sportsbook)
Matt Wallace @ 6.86/1
Zurich Classic of New Orleans Pre-Event Selection:
Cejka/Crane @ an average of 260.0259/1
*You can follow me on Twitter @SteveThePunter
Discover the latest articles
Read past articles