The Punter's In-Play Blog: Are Day and Rose poised to fight out the Zurich?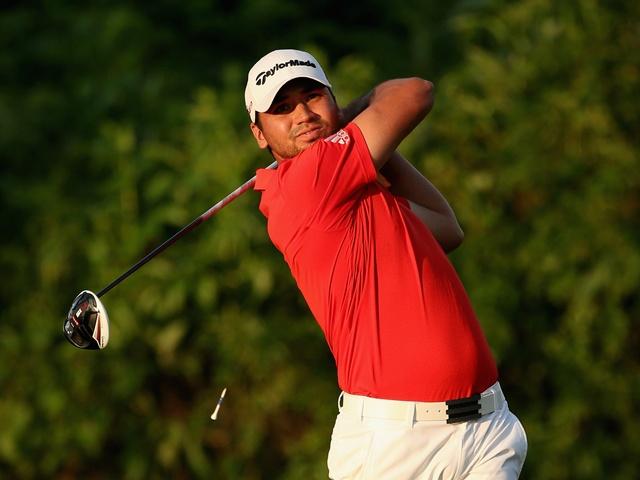 Jason Day - the man to beat at the Zurich Classic
Ashun Wu has won the Volvo China Open but there's plenty of golf still to play in New Orleans, where Steve's adjusted his book to take on the firm favourites. Read his final in-running update of the week here...
"Jason Day and Justin Rose are clearly the men to beat here but there's an awful long way to go yet and they look short enough to me so I've layed that pair again. And I've also taken on the man tied at the top with Day, Erik Compton."
11.00 - April 26, 2015
Thanks in part to a poor finish by David Howell, who was matched in-running at as low as 1.111/9, Ashun Wu, matched at over 400.0399/1 before the off, has won the Volvo China Open.
It was a poor result for me and having spent most of yesterday out walking between pubs, I didn't get up early enough to trade the event so my focus is now firmly fixed on the Zurich Classic, where, thanks to yet more bad weather delays, there is plenty of golf yet to play.
With the leaders having most of the third rounds before them, play will resume today at 7:30 local time and they won't be regrouped before round four. It's going to be a long day (weather permitting) and I thought it was about time I fiddled with my book a bit.
Jason Day and Justin Rose are clearly the men to beat here but there's an awful long way to go yet and they look short enough to me so I've layed that pair again. And I've also taken on the man tied at the top with Day, Erik Compton.
A victory for two-time heart transplant recipient Compton would be a sensational story but he's yet to win on the PGA Tour and I thought he was worth getting in the book. I'm not entirely hopeful of getting a result here and if Day and Rose kick on I'm in trouble but we'll see. The fact that they're not regrouping is a positive and with no wind forecast and a soft golf course to attack, I can see one of the Tour's lesser lights posting a score that may not be matched. That's what I'm hoping for anyway.
Here's the current state of my Lay Book
Jason Day -£560
Justin Rose -£406
Erik Compton -£323
Original lays lose less than £100 and anyone not yet layed wins £858
I'm out this afternoon and I don't have much of an idea what time I'll get back so I may end up leaving things as they are now and seeing what happens or I may end up trading an awful lot more. Quite what the day has in store, I don't yet know but I'll be back again tomorrow with the De-Brief.

12.20 - April 25, 2015
The forecast thunder storm arrived a bit earlier than expected in New Orleans yesterday so play was suspended at the Zurich Classic with some players having played as few as nine holes of round two. Play will resume at 9:00 ET today and I'm just going to let the event play out for now.
It looked as though Dustin Johnson was going to cruise up to the leaders after he started brightly yesterday but Jason Day is the man at the head of the market this morning. The Aussie trails current leaders, Hudson Swafford and Boo Weekley, by just a stroke and he now trades at just 4.67/2. Day still has four holes to play in round two and Boo has three remaining.
Things are much further on over on the European Tour though, where four men are tied at the top of the Volvo China Open leaderboard with one round remaining. Here's the latest leaderboard with prices to back at 12:00.

Alexander Levy -8 4.216/5
David Howell -8 4.84/1
Hao-Tong Li -8 5.85/1
Ashun Wu -8 9.417/2
Richie Ramsay -6 14.013/1
Seve Benson -6 26.025/1
Prom Meesawat -6 28.027/1
Magnus A Carlsson -6 32.031/1
Thomas Pieters -5 44.043/1
-4 and 60.059/1 Bar

Although I'm in a decent position with both Alexander Levy and Hao-Tong Li onside at bigger prices than they trade at now, I can't help but feel a bit aggrieved by how things panned out this morning. As stated yesterday, I'm not convinced by Levy and after he'd birdied the first four holes of round three, I tried to lay my stakes back on him at 2.01/1 to give myself a free bet. He was matched for over a grand at 2.021/1 but only £27 at evens and that's as low as he got.
It was frustrating because I'm pretty sure my bet would have been matched had the event been on at a slightly more sociable hour of the day and he struggled thereafter. So what now?
Levy still heads the market but I'm not convinced he should. The wind got up today and David Howell handled the trickier conditions on a hard course far better than Levy, and it's due to blow even harder tomorrow.
I have seriously toyed with laying my bet back on Levy and siding with Howell, who I think is marginally the most likely winner from here, but after much deliberation I'm going to stick with what I have for now.
Howell has started each of the first three rounds slowly so far. On day one he birdied the opening hole but bogeyed the 3rd and was still level through eight holes. On day two, starting on the 10th, he birdied the 12th and 13th to get himself in-the-mix but then dropped four shots in the next three holes and today he parred the first six before going on a really strong run that saw him birdie five of his next seven holes.
In contrast, Levy has shot out of the blocks every day. In addition to today's rapid start, he was three-under-par through five holes on day one and three-under through seven on Friday. I just fancy he might get off to a flyer again tomorrow and that might be the time to think about jumping ship.
I was impressed with Hao-Tong Li last week and he played well in-the-mix again today so it will be fascinating to see how he copes with playing alongside Howell tomorrow in the final two-ball. I'm happy I have him at a decent price and he looks far more likely to succeed than his compatriot Ashun Wu does. Li has the experience of playing on the Web.com Tour whereas Wu is based in Japan
If the front four all falter tomorrow then Richie Ramsay looks nicely poised to take advantage and I've had a tiny stakes saving wager on him at 14.013/1. As already mentioned, the wind is forecast to be worse tomorrow and that might well play into his hands.
I'll be back again tomorrow sometime before the final round of the Zurich Classic.

12.30 - April 24, 2015
We've reached the halfway stage of the Volvo China Open and the French are dominating proceedings. Julien Quesne leads with Alexander Levy a stroke back in a tie for second with America's Peter Uihlein, with Jerome Lando Casanova and Romain Wattel both tied for fourth with four other players. And just for good measure, former course winner, Raphael Jacquelin, is tied for 15th. Here's the leaderboard with prices to back at 12:00.

Julien Quesne -8 5.69/2
Alexander Levy -7 5.69/2
Peter Uihlein -7 6.411/2
Kiradech Aphibarnrat -5 11.010/1
Romain Wattel -5 17.016/1
Hao-tong Li -5 20.019/1
Matteo Manassero -5 26.025/1
Ashun Wu -5 55.054/1
Jerome Lando Casanova -5 180.0179/1

Richie Ramsay -4 22.021/1
David Howell -4 23.022/1
Byeong-Hun An -4 29.028/1
-3 and 65.064/1 Bar

My two pre-event picks have been disappointing. Big outsider, Marco Crespi, has missed the cut and Scott Hend has yet again been extremely frustrating to follow. He turned for home on three-under-par today and was matched at just 17.016/1 as he looked set to tag on to the tailcoats of the leaders but instead he played the back-nine in three-over. As someone that's backed him a few times this winter, it was disappointing but a million miles from surprising.
Considering the strength of the event, we've got quite a competitive leaderboard and it's a really tricky one to call but if history is anything to go by, the front three hold all the aces.
There have been six events staged here previously and all six winners were within three strokes of the lead at halfway. Ernie Els and Raphael Jacquelin were both in front after 36 holes and the only course winner not in the first three places at this stage was Gonzalo Fernandez-Castano, who sat 7th, three off the lead, but the man he beat in the playoff, Henrik Stenson, had lead wire-to-wire. This doesn't look like an easy place to play catch-up so it could well be futile to scan too far down the leaderboard.
I fiddled about in-running this morning and have gotten Levy onside at an average of 6.05/1 and I'm going to stick with him but he should have been better placed. He was matched at just 2.8615/8 after he took the lead with his third birdie in-a-row at the par 5 13th but he messed up considerably after that - double bogeying the 16th and bogeying the 17th. He made a birdie at the last to get back to within one but it was a bit of a worrying finish.
I really don't know what to make of Levy. When I saw him muscle in on the finish to the BMW International Open in June 2013, won by Ernie Els, and when he won this title 12 months ago at last week's venue, Genzon, I was hugely impressed by his bottle but he wobbled quite badly at the BMW Masters last November when he really should have won so the jury is definitely out after today's sloppy finish.
If I hadn't jumped aboard Levy in-running I'm not so sure I'd be playing now. This looks really tough to call and Levy's compatriot, Quesne, looks very fairly priced at anything above 5.04/1.
I backed Peter Uihlein at halfway last week, unaware that he was undergoing swing changes, and he really struggled. He did remarkably well to get as close as he did (was still in with a shout with two to play) and I suspect he'll doggedly hang around again here but he looks one to swerve.
Last week's winner Aphibarnrat is definitely one to consider carefully but will he keep going forward all weekend after last week's exploits? It's very hard to win-back-to-back and that's enough to put me off.
Paul Krishnamurty's each-way fancy, Romain Wattel is next up in the betting but I'm not keen on him either. He's had plenty of chances to break his duck and this looks like another but he's been very disappointing in-the-mix for a very long time now.
Matteo Manassero is finally showing signs of a recovery in form and David Howell and Richie Ramsay will have their supporters, especially given the wind is due to get up on Sunday but the one I like at the prices from just off the lead is last week's unlucky loser. Hao-tong Li.
The 19 year-old rising Chinese star doesn't appear to suffer from nerves if last week's exploits are anything to go by and I was more than happy to add him to the portfolio modestly at 21.020/1.
I've also had a few pounds on Casanova at 180.0179/1. He's 100 points shorter on the high street and that's just too big.
Over at the Zurich Classic, after a short rain delay yesterday, the first round is yet to be completed. A few groups will return to the course early today to finish up and provided we don't get any further delays they'll be back on track by the close of play. There's a 50% chance of rain late this afternoon and a chance of thunder too so there's a chance we could get another delay today. When I first looked at the forecasts on Sunday, it looked like there would be a fairly significant draw bias today but over the last few days that forecast has changed somewhat and we now look set for a day of fairly consistent weather with a constant breeze worsening only slightly as the afternoon wares on.
Brendon de Jonge is currently tied at the top of the leaderboard alongside Boo Weekley and that's a little bit irritating. I backed Boo last week and he didn't play great and I've backed him in this event for the last two years. A few pounds at 300.0299/1 wouldn't have done any harm would it!
With Dustin Johnson and Jason Day just three off the lead, and with Sean O'Hair and Justin Rose lurking, my lay book doesn't look great at this stage but its early days. I'm going to leave things as they are for now and see what today brings.

Volvo China Open Pre-Event Selections:
Scott Hend @ 50.049/1
Marco Crespi @ 260.0259/1

In-Play Bets
Alexander Levy at an average of 6.05/1
Hao-Tong Li @ 21.020/1
Jerome Lando Casanova @ 180.0179/1
Richie Ramsay @ 14.013/1

Zurich Classic Pre-Event Selections:
Kevin Kisner @ 100.099/1
Tony Finau @ 250.0249/1

Zurich Classic Pre-Event Lay Book
Worst Case Scenario -£390
Best Case Scenario +£601

*You can follow me on Twitter @SteveThePunter
Discover the latest articles