The Punter's US PGA Championship In-Play Blog: Brooks in pole position for Bellerive bounty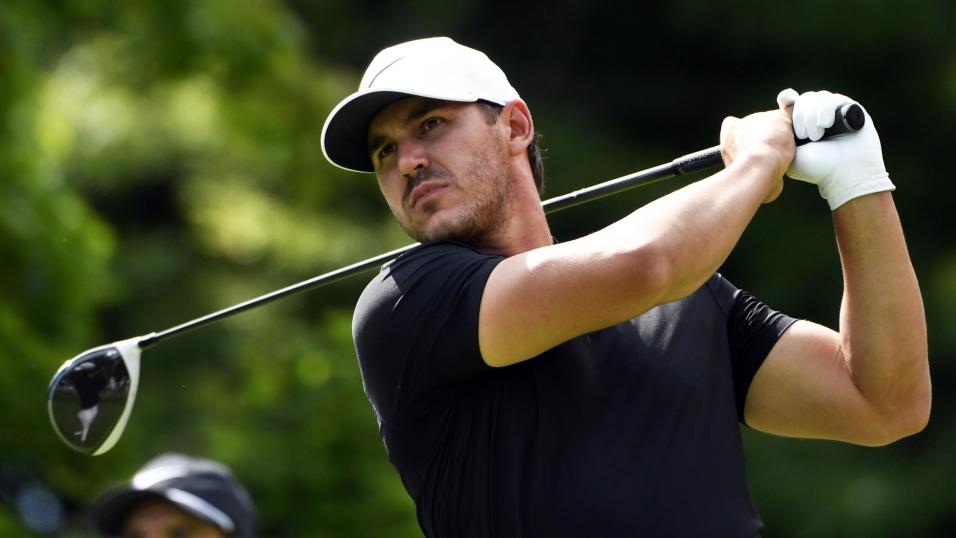 Brooks Koepka - two clear at Bellarive
The Punter's 25/1 pre-event pick, Brooks Koepka, has moved two clear of the field after 54 holes at the USPGA but does Steve fancy him to convert? Read his final in-running thoughts on the year's final major here...
"Winner of the last two US Opens, Brooks has matured in to the consummate pro in-contention and in front with a round to go is the place to be in this major. Brooks has led or been tied for the lead with a round to go seven times and he's converted on five occasions. And the third-round leader or co-leader has won four of the last six US PGA Championships and 12 of the last 20."

11:20 - August 12, 2017
World number one, Dustin Johnson, has fallen away at the 100th US PGA Championship but with just one round to go, we're faced with an exceptional leaderboard and the prospect of a terrific finale. Here are the current standings with prices to back at 11:15.
Brooks Koepka -12 2.546/4
Adam Scott -10 9.417/2
Jon Rahm -9 10.09/1
Rickie Fowler -9 10.519/2
Gary Woodland -9 22.021/1
Justin Thomas -8 16.015/1
Jason Day -8 18.017/1
Tiger Woods -8 19.018/1
Charl Schwartzel -8 48.047/1
Shane Lowry -8 55.054/1
Stewart Cink -8 90.089/1
Francesco Molinari -7 55.054/1
-7 and 55.054/1 bar
Brooks Koepka looked highly likely to put this Championship to bed yesterday when he sauntered to a five-stroke lead on the back-nine during round three. He was matched at a low of just 1.625/8 at one stage but back-to-back bogeys at 14 and 15 have kept things interesting. He's still very much the man to beat though...
Winner of the last two US Opens, Brooks has matured into the consummate pro in-contention and in front with a round to go is the place to be in this major. Brooks has led or been tied for the lead with a round to go seven times and he's converted on five occasions. And the third-round leader or co-leader has won four of the last six US PGA Championships and 12 of the last 20. Those stats suggest Brooks should be odds-on but just look at the quality sat just behind him. At least one of the 11 players within four of Brooks will surely put a charge in and he'll have to continue going forward if he's to win his third major.
Having backed Brooks before the off, I layed him back yesterday at an average of 1.845/6 to guarantee a very small profit so I'm leaving things alone for now. I'm still hopeful that each-way fancy, Gary Woodland, can be the one to charge but if forced to pick one it would be Jon Rahm. He played beautifully yesterday, he looks like a major champion in waiting, and the course and conditions are ideal.
At last the market appears to be seeing some sense though and Rahm's quite rightly shorter than the perennially disappointing Rickie Fowler who sits alongside the Spaniard on the same score. Whether Rahm's a decent price at 10.09/1 is debatable given his propensity to lose his patience and given the depth of quality in front, around and just behind him.
This is very hard to call. I don't fancy Adam Scott, who hasn't had a top-five in nearly two years, and until he actually does it in a major, Fowler looks like one to be wary of too. Tiger Woods is within touching distance but he's struggled all week on the back-nine so away from the leader and Rahm, Jason Day and Justin Thomas would be the two that look the most menacing.
I'll be back tomorrow with the De-Brief.

8:25 - August 11, 2017
We should by now be analysing the 100th US PGA Championship at the halfway stage but a dangerous weather pattern and heavy rain led to a suspension yesterday afternoon and those drawn AM-PM over the first two days will return early today to finish up their second rounds.
There was a differential of just 0.14 strokes between the morning and afternoon starters on day one but those drawn PM-AM have definitely got the better of it. Of the top-15 on the current leaderboard, 12 have already reached the halfway point, having been drawn late - early and although those returning today to complete their second rounds will enjoy still, rain-softened conditions, almost all of them would have preferred to have been drawn on the other side and to have already played the 36 holes required to determine who makes the cut.
Here are the current standings, together with prices to back at 8:15 and holes played in round two for those yet to reach the halfway stage.
Gary Woodland -10 10.09/1
Kevin Kisner -9 17.5
Brooks Koepka -8 7.613/2
Dustin Johnson -7 5.95/1
Rickie Fowler -7 6.611/2 (played 10 holes - rnd 2)
Thomas Pieters -7 36.035/1
Charl Schwartzel -7 50.049/1
Brandon Stone -6 130.0129/1
Jon Rahm -5 34.033/1
Francesco Molinari -5 40.039/1
Patrick Cantlay -5 65.064/1
Billy Horschel -5 75.074/1 (played 10 holes - rnd 2)
Adam Scott -5 80.079/1
Pat Perez -5 100.099/1 (played nine holes - rnd 2)
Jason Kokrak -5 240.0239/1
Selected others
Jason Day -4 19.018/1 (played eight holes - rnd 2)
Tiger Woods -3 34.033/1 (played seven holes - rnd 2)
Justin Thomas -2 34.033/1 (played seven holes - rnd 2)
-4 and 60.059/1 bar
So scorable has the course been, that Gary Woodland's halfway total of 130 strokes is a new US PGA Championship record and it's still possible that he'll be caught and passed before the third round begins. If the well-backed Rickie Fowler can birdie half of his remaining eight holes this morning Woodland's record won't even be a record and if anyone wants to religiously follow the stats, they may want to wait until the completion of round two.
What Fowler, and to a lesser extent, Jason Day, Tiger Woods and defending champion, Justin Thomas, do first thing is going to have a considerable bearing on how we view the tournament and the halfway stats but from my point of view, all four look short enough and in the case of Fowler, the market appears to be assuming he'll pick up at least a couple of strokes, and suddenly lose all his nervousness in-the-mix. He looks an awful price to me at 6.611/2. He's going to have his work cut out to reach Woodland and as a Woodland backer (see each-way column) I hope he doesn't because the stats are very much in favour of the halfway leaders in this championship...
I wrote yesterday about the impressive record of round one leaders in the US PGA Championship but it goes up several notches when we look at how the halfway leaders have fared. Last year's winner, Thomas, was still five adrift and in in a tie for 44th but that was very unusual. Only two winners had trailed by more strokes since 1990 (Padraig Harrington in 2008 and Y.E Yang in 2009 both trailed by six) and over the last 20 years, we've seen a dozen winners leading or tied for the lead at halfway. We've also had a couple of beaten playoff protagonists tied for the lead through 36 holes so those stats suggest being up with the pace looks key and I looked at previous tournaments at Bellerive in the In-Play Tactics section of the preview and that too suggested the same.
The market is certainly finding it hard to envisage Woodland winning but all the trends suggested he was the right man for the job before the off and, provided he still leads at the halfway stage, the in-play stats point in his direction too. This is a huge step up on anything he's ever done before but the same could have been said of David Toms, Rich Beem, Shaun Micheel, Y.E Yang, Martin Kaymer, Keegan Bradley, Jason Dufner and Jimmy Walker, who have all won this Championship this century.
Having also backed Dustin Johnson and Brooks Koepka before the off, I'm in a decent position at the moment but I have added one more. Charl Schwartzel finished with a rare rattle at Firestone last week and judging by his Championship-equalling low round record of 63 yesterday, he's picked up from where he left off and he shouldn't be trading at 50.049/1 when he's a best priced 40/1 on the High Street.
If I had to name one to win at this stage it would have to be Koepka. He hasn't quite found his range on the greens yet this week and yet he too shot 63 yesterday to move menacingly in to the mix. DJ's only major championship to date is the 2016 US Open, whereas Brooks has won the last two editions so quite why he's more than a point and a half bigger than DJ when he's a stroke in front is a little confusing. They're very similar players but Brooks seems to have less inexplicable wobbles and he looks like the value to me at this stage.

12:15 - August 10, 2017
I couldn't help but feel for the many Rickie Fowler first round leader backers yesterday. He looked home and hosed for much of the first day of the 100th US PGA Championship but just as they were deciding what to spend their winnings on, along came the best statistical fit of the week, Gary Woodland, to spoil the party. Woodland, who I picked out for the each-way column and who was the last man standing when Dave Tindall crunched the data here, bogeyed the first hole and he was still treading water after seven, but back-to-back birdies at eight and nine were followed by a back-nine of 30 and he's given himself a chance to beak his major championship duck.
Here are the standings after round one, with prices to back at 12:10.
Gary Woodland -6 17.5
Rickie Fowler -5 7.87/1
Zach Johnson -4 32.031/1
Brandon Stone -4 85.084/1
Dustin Johnson -3 6.86/1
Jason Day -3 12.5
Justin Rose -3 16.5
-3 and 24.023/1 bar
There won't be many in a rush to add Gary Woodland to their portfolios this morning and I've seen a number of tweets poopooing his chances this morning but I'm certainly not giving up on him just yet. Woodland has always been a strong tee-to-green player and a weak putter but as you'll see in the interview below, yesterday was his best day with the flat-stick and there's a reason for it. He's been working with renowned putting coach, Phil Kenyon.
7 birdies. Here's what Gary Woodland had to say about his putting.... pic.twitter.com/8ZmYNwxRiR

? PGA Championship (@PGAChampionship) August 10, 2018
Of course, that new putting stroke could all fall apart today but before you dismiss him, bear in mind that few fancied first round leader, Jimmy Walker, two years and he went on to win wire-to-wire and that, as highlighted in the preview, we've had 60 editions of the US PGA Championship played in the now traditional stroke play format and a dozen first round leaders went on to win the title. He's certainly not too short a price at around 16/1, especially given how well he fits all the trends.
Dustin Johnson heads the market today and that's no surprise given he's just three back but he can't have been happy with the way he finished the first round. The world number one was matched at just 3.3512/5 after he birdied six holes in an eight-hole stretch, kickstarted by this chip-in on the hardest hole on the course, the par three sixth, but he then played the last five holes in two-over par.
DJ out here making things look easy.#PGAChamp pic.twitter.com/7Ab4tF5Muy

? PGA Championship (@PGAChampionship) August 9, 2018
That finish was typical DJ. As talented as he is, he very rarely just gets his head down and keeps going. Bumps in the road come with territory and he's still the man to beat.
The afore-mentioned Rickie is the current second favourite and who wouldn't want him to win one? He's just a thoroughly decent man and it was absolutely no surprise to see him where yellow yesterday in honour (and boy does he deserve honouring) of the late Jarrod Lyle. He spoke well after his round yesterday too and I'll be cheering him on but he's just not a viable betting proposition given how often he goes AWOL in-the-mix.
.@RickieFowler was supposed to wear blue today. He went with yellow instead. pic.twitter.com/NEvKPUimdO

? PGA Championship (@PGAChampionship) August 9, 2018
There's been quite a bit of moaning about the coverage on Elevensports but I found it quite enjoyable and the lack of adverts is a blessing. There's a considerable time delay but that's nothing new with the PGA Tour and they're showing more golf than we usually see on Sky so I'm quite happy with it. And I'm quite happy to let things roll with my bets for now too.
Zach Johnson is arguably being dismissed a bit too readily and I fear Justin Rose, who's an industry best 16/1 with the Sportsbook right now, but I'm going to see what today brings before making an in-play move. With 15 players currently within four strokes of each other at the top of the leaderboard, I'm waiting for it to thin out a bit first.

Pre-Event Selections:
Dustin Johnson @ 12.5
Justin Thomas @ 16.5
Brooks Koepka @ 25/1 (Sportsbook)
Bryson DeChambeau @ 120.0119/1
Thorbjorn Olesen @ 200/1 (Sportsbook)
Aaron Wise @ 220.0219/1
Russell Knox @ 320.0319/1
Cameron Smith @ 420.0419/1
In-Play Pick:
Charl Schwartzel @ 50.049/1
Brooks Koepka layed @ 1.845/6

*You can follow me on Twitter @SteveThePunter
Discover the latest articles
Read past articles