The Punter's De-Brief: Woodland wins in style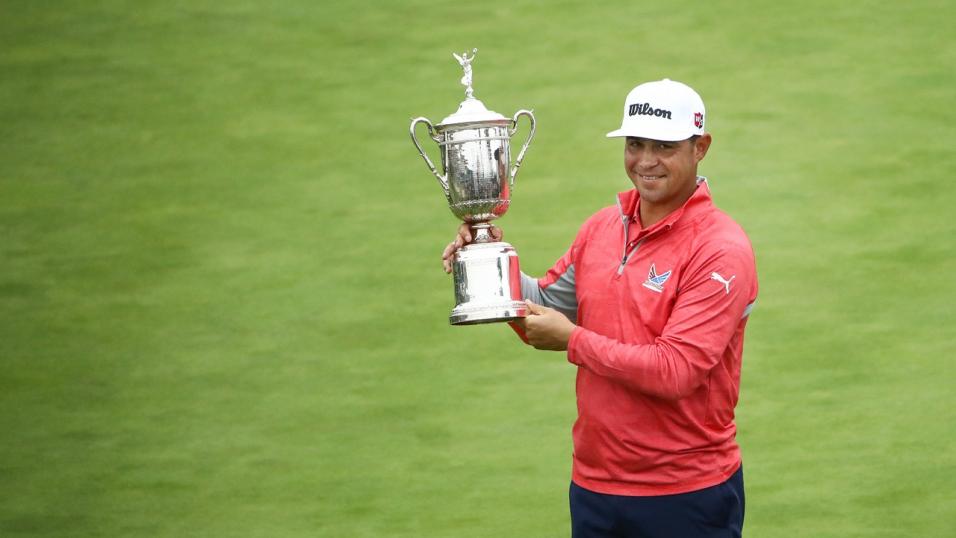 Gary Woodland with the US Open trophy at Pebble Beach
It's been a long and late week on the West Coast but our man's still up nice and early to reflect on yesterday's final round at Pebble Beach. Read Steve's customary look back at the 119th US Open here...
"Once again the leaderboard was dominated by big hitters that could muscle their way to the green when they missed fairways and flick wedges in when in when they didn't. Length is such a huge advantage nowadays that backing the short accurate types in majors is becoming a futile exercise."
The final round of the 119th US Open soon developed into a three-way tussle. Louis Oosthuizen, who'd began the day trailing by four in a tie for third, briefly traded at a single-figure price after he'd birdied the first but he and playing partner, Rory McIlroy, soon drifted out of the frame and 54-hole leader, Gary Woodland, Justin Rose and Brooks Koepka were left alone to fight out the finish.
Rose, who'd began the week trading at around [34.0], drifted right out to [55.0] before he teed off late on Thursday but he hit a low of [2.08] when he birdied the first on Sunday to draw alongside Woodland. It was all change at the second though when Justin handed the shot gained straight back with a bogey five as Woodland stiffed his approach to seven feet before knocking in the birdie putt. And he extended his lead over Rose to three with another birdie at the second.
Meanwhile, Brooks Koepka, who was looking to win his fifth major in nine and his third US Open in-a-row, started like a man possessed, birdying four of the first five holes and making a miraculous par at two to boot. The world number one was matched at [2.4] when he found the fairway on the short par five sixth but he made a mess of his second stroke and only made par, missed a seven-footer for birdie at seven and bogeyed eight.
Woodland, who was tipped up before the off by Dave Tindall in the each-way column at 70/1, was generally a [110.0] chance before the off, but he was matched at as short as [1.8] when he went three clear after Rose bogeyed the eighth.
Winning majors is rarely straightforward and after a Woodland bogey five at nine, Koepka closed the gap to just a stroke with a birdie at the 11th. The reigning champ hit a low of [2.2] but a bogey followed at the par three 12th and Woodland put distance between him and the rest again when he birdied the par five 14th after this remarkable approach.
Stepping up in the clutch. @GaryWoodland is looking to extend his lead. pic.twitter.com/3rVI1om1RM

? PGA TOUR (@PGATOUR) June 17, 2019
Woodland was superb after, eventually wining by three but there was one shaky moment right at the end. Trailing by two, Brooks hit his approach to the par five 18th to the rough at the back of the green and was an odds-on chance to make at least a birdie, whilst Woodland looked hard-pressed to make par after his tee-shot on 17 left him a lot of work to do but Koepka took three to get down from the back of the green and under the utmost pressure, Woodland produced this gem to seal the deal.
When he needed it most.@GaryWoodland wows with the wedge.

He'll take a 2-shot lead to 18. pic.twitter.com/H522Q3AUFx

? PGA TOUR (@PGATOUR) June 17, 2019
And then just for good measure, he rolled in a birdie putt on 18 from fully 30 feet! It was extremely impressive.
My Bets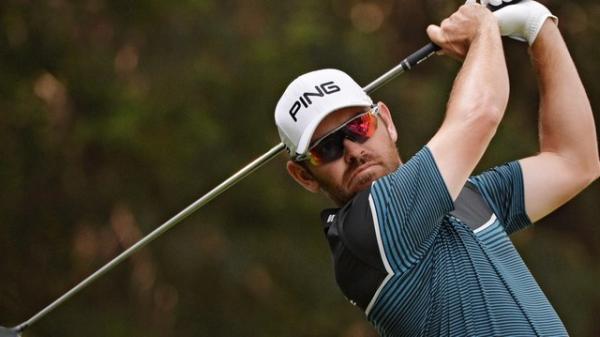 Woodland was never really on my radar as I just didn't think he'd be able to finish the job off so impressively. He'd been my each-way fancy at the US PGA Championship last year at 125/1 but he he was poor after leading at halfway there (eventually finishe tied sixth), so he wasn't a player I expected to play so well in-the-mix at a major.
It's been a disappointing week on the whole but it could have been worse. Then again, it could have been better...
As highlighted in the In-Play Blog yesterday, I layed Rory McIlroy to finish inside the top-ten at [1.3] and I backed Louis Oosthuizen against him in their two-ball at 21/20 and that provided a frustrating finish to a long night.
A small profit was made on the lay, despite Rory birdying the 18th to finish alongside two others in a tie for ninth but him and Oosthuizen finished tied for the day when the South African could only par the last but not before the shot tracker on the official US Open leaderboard had said Rory had gone from bunker to bunker on 17.
I was feeling quite good about turning the event around and making a small profit for the week but then the TV coverage showed him tapping in for par! Shot tracker being wrong is far from a new phenomenon but it doesn't get any less frustrating.
Course knowledge key to trading
It was a funny week trading-wise as once again I felt it impossible to commit to anyone decisively in the win market but that wasn't a bad thing in the end and knowing the course set up and which holes were scorable and which punishing was a great help. I started the week with a fairly big position on Dustin Johnson but I'd layed that back fairly sharply on Thursday and I backed out of an in-running bet on Xander Schauffele when he started his second round tardily.
Brooks Koepka was brought onside on Saturday but I traded him several times to reduce the position although he was still a decent winner in the book right up until the end. Had Brooks traded odds-on I'd have levelled things off nicely but it didn't quite happen unfortunately.
The increased liquidity of a major makes adjusting positions fairly straightforward and I was able to dip in and out on all three without ever being at risk of getting caught with a big position I didn't want but getting clued about the course is the key to that.
For example, Koepka drifted far too much when he bogeyed the par three 12th hole and I was able to exploit that little period of play. The pin position on 12 meant par was a really good score and he was far from the only player to make a four there. His closest challengers, Woodland and Rose, both made bogey too. Getting to know the course is absolutely key.
It's all about power and putting
Videos emerged before the off about another major set-up with 'terrifying' thick and brutal rough but, once again, the leaderboard was dominated by big hitters that could muscle their way to the green when they missed fairways and flick wedges in when in when they didn't. Length is such a huge advantage nowadays that backing the short accurate types in majors is becoming a futile exercise. They do have to put and scramble well to win though and that was one of the most frustrating aspects about this week's winner for me.
As already mentioned, I was sceptical as to whether Woodland quite had the minerals to win a major championship and I was even more unconvinced by his short game but he was awesome this week. Woodland ranked number one for Scrambling and fourth for Strokes Gained Putting for the week at Pebble despite ranking 169th for Scrambling and 120th for SGP for the season on the PGA Tour. It was a quite remarkable performance from leftfield on and around the greens and one that nobody could have expected.
Up with the pace was again the place to be and Woodland, who led at halfway, became the sixth US Open winner in-a-row and the 10th in 12 years to sit first or second with a round to go.
Players happy with generous set-up
The USGA were well aware that this was a very important renewal when it came to player relations (something I wrote about last week) and there's no doubt that they erred on the side of caution. The course played softer than expected and the USGA were seen watering the greens after the off but the absence of any noticeable wind meant for a benign and player friendly week.
The pros clearly don't like to be made to look daft and one after another has praised the set-up but the tournament largely lacked the sort of US Open drama I enjoy. It was too easy for my liking so I'll have my fingers crossed for a meaner set up at Winged Foot in 2020 and I'll be very glad to return to the East Coast too. I've had far too little sleep this past week and I'm shattered but I'm still looking forward to this week's events.
Matt Wallace was my sole selection at [44.0] when he won the BMW International Open last year and I was also on board Bubba Watson at the Travelers Championship at [34.0] before the get-go too. I'll be back later today or tomorrow with my previews but just before I go. Here's one last reminder as to why Gary Woodland is most definitely one of the good guys...
No one will play No. 16 at The Stadium Course better than Amy this week. pic.twitter.com/iyydmTKK8R

? GOLF.com (@GOLF_com) January 30, 2019
*You can follow me on Twitter @SteveThePunter