US Open Betting: All you need to know about Pinehurst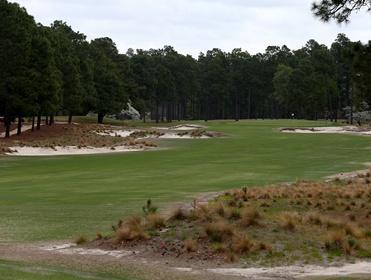 The 14th at Pinehurst
The year's second major, the US Open, is now less than a month away so it's perhaps time to start thinking about who should be suited to this year's venue - Pinehurst No.2...
"If you think Garcia has the minerals to win a major, then he'd be the one to consider at around 34.033/1. I can't see how he gets any bigger."
Although widely regarded for many years as one of the world's finest courses, this year's US Open venue, the Donald Ross designed Pinehurst No. 2, which opened in 1907, hasn't seen that much major championship action. 
It hosted the USPGA Championship way back in 1936, the US Senior Open in 1994, the US Open in both 1999 and 2005, and it was also used for the Ryder Cup in 1951 and for the US Amateur in 2008, but since then the course has changed considerably...
In 2010, Bill Coore and Ben Crenhaw orchestrated a year-long $2.5 million restoration project with the objective of returning the course to its 'natural and historic character'. This hole-by-hole guide to the restoration gives a very detailed look but in summary, fairways have been widened, all rough has been eliminated, natural areas have been introduced and the course has been lengthened by over 300 yards.
When Michael Campbell caused a bit of a shock here in 2005 as an unconsidered 390.0389/1 shot on Betfair and a 200/1 shot on the High Street, the course measured 7,214 yards, which at the time equalled Bethpage Black (2002) as the longest course used in US Open history, so the fact it's over 300 yards longer must surely be a big negative for the shorter hitters. 
Add to that the removal of the rough and you could be forgiven for thinking the big hitters are going to hold a huge advantage come June 12 but the introduction of great swathes of what looks to the naked eye as wasteland but described as natural areas (35 acres in total!) accuracy will be as important as ever. 
When Payne Stewart beat Phil Mickelson in 1999, just months before his tragic death, the course was certainly not short, measuring 7,175, and he only ranked 50th for driving distance so a lack of length has been overcome at Pinehurst before.  He compensated for it by ranking inside the top-ten for all other stats but there's little doubt that the key attribute back then was scrambling - the first four home (Stewart, Lefty, VJ Singh and Tiger Woods) ranked 1st, 2nd,  3rd and 7th for scrambling and that would be the first stat I'd consider this time around.
For the record, the stats in '99 aren't quite so pro-scrambling. The top-three scramblers in 2005 were Rocco Mediate and Arron Oberholser, who finished tied for 6th and 9th respectfully, and Ernie Els, who drove far too poorly to contend, still finished tied 15th but Cambo only ranked 23rd and runner-up Woods only 80th! 
Although the changes have been radical, the greens haven't changed much - they're still turtle-backed and very hard to hold and I'll definitely be looking for good scramblers when I finalise my shortlist but with so little course form to consider and with so many changes made anyway, maybe the best way forward is to consider form at other Donald Ross designs? 
Oak Hills was the venue for last year's USPGA Championship, won by Jason Dufner. Oakland Hills has hosted six US Opens between 1924 and 1996 and was used for the USPGA Championship in 2008. The Sedgefield Country Club has hosted the Wyndham Championship since 2008.  Aronimink Country Club hosted the AT & T National in both 2010 and 2011, East Lake in Atlanta is the home of the Tour Championship and if all that isn't enough, you could check out Irondequoit Country Club which hosted the Xerox Classic on the Web.Com Tour in the four years between 2005 and 2008.
Ryan Moore and 2012 US Open champ, Webb Simpson, have both won the Wyndham, and have form at both Aronimink and at East Lake. Last year's US Open winner, Justin Rose, won the AT & T National there in 2010 and goes well at East Lake, and Adam Scott has form at a number of Ross-designed tracks but there's no doubt at all who has the best form at Donald Ross designed course - the in-form Sergio Garcia...
The Spaniard has three top-four finishes at the Wyndham at Sedgefield, including a win in 2012, was runner-up to Padraig Harrington in the 2008 USPGA Championship at Oakland Hills, where he traded odds-on before finding water late on. A month later, he lost a playoff at East Lake to Camillo Villegas, where he'd finished 4th the year before and he finished tied for 3rd behind Campbell at Pinehurst in 1999. 
If you think Garcia has the minerals to win a major, which is something I'm sorry to say I don't, then he'd be the one to consider at around 34.033/1 and as Paul Krishnamurty points out here, doing so now makes sense. I can't see how he gets any bigger. 
I quite like Simpson and Moore at the prices and of course, at some stage I'll be betting on Phil Mickelson - who does have some form at Ross- designed course. He hasn't been playing great this year but as I wrote before Christmas here, Lefty winning the US Open is well and truly overdue. 
*You can follow me on Twitter @SteveThePunter
Discover the latest articles