The Punter's De-Brief: Tommy finishes fast but Brooks holds firm to defend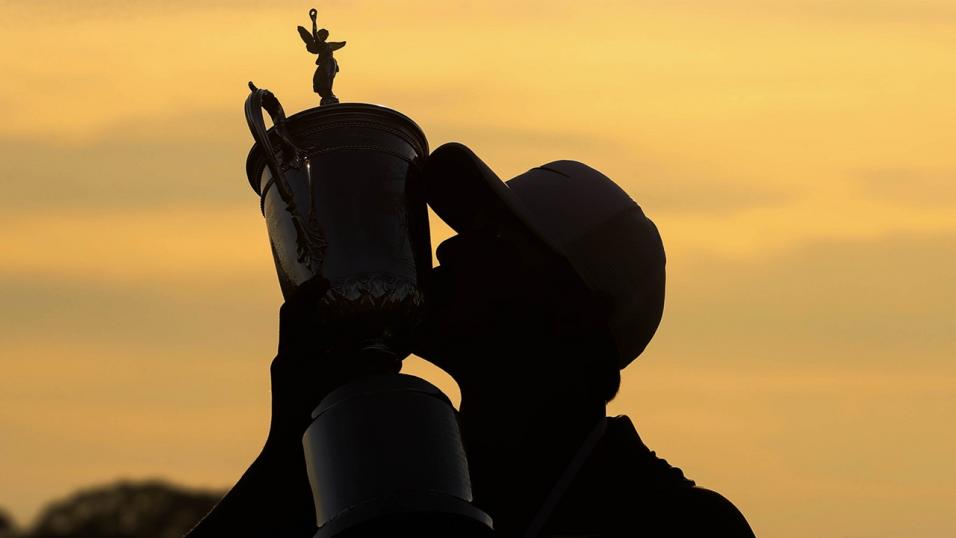 Back-to-back US Open champ, Brooks Koepka
The 118th US Open has finished with Brooks Koepka successfully defending. It's been a long and fascinating tournament and a busy one for our man who looks back at the tournament here...
"What's really impressive about Koepka's two wins is how different they are. Last year's four-stroke demolition job at Erin Hills tied the US Open scoring record with a 16-under-par total. This time around he's ground out the win in one-over-par."
After an opening five-over-par 75, which had seen him trail the first round leaders by six, defending US Open champion, Brooks Koepka, looked lost early on Friday afternoon at Shinnecock. Playing the back-nine first, he began his second round tardily and after seven holes he was two-over for the day and seven-over for the tournament. He looked to be going nowhere except home and he was matched at a high of 800.0799/1 but just as the wind completely disappeared, Brooks got on a roll and a birdie at the par three 17th sparked a quite incredible comeback. Another pair of birdies followed at 18 and one and he picked up another three at holes three, five and eight. All of a sudden, he was back in-the-mix and whoever layed the 800.0799/1 knew they were in trouble.
Enough already has been written about the carnage on Saturday and I wrote plenty in yesterday's entry in the In-Play Blog but Brooks fared the best when the course was at its worst and so while he caught a break on Friday, he deserves plenty of praise for his grinding qualities, and boy did he putt well over the weekend.
Tommy Fleetwood became just the second man ever to shoot 63 in the final round of a US Open (exactly 45 years after Johnny Millar did at Oakmont) and he came within inches of becoming the first to shoot 62 in the event when he missed from inside nine feet on the 72nd hole. He was drawn on the wrong side for rounds one and two and he was blown away on Saturday afternoon, so he deserves some sympathy (matched at a low of 2.447/5) for coming up just a shot shy but the man I feel sorry for is world number one DJ, who was matched at just 1.75/7 in-running.
DJ is a fabulous putter on poa annua but his putting prowess deserted him badly over the weekend. He used the flatstick just 53 times on Thursday and Friday but 73 times over the weekend and Justin Ray's tweet below shows quite clearly why Brooks finished the week in front of DJ, who finished two back in third.
Putting comparison over last 2 rounds:

Brooks Koepka: +4.08 strokes gained, 59 putts
Dustin Johnson: -6.44 strokes gained, 73 putts

? Justin Ray (@JustinRayGC) June 18, 2018
Koepka, who went off at around the 34.033/1 mark, is the first player to win the tournament back-to-back since Curtis Strange way back in 1988/89 and he joins a very exclusive little club. He and Andy North, who in addition to winning the US Open in both 1978 and 1985, won the American Express Westchester Classic in 1977, have both one more US Opens than they have ordinary PGA Tour events. Brooks' only other PGA Tour win was the at the Phoenix Open three years ago but that surely can't remain the case forever?
What's really impressive about Koepka's two wins is how different they are. Last year's four-stroke demolition job at Erin Hills tied the US Open scoring record with a 16-under-par total. This time around he's ground out the win in one-over-par.
My Bets
Outsiders, Xander Schauffele and Webb Simpson, finished tied sixth and tied 10th respectively, but my initial picks were largely disappointing, and it was slightly frustrating to see Koepka claim the spoils. He was my main fancy in Memphis last week and had he not disappointed there or even played there, I may well have backed him at Shinnecock given I wrote this in the De-brief a couple of weeks ago.
"Young players don't shine at Colonial, debutants don't have a great record at Colonial, and big-hitting types soon learn it's not their sort of venue so I'm not quite sure what 28-year-old first timer and power-hitter, Brooks Koepka, was doing hanging on to Justin Rose's coattails all weekend.
Koepka missed a large chunk of the season with a wrist injury but it's fair to say he's back. After a missed cut in the Zurich Classic of New Orleans, playing alongside Mark Turnesa, and an unremarkable 42nd at the Wells Fargo, Brooks sparked in to life at Sawgrass with a final round 63 to finish 11th and kept the ball rolling nicely here. His US Open title defence is only two weeks away now and we haven't seen a title defence since the 1980s (Curtis Strange) so perhaps we're due one."
Oh well, it certainly wasn't all doom and gloom. Far from it. Graeme McDowell obliged in the Top Irish market and Byeong-Un An was the Top Korean so my Specials picks did me proud and after a long slog, I finished in front trading the event, thanks to getting Brooks onside as he finished up on Friday.
More than one way to skin a cat
I'm never quite sure how to document my In-Play stuff at majors at it's impossible to detail every trade - there's always dozens and often hundreds - so listing them would be ridiculous and updating twitter every time I did anything would just cause confusion, and irritation - to me, let alone anyone else following me!
My plan always develops as the event progresses as I adapt to the event. It's exhausting over the first two days but following the action relentlessly is imperative. Like the Open Championship, winners in this event nearly always get off to a fast start so the plan is usually to get players onside early and tweak things over the weekend. It's often possible to dip in and out on players as their rounds are ongoing and that's what I did with DJ on Friday.
By the time he'd finished I'd got a nice position on him and it was just a case of building around that. I cursed the changing conditions on Friday afternoon and the wind disappearing when the forecast had predicted it to pick up slightly after lunch was frustrating but sitting in front of the laptop for hours on end meant it was possible to adjust positions already taken, considering what I thought the weather would do, and it also enabled me to get on the winner at above 20.019/1 as the midnight hour approached on Friday.
By the time the tournament reached halfway, I thought I was as good as finished with my book but the carnage on Saturday meant more tweaking was required. Thankfully I hadn't rested on my laurels and even though I didn't fancy them to win (see yesterday's post on the In-Play Blog) I got the big movers, Tony Finau and Daniel Berger, onside at around 40.039/1 as it was clear the course set-up was going to prove troublesome for the leaders.
Paul Krishnamurty, who posted a new piece daily, went at the event in completely the opposite way. Instead of sitting there all day building positions, he boldly took on the leaders after the opening round (piece here) and worked the event from there.
Paul has always been a far better judge than me when it comes to gaging what's to come at majors. He's not as reliant on stats as me and he can read a course and the conditions much better than I can. He's also a bit braver when it comes to taking positions too and as a result, when it comes off, as it invariably does, his rewards (I suspect) are bigger too but I you have to find what works for you.
I spend a couple of days tied to the laptop nudging and fudging positions to get myself a nice winning book but when things change as much as they did this weekend, positions get diluted as more players need covering. I understand that, I'm ready for it, and I accept it. Ideally, with my tactics, things don't change much after halfway and the leaderboard remains quite stable, and that often happens at majors, but the point I guess I'm trying to get across is how much time we all have at majors.
The liquidity is stronger than at ordinary events, the trends and stats are more readily available, the coverage is far more extensive than it usually is, and all those factors are a huge plus.
There's always risk. DJ could have had a complete meltdown very quickly on Friday at a time when the market might have been especially quiet and I could have been left with a poor position. And from Paul's perspective, DJ could have birdied the first three holes on Saturday and sailed off into the sunset but, in reality, neither of those occurrences happen regularly and there's nearly always time to build a nice book.
So, that's another major done and dusted but we've got a couple of great events to look forward to this week. We're off to Germany for the BMW International Open and we've got a cracking field heading to Cromwell, Connecticut, for the Travelers Championship and I'm going to aim to get that preview out this afternoon.
*You can follow me on Twitter @SteveThePunter
Discover the latest articles
Read past articles