The 2018 US Open: The Punter's Preview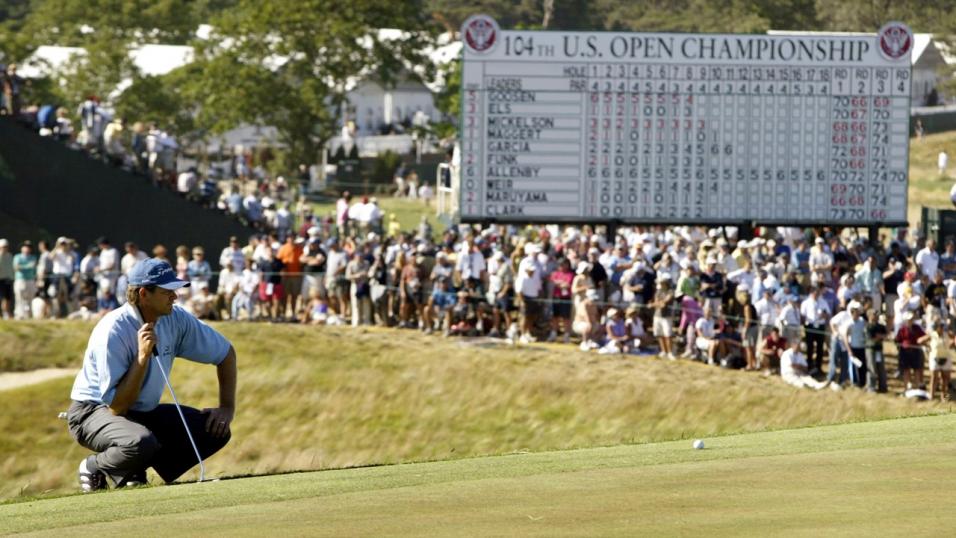 Some familiar names appeared on the leaderboard the last time Shinnecock Hills hosted the US Open
It's time for the second major of the season as the US Open moves to Shinnecock Hills, New York, but before you strike your bets be sure to read Steve Rawlings' comprehensive preview as our man arms you with all the stats, facts and betting savvy you'll ever need...
"To win a US Open you need to find plenty of greens and scramble well when you don't. The last two winners both ranked first for Greens In Regulation and whilst Koepka only ranked 26th for Scrambling, the three winners before him ranked first or second. Back in 2004, the first four all ranked inside the top-10 for GIR and Retief and Phil, the only two players to break par for the week, ranked first and second for Scrambling."
Tournament History
Patrick Reed's fabulous victory at Augusta feels like more than two months ago but the wait for the second of the year's four majors is finally over. It's time for the eagerly awaited 118th edition of the US Open.
Although it certainly wasn't the case last year, with Brooks Koepka equalling Rory McIlroy's 16-under-par winning score, set in 2011, the US Open is nearly always the toughest of the four majors. It's a nomadic tournament staged by the United States Golf Association, who have traditionally set up the venues to play tough, but they were caught out in 2011 when Congressional Country Club played extremely soft and they picked just about the only week of the year to play the 117th edition at brand-new venue, Erin Hills in Wisconsin, when the wind didn't blow. This year we return to one of the oldest and more traditional US Open venues - Shinnecock Hills.
Venue
Shinnecock Hills, Southampton, Long Island, New York.
Course Details
Par 70, 7,445 yards
Shinnecock Hills opened way back in 1891 and just five years later it hosted the second edition of the US Open.
It was completely reworked by William Flynn in 1931 but it didn't see US Open action again until 1986. Flynn designed another famous US Open venue - Cherry Hills - and he also worked on Merion, where Justin Rose took the title five years ago.
Here are the four previous US Open winners at Shinnecock.
1896 James Foulis +3 (36 holes)
1986 Raymond Floyd -1
1995 Corey Pavin level Par
2004 Retief Goosen -4
Since the 2004 edition (when only two players finished under-par), the design team of Bill Coore and Ben Crenshaw (also responsible for the Plantation Course in Hawaii and the Trinity Forest Golf Club - host courses for the Tournament of Champions and the AT&T Byron Nelson) have lengthened the course by some 449 yards and the fairways were widened. Coore has played down the rework though.
"I wouldn't call it a restoration. We made very minor alterations, not nearly on the order as what we did at Pinehurst (prior to the 2014 US Open), Maidstone and Old Town."
Primarily, they restored lines and angles to the fairways from 10 new tees but the greens were also extended and they also worked on the par four sixth hole where the vegetation to the right of the hole had thickened.
Following last year's US Open, where the scoring was silly low given the lack of wind on a wide-open track, the USGA got to work again last year to narrow the fairways back in here. This is what Mike Davis, the USGA's executive director, had to say about the last-minute alterations.
"Did Erin Hills influence us? Absolutely. We went into Erin Hills anticipating wind, and with the firmness there, felt we had to present more width so players could keep balls in the fairway. Looking back, there wasn't enough of a premium on accuracy."
Almost five acres of fairway turf was removed and replaced by strips of fescue from Shinnecock's par-3 course but the fairways are still going to be as wide as they've ever been here and far wider than they were in 2004. On that occasion they averaged 26.6 yards. This time around they'll average 41.6. That's reasonably wide but anyone who does stray badly from the fairways will find trouble. After a strip of four-inch long rough, severely errant tee shots will find knee-high fescue grass.
Shinnecock is an exposed, sand-based links-style course. The poa annua greens are small and heavily bunkered and they're expected to run at between 13 and 14 on the stimpmeter but the USGA need to be careful after the furore at Oakmont two years ago, when Dustin Johnson's ball moved on the green, and the absolute farce here in 2004. Walter Driver, the chairman of the USGA Championship Committee, made the decision to water the greens after the first four players took three triple bogeys and a bogey at the par three seventh. Runner-up, Phil Mickelson, parred the hole by deliberately playing his tee-shot in to a greenside bunker. It was carnage.
If you want to relive the final round in 2004 and familiarise yourself with the venue, this clip is well worth a look.
TV Coverage
Sky Sports will be live on the range on Wednesday night from 20:00 UK and Ireland time and there'll be Featured Group coverage from 13:30 on Thursday. Full coverage begins at 16:30 on Thursday afternoon and all four days are live on Sky Sports.
Last 10 US Open Winners
2017 - Brooks Koepka -16
2016 - Dustin Johnson -4
2015 - Jordan Spieth -5
2014 - Martin Kaymer -9
2013 - Justin Rose +1
2012 - Webb Simpson +1
2011 - Rory McIlroy -16
2010 - Graeme McDowell Even
2009 - Lucas Glover -4
2008 - Tiger Woods -1 (playoff)
What Will it Take to Win the US Open?
As highlighted above, we've had a couple of instances lately when the set-up has not met with the expected weather and that's given us a winning score that we're just not used to seeing at a US Open and it's worth noting that after the 16-under-par Rory McIlroy romp in 2011, the next two winning scores were over-par, suggesting that the USGA didn't want a repeat. After last year's low-scoring demolition by Brooks Koepka, will they be looking to reign everyone in again this time around?
They're treading a fine line. They don't want a repeat of 2004 and they don't want seriously low scores again so I suspect the winning score will be nearer level-par than it is to 10-under but a lot will depend on the weather.
Although the US Open is a nomadic event, played at different courses every year, and hiccups like 2011 and 2017 occur, because the USGA tend to try and set-up the courses similarly tough, an analysis of the statistics is a worthwhile exercise, so here are the average rankings of the last ten US Open winners in all the main categories.
Driving Accuracy - 25.7
Driving Distance - 16.6
G.I.R - 8.1
Scrambling - 11.1
Putting Average - 14.2
It will be repeatedly stated how important accuracy from the tee is this week, and it is of course, but statistically it's the least important.
In US Opens the rough is usually penal and the fairways narrow, but even the most accurate drivers will stray from the short grass at some stage and when they do they'll usually be too far back to have a chance of rescuing par. In contrast, the big hitters will be closer to the green and will have a better chance of saving themselves. They'll also have the advantage of going in with a lot shorter irons when they do find the fairway.
The stats are clear but if you then consider that only three winners in the last 10 years have ranked higher for accuracy off the tee than they have for length and that seven of the last 10 winners have ranked inside the top-ten for DD, compared to just three inside the top-10 for DA, it really does start to make sense to favour length over accuracy. Although, the 2004 result contradicts that slightly...
Goosen did get it out there and he ranked fifth for Driving Distance, but accuracy was overall slightly more important given the top-12 had an average Driving Accuracy ranking of 18.5 and an average DD ranking of 34.6. But remember, the fairways are wider this time around. Given all the evidence, I'd still favour length over accuracy, but Total Driving might be the best driving stat to peruse this year.
To win a US Open you need to find plenty of greens and scramble well when you don't. The last two winners both ranked first for Greens In Regulation and whilst Koepka only ranked 26th for Scrambling, the three winners before him ranked first or second. Back in 2004, the first four all ranked inside the top-10 for GIR and Retief and Phil, the only two players to break par for the week, ranked first and second for Scrambling.
Is There an Angle In?
Great links players have prospered at Shinnecock Hills and I suspect they'll come to the fore again this week.
The first winner here, James Foulis, way back in 1896, was born in St Andrews and grew up learning the game at the home of golf so I'm going to take it as red that he was a links specialist. The 1986 winner, Ray Floyd, when at his pomp, had Open Championship form figures over a six year period (he missed one edition) reading 4-8-2-36-3, so he was a fine links player. Corey Pavin had three Open Championship top-10s and Goosen has seven so far and numerous links specialists including Greg Norman and Mickelson, have looked like winning here.
And just to back all that up, at the 2004 edition, Jim Furyk is quoted as saying. "Very much a feel of a British Open, it has a lot of similarities."
Don't expect the winner to find form out of the blue. I've gone back 10 years and every US Open winner had shown a high level of form leading up to the event. Koepka hadn't won in the lead up to last year's tournament but six of the last ten had won somewhere and the four that hadn't had finished at least third in a top-quality PGA Tour event.
Expect the winner to be one of the best in the world. Koepka ranked only 22nd in the official world rankings before his victory 12 months ago but five of the six US Open winners that preceded him ranked inside the top-15.
Every winner this century, with the exception of shock champion, Lucas Glover, had previously finished inside the top-30 at a US Open previously.
Californians, like Mickelson and Tiger Woods, that grew up playing west coast courses and putting on poa annua should have an advantage over the rest. The 1995 winner, Pavin, is a Californian and I'd consider growing up on the west coast a plus.
From a course correlation perspective - I fancy Pebble Beach, which is a wind-affected links with small poa annua greens, would be the most similar course encountered and form lines certainly tie in between the two. The database I use only goes back to 1996 so I can't see it there was a cross over from '86 but both Goosen and Pavin have been placed at Pebble and Mickelson, who was placed in 1995 and 2004, is a multiple winner at Pebble Beach.
Is There an Identikit Winner?
We don't need to be trawling the field for past major winners - far from it in fact. Since Goosen won here in 2004, 10 of the last 13 US Open champions were winning their first major and we're seeing a similar trend across all the majors of late. When Jordan Spieth won the Open at Royal Birkdale last July he was winning his third, but nine of the last ten major winners were winning a major for the first time.
The US Open produces its fair share of event specialists - remember Andy North? He only ever won three PGA Tour events and two of them were US Opens! Jeff Maggert has only won three PGA Tour events too and none of them majors but between 1994 and 1999 he finished inside the top-10 at this event four times - including a tied fourth here in '95.
Koepka missed the cut as an amateur at the 2012 US Open but two years later he finished fourth at Pinehurst to get his PGA Tour card before finishing 18th in 2015 and 13th in 2016. He hadn't had many starts, but he had a US Open pedigree before last year's win. Although he missed the cut when defending 12 months ago, Dustin Johnson is now a renowned US Open specialist, having finished fourth and second before he won and there are several other players that enjoy this event more than others...
The 2003 champ, Jim Furyk, was runner-up two years ago and that was his seventh top-five. Jason Day has finished inside the top-ten in five of his seven US Open appearances, Brandt Snedeker has finished inside the top-11 in six of his 11 appearances and then there are the likes of Tiger Woods (three wins and eight top-sixes), Ernie Els (who's finished first, second, third, fourth and fifth twice), and of course Phil Mickelson, who has finished second an incredible six times.
The US Open is a unique and demanding, exacting test and event specialists are worth very close consideration and we're probably due a previous winner succeeding. Goosen is the last man to win the title twice.
Americans have won the last three editions but prior to Jordan Spieth's victory at Chambers Bay in 2015, only three of the previous 11 renewals had been won be an American. We haven't seen a run of more than three American winners since they won 12 in-a-row between 1982 and 1993.
In-Play Tactics
Up with the pace is the way to go in US Opens and making up ground is notoriously difficult. The last four winners have all been inside the top-seven places after round one and all four led at halfway. In fact, seven of the last 11 winners have been leading or tied for the lead through 36 hoes and two of the 11 sat second. And that's nothing new, between 1999 and 2003, all five winners were leading or co-leading at halfway and Mark Brooks, who lost a playoff to Goosen in 2001, had been alongside him at the top of the leaderboard through 36 holes.
To demonstrate how important a fast start is, look at the first and fourth round leaderboards from last year and see how little changed - four of the top-six after round one finished inside the top-seven at the finish.
After Round One
Rickie Fowler -7
Paul Casey -6
Xander Schauffele -6
Brooks Koepka -5
Tommy Fleetwood -5
Brian Harman -5
Final Standings
Brooks Koepka -16
Hideki Matsuyama -12
Brian Harman -12
Tommy Fleetwood -11
Rickie Fowler -10
Xander Schauffele -10
Bill Haas -10
Having said all that, I'm now going to throw a spanner in the works and detail how the four winners here made it to the winning line...
James Foulis was tied for the lead after round one before going on to win by three (36-hole tournament) in 1896 but he's the only Shinnecock winner to get off to a swift start.
Ray Floyd trailed by five after an opening 75 in 1986, Pavan was six back after round one in 1995, following a 72, and Goosen's opening 70 saw him tied for 20th and four off the pace.
In both the 1986 and 1995 editions, Greg Norman (another great links player) led at halfway. Floyd had closed the gap to four, as he sat in a tie for fourth but Pavan was still six adrift and outside the top ten. Goosen shot 66 in round two and he sat fourth and just two off the pace.
Floyd and Pavan were both still three back and tied for fifth with a round to go but Goosen began round four with a two stroke lead.
It's a tiny sample size but historically, Shinnecock has gone against the long-term trends.
Market Leaders
Nobody has ever won the US Open having won the week before but that wouldn't put me off brand new FedEx St Jude Classic winner, Dustin Johnson. He's the correct favourite to win at Shinnecock and he's definitely the man to beat.
A winner at Riviera, Pebble Beach and Oakmont, DJ is a poa annua expert. He's a fabulous links player, a US Open specialist and when he's hot he tends to stay hot nowadays. He followed his US Open win two years ago with success in the WGC Bridgestone Invitational and he won three-in-row before he fell down the stairs at Augusta last year. He missed the cut after winning the FedEx St Jude Classic in 2012 but I suspect he'll improve on that considerably this time.
Other than his facile victory at rain-softened Congressional, second favourite, Rory McIlroy, has a very ordinary US Open record. His tenth on debut at Bethpage Black in 2009 and his ninth at Chambers Bay three years ago are his only other top-20 finishes and he's missed the cut in each of the last two editions.
He's already a winner this year, at the Arnold Palmer Invitational in March, but he endured yet more disappointment at Augusta when a poor 74 in round four saw him slump to fifth in the US Masters and he was also disappointing over the weekend at Wentworth three weeks ago when he finished second to Francesco Molinari.
He's an Open Championship winner and a fine links exponent but I'm not convinced this is his major. It's a tough grind and Rory's a much better player when scoring is easier. He's won 23 times as a pro and -12 is his worst winning score in relation to par. He doesn't do grinding out wins when conditions are tough and others are preferred.
Justin Thomas has been a bit quiet since Mickelson beat him in a playoff in Mexico in March but he's trending in the right direction again and a fast-finishing 11th at the Players and a top-ten finish in the Memorial Tournament are great warm-ups for this.
He's been starting events slowly of late (hasn't broken 70 since he won the Honda Classic in February) so backing him before the off might not be wise but he does everything well and could very easily gain redemption for last year's poor final round that saw him fall from second to ninth.
The 2013 winner, Justin Rose, is impossible to disregard. His tee-to-green game is exceptional, he's a great links player and he's even been putting well lately. He was sixth last time out at the Memorial Tournament (an event he's won before), after winning the Fort Worth Invitational but if you want a negative, he shot 77-78 to miss the cut here in 2004. Very solid chance.
Jason Day has already won twice this year and he's a US Open specialist. He's scrambling well and often putts brilliantly but his accuracy stats are a big worry. Over the last three months on the PGA Tour, he ranks 163rd for Driving Accuracy, 120th for Greens In Regulation and 154th for Total Accuracy. Of course, he could have a great week with his irons but I wouldn't want to bet on it. He's the number one scrambler over the last three months but he may just give himself too much to do around the greens if his irons are as bad as they have been.
Jordan Spieth was my idea of the main candidate when I looked at the tournament at Christmas, but he's been putting deplorably of late and that's very off-putting, even though I don't expect putting to be the be all and end all this week. And yet again, Rickie Fowler looks far too short - especially given that the greens are poa annua and not his beloved Bermuda.
Tiger Woods is threatening to return to the winner's enclosure but his putting at the Memorial Tournament was horrific at times and I'm happy to swerve him at the odds.
Selections
This is a mouth-watering renewal and a very open one. I wouldn't be at all surprised to see DJ go in again, Justin Rose has a great chance and I very nearly backed Henrik Stenson. He has the right game for the course but I'm put off by the greens. I don't think it's accidental that he doesn't play the likes of Riviera, Torrey Pines or Pebble Beach and he withdrew from the US Open at Oakmont. He definitely prefers Bermuda to poa annua.
I'm a big fan of in-play betting so I'm keeping most of my powder dry, but I've still found seven to back modestly before the off...
Raymond Floyd became the oldest winner of the U.S. Open at 43 years and 284 days when he won here in 1986 (record beaten by Hale Irwin in 1990), so there's hope yet for 47-year-old Phil Mickelson (turns 48 on Saturday) and I'm in agreement with Paul Krishnamurty. This venue is perfect for Lefty and he's already a winner this year in Mexico. And I'm also in agreement with Paul re Branden Grace and I've had him onside since Christmas.
Webb Simpson had missed his two previous cuts when he took the title back in 2012 so the fact that he's missed out on weekend employment twice since winning the Players doesn't unduly worry me and I thought he looked just a shade big to replicate Martin Kaymer who achieved the Players - US Open double in 2014.
California's Xander Schauffele caught the eye in last year's edition when he finished fifth on debut before going on to win both the Greenbrier Classic and the Tour Championship. He's had a quiet year to date but his second behind Simpson at Sawgrass suggested he could win again soon.
Brandt Snedeker has been in the wilderness since a sternum injury saw him write off the second half of last year but all of a sudden he's found a bit of form. His top-ten in the FedEx St Jude Classic was an eye-catching performance after a good weekend in the Fort Worth Invitational and he ticks lots of boxes. A big fan of poa annua, he's a multiple winner at both Torrey Pines and Pebble Beach and he has a great US Open pedigree too. He's a superb links exponent with a brilliant short game and he may just have found his mojo at just the right time.
Kyle Stanley's tee-to-green game is brilliant, but his putting often lets him down. He's an infinitely better putter on fast greens though and after his playoff defeat at Muirfield Village last time out, he arrives at Shinnecock in form and he can putt on poa annua. He famously blew a five stroke 54-hole lead at Torrey Pines (beaten by Snedeker).
Finally, 21-year-old South African-born American, Aaron Wise, impressed me immensely when he won the Byron Nelson at the aforementioned Trinity Forest last month and I was more than happy to throw a few pounds his way at a huge price. This is probably too much too soon but he looks like a player to keep on the right side of.

Selections:
Phil Mickelson @ 46.045/1
Branden Grace @ an average of 50.049/1
Webb Simpson @ 95.094/1
Xander Schauffele @ 120.0119/1
Brandt Snedeker @ 160.0159/1
Kyle Stanley @ 190.0189/1
Aaron Wise @ 280.0279/1
*You can follow me on Twitter @SteveThePunter
US Open on Betfair
Come to Betfair for:
- Value: If you had a £20 bet on Patrick Reed on the Betfair Exchange at the last major, you would have returned £200 more than with other bookmakers
- Places: We're paying 8 places until the tournament tees off
- Specials: This is the first tournament with our new scoring based specials – check them out! Example: The Cut to be +3 or lower & Any player to have a Hole in 1 @ 16/1
Discover the latest articles
Read past articles