The Punter's US Open In-Play Blog: Dustin can scramble home but it's oh so tough to call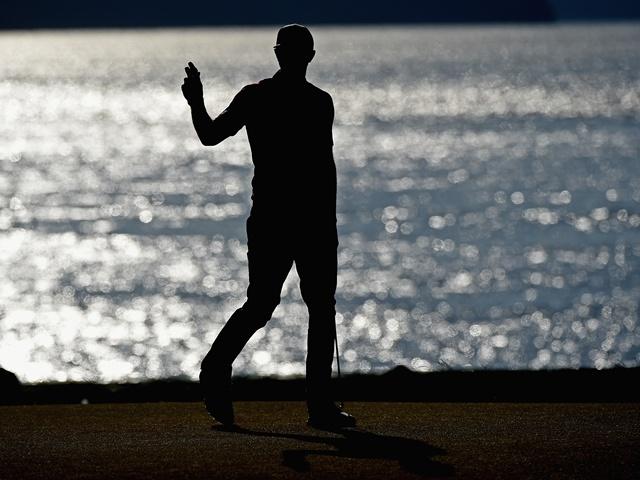 Dustin Johnson - one of four leaders at Chambers Bay
Steve Rawlings takes a detailed look at past US Open results and the in-contention records of the leaders to try and work out who will be lifting the trophy. History suggests that one of the four leaders will get the job done and our man has a hunch it'll be D.J...
"I doubt any of the four leaders will break par – only six men managed it yesterday and under so much pressure, and with the course not getting any easier, I fancy it's going to be a case of who clings on best."
11:55 - June 20, 2015
Opinion is most certainly divided about this year's venue - Chambers Bay - with the majority seeming to dislike it, but nobody can argue with the quality of the third round leaderboard. Just eight players remain under-par after 54 gruelling holes of this year's US Open and it's very hard to envisage anyone outside the eight taking the title. In fact, it's very difficult to look past the front four. He's the third round leaderboard with prices to back at 11:40.

Jordan Spieth -4 3.3512/5
Dustin Johnson -4 4.03/1
Jason Day -4 6.05/1
Branden Grace -4 8.07/1
Louis Oosthuizen -1 25.024/1
J.B Holmes -1 36.035/1
Shane Lowry -1 36.035/1
Cameron Smith -1 95.094/1
+1 and 70.069/1 Bar

Although, as highlighted yesterday, the vast majority of US Open winners have been within just a couple of strokes at halfway, in the 24 years since 1990 when Hale Irwin came from off the pace to beat Mike Donald at the 91st hole (the pair were still tied after Monday's 18 hole playoff), six winners have come from further back than two strokes adrift after three rounds. But that's always been thanks to poor finishes by the leaders...
In the last ten years, three men have entered the final day with at least a two-stroke lead and shot a final round in the 80s! Defending champion, Retief Goosen took a three-stroke lead into the final round ten years ago and shot 81, Aaron Baddeley led by two in 2008 but shot 80, and one of this year's main protagonists, Dustin Johnson, quickly gave up his three-stroke lead at Pebble Beach in 2010 when he made a complete horlicks of the 2nd hole. He limped round in 82 and Graeme McDowell claimed the prize.
In 2012, when Webb Simpson came from four back with a round to go, joint third round leaders, Jim Furyk and G-Mac, both shot poor final rounds and although he didn't shoot an awful score, the late, great, Payne Stewart's 74 saw him give up a four-stroke lead in 1998. The sixth occasion when the winner came from more than two strokes adrift was in 1993 when Greg Norman and Tom Lehman shot rounds of 73 and 74 respectively to let in Corey Pavin who had trailed by three.
So history tells us that if someone from outside the front four is going to win, then they're going to need ALL four front-runners to flop. Louis Oosthuizen has shot back-to-back four-under-par 66s (the best anyone has shot on each day) but even if he does that in round four, if one of the leaders break par, it won't be enough.
I doubt any of them will break par - only six men managed it yesterday and under so much pressure, and with the course not getting any easier, I fancy it's going to be a case of who clings on best.
Having backed Jordan Spieth and Branden Grace before the off, I've been able to comfortably adjust my positions to allow for a stress-free and profitable weekend and even though I don't really fancy their chances, I've now added Oosty, Shane Lowry and 21 year-old Aussie, Cameron Smith, but I'm fairly sure the winner will come from the front four and the one I have a feeling for now, and that really is all it is, is Dustin Johnson.
Spieth hit odds-on early in round three but his game was a bit scrappy after lengthy birdies were made at holes 2 and 3 and although he's quite rightly still favourite, he's going to need to find his mojo again today. His record when leading or co-leading isn't as fantastic as you may imagine either. He's two from six when tied or leading but one of the two came at Augusta in April and he was four clear that day.
Jason Day's brilliant finish yesterday, which saw him birdie three of the last four holes, stuck two fingers up to those whining about how tough it is - the likeable Aussie passed out with vertigo on Friday! He has all the skills but his health is still a niggle and he's not the most resolute in-contention. His record is the same as Spieth's when leading. On the six occasions he's led or co-led on the PGA Tour, he's converted twice, although he did win on one of the two occasions he was tied for the lead with a round to go on the Web.com Tour.
My man Grace has been ruthless of late on the European Tour - successfully converting his last six lead or co-leads and he's playing some wonderful controlled golf. I'm not going off him by any means and I believe he has the ability to win a major but I'm well aware that this is a big ask and that he's never been here before - that impressive record could mean nothing if nerves strike. Fingers and toes are crossed and I think he's still a very fair price but I fancy DJ's the one they all have to beat...
Rather bizarrely, three of Dustin's nine PGA Tour titles have come in weather-shortened 54 hole events and he won four of his other six titles from off the pace. He's only ever led five times with a round to go when an event's gone the distance and he's only won twice...
The aforementioned horror show at Pebble followed a win at the same course in the AT&T pro-am four months earlier when he clung on with a final round 74 and he blew a two-stroke lead at Doral in 2011. In 2013, he converted a three-stroke lead at the HSBC Champions in China but he then made a mess of the Tournament of Champions two months later - shooting 73 to fall outside the top-five, so he's not been brilliant in-the-mix.
I think this is between the four but it's really tough to call but if I had to name someone it would be DJ, despite his unimpressive record from the front. I just get the feeling that they'll all make mistakes but that DJ just has enough experience and power to scrape home. Whether I'd back him at around 3/1 is another matter though. Hopefully I'm wrong and Grace or Spieth will get the job done but whatever happens, I'll be back tomorrow with my de-brief.

11.00 - June 20, 2015
After two eventful days at controversial Chambers Bay, 16 players will enter the weekend under par at this year's US Open. Here they all are, with prices to back at 10:40.

Jordan Spieth -5 3.45
Patrick Reed -5 7.26/1
Dustin Johnson -4 6.411/2
Branden Grace -4 16.015/1
Tony Finau -3 34.033/1
Joost Luiten -3 38.037/1
Ben Martin -3 38.037/1
Daniel Summerhays -3 85.084/1
Jason Day -2 30.029/1
J.B Holmes -2 36.035/1
Jamie Lovemark -2 210.0209/1
Henrik Stenson -1 26.025/1
Kevin Kisner -1 60.059/1
Shane Lowry -1 60.059/1
Alexander Levy -1 120.0119/1
Brian Campbell -1 600.0599/1
Level Par and 85.084/1 Bar

As I briefly touched on yesterday, being up with the pace at US Opens is vital. In the last 19 years, every winner except one, Webb Simpson in 2012, has been within two strokes of the lead and inside the top-six at the halfway stage.
With the extremely challenging Chambers Bay highly unlikely to play any easier over the weekend, it's very hard to make any sort of argument for going against the trends. Only 18 players broke par yesterday and only five shot three-under-par or better - J.B Holmes and Louis Oosthuizen both hit four-under-par 66s and Jordan Spieth, Branden Grace and Daniel Summerhays shot 67. Making up ground on the leaders today is going to be nigh on impossible and I can't see any reason to look beyond the 16 listed above.
My fears that Phil Mickelson may have damaged his chances over the last six holes on Thursday unfortunately materialised but given my two other pre-event picks, Spieth and Grace, and in-play pick, Patrick Reed, will play in the last two two-balls today mean I'm more than happy with my lot and I should be able to finish the week nicely in front.
I'm still not convinced Dustin Johnson is the safest of conveyances here and the fact that when he hit the front yesterday, and hit a low of 3.613/5, he started to stutter is not a huge surprise. He bogeyed three of his last five holes and if one of the leaders is going to make a challenge ending big number somewhere over the weekend, I fancy it could be him. That said, I'm not going to be so pigheaded that I don't position myself to make a decent profit this week so I've now backed him modestly at 6.411/2. In addition to that, I've also backed four others that I feel are close enough to challenge...
Jason Day collapsed playing his final hole yesterday and was later diagnosed to have suffered with benign positional vertigo but if he's over that episode, he's more than capable of doing something special. I thought he'd drifted too far at 34.033/1, even though the stats suggest he's a shot too far back at this stage. The stats are also against J.B Holmes but he too has the power and touch to shine over the weekend and I felt he was too big to be left out as well.
The best value at this stage is Ben Martin, who has already won this season on the PGA Tour, at the Shriners Hospitals for Children Open in October. He's adapted brilliantly to the test so far and although he finished his round a bit tardily yesterday, he's bang there still and that recent winning experience could stand him in good stead.
Of the other players within four of the lead...Tony Finau and Jamie Lovemark are playing in the event for the very first time and haven't yet won a regular PGA Tour event. The last player to win the US open at the first attempt was Francis Ouimet in 1913 so the stats are certainly against those two. Summerhays is also without a win on the PGA Tour and is very hard to fancy but Joost Luiten might just surprise a few. The Dutchman is an excellent links golf exponent and he might just hang around so I've also had a tiny bet on him too.
I fancy the four players on one-under-par could have too much on their plates and I'm happy to leave them all out at this stage but I'll be back tomorrow with a detailed look at the state of play with a round to go.

11.00 - June 19, 2015
To a large extent, the opening day of this year's US Open didn't surprise. Phil Mickelson started well then did something daft, Tiger Woods played very poorly all day (detailed here by Mike Norman), Sergio Garcia found something to moan about (the greens) and Rory McIlroy putted too poorly to even blame the greens.
There were a few surprises too though - I don't think anyone would have thought Rickie Fowler would shoot 81 and very few would have predicted that as many as 25 players would break par on day one and that two players, Dustin Johnson and Henrik Stenson, would go as low as five-under-par.
Along with Patrick Reed, who trails the leading duo by a stroke, Johnson and Stenson enjoyed the favourable early conditions but the likes of Jordan Spieth, Jason Day and even my outside fancy, Branden Grace, will look to close on them today when they start early. The wind picked up more than expected as the day wore on yesterday and the greens deteriorated slightly.
The whiners in the field - Sergio Garcia being one - had a good grumble about the greens and maybe they aren't great but they all have to play them equally so all the moaners are really doing is talking themselves out of it. This is a US Open, it's not supposed to be easy. Over the course of the week, everyone is going to get good and bad breaks both on and off the green. I suspect the man lifting the trophy on Sunday will be someone who has quietly gone about his business.

And now I've had chance to assess the course, the conditions, the mental state of the players and the all important leaderboard, there's clearly more chance of identifying who that might be...
All three of my pre-event picks managed to shoot an under-par round and I can't fault Spieth or Grace, who shot two and one under-par respectively in the afternoon, but I was slightly disappointed by Lefty...
For some bizarre reason, Phil layed up on the 311 yard par 4 12th hole - a hole that almost the entire field had a crack at - and it seemed to throw him off kilter completely. He was 3-under-par standing on the tee so quite why he thought he needed to be ultra-cautious I've no idea and I don't think he did either. He appeared slightly agitated as he weighed up his approach shot and he never got going again thereafter, dropping shots at the next two holes and then missing a short birdie putt at the last. It may seem ridiculous to say so, but I think that six hole stretch may have done for his chances.
Hopefully I'm wrong but he'll be well aware that he has ground to make up now and knowing Lefty of old, that could lead to some reckless and tournament ending play today. He does only trail by four so he's certainly on the premises but he'll need a good second round. Webb Simpson is the only winner since 1996 to be more than two strokes adrift at halfway - today is a big day.
I tweaked with my bets quite a bit yesterday. I traded Lefty and Spieth back and forth a few times and I've also added four more picks - backing three of the early starters once they'd finished their first rounds - Reed at 18.5, and Jason Dufner and Brandt Snedeker at 70.069/1, then first thing this morning I took 180.0179/1 about Geoff Ogilvy, who shot a one-under par 69 yesterday afternoon. He was the only former winner of the event to shoot an under-par round yesterday and you won't hear him moaning about the greens - the tougher the better for him.
The leaderboard really couldn't be any better - Johnson and Stenson are both considered overdue a major title and there's plenty of quality players tucked in behind them. DJ narrowly heads the market and I understand why but as I was before the off, and for the very same reasons, I'm still happy to leave him out. And the same goes for Stenson...
As detailed in the preview, I felt Johnson was a great fit this week but that he was short enough given he can do some daft things just when you think he has control. I still feel the same about him and if he wins so be it and that's how I feel about Stenson too. As detailed in my short Top Swedish piece here, the pressure on Stenson to win that elusive first Swedish major is huge and for that reason, I still don't think he represents any value.
In contrast to the leading pair, Patrick Reed has never been in the thick of it at a major championship but that's a good thing. We know he has bottle in abundance anyway and unlike the front two, he has no scarring. Both Johnson and Stenson have had numerous chances in majors already, this is Reed's first opportunity and I thought he looked the value when he finished up his round. And even at a few ticks shorter, I'd still rather play him than the front two at the prices.

Pre-Event Selections:
Jordan Spieth @ 11.010/1
Phil Mickelson @ 30.029/1
Branden Grace @ 180.0179/1

In-play Bets After Round One:
Patrick Reed @ 18.5
Jason Dufner @ 70.069/1
Brandt Snedeker @ 70.069/1
Geoff Ogilvy @ 180.0179/1

In-play Bets After Round Two:
D.J Johnson @ 6.411/2
Jason Day @ 34.033/1
J.B Holmes @ 38.037/1
Ben Martin @ 40.039/1
Joost Luiten @ 40.039/1

In-play Bets After Round Three:
Louis Oosthuizen @ 24.023/1
Shane Lowry @ 36.035/1
Cameron Smith @ 95.094/1
You can follow me on Twitter @SteveThePunter
Discover the latest articles