US Open 2013: The Punter's In-Play Blog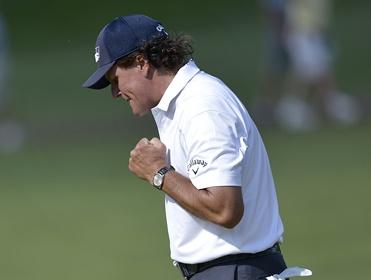 Mickelson reacts to a crucial per-saving putt on the 6th yesterday
With just a round to go at Merion, English hopes are still high at the US Open but it's the favourite and 54-hole leader that our man will be cheering on. Read his final in-running thoughts here...
"Victory for Phil today would represent a sporting story so sweet it's almost sickly. After five runners up finishes, this is the one he wants above any other and on his 43rd birthday, on Father's Day, there wouldn't be a better day for him to finally realise his dream."

12.00 - June 16, 2013
After three long and gruelling days, the 113th US Open enters day four with just one player, Phil Mickelson, under-par and when he kicks off round four, at 8.20pm UK time, it looks in all likelihood as though he has eight men to beat. Here's the leaderboard with prices to back, as at 11.30am.
Phil Mickelson -1 3.55
Charl Schwartzel Ev 6.25/1
Steve Stricker Ev 8.615/2
Hunter Mahan Ev 8.615/2
Justin Rose +1 10.09/1
Luke Donald +1 11.521/2
Billy Horschel +1 19.5
Jason Day +2 18.017/1
Rickie Fowler +3 36.035/1
+4 and 170.0169/1 Bar

One of the most famous US Open quotes of all time came from USGA Competition Committee chairman Sandy Tatum during the 1974 renewal, referred to as "The Massacre at Winged Foot". The field toiled in the toughest of conditions that week, with Hale Irwin eventually winning with a seven-over-par total, and there were criticisms that the set-up had been far too harsh. Sandy was asked if the USGA were trying to embarrass the world's best players and he replied. "We're not trying to embarrass the best players in the game. We're trying to identify them."
Given that the only players with a realistic chance of winning today are all ranked inside the top-50 of the Official World Rankings, it looks like the USGA have succeeded once again.
I wrote yesterday about the importance of being right up with the pace at halfway, and it looks like that's been the case again this year, with Jason Day the only man in with a realistic chance of victory having been further than two strokes back at the end of day two. But interestingly, although the stats say you need to be right there at the mid-point of the tournament, it is possible to make up shots after three rounds.
Three of the last eight winners (Webb Simpson in 2012, Angel Cabrera in 2007, and Michael Campbell in 2005) all came from four back with a round to go and Graeme McDowell, three years ago, came from three back.
There are a couple of things worth noting about those four (slightly) off the pace winners. All four required an awful lot of help from those ahead of them - Dustin Johnson had been a heavy odds-on favourite after three rounds in 2010 and likewise, Retief Goosen in 2005. And two of the winners, Cabrera and G-Mac, had led at halfway before dropping back in round three - a pattern that may bode well today for Billy Horschel.
We don't have an odds-on favourite this year but we do have a leaderboard of immense quality and I would be utterly amazed if the winner isn't one of the players listed above. You'll hear all sorts of nonsense on the TV about how anyone within six or seven of the lead can still win. Ignore it.
Given the calibre of the players involved, it's devilishly hard to pick out any value now. If absolutely forced to pick out a couple I'd suggest Luke Donald at a double-figure price might just represent a small amount of value but I honestly think Phil is still very much the man to beat and his odds are still fair.

Victory for Phil today would represent a sporting story so sweet it's almost sickly. After five runners up finishes, this is the one he wants above any other and on his 43rd birthday, on Father's Day, there wouldn't be a better day for him to finally realise his dream.
I may be English but even if I hadn't had a wager, a Lefty win would give me far more pleasure than a win for either Donald or Rose. Mickelson's been my favourite player for years and I'm really quite apprehensive about tonight. Watching him win would bring me so much pleasure that I don't really want to even imagine it. I've tried my hardest to be pragmatic and hopefully I have but whichever way I look at it, I still fancy Phil.
He's an exceptionally good in-contention player and since 1996, he's held a one-stroke lead after three rounds on nine occasions - he won seven times and was runner-up twice. The 54-hole leader has won 49 of the 112 US Opens to date so that bodes well for him too but the biggest negative by miles is how badly he wants it.
I'm not going to have a bet before the off and I'm sticking with my Mickelson wager for now but I'm going to get very busy at the end of the event. The last four holes really took their toll on the field yesterday and that could easily happen again today. If anyone posts a score that's no worse than two off the lead I'll be backing them and if Mickelson gets through the 13th hole with a lead, I'll be laying him back.
The course is split into three quite distinct sections. It's possible to pick up a shot or even two on the first four holes but holes five and six are tough so a level par start through the first third of the course is more than acceptable. After that, the players have a real chance to make a few birdies with the par 3 9th the only really hard hole until they reach the 14th tee but the last five holes are extremely strong. Yesterday they averaged 2.2 shots over-par, with the last two holes alone averaging over a shot over-par.
Well, that's it for now. Good luck with your wagers and enjoy what is bound to be an eventful, action-packed, dramatic finale. I'll be back tomorrow with my De-Brief.

11.45 - June 15, 2013
They played from dawn till dusk at Merion yesterday but after the delays on day one, round two is still far from over, with some players having as many as nine holes still to play. Chinese amateur, Cheng-Tsung Pan, currently one off the lead, is one such player and Ian Poulter, who's also just one back, has the ultra-tough final four holes to play. They'll return today at 7.15am (12.15 UK time) to finish up.
Tied at the top are pre-event pick, Phil Mickelson, and impressive young American, Billy Horschel, who fortunately, was one of three players I backed in-running yesterday. The other two, Branden Grace and Michael Thompson have both sunk without trace.
I backed Horschel after he'd played the 6th hole at 65.064/1, just as he was about to play the scoring holes between 7 and 13. I had planned to lay at least the stakes back after he'd played the short par 3 13th but he made bogey there and so I kept the wager. Thankfully, he went on to par his way in before birdying the final hole.
Trading wise, I thought I was going to be far busier than I was yesterday and I thought I'd have had the bulk of my trading for the week done and dusted, but then I also thought we'd see a bit more separation by now too. I had envisaged a small pack putting a bit of daylight between themselves and the field but with a dozen players currently separated by just two strokes, that's far from the case.
Here are the current market leaders, with their scores and if appropriate, holes to play in round two.
Phil Mickelson -1 6.05/1
Justin Rose Ev 8.88/1
Tiger Woods +3 9.28/1
Luke Donald Ev 10.09/1
Steve Stricker Ev 12.5
Billy Horschel -1 13.5
Rory McIlroy +3 21.020/1
Ian Poulter Ev 23.022/1 - four to play
Charl Schwartzel +2 29.028/1 - two to play
Nicolas Colsaerts +1 34.033/1
Henrik Stenson +2 36.035/1 - six to play
Hunter Mahan 38.037/1 +2 - three to play
John Senden +1 55.054/1
Jason Day +3 60.059/1 - four to play
Charley Hoffman 60.059/1 - five to play
Ernie Els 65.064/1 +3
160.0159/1 Bar
So what now? Firstly, let's deal with those yet to complete round two...
Although he's just one back and trading at what looks a juicy 23.022/1, Poults makes no appeal at this stage. In total, the last four holes have averaged 1.6 strokes over-par during round two and he's got his work cut out to remain within one. If you want to back him, I'd suggest holding your horses for now. And the same goes for all those still to finish their second rounds. I was mildly tempted by Charley Hoffman, who given the holes he has left to play (6 through 10), looks the most likely of those within two of the lead to progress, but I've decided against it. In fact, I've decided against doing anything at this stage.
Colin Montgomerie claimed last night that you can go right down to those on +5 to find the winner but the stats don't really back that up. Last year's winner, Webb Simpson, was tied for 28th and fully six strokes back, so Monty's right, it is possible, back but I fancy that was a freak result.
The 17 winners prior to Simpson were ALL within two strokes of the lead and no worse than 6th at halfway. Playing catch-up at a US Open is very difficult and I see no reason for this year to be any different.
Current favourite Phil started a bit shakily yesterday but he played quite well in the main. He couldn't buy a putt and missed a kick-in birdie on the 8th hole but the rest of his game looked in good order and he's far too big to consider laying back at this stage.
I'm happy I've got Horschel onside, to state the bleeding obvious, and I fancy he and Phil will make for an excellent pairing later today, but it's asking a lot for him to play as well as he did yesterday - remarkably, he hit every single green in regulation. He's one heck of a talent, has already won one this year and looks a major winner of the future, but is this year a bit too soon maybe?
Tiger Woods at a single-figure price looks dreadful value to me. He has to eliminate the mistakes and play immaculately for two days to have any chance of confounding those compelling stats and he'll have to do so with an injury that looks to have flared up. He confirmed yesterday that he injured his left elbow at the Players Championship in May and it's been giving him some jip.
The big dangers to the current leaders, according to both the market and the stats, are Justin Rose, Luke Donald and Steve Stricker but I can't pick one. All three are looking for their first major, all three are more than capable of winning their first major, and all three are going to be left alone at this stage by yours truly.
I'm happy with my lot right now and although I'll have my fingers firmly crossed later on, I still think Phil's a great price, and I can only see him shortening up before play starts.
He's been tied for the lead at halfway 11 times in total since 1998 and he' only once finished outside the top-three, winning on five occasions. 17 of the last 18 U S Open winners have been within two of the lead at halfway and if that trend is to continue, of the 12 that currently fit that criteria, he's the only major winner amongst them. I could be setting myself up for a fall here, but at 6.05/1, he has to be the value at this stage.

11.20 - June 14, 2013
With two weather delays, day one of this year's US Open was a stop-start affair and round one is still far from finished - the last groups have only played four holes!
Play was eventually stopped because of darkness and the tournament will resume today in just under an hour's time, at 7.15am (12.15pm UK time). Sky Sports are bringing their coverage forward to 1.30pm but do check to see if there's red button coverage before that - there was yesterday.
I'm really impressed by Merion so far. All the talk beforehand was of how short she was and how easily overcome she'd be in the damp conditions but that's not been the case at all. Given how much rain they've had in the lead-up to the event, I was shocked to see how fast the greens were running at the start of play and I was surprised by the superb overall condition of the course. I was also impressed with how well it played after yet more heavy rain yesterday morning and all the talk of scores in the low 60's has been proved to be nonsensical.
Merion has been laid bare by the weather but she's no pushover and it's frightening to think how tough she'd have played without the rain. There were some terrific performances yesterday but so far, Merion is the star of the show.
When the players were hauled off the course after a couple of hours and the heavens opened, I honestly doubted we'd get any more play yesterday. The sky was inky black, the rain was lashing down and the thunder crashing but it all miraculously cleared away and we finished up with a very entertaining and informative first day's play.
One of my pre-event picks, Phil Mickelson, shot a scintillating 67 to reach -3, thanks to some quite brilliant scrambling and as the afternoon wave got underway, he led Belgian bomber, Nicolas Colsaerts by two. He and Colsaerts were the only two morning starters to break par and it looks at this stage as though they've had the worst of the draw, but time will tell. If the forecast is correct, and we get a full day's play, it may even out a bit when the wind drops late this afternoon but we'll just have to wait and see.
Romilly Evans tipped-up Phil at 40.039/1 in the First Round Leader Market and although he now trails Luke Donald by one, he still has a chance in what's still a fascinating market. It looks like three men have a chance now, with US Masters champ, Adam Scott, alongside Lefty on -3.
Donald has just five holes to play but they're five very tough holes and he's by no means sure to par his way in. Scott's two holes behind Donald and those two holes (12 and 13) are very good birdie chances but if he doesn't get one there, he'll really struggle to get past Phil and if you want a little interest in the market, I think you could do a lot worse than backing Mickelson at around 3.711/4, even though he trails at present.
As for the outright market, I'm playing the waiting game. Scott is currently tied for favouritism with Lefty at 7.413/2 and that's no surprise. He was in brilliant form yesterday but I just wonder whether he can win back-to-back majors?
I'm really irritated by Donald's start, as he was a selection of mine at both the US Masters and the recent BMW PGA Championship but he was quite frankly rubbish in both and I, like many, thought he was just too badly out of form to consider this week, even though he drifted out to an incredibly big 60.059/1 before the off. He's currently trading at 10.09/1 but if you're thinking of backing him, I strongly recommend waiting until he's finished his round.
Tiger Woods 15.014/1 and Rory McIlroy 18.017/1 are on +2 and level par respectfully with the tricky holes to come and like Donald, look best left at this stage and next up is defending champ, Webb Simpson, who looked in great order yesterday but as is the case with Scott, my doubt is whether he can go back-to-back. The last man to defend a US Open was Curtis Strange way in the 1989.
Lee Westwood trades at 24.023/1 and he'd have been an awful lot shorter had he not had basket bother on the 12th. Merion doesn't have flags it has balloon-shaped wicker baskets instead and everyone was curious to see what would happen when someone hit one.
Lee Westwood found out yesterday and the answer is - it pings 50 yards away from the hole! Lee sarcastically tweeted, "So much tradition at Merion to talk about... like those delightful wicker baskets!"
It cost him a double-bogey and but for that he'd be alongside Mickelson on -3 but it could have even been worse I suppose, it could have ricocheted sideways into the rough.
The big disappointment for me, and for many other punters, was the dreadful start by Graeme McDowell, who was three over-par through just three holes! I very much doubt he can win now but I just hope he digs in and starts fighting today because I need him to finish inside the top-20. I thought the 2.8815/8 the Fixed Odds crew put up was too good to be true and it looks like it was at this stage. Another value loser!
I fancy today is going to be busy trading-wise and I'm going to look to get involved late tonight as the event really takes shape. As I wrote in the preview, to win a US Open you have to be right up with the pace at halfway and judging by what we've seen so far, Merion can only get tougher on the weekend.
Playing catch-up is going to be nigh on impossible around here and the time to strike will be this evening before the market has time to register how good a lead here is.
The Punter's US Open Pre-Event Bets

Graeme McDowell @ 32.031/1
Phil Mickelson @ 40.039/1
Ernie Els @ 120.0119/1
Boo Weekley @ 140.0139/1
Ryan Palmer @ 200.0199/1
Rory Sabbatini @ 420.0419/1
Marcus Fraser @ 610.0609/1
David Lingmerth @ 670.0669/1
John Peterson @ 730.0729/1
Top-20 Market
Graeme McDowell @ 2.8815/8 Fixed Odds Market
In-Play Bets
Branden Grace @ 90.089/1
Michal Thompson @ 110.0109/1
Billy Horschel @ 65.064/1

*You can follow me on Twitter @SteveThePunter
Discover the latest articles