US Open 2013: The Punter's De-Brief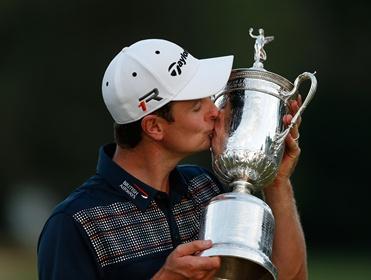 2013 US Open Champion – Justin Rose
Our man looks back at a dramatic US Open where once again Phil Mickelson came up just shy. What have we learnt for next year and will our man recover in time for this week's events?
"Only two of the last 11 third round leaders have won the US Open. Under all the stresses and strains, being just off the pace is no bad thing and I just wonder, if Rose had started the day alongside Mahan in the final pairing and Lefty alongside Donald in the third from last group, would we have a had a different result?"
With two of the best pars you'll ever see at the final two holes under pressure, Justin Rose held off Australia's Jason Day and the heartbroken Phil Mickelson - who, on his 43rd birthday, was finishing second in the event for an incredible sixth time - to land the 113th US Open, ending England's 43-year wait for a champion.
My Bets
With much thanks to Phil Mickelson's unbelievable hole-out from the rough for eagle on the 10th hole, I was able to trade myself to a small profit but I still feel very flat today.
I'm a huge Lefty fan and I'd have loved to have seen him win last night but from the moment his birdie attempt on the second hole slipped by, I sort of knew it was going to be a struggle. After he went on to make double-bogey at the very next hole, I always felt he was going to get beat so when he made eagle on the 10th to go from trailing by one to leading by one, I layed a chunk of my pre-event wager back on him at 2.77/4 and backed Rose at 3.39/4 and thank heavens I did.
I also backed the only other two plausible candidates towards the finish, Hunter Mahan and Jason Day, but in the end, I needn't have bothered.
I can't complain about not backing Rose from the outset, his chance was obvious but at around 30.029/1, I couldn't see any value.
What have we learnt for next year?
Beware of the draw. Well, I say draw, but there isn't one, the three-balls are staged for the first two days and I'm not sure they helped one or two players.
Having backed Graeme McDowell before the off, I hadn't really thought too much of the draw but with hindsight, how could he or Jim Furyk getting any positive vibes from playing together again, given the last time they'd done so they'd both failed to win last year's event.
The 'Nike Boys', Tiger Woods and Rory McIlroy keeping getting shoved together and that doesn't seem to work for either.
The year's first two major winners have had very similar profiles and that may not be coincidental. Both Adam Scott and Justin Rose are 32 years old, both went off at odds of around 30.029/1 and both were destined for the very top from an early age but it's been a long wait.
Rose spoke after his victory about the positive influence his friend Scotty had had leading up to the event and you have to think it was a bit of a case of 'if you can do it, so can I'.
It's now five years since Tiger Woods won a major and nobody is dominating them anymore. In the past, small groups of players shared them out for years, winning multiple majors but that's just not the case now.
Between 1969 and 2010, the only year that all four majors were won by a first-time major winner was 2003 (Mike Weir - US Masters, Jim Furyk - US Open, Ben Curtis - Open Championship and Shaun Micheel - PGA Championship) but since Mickelson claimed his third Green Jacket and his fourth major title at the US Masters in 2010, 11 of the last 13 have gone to someone winning their first and the US Open seems to be the one first-timers like the best - only two of the last 11 US Open winners (Retief Goosen in 2004 and Tiger in 2008) weren't winning their first major.
There are so many fantastic players nowadays and so many are capable of winning a major that the current trend for first time major winners is highly likely to be continue.
Did anyone choke and is it a bad thing to be leading?
I was gobsmacked to read some people questioning Phil Mickelson's bottle on Twitter last night when his in-contention record is second only to Tiger Woods.
Look at the rounds by Charl Schwartzel, Luke Donald and Steve Stricker yesterday, with all three ruining their chance very early on. All three are multiple winners and all three had no chance by the time they reached the back-nine. Has Justin Rose got more bottle than Charl Schwartzel? No. Was it his day yesterday, like it was Charl's at Augusta in 2011? Yes.
As detailed above, there is nothing between all these players and to start believing any of them choked is ludicrous.
The set-up at a US Open is so strong that a player only has to be slightly off his game and he can be made to look very foolish. Bouncing back from mistake after mistake takes the mental side of the game to whole new stratosphere. When watching someone like Schwartzel play eight holes in eight-over-par (the third to the 10th) you're not witnessing some sort of monumental choke, you're watching someone struggle with his game in the hardest conditions, whilst dealing with the disappointment of the knowledge that his chance of victory has gone.
Without a doubt, given his age and his obvious desire to win the event, the pressure was on Phil more than anyone yesterday and his desperation for the title in all probability ultimately cost him. Like Charl, he wasn't on his game yesterday but he fought bravely and to read people label him as a choker is just laughable. You could look to a number of tiny incidents as to why Lefty lost but being the third round leader probably didn't help...
Only two of the last 11 third round leaders have won the US Open - Tiger Woods, who needed a playoff to beat Rocco Mediate, and Rory McIlroy, who was so far clear in the rain-softened conditions at Congressional that the pressure was reduced dramatically anyway.
Under all the stresses and strains of a US Open Sunday, being just off the pace is no bad thing and I just wonder, if Rose had started the day alongside Mahan in the final pairing and Lefty alongside Donald in the third from last group, would we have a had a different result?
Finally, yet again, up with the pace early proved the place to be - 17 of the last 18 US Open winners have been within two strokes of the lead at halfway.
That's more than enough looking back as we've two very strong events to look forward to this week. Both the BMW International on the European Tour and the Travelers Championship in the States boast strong fields and I'll be back tomorrow or Wednesday morning with my previews.
*You can follow me on Twitter @SteveThePunter

Discover the latest articles