US Masters 2014: Donald ticks the boxes at a big price, says The Punter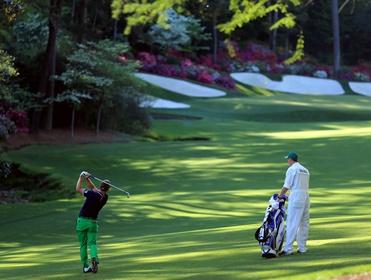 Luke Donald playing the 13th at Augusta
It's Masters week at last so read Steve's in-depth preview, with all the key stats for a successful week's punting at Augusta, here...
"Luke Donald might not be the longest off the tee but he's a terrific scrambler and putter and the fact that he comes here under the radar this year is a big plus."
Tournament History
As the year's first major, the US Masters is one of the most eagerly awaited tournaments of the year, at arguably the most recognisable course in the world, so it's interesting to look back at the event's humble beginnings. 
Augusta National was founded at the start of the Great Depression and when the first edition was staged in 1934 the club had just 76 paid up members - someway short of the planned 1,800 - and the inaugural winner, Horton Smith, along with all the top finishers, had to wait for 17 members to club together to raise the purse before he got paid his winnings.
The Masters have a number of quirky traditions that add to its appeal. Since 1949, the winner has been awarded the famous Green Jacket. On the Tuesday of Masters week there's a Champions Dinner when the previous year's winner chooses the menu and since 1960, there's been a relaxed par 3 contest held on the eve of the main event on the most beautiful little par 3 course you're ever likely to see. The event is not open to the general public and the spectators are long-standing season ticket holders known as patrons. And finally, anyone that makes an eagle at the Masters receives a pair of Waterford Crystal goblets and those that shoot the lowest individual rounds receive a crystal vase.

Venue
Augusta National Golf Club, Augusta, Georgia

Course Details
Par 72, 7435 yards, stroke average in 2013 - 72.32
Originally the brainchild of Rees Jones, Augusta National was founded by him and Clifford Roberts - a wealthy New York investment banker. Designed by Jones and Alister Mackenzie, who died before the course was finished, Augusta National was built on the site of an old nursery and all the holes are named after a tree or shrub. 
It officially opened in January 1933 and it's been evolving ever since and to such an extent recently that the original designers would barely recognize the place. The Bermuda greens were changed to bent grass and the fairways were tightened at the end of the last century before a major overhaul was orchestrated by Tom Fazio in 2002. Over half the holes were lengthened and tightened and at almost 7, 500 yards now, it's a very long course.
For details of each and every hole, please see Paul Krishnamurty's excellent Augusta Course Guide.

Useful Sites
Official Masters Site
Twitter Link
Weather Forecast 
Alternative Weather Forecast

TV Coverage
Live on Sky Sports all four days, 19:00 on Thursday, Friday, and Saturday and 6.00pm Sunday.
Live on BBC 2 over the weekend - 7.30pm on Saturday and 6.30pm on Sunday.

Last Ten Winners
2013 - Adam Scott -9 (playoff)
2012 - Bubba Watson -10 (playoff) 
2011 - Charl Schwartzel -14
2010 - Phil Mickelson -16 
2009 - Angel Cabrera -12 (playoff) 
2008 - Trevor Immelman -8
2007 - Zach Johnson +1
2006 - Phil Mickelson -7
2005 - Tiger Woods -12 (playoff) 
2004 - Phil Mickelson -9

What will it take to win the US Masters?
With trees everywhere, it's easy to think that driving accuracy would be a crucial stat when you're watching on TV but it's actually the least important. It may not look it but there's plenty of room off the tee and even if you do miss the fairway and run into the rough it's not very penal and four of the last five winners have ranked in the 40s for driving accuracy. The odd man out was Phil Mickelson in 2010 and he only ranked tied 31st. 
Augusta is a long track and distance off the tee is a big advantage - five of the last ten winners have ranked inside the top-four for driving distance but finding the greens with regularity appears more important than anything else, with eight of the last ten winners ranking no worse than tied 4th for greens in regulation.
If you do miss the green, you need a terrific short game - five of the last six winners have ranked inside the top-six for scrambling and although the last two winners ranked in the 30s for putting, most years you need to be ranking in and around the top-ten.
To give you an at-a-glance picture of what's required, here's the average rating for the last ten winners in all the key stats.
Driving Accuracy - 31.5
Driving Distance - 15.4
G.I.R - 7.1
Scrambling - 12.7
Total Putts - 16.6
There is always the odd anomaly in each category. For example, Trevor Immelman ranked 1st for driving accuracy when he won in 2007 and Zach Johnson was ranked just 57th for driving distance twelve months later, so I've taken out the two widest anomalies in each stat to provide a clearer picture of the average winner. Here are the adjusted figures.
Driving Accuracy - 39
Driving Distance - 6.6
G.I.R - 3.9
Scrambling - 6.75
Total Putts - 11.25
So, whack it miles, find plenty of greens, and get up-and-down when you do miss the dance floor is what you need to do to get yourself a Green Jacket but the real key to success at Augusta is often making the most of the par fives. Here are the total scores to par for the last ten winners on the par 3s, 4s, and 5s.
Par 3s +2
Par 4s -22
Par5s -82
Adam Scott played the long holes in just five-under-par when winning last year, whereas he topped the par 5 scoring when he finished runner-up to Charl Schwartzel in 2011, but that was unusual - only Trevor Immelman (-3) has won with a lower score on the par 5s as far back as my records went back (1995). Phil Mickelson played them in 13-under-par in 2006 and yet his winning total was just seven-under and even when relatively short hitter, Zach Johnson, won with an over par winning total, he still played the long holes in a dozen under-par. If you're only going to look at one stat before the off, Par 5 Performance would be the one I'd suggest.

Other stats to consider
Previous course form is vital. Other than the first two winners of the event, Fuzzy Zoeller (in 1979) is still the only debutant to win the US Masters and most winners have been around Augusta National enough times to get to know its unique nuisances. Adam Scott was winning at the 12th attempt and on average, first time winners have played the event six times.
It's not just course experience you need - a weekend of Augusta employment twelve months earlier appears essential too. Every winner, apart from Tiger Woods in 1996, stretching all the way back to Zoeller's debut win in 1979, made the cut here in the year before they won.
And just having experience of the course isn't enough, you need to have shown an aptitude for it too - 22 of the last 23 winners had previously shot at least one round in the 60s at Augusta.
Although plenty of experience is a big plus and the average age of the winners is 32.66, age does seem to have been a barrier of late and it's now 16 years since we saw a winner in his 40s - although it's not a stat that I'm going to worry too much about. Both Kenny Perry in 2009 and Angel Cabrera 12 months ago lost in a playoff here in their 40s and as Paul Krishnamurty points out here, some course specialists thrive here way beyond their 40th birthday.
Much was made of the 'no Australian has won the Masters' stat before the last few editions and I'd file the 'no winner in his 40s for 16 years' right alongside that one. I can't believe it would be a barrier to the likes of Phil Mickelson, Lee Westwood, Angel Cabrera et al and I'm with Paul, I'd much prefer to back a veteran with oodles of course form over a debutante.
Something I touched on last year that I still think is relevant - even though the winner Adam Scott won having finished 8th the year before - is the surprisingly poor record of those that had finished high up in the previous year's renewal. 
In the five years prior to last year's renewal, Scott, Hunter Mahan (8th in 2010 and 10th in 2009), Padraig Harrington (5th in 2008 after 7th in 2007) and Steve Flesch (6th in 2009 and 5th in 2008) were the only men to have back-to-back top-tens at Augusta and only Phil Mickelson and Tiger Woods, and Scott (after last year's win) have achieved the feat on more than one occasion. 
After his victory last year, Scott now has three top-tens in-a-row and both Matt Kuchar and Lee Westwood finishing tied 3rd in 2012 and tied 8th last year, so the record of the previous year's top-ten has improved but I'd still be wary of assuming a high finish one year will result in another strong challenge the year later...
Memorably, eight players hit the front on day four in 2011 and none of those eight, despite many of them being quite well fancied, featured prominently in 2012. Scott was runner-up in 2011 and he did finish tied for 8th but he was the only one to figure at all and he was never at the races really. 
To expand on that further, Scott may now have a glittering Augusta CV but I'd be very wary of playing him this time around as defending champions have a terrible record - Jack Nicklaus, Nick Faldo and Tiger Woods are the only men in history to win back-to-back Green Jackets. 
Don't worry too much if your fancy hasn't been in brilliant form of late. It's probably in some way connected to why the previous year's top-tens don't fare brilliantly but most recent winners have come into the event without a recent win and only in fair form. Low expectation looks to be a plus. 
And finally, don't worry if you fancy someone at a big price - four of the last seven winners went off at a triple-figure price and with question marks surrounding so many fancied competitors this year I wouldn't be surprised if we get another shock winner this time around.

In-Play Tactics
As Mike Norman details superbly here, you need to be right up with the pace from early on to win the US Masters- Augusta National is NOT a catch-up course and a fast start is imperative. And no year advertises that fact better than 2010, when Hunter Mahan, who finished tied 8th, was the only player in the top-ten to have been more than two shots off Fred Couples' first round lead. 
You can also look to 2012, when the first four names on the day one leaderboard - Lee Westwood, Louis Oosthuizen, Peter Hanson and Bubba Watson - were all in the first six at the finish.
Adam Scott's journey to victory followed a very typical route - he was never more than three off the lead but he wasn't in front too early. As Mike points out, the ideal scenario is to be up with the pace but not in front too soon. Trevor Immelman is the only first round leader to win since Ben Crenshaw in 1984 and he's the only wire-to-wire winner since Seve Ballesteros achieved the feat in 1980. 
Tiger and Phil repeatedly buck the trends at Augusta and they're the only two men to win the event having finished day one outside of the top-ten since Mark O'Meara won from tied 25th and five off the pace in 1998. Unless you're Phil Mickelson, get a fast start or forget it.
If you plan to bet in-running, Paul Krishnamurty's aforementioned hole guide is an absolute must. It dissects the course brilliantly to highlight where and when you can expect birdies and bogeys.
Finally, don't be surprised if we get a dramatic and exciting finale and make sure you lay back some profit if your pick looks like winning and goes odds-on. 
The last two renewals have had to be settled via a playoff and even when the event doesn't go to extra holes, most years we get a very tight and exciting finish with players trading at odds-on without winning...
Jason Day hit 1.75/7 last year but missed the playoff by two strokes and Cabrera, beaten by Scott in extra time, traded at 1.9110/11. In 2012, Louis Oosthuizen was a heavy odds-on shot when Bubba found the trees before this miracle recovery shot at the second playoff hole and there were all sorts of shenanigans in 2011...
Rory McIlroy began the final day four clear and a 1.84/5 shot but could finish no better than tied 15th and Adam Scott backers were cruelly denied after he'd been matched at just 1.374/11 when Charl Schwartzel birdied the last four holes to win. 
Phil Mickelson cruised to an emotional third victory in 2010 but a year earlier two players traded at odds on before losing in a playoff. Kenny Perry, who bogeyed the last two holes, was matched at just 1.132/15 in-running and Chad Campbell, who bogeyed the first extra hole to be eliminated, touched odds-on when he found the fairway and Cabrera the trees.  
And don't just look to oppose the odds-on favourites, look for outrageous and unjustified spikes in the market. Cabrera was matched at over 30.029/1 when he trailed by three with just three to play and he was matched at 55.054/1 after his drive in the playoff. The first price was too big and the second was ridiculous. 

Market Leaders
Rory McIlroy heads a wide open market but he's not for me. His two appearances at Augusta since he completely blew a golden opportunity to win in 2011 have been far from impressive and I do wonder whether the deep scars inflicted then still itch. He was never at the races in 2012 when he finished 40th and after starting brightly on day one 12 months ago, he played the back-nine in two-over par and was out of it from then on in. He eventually finished 25th.
His disappointing recent form at Augusta and the fact that he's thrown away two titles and possibly three this year are two big reasons to swerve him. His supporters will be very much encouraged by his impressive seven-under-par final round at the Shell Houston Open yesterday but it's not enough to persuade me to back him at just 11.010/1.
The last time we saw Adam Scott he slowly and painfully gave up what should have been an unassailable seven stroke lead at the halfway point of the Arnold Palmer Invitational. He was matched at a low of just 1.162/13 but weekend rounds of 71 and 76 were never going to be enough to see him hold on.
Had he won at Bay Hill he'd be lining up this week as both defending champ and world number one and the added pressure of securing top spot could have been the reason for the poor performance from the front. Whether it was or wasn't, it was clearly disappointing, not the ideal preparation and it has to viewed as a bit of a negative. As does the fact that Scott is attempting to defend a title that only three men in history have defended.
If you can comfortably place the name of Adam Scott alongside the likes of Nicklaus, Faldo and Woods then you may well be happy to avail yourself of the 12.5 available in the blue column. I respect his chances and appreciate that he has three top-tens in-a-row at Augusta but I think defending the title is a huge ask and I'm happy to look elsewhere.
Phil Mickelson is the third favourite and his credentials are plain to see. With three Green Jackets already in the wardrobe he's far and away the best qualified to win this year's renewal. Old father time is catching up on Lefty but that's just about the only negative and as already stated, the fact that it's been 16 years since anyone in their 40s won doesn't worry me, his age didn't stop him winning the Open Championship in July did it? 
He plays Augusta brilliantly and after last week's encouraging tied 12th in Texas, he comes into the event in decent nick and he's my idea of the most likely winner this week. 
Jason Day has only played in the Masters three times but his Augusta record is already miles better than the vast majority of the field's. He finished runner-up on debut in 2011, withdrew with an ankle injury in 2012 and then finished third last year, after trading at odds-on with a few holes to play.
He seems to raise his game nicely for the majors but I've left him out for two reasons. Firstly, he just doesn't win often enough and secondly, he's been suffering with a thumb injury and they're big negatives.
Yesterday's Shell Houston Open runner-up, Matt Kuchar, was my big fancy in the event last year but I've left him out this time around. I was really disappointed by the way he drifted out of contention last year and after two disappointing Sundays in-a-row it's highly unlikely that he'll be able to lift himself to win his first major. When looking highly likely to win yesterday, he was backed down to just 19.018/1 to win this. He's now drifted out to 25.024/1 but that's still not big enough to tempt me.
Henrik Stenson has a poor record at Augusta and he was disappointing at the Shell last week, when he finished way down the field in tied 54th so he makes little appeal at just 27.026/1 and at the same price, I'm more than happy to swerve Sergio Garcia, who I just don't believe has the bottle win a major. 

My Bets
I backed Mickelson last week at 20.019/1, just prior to the announcement that Tiger Woods wouldn't be lining up and I'm certainly not laying off and I backed Bubba Watson at 36.035/1 a few weeks ago. I'm not in the least bit worried by his ridiculous withdrawal last time out at Bay Hill, when after firing a dreadful opening round of 83 he withdrew citing allergies as the reason. Prior to that he'd been in brilliant form, I can easily forgive one bad round and given that his game suits Augusta so well, he's still a fair price now at 29.028/1.
I've backed Luke Donald to win the Masters in each of the last two years and so this time around I'm hoping it's third time lucky. I was interested to read that prior to the Shell last week, if he'd played more events on the PGA Tour he'd be leading the strokes gained putting stats so the flatstick is behaving. His 8th at the Honda Classic and 4th at the Valspar Championship were encouraging recent efforts and I can see him going really well.
Donald finished third in his very first appearance at Augusta in 2005 and that was after shooting a five-over-par 77 in round two. He's since finished 10th in 2007 and 4th in 2011 so that debut effort was by no means a fluke. He might not be the longest off the tee but he's a terrific scrambler and putter and the fact that he comes here under the radar this year is a big plus. 
For a big hitter, two-time PGA Tour winner, Gary Woodland, doesn't score especially well on the par 5s but if he can have a good week on the long holes this week and find a bit of form with his putter, I can see him contending. He ranks highly in both the driving distance and greens in regulation stats and he finished an encouraging 24th on debut in 2011. He withdrew from the event a year later and didn't play last year so his course form isn't spectacular but his price is big enough to take a small chance.
As Paul highlighted so well, the same old faces turn up and play well at Augusta year after year and I've felt compelled to get four course specialists onside modestly at big prices. It wouldn't be any sort of surprise to me if Fred Couples, K.J Choi or Trevor Immelman figured yet again this time around but the one I really liked at the prices was Miguel Angel Jimenez, who you may remember led the Open Championship at halfway last year.
Some players appear constantly underrated by the market and that's certainly the case with this year's Farmers Insurance winner, Scott Stallings, who now has three PGA Tour wins to his name and he's only just turned 29. He finished 27th on his sole start here two years ago and although he's missed his last three cuts that doesn't unduly worry me. He's an in-and-out performer who can suddenly click and he's a massive price for such a prolific winner.

Selections:
Phil Mickelson @ 20.019/1
Bubba Watson @ 36.035/1
Luke Donald @ 65.064/1
Gary Woodland @ 140.0139/1
Fred Couples @ 200.0199/1
K.J Choi @ 200.0199/1
Trevor Immelman @ 240.0239/1
Miguel Angel Jimenez @ 320.0319/1
Scott Stallings @ 450.0449/1

I'll be back with a look at some of the other markets during the week and I'll kick off the In-Play Blog on Friday morning.

*You can follow me on Twitter @SteveThePunter
Discover the latest articles