The Punter's US Masters In-Play Blog: Brilliant up-and-down keeps Spieth clear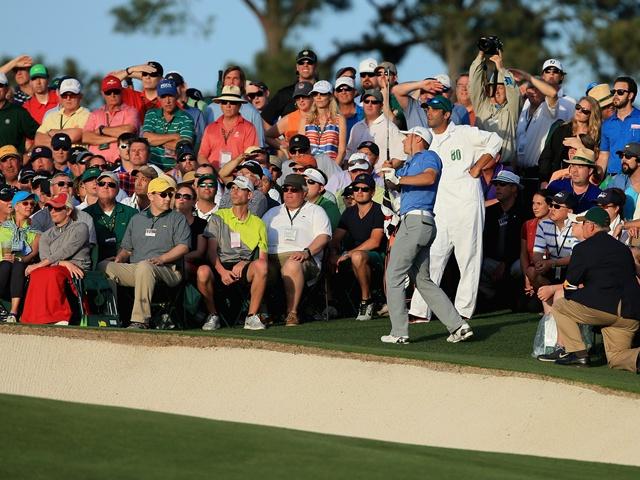 Jordan Spieth brilliantly chips on 18 in round three
Despite a late blip in round three, Jordan Spieth still holds a four-stroke lead going in to today's final round at Augusta but is he a good thing to convert at heavy odds-on? Read what Steve thinks here...
"I've been as equally impressed by Hoffman's efforts as I've been disparaging of his chances but in what looks effectively a four-man race now, his odds look big. He gets very nervous usually and he most likely will again today but it isn't beyond the realms of possibility that Spieth has a nightmare and both Rose and Mickelson fail to capitalise."
09:15 - April 12, 2015
Jordan Spieth was seven clear of the field standing on the 17th tee of round three but after a double-bogey on 17 and a birdie by Justin Rose at the 18th, the 21-year-old Texan needed one of the best up-and-downs I've ever seen for par on the last to stay four clear going into today's fourth and final round. Here's the current leaderboard with prices to back at 09:00.

Jordon Spieth -16 1.51/2
Justin Rose -12 6.05/1
Phil Mickelson -11 8.07/1
Charley Hoffman -10 38.037/1
Rory McIlroy -6 120.0119/1
Tiger Woods -6 130.0129/1
Dustin Johnson -6 250.0249/1
-5 and 1000.0 Bar

After the inevitable twists and turns of round three, Spieth still holds all the aces with a round to go but there are a number of reasons to think he's quite vulnerable now. He's a slightly shorter price than he was this time yesterday but he doesn't look the really good thing he appeared at halfway.
This will be the third Sunday in-a-row that Spieth has had a chance to win and having finished second twice, to Jimmy Walker at the Valero Open and then last week, to JB Holmes in the Shell Houston Open, he'll be keen to make it third time lucky but there are definitely reasons to think it's not going to be straightforward.
I thought he looked a good thing last week, when he led by one with a round to go, but for the fourth time in his short career, he failed to convert a third round lead on the PGA Tour. In addition to last week's disappointment, he's been tied for the lead after three rounds without winning at a Players Championship, a Tournament of Champions and here at Augusta 12 months ago. On that occasion he shot 72 and was beaten by three by Bubba Watson.
It would be absolutely ridiculous to condemn such a bright young talent for not converting a shared lead in three of the game's biggest events and if the truth be told, the fact that his only Stateside success from the front came in Tiger Woods' event at the end of last year, when he was miles clear anyway, is barely a negative. The way he finished the third round yesterday is though.
The double-bogey on 17 came from seemingly nowhere and his approach shot on 18 was very poor. The up-and-down was incredible to save par but what if he has a spell like that much earlier today?
The record of third round leaders holding a four-stroke advantage on the PGA Tour is as strong as you'd expect it to be - 42 men have been in Spieth's position since 1996 and 30 went on to win but one of the 42 is very significant.
As a 21-year-old, the same age Spieth is now, Rory McIlroy was four clear in the 2011 Masters and he finished up shooting 80 and finishing tied for 15th! And he's not the only young man to blow a clear lead in a major - Dustin Johnson blew a three-stroke lead at the 2010 US Open and months later, Nick Watney imploded at the USPGA Championship, having also led by three.
If Spieth is going to wobble, then Justin Rose is now the most likely benefactor, according to the market, and the stats, given 20 of the last 24 US Masters winners played in the final pairing. I managed to scramble Rose onside modestly at a nice price yesterday but he looks short enough to me now given his propensity to start slowly over the last few days. For whatever reason, on both Friday and Saturday, he stood on the 7th tee two over-par for the round and if he does something similar today it's going to be devilishly hard for him to win.
With his outstanding Augusta pedigree, Phil Mickelson looks a better prospect than Rose at the prices but given I've been on for months, and mercifully each-way, I don't have to bother with him now and can just cheer him on. I layed some of the place part of my wager back last night at 1.51/2, although I probably needn't have bothered, so even if Spieth wins in a hack canter and Lefty has a disaster, I'm going to finish the week slightly in front but the value right now must surely be with the forgotten man - Charley Hoffman.
I've been as equally impressed by his efforts this week as I've been disparaging of his chances but in what looks effectively a four-man race now, his odds look big. Hoffman gets very nervous usually and he most likely will again today but it isn't beyond the realms of possibility that Spieth has a nightmare and both Rose and Mickelson fail to capitalise. And all the drama could occur so late on that Hoffman catches an almighty break. It's unlikely I know, but it's not a 38/1 chance and if you're looking for a trade, then the Hoff could be your man.
I'll be back tomorrow with my De-Brief and also my RBC Heritage preview. Hard to imagine I know, but there is life after Augusta!

11.25 - April 11, 2015
Jordan Spieth's six under-par 66 yesterday was even more impressive than his opening 64 on Thursday. He got hot on day one and rode his luck at times but yesterday's round was calmness personified. The softer than usual Augusta greens clearly helped but to break the 36 hole scoring record at the age of 21, in just his second US Masters, is a sensational and incredible achievement, but what now? Here's the halfway leaderboard with prices to back at 11:20.

Jordan Spieth -14 1.564/7
Charley Hoffman -9 23.022/1
Dustin Johnson -7 11.010/1
Justin Rose -7 18.017/1
Paul Casey -7 24.023/1
Phil Mickelson -6 26.025/1
Ernie Els -5 130.0129/1
-4 and 50.049/1 Bar

It looked for much of yesterday that Spieth was going to have the event all sewn up by now but then the afternoon wave of starters put a shift in and we now have a more interesting event to ponder. Spieth was matched at just 1.392/5 as his main challengers, Jason Day and Justin Rose, dropped shots like confetti early on yesterday but as the day wore on, the mood changed...
Rose recovered from an awful start quite brilliantly, Charley Hoffman ploughed on relentlessly, Paul Casey and Phil Mickelson both shot four under-par 68s and Dustin Johnson made three eagles on his way to a five under-par 67. And that, unsurprisingly, was another Masters first.
Those late rallies have meant Spieth's task is now far less straightforward than it might have been but I really can't see past him with the course playing so soft. Storm clouds gathered as play finished yesterday and more rain will have kept the course soft and the greens slower than usual and I fancy that helps him. The chasing pack, with the exception of Hoffman, have years of experience of playing the greens much faster than they've been this year and if the committee had been able to speed the greens up, that may, and I must stress the may, have handicapped Spieth slightly. They're playing so slow this year though that players like Tiger Woods are foxed by their speed and that means the advantage of experience is negated somewhat.
I'd love to be able to say I thought he was vulnerable and that we're set for an exciting finale but I think he's got more than enough in hand to cruise home, even if he has a blip. I know Spieth is bidding to win his first major and that brings its own unique pressure but since 1996, 14 men have led by five on the PGA Tour at halfway and only three have been beaten. It's a big lead and I think he'll just play intelligent risk-free golf today and tighten his grip on the title further.
The soft conditions are clearly helping Johnson but I'm still far from convinced he has the guile to win and I wasn't surprised when he double-bogeyed the 1st yesterday. There could easily be one or two more mistakes to come over the weekend and whilst he has the power, I still don't think he has the touch. He could of course prove me wrong but with fully seven shots to make up, he needs to play error-free golf and he's no value to do so.
Charley Hoffman gets very nervous in-the-mix in regular tour events and I'm finding it impossible to imagine him wearing a Green Jacket. And I feel the same about Paul Casey. The Englishman is at the very top of his game right now but I don't rate his in-contention play highly either and if he were to tumble out of the frame today I wouldn't be in the least bit surprised.
I'm glad I have Phil Mickelson onside from the start and he at least gives me someone to cheer on. He could do anything or nothing over the weekend and is notoriously hard to predict so I wouldn't necessarily advocate getting with him now and if I absolutely had to give an alternative to Spieth it would be Rose. He's the one I fancy most to hang around over the weekend - I can see him shooting four or five under-par over the two days but whether it will be enough is highly unlikely.
I can't pretend I wouldn't prefer a closer and more exciting tournament and I'm quite disappointed that I'm not advocating some sort of wager at this stage but it is what it is and I'm not going to force a bet just for the sake of it.

10:40 - April 10, 2015
I was really looking forward to the year's first major and I haven't been disappointed yet. Yesterday's first round was an absolute joy to watch. Here's the first round leaderboard with prices to back at 10:30.

Jordan Spieth -8 3.55/2
Jason Day -5 6.611/2
Justin Rose -5 15.014/1
Ernie Els -5 46.045/1
Charley Hoffman -5 50.049/1
Sergio Garcia -4 21.020/1
Russell Henley -4 55.054/1
Paul Casey -3 48.047/1
Ryan Palmer -3 48.047/1
Bill Haas -3 75.074/1
Webb Simpson -3 100.099/1
Dustin Johnson -2 23.022/1
Phil Mickelson -2 38.037/1
Patrick Reed -2 50.049/1
Billy Horschel -2 80.079/1
Seung-Yul Noh -2 390.0389/1
Kevin Streelman -2 400.0399/1
Rory McIlroy -1 13.012/1
Bubba Watson -1 25.024/1
Ev and 70.069/1 Bar

There's only one place to start and that's with the hugely impressive first round leader, Jordan Spieth, who almost defied logic yesterday. After finishing runner-up in his home state of Texas for two weeks in-a-row, prior to teeing up at Augusta National, I thought it was heavy odds-on that he'd be too tired, both physically and mentally, to pick up the baton again here but that hasn't been the case.
I also thought there was a significant chance that he wouldn't be able to back-up last year's debut, when he finished runner-up to Bubba Watson. I was wrong.
The damage was done between holes 8 and 14, which he played in six-under par. He got a tiny bit lucky a couple of times and especially on 14 when his approach hit the pin, but he played brilliantly.
He looked almost out of control to me, as if he was playing better than even he expected and I wasn't in the least bit surprised when he finally made a bogey on the par 5 15th. I thought that might be the beginning of a tough run to the house but it seemed to compose him and the way he birdied the 18th was a joy to behold. The tee shot was shaped beautifully, the approach was almost perfect and the putt was never anywhere but dead centre. And I was very impressed with his demeanour after the round too.
He spoke of how he'd planned to be more aggressive on day one this year and how "This year's been all about trying to prep for this week". My opinion on his chances changed considerably after watching him compose himself after the bogey on 15 and after hearing him speak. He might just take some stopping.
The stats say he has a mountain to climb - Trevor Immelman, in 2008, is the only first round leader to go on to win in the last 30 years and were Jordan to become the second, he'd also be the second youngest winner of all time.
Tiger Woods, playing in the event for a third time, was slightly younger than Jordan is now when he romped to victory in 1996. The fact that he's playing here for just the second time is definitely a negative too but getting hung-up about stats where this young man is concerned may be verging on stupid. He's a phenomenal talent and could be capable of anything but I still can't possibly back him at less than 4.03/1 at this stage.
Darren Clarke also led by three after round one, following an opening 66 in 2003, but he shot 10 shots more on day two. He still sat second at halfway though and even if Spieth struggles today he's not going to slip too far down the leaderboard so his price isn't unduly short. If he shoots a couple under-par today it could look very big but I'm still very fearful of some sort of bounce. I know he's only 21 and should have limitless energy but even so, surely at some stage this run of form has to take a dip?
Spieth's biggest danger is Jason Day, someone I would have backed before the off had he just been slightly bigger in the market. He loves Augusta and his chance before the off was clear but he really isn't a ruthless closer out of tournaments yet and for that reason alone, he was fractionally too short for my liking and that's still the case now. If he goes on to win so be it but I'll have no regrets.
Talking of players too short - Rory McIlroy, who trails Spieth by fully seven strokes, is a very unappealing price at just 13.012/1.
I wrote at length in the preview about how hard it is to make up ground at Augusta and how important it is to be up with the pace from the start and the last nine winners have all been inside the top-ten on the leaderboard and within four strokes of the lead. In fact, since 1998, when Mark O'Meara won from five back and tied for 25th, Augusta specialists, Tiger Woods and Phil Mickelson, are the only players to win from outside the top-ten after day one. Rors is already right up against it and he's far too short for my liking.
I love the way the tournament is set-up from a viewing perspective but at this stage, I'm not so keen on it from a punting perspective and after a disappointing day yesterday, I'm going to keep my powder dry for now. I have thrown a few pounds at both Seung-Yul Noh and Kevin Streelman, who are insultingly priced up and who may trade considerably lower but the one that tempted me most was Justin Rose.
Justin had been one of my fancies to lead after round one so Jordan's round scuppered that and it was made worse by the fact that I layed Spieth in-running at odds-on last night to end the day in front. Rose hasn't been in great form this year yet but he was impressive enough yesterday and he's the sort of experienced gritty type to hang around from here. At just three behind, he's definitely close enough and I might play him today in-running.
Of the next few in the market...I don't think Sergio Garcia will ever win a major, I still don't think Dustin Johnson has the short-game for Augusta and Bubba Watson is trying to defend - something only Tiger, Nick Faldo and Jack Nicklaus have ever done.
The big disappointment for me on day one was Brandt Snedeker, who I was very happy with when he was safely on the par 4 11th green in two and on two under-par. That was, as it so often is, the hardest hole on the course yesterday and I was hopeful that Sneds could get to three and possibly four under-par by the close of play but for whatever reason, he completely lost the plot after paring 11.
Phil Mickelson and Patrick Reed were the only two of mine to do OK yesterday and both will begin round two six off the lead after opening two-under par 70s. I certainly haven't given up on them yet but it all depends on what Jordan does. He already has the 2015 US Masters in his hands and we all just have to wait and see what happens. Will he keep a firm hold? Or will he let it slip?

Pre-Event Selections:
Phil Mickelson @ 34.033/1
Patrick Reed @ 42.041/1
Brandt Snedeker @ and average of 55.054/1
Branden Grace @ 250.0249/1
Marc Leishman @ 270.0269/1 - Non Runner

In-Play Bets
Seung-Yul Noh @ 390.0389/1
Kevin Streelman @ 400.0399/1
Justin Rose @ 15.014/1
Charley Hoffman @ 40.039/1

I'll be back tomorrow with my take on the state of play at halfway.

*You can follow me on Twitter @SteveThePunter
Discover the latest articles