US Masters: The Punter's preview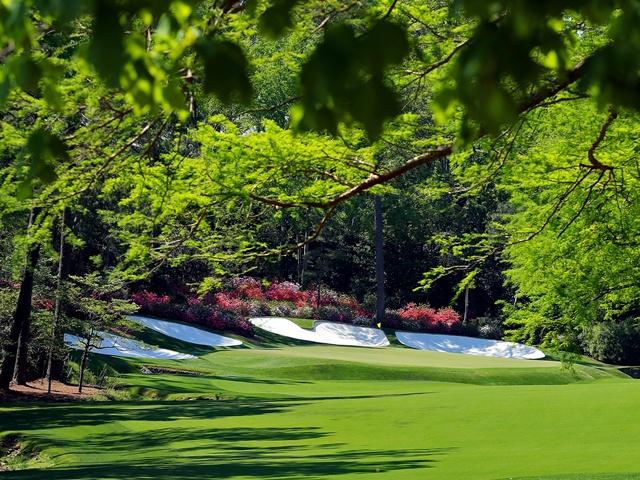 The iconic par 5 13th hole at Augusta National
Steve takes a comprehensive look at the US Masters - including tournament and course history, what it will take to win the famous Green Jacket, all the major trends, in-play trading tactics, the main contenders and of course, his fancies for the year's first major. Read his in-depth preview here...
"With seven PGA Tour titles to his name, at 34 and with six previous US Masters appearances behind him, the 2012 FedEx Cup champion looks primed for another tilt at the title and with Butch Harmon there to offer up precious advice and possibly a bit of steel, I quite like Brandt's chances and I thought he should be no bigger than about 40.039/1."
Tournament History
Just like the Grand National, which takes place on Saturday, the US Masters is a sporting spectacular that appeals to the masses. Just like the Aintree showpiece, Masters Sunday is a religion for many that wouldn't normally watch the sport and with the Azaleas and Dogwoods in full bloom; it signifies the end of winter and the promise of summer.
It's the year's first major and one of the most eagerly awaited tournaments of the year, at arguably the most recognisable course in the world, so it's interesting to look back at the event's humble beginnings.
Augusta National was founded at the start of the Great Depression and when the first edition was staged in 1934 the club had just 76 paid up members - someway short of the planned 1,800 - and the inaugural winner, Horton Smith, along with all the top finishers, had to wait for 17 members to club together to raise the purse before he got paid his winnings.
The Masters have a number of quirky traditions that add to its appeal. Since 1949, the winner has been awarded the famous Green Jacket. On the Tuesday of Masters week there's a Champions Dinner when the previous year's winner chooses the menu and since 1960, there's been a relaxed par 3 contest held on the eve of the main event on the most beautiful little par 3 course you're ever likely to see.
The event is not open to the general public and the spectators are long-standing season ticket holders known as patrons. And finally, anyone that makes an eagle at the Masters receives a pair of Waterford Crystal goblets and those that shoot the lowest individual rounds receive a crystal vase.

Venue
Augusta National Golf Club, Augusta, Georgia

Course Details
Par 72, 7435 yards, stroke average in 2014 - 73.95
Originally the brainchild of Rees Jones, Augusta National was founded by him and Clifford Roberts - a wealthy New York investment banker. Designed by Jones and Alister Mackenzie, who died before the course was finished, Augusta National was built on the site of an old nursery and all the holes are named after a tree or shrub.
It officially opened in January 1933 and it's been evolving ever since and to such an extent recently that the original designers would barely recognize the place. The Bermuda greens were changed to bent grass and the fairways were tightened at the end of the last century before a major overhaul was orchestrated by Tom Fazio in 2002. Over half the holes were lengthened and tightened and at almost 7,500 yards now, it's a very long course.
The greens are undulating and lightening fast but for details of each and every hole, please see Paul Krishnamurty's excellent Augusta Course Guide, produced last year, and Dave Tindall's fantastic guide with lots of stunning photos from his own collection here.

Useful Sites
Official Masters Site
Twitter Link
Weather Forecast
Alternative Weather Forecast

TV Coverage
Live on Sky Sports all four days, 7.00pm on Thursday, Friday, and Saturday and 6.00pm Sunday.
Highlights and weekend live coverage on the BBC.

Last Ten Winners
2014 - Bubba Watson -8
2013 - Adam Scott -9 (playoff)
2012 - Bubba Watson -10 (playoff)
2011 - Charl Schwartzel -14
2010 - Phil Mickelson -16
2009 - Angel Cabrera -12 (playoff)
2008 - Trevor Immelman -8
2007 - Zach Johnson +1
2006 - Phil Mickelson -7
2005 - Tiger Woods -12 (playoff)

What Will it Take to Win The US Masters?
With trees and shrubs seemingly everywhere, Augusta National appears a tight, tree-lined course when you're watching on TV but the fairways are actually very generous and Driving Accuracy is just about the least important stat to consider. Bubba Watson ranked 14th for fairways found last year but he was the first winner in six years to rank inside the top-30 and four of the previous five winners had ranked in the 40s for Driving Accuracy.
Length off the tee is hugely beneficial here and Bubba ranked number one for Driving Distance last year. Shorter hitters can win though - Zach Johnson ranked just 57th for the same stat when he won the 2007 renewal with a record equalling highest winning total of 289 in tricky, windy, bone-dry conditions, and Charl Schwartzel ranked just 40th when he birdied the last four holes to claim his Green Jacket in 2011 but most winners are regarded as long drivers.
Hitting greens time and again is an absolute necessity at Augusta and in the last 10 years only two winners, Schwartzel (19th) and Angel Cabrera (14th in 2009), have ranked any worse than 6th for Greens in Regulation and if you are going to miss the odd green, a magical short game helps. Bubba ranked just 15th for Scrambling when he won for the first time three years ago but six of the last seven champions have ranked no worse than 6th for Scrambling, with three winners ranking number one.
To provide an at-a-glance picture, here are the average rankings for all the main stats over the last ten years.
Driving Distance - 14.2
Driving Accuracy - 32.3
Greens in Regulation - 6
Scrambling - 10
Putting Average - 11.3
There are always freak results so I've taken out the two wildest anomalies for each stat (highest and lowest) and averaged the remaining eight rankings for each stat and this is what we're left with.
Driving Distance - 10.5
Driving Accuracy - 34.1
Greens in Regulation - 5
Scrambling - 10.25
Putting Average - 10.5
That polarises things slightly and shows exactly what you need to do at Augusta is hit it a long way off the tee, and not necessarily always straight, find plenty of greens, and scramble really well but probably the most important thing to do is take advantage of the par 5s. Here are the total scores to par for the last ten winners on the par 3s, 4s and 5s and I think it's more revealing than any other stat.
Par 3s Level
Par 4s -11
Par5s -84
Bubba Watson played the long holes in eight-under-par last year and that was how many under-par he was at the end of the week. In fact, on both occasions he's walked away with a Green Jacket he's played the par 4s in over-par.
Three of the last ten winners have played the par 5s in double-digits under-par, including Zach Johnson, whose win in 2007 really was incredible. He didn't go for a green in two at any stage, instead playing the long holes the traditional way, playing his third shot in with a wedge, and he played them in 11-under-par for the week. That really is remarkable given his final tally was one-over-par.
So taking advantage of the long holes is crucial and so is keeping card-wrecking double and triple-bogeys off the card. Trevor Immelman double-bogeyed the par 3 17th in round four in 2008 when he was already clear of the field and in the last 10 years that's the only time any winner has recorded more than a bogey in any round on their way to victory. The last seven winners have all kept their mistakes to a minimum, recording no more than nine bogeys over the four days and nobody has ever won the US Masters after recording a triple-bogey.

Other stats and trends to consider
Previous course form is vital. Other than the first two winners of the event, Fuzzy Zoeller (in 1979) is still the only debutant to win the US Masters and most winners have been around Augusta National enough times to get to know it's unique nuisances. On average, first time winners have played the event six times.
It's not just course experience you need - a weekend of Augusta employment 12 months earlier appears essential too. Every winner, apart from Tiger Woods in 1996, stretching all the way back to Zoeller's debut win in 1979, made the cut here in the year before they won.
And just having experience of the course isn't enough, you need to have shown an aptitude for it too - 23 of the last 24 winners had previously shot at least one round in the 60s at Augusta.
Past winners have a fine record - 12 months ago, Bubba Watson became the 17th man to win the title more than once.
Although plenty of experience is a big plus and the average age of the winners is almost 33, age does seem to have been a barrier of late and it's now 17 years since we saw a winner in his 40s - although it's not a stat that I'm going to worry too much about. Both Kenny Perry in 2009 and Angel Cabrera two years ago lost in a playoff here in their 40s and in last year's renewal, Freddy Couples contended until the end and both Miguel Angel Jimenez and Bernard Langer finished inside the top-ten.
Much was made of the 'no Australian has won the Masters' stat before Adam Scott won here two years ago and I'd file the 'no winner in his 40s for 17 years' right alongside that one. I can't believe it would be a barrier to the likes of Phil Mickelson, Lee Westwood Angel Cabrera et al and I'd much prefer to back a veteran with plenty of course form over a debutant.
Something I've touched on in the past is the surprisingly poor record of those that had finished high up in the previous year's renewal and that was again the case last year. Here's the top-20 and ties in 2013 with the how they fared in last year's renewal.
1 Adam Scott - 14th in 2014
2 Angel Cabrera - MC in 2014
3 Jason Day - 20th in 2014
T4 Marc Leishman - MC in 2014
T4 Tiger Woods - Not in the Field in 2014
T6 Thorbjorn Olesen - 44th in 2014
T6 Brandt Snedeker - 37th in 2014
T8 Sergio Garcia - MC in 2014
T8 Matt Kuchar - 5th in 2014
T8 Lee Westwood - 7th in 2014
T11 Tim Clark - MC in 2014
T11 John Huh - MC in 2014
T13 Fred Couples - 20th in 2014
T13 Ernie Els - MC in 2014
T13 Dustin Johnson - MC in 2014
T13 David Toms - Not in the Field in 2014
T13 Nick Watney - 44th in 2014
T18 Branden Grace - MC in 2014
T18 Henrik Stenson - 14th in 2014
T20 Jason Dufner - MC in 2014
T20 Gonzalo Fernandez-Castano -26th in 2014
T20 Bill Hass - 20th in 2014
T20 Steve Striker - 31st in 2014
T20 Bo Van Pelt - Not in the field in 2014
Of the 24 players in the top-20 and ties in 2013, three didn't line up last year, one finished in the same place (Bill Hass 20th), 17 players fared worse and only three improved their placing - but only just! Henrik Stenson finished 14th 12 months after finishing 18th, Lee Westwood finished 7th and Matt Kuchar 5th last year, after both had finished tied for 8th in 2013.
That's an easy to view snapshot but there's plenty of other evidence to suggest that backing up a good performance 12 months later is really hard.
The 2013 winner, Adam Scott, was the only player in the top-ten in 2012 to improve his placing and memorably, eight players hit the front on day four in 2011 and none of those eight, despite many of them being quite well fancied, featured prominently in 2012. Scott, who finished runner-up in 2011, finished tied for 8th but he was the only one of those eight to hit the front in 2011 to figure at all in 2012 and he was never at the races really.
Scott, Kuchar and Westwood have very similar records at Augusta. Kuchar and Westwood are the only two players in this year's line-up to head to Augusta having finished inside the top-ten in each of the last three years - both men finished tied for 3rd in 2012 and tied for 8th in 2013 - and Adam Scott finished inside the top-ten three times in-a-row before his 14th placed finish last year. And that's about as consistent a run of figures as you're likely to find.
In addition to Scott, Kuchar and Westwood, Tiger Woods, Phil Mickelson and Vijay Singh have all finished inside the top-ten at least four years in-a-row in the last decade but nobody else has managed more than back-to-back top-tens.
Apart from the obvious fact that it's a really hard course, I also think there's something mental going on, whereby those that finish high one year expect too much of themselves the next and I'd be wary of backing anyone with a high finish last year this time around. Not a good trend for Jordan Spieth fans.
And finally, don't worry if you fancy someone at a big price - four of the last eight winners were outsiders.

In-Play Tactics
You need to be right up with the pace from early on to win the US Masters- Augusta National is NOT a catch-up course and a fast start is imperative. And no year advertises that fact better than 2010, when Hunter Mahan, who finished tied 8th, was the only player in the top-ten to have been more than two shots off Fred Couples' first round lead.
Last year's event told a similar story. Only 26 players shot par or better on Thursday and only two of the final top-13 had failed to do so - the aforementioned Kuchar and Westwood, who finished 5th and 7th respectively, both shot one-over 73s in round one.
Bubba took a very typical route to the title last year - he sat in a tie for 2nd, just one off the lead, after opening the event with a three-under par 69 (the last four winners have all opened up with a 69) and he was three clear at halfway after a second round 68. A slightly sticky 74 in round three saw him lose his outright advantage before he kicked three clear with a closing 69.
You can also look to 2012, when the first four names on the day one leaderboard - Lee Westwood, Louis Oosthuizen, Peter Hanson and Bubba Watson were all in the first six at the finish.
Adam Scott's journey to victory in 2013 also followed a very typical route - he was never more than three off the lead but he wasn't in front too early. The ideal scenario is to be up with the pace but not in front too soon. Trevor Immelman is the only first round leader to win since Ben Crenshaw in 1984 and he's the only wire-to-wire winner since Seve Ballesteros achieved the feat in 1980.
Tiger and Phil repeatedly buck the trends at Augusta and they're the only two men to win the event having finished day one outside of the top-ten since Mark O'Meara won from tied 25th and five off the pace in 1998. Unless you're Tiger Woods or Phil Mickelson, get a fast start or forget it.
If you plan to bet in-running, Paul Krishnamurty's aforementioned hole guide is an absolute must. It dissects the course brilliantly to highlight where and when you can expect birdies and bogeys.
And finally, last year's finish was something of a damp squib but don't be surprised if we get a dramatic and exciting finale and make sure you lay back some profit if your pick looks like winning and goes odds-on.
Two of the last thee renewals have had to be settled via a playoff and even when the event doesn't go to extra holes, most years we get a very tight and exciting finish with players trading at odds-on without winning.
Jason Day hit 1.75/7 two years ago but missed the playoff by two strokes and Angel Cabrera, beaten by Scott in extra time, traded at 1.9110/11. In 2012, Louis Oosthuizen was a heavy odds-on shot when Bubba found the trees before that famous miracle recovery shot at the second playoff hole and there were all sorts of shenanigans in 2011.
Rory McIlroy began the final day four clear and a 1.84/5 shot but could finish no better than tied 15th and Scott backers were cruelly denied after he'd been matched at just 1.374/11 when Charl Schwartzel birdied the last four holes to win.
Phil Mickelson cruised to an emotional third victory in 2010 but a year earlier two players traded at odds on before losing in a playoff. Kenny Perry, who bogeyed the last two holes, was matched at just 1.132/15 in-running and Chad Campbell, who bogeyed the first extra hole to be eliminated, touched odds-on when he found the fairway and Cabrera the trees.
And don't just look to oppose the odds-on favourites, look for outrageous and unjustified spikes in the market. Cabrera was matched at over 30.029/1 when he trailed by three with just three to play in 2010 and he was matched at 55.054/1 after his drive in the playoff. The first price was too big and the second was ridiculous.

Main Contenders
World number one, Rory McIlroy, has been a firm favourite for months now but there are a number of reasons to oppose him. He's already won the US Open, the Open Championship and USPGA Championship (twice) so winning at Augusta will give him the career grand slam of majors. That's a barrier to break through and given Augusta was the scene of his biggest ever meltdown, when he shot 80 in round four back in 2011, having led by four after 54 holes, it might not be easy.
The mental scars etched by that dreadful meltdown have probably all but healed now but having that on his CV is by no means a positive and nor is his overall course form and his recent efforts with the putter.
This will be Rory's seventh appearance at Augusta and last year's never-in-contention 8th placed finish is his only top-ten to date so his course form is nothing to write home about and he hasn't ranked inside the top-ten for putting in a full-field event since last year's USPGA Championship. Last time out at the Arnold Palmer Invitational he ranked 48th with the flat stick - averaging 1.8 putts per hole which is far too high to be competitive.
Of course, a player of Rory's calibre is more than capable of raising his game but the fact that no European has won this century is also fairly off-putting and all things considered, I'm more than happy to leave him out of my plans.
Jordan Spieth's decision to play last week seemed a strange one. He talked before the off about how the course didn't suit his eye and I would have thought he'd have been better off preparing by having a few practice rounds around Augusta - especially given he said he learned an awful lot when he played it for the first time 12 months ago.

As odd a decision as it looked before the off, it very nearly proved to be a wise one and he hit a low of 1.75/7 in-running before losing at the first play-off hole. I know he's young and he should be able to shrug off the defeat but it's certainly not a positive and I'd have given him a better chance had he won in his home state.

I've already talked about how hard it is to back up a strong Augusta performance the following year so that's already against him too. He's the biggest danger to Rory's number one crown and he'll win majors for sure but he's no value to win this one now. He's not the longest off the tee either and although that didn't stop him last year, it is a concern.
Only Jack Nicklaus, Tiger Woods and Sir Nick Faldo have ever successfully defended the US Masters and I have to wonder whether Bubba Watson quite sits amongst that company. He'll be far better equipped this time around now that he knows what defending entails and I'd be very surprised if he doesn't improve on the tied 50th he finished two years ago when he first attempted to defend but he looks far too short to chance anyway.
Bubba already had a win and two seconds under his belt this time last year, whereas this time around he can only boast a second and a third place finish to his name. There's not much in it, but he's certainly not playing any better than he was this time last year and yet he's considerably shorter in the market.
He was matched at around 30.029/1 before the off 12 months ago and he's more than half that this time. Augusta suits his game perfectly but given how much the stats are against him, he's far too short to back.
I came very close to backing Jason Day and of the market leaders he's definitely the one I like most. He's played here four times but he's only been fit to play twice. He withdrew injured in 2012 and was carrying an injury when he finished 20th last year but on the other two occasions he's teed it up here he's finished second on debut in 2011 and third two years later.
He doesn't have a great wins to runs ratio and he's not the most reliable in-contention but he does have a win under his belt already this year having won the Farmers Insurance Open in February. And he finished a very respectable fourth at the AT &T Pebble Beach National the following week. On the face of it, his two subsequent starts don't look anything special but Day's record on the Florida Swing is appalling so 31st in the WGC - Cadillac Championship and 17th in the Arnold Palmer aren't as bad as they look.
He missed his first four cuts in the Sunshine State and he's only ever finished inside the top-15 once from 21 starts there. The young Australian ticks all the right boxes bar price and that's the only reason I'm leaving him out.
Dustin Johnson will drive down Magnolia Lane feeling as confident as he ever has ahead of a US Masters. After his six month break from the game, he's returned to the fray looking sharp and he's arguably playing the best golf of his career.
He's already bagged a WGC event - the Cadillac Championship last month and he was very much an eye-catcher at the Valero Texas Open a fortnight ago. Playing on the wrong side of the draw, his chance of victory was gone by Thursday lunchtime, after an opening 78 in horrendous conditions, but you couldn't help but be impressed with the pair of 68s he served up over the weekend that saw him climb to 6th.
Some shrewd judges are holding some nice ante-post vouchers about Johnson and I really wish I was because if he's ever going to don a green jacket, this might be the year but I'm certainly not prepared to back him at less than 20/1.
Johnson's Augusta record is pretty poor with his 13th in 2013 far and away his best effort in five previous attempts. He has the length to master Augusta but does he have the guile? His course management is often questionable, he ranks outside the top-100 for scrambling and he always looks liable to make a mistake. There's little doubt in my mind that he's a better player than he's ever been but I'm far from convinced he has the patience and the wherewithal for this examination.
Henrik Stenson is my idea of the worst value there is this year. Not only did he miss last week's Shell Houston Open because of flu but in nine visits to Augusta he's only once broken 70 - he shot 69 in the final round in 2013.
He's never finished inside the top-12 he and he's bidding to become the first Swede ever to win a major. The pressure alone that - that brings is enough to put me off, let alone the fact that he's been ill and hasn't shown much of aptitude to the venue. I couldn't have him at 30.029/1 odd so I'm definitely not interested in him at around 20/1.
The 2013 winner, Adam Scott, can't easily be dismissed now that it appears likely that he isn't going to persist with the short putter. Scotty was 9th on debut way back in 2002 but performed poorly here in his next seven starts. The penny seemed to drop after that though and his form figures for the last five years read 18-2-8-1-14.
He clearly now loves Augusta but the reason he's traded so big recently is that with the ban on long putters looming large, he's been attempting to revert back to a conventional short stick - but without much success.
He didn't fare too badly at the WGC Cadillac Championship, when he first switched last month, especially over the first few days, but in his two starts since he putted deplorably. If he'd have been sticking with the short putter I wouldn't have given him a chance but it now appears that he's decided to play with the broom handle again, and he could be a lively contender now.
The final contender I'm going to look at closely is Jimmy Walker, who along with Stenson took the sensible decision to swerve the Shell Houston Open last week - citing illness. Walker is something of a late bloomer and at 36 he's making just his second appearance at Augusta National following his 8th on debut last year. Walker has now won five of his last 37 starts and he won't be afraid to back up his win at the Valero Texas Open last time out should the chance arise.
After a poor third round, he was never really in it last year and he failed to break 70 which is a negative stat but only a fool would dismiss such an in-form big-hitter. The only possible negative in his game is the fact that he only ranks 70th for scrambling but that's probably nitpicking and I wouldn't want to put anyone off him. He has a very realistic chance of collecting a Green Jacket - something that was unimaginable just two short years ago.

Selections
The first player I backed for this year's event, and it was some months ago, was Augusta specialist, Phil Mickelson, who even at 44, may yet have one last hoorah in him at his favourite course.
In a 14 year stretch between 1999 and 2012, Lefty finished outside the top-seven at Augusta just twice, in 2007 and 2011. He missed the cut last year for the first time since 1997 and he finished a disappointing 54th in 2013 but in 2012 he finished third, despite making two triple bogeys!
He looked primed for a weekend charge for the title at the Shell Houston Open last week but finished a disappointing tied 17th after rounds of 75 and 71. It was still an encouraging performance though and he has at least found some form ahead of his favourite event.
Given he missed the cut 12 months ago on debut, Patrick Reed will have to bust a few trends if he's going to win this week and that would normally put me off completely but there's something about the extremely confident and even brash Texan that makes me think he can overcome statistical obstacles without too much hassle.
Anyone that watched him struggle with his game over the weekend yet make the playoff at the Valspar Championship last month would have seen what a tenacious battler he is. He saved par time and again when he looked likely to drop a shot, getting up-and-down form all over the place and that ability to turn bogeys or worse into pars or better will stand him in tremendous stead around here. He's the number one scrambler on the PGA Tour at present and it's no surprise.
He doesn't rank especially high for either Driving Distance or Greens in Regulation but he does rank inside the top-ten for Par 5 Performance over the last three months.
By some considerable distance, my idea of the best value this week is my each-way selection, Brandt Snedeker, who plays Augusta for the first time since joining the Butch Harmon stable last June.
Snedeker isn't the longest off the tee and that is a negative but he's already come close to winning a Green Jacket twice. He was up with the pace all the way in the 2008 edition before a final round 77 saw him slip to third and he was a bit disappointing in 2013 when a final round 75 saw him fall from tied first to sixth but those experiences may help if he gets in-contention again this year.
He's already a winner this year, taking the AT & T Pebble Beach National for a second time back in February, and I'm not in the least bit concerned about his recent form. His record on the Florida Swing is almost as bad as Day's (just one top-5 from 35 career starts) so his 17th in the Arnold Palmer last time out was actually not that bad.
With seven PGA Tour titles to his name, at 34 and with six previous US Masters appearances behind him, the 2012 FedEx Cup champion looks primed for another tilt at the title and with Butch Harmon there to offer up precious advice and possibly a bit of steel, I quite like Brandt's chances and I thought he should be no bigger than about 40.039/1. He's drifted right out to 60.059/1 for no reason at all in the last week or so and I can't stop backing him at that price.
Gary Player won the last of his three Green Jackets way back in 1978 but in recent years South Africans have fared really well here, with seven different men finishing either first or second.
Ernie Els was cruelly denied by Mickelson in 2004, Tim Clark finished also second behind Lefty two years later and the following year, Retief Goosen and Rory Sabbatini finished tied for second behind Zach Johnson. Trevor Immelman won in 2008 and Charl Schwartzel followed him in three years later before Louis Oosthuizen traded at odds-on before losing to Bubba in the playoff in 2012.
That's a really strong representation from one country and I fancy Branden Grace can now add his name to the list.
This year's Qatar Masters winner has played here twice before, finishing a respectable 18th on debut in 2013 before missing the cut last year but that wasn't as a bad an effort as it first appears. As he'd done in round four in 2012, Grace shot 69 in round two 12 months ago but it was never going to be enough to see him play the weekend after his very strange opening round of 84. He's already won six times on the European Tour and I thought he was worth chancing at a huge price.
As is 31 year old Aussie, Marc Leishman who also missed the cut last year but in even stranger circumstances.
After finishing fourth in 2013, in what was just his second appearance at Augusta (he missed the cut on debut in 2010), Leishman was a lively outsider 12 months ago. His supporters would have been getting quite excited when he took up the running after he'd birdied the first three holes in round two but he completely lost his way after that. Matched at just 12.011/1 to win the tournament, Leishman played the last 15 holes of round two in ten-over par and he finished up missing the cut!
He clearly has some mental issues to overcome after that finish but he also clearly likes Augusta so I thought he too was worth risking at a really big price.
I backed Leishman last week and I've since found out that his wife is quite seriously ill so there's some doubt he'll even make the line-up and it's more than possible he'll be rather distracted but there's not much downside at getting on for 300.0299/1.

Selections
Phil Mickelson @ 34.033/1
Patrick Reed @ 42.041/1
Brandt Snedeker @ and average of 55.054/1
Branden Grace @ 250.0249/1
Marc Leishman @ 270.0269/1

I'll be back over the next few days to take a look at some of the side markets but in the meantime, check out all our US Masters content here and if you are a year out, my US Masters 2016 Betting Preview is up and running.

*You can follow me on Twitter @SteveThePunter
Discover the latest articles