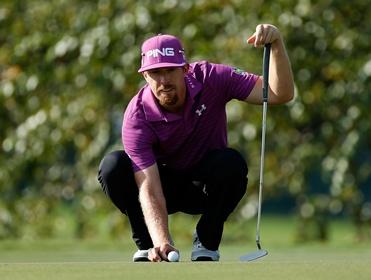 Just nine days after the magical Ryder Cup conclusion, golf fans are treated to yet more top-class match play as the world's best compete in the first ever Turkish Airlines World Golf Final. The Punter has the lowdown on this big-money bonanza which starts tomorrow and is live on Sky Sports...
"Given Mahan avoids both Woods and McIlroy in the group stage, he has an outstanding chance of reaching the last four and I wouldn't be at all surprised to see him go all the way."
Tournament History
This will be the inaugural staging of the Turkish Airlines World Golf Final.
Tournament Format
This is a brand new, big-money match play event, exclusively for the top-eight players on the official world rankings as at April 1, 2012. The winner will bag a cool $1.5 million and whoever finishes last will still take home $300,000.
Of the top-eight as at April 1, Luke Donald, Martin Kaymer and Steve Stricker have declined their invitations and they've been replaced by Matt Kuchar, Justin Rose and US Open champ, Webb Simpson. The other five to line up tomorrow are Rory McIlroy, Tiger Woods, Lee Westwood, Hunter Mahan and Charl Schwartzel.
The eight players are split into two groups of four. Within their groups, players compete against each other in a medal match play round robin format. For each match, one point is awarded for a win and half a point is awarded for a draw. After the three round robin matches have been played, the player ranked first in Group 1 will play against the player ranked second in Group 2 and vice versa.
Medal match play is different to the usual hole by hole match play we're used to. The player with the best stroke play score over 18 holes wins the tie. So someone can shoot 78 and beat his opponent if he shoots 79. Or, conversely, a player could shoot 63 and lose to a 62.
So as to not detract too much attention from the week's European Tour event - the Portugal Masters, or the USPGA Tour event - the Frys.com Open, the final will be staged on Friday.
Group one consists of McIlroy, Woods, Schwartzel and Kuchar, while Westwood, Mahan, Rose and Simpson are in group two.
The match times are listed below (local time):
Tuesday October 10
12:30 Rory McIlroy v Matt Kuchar
12:40 Tiger Woods v Charl Schwartzel
12:50 Hunter Mahan v Justin Rose
13:00 Lee Westwood v Webb Simpson

Wednesday October 10
08:30 Lee Westwood v Justin Rose
08:40 Hunter Mahan v Webb Simpson
08:50 Rory McIlroy v Charl Schwartzel
09:00 Tiger Woods v Matt Kuchar
13:00 Justin Rose v Webb Simpson
13:10 Lee Westwood v Hunter Mahan
13:20 Charl Schwartzel v Matt Kuchar
13:30 Rory McIlroy v Tiger Woods
Thursday October 11
09:00 Group One winner v Group Two runner-up
09:10 Group Two winner v Group Two runner-up
Friday October 12
08:30 Final
Needless to say, neither of the two main tours are particularly enamoured by the introduction of this event, but the European Tour may benefit in the long run. There is talk of a spin-off Turkish Open on the European Tour next year and with the Turks bidding to stage the Olympics in 2020, they'll be very keen to make this, and any possible future Tour events, a roaring success.
Venue
Antalya Golf Resort, Belek, Antalya, Turkey
Course Details
The PGA-Sultan Course, Antalya Golf Resort
Par 71, 7083 yards
Designed by David Jones and the European Golf Design in the late 1990s, this resort course has Bermuda tees, fairways and greens and water in play on numerous holes. The par 5 16th looks a belter, with water in-play right up to the island green, it looks sure to provide plenty of entertainment.

Useful Sites
Event Site
Course Site
Course Details
TV Coverage
Live on Sky all four days, 10.30am on Tuesday and Wednesday, 7.00am on Thursday and 6.30am on Friday.
In-Play Tactics
The Volvo World Match Play, played in Spain in May, has a similar format to this with competitors also starting the event in groups of four. Opportunities arose back in May, when some layers didn't seem to fully grasp the format. It's perfectly possible to lose your first match and still progress yet first match losers can drift in the outright market to some outrageous prices - especially straight after they've lost. All it takes is for one or two layers to have failed to familiarise themselves properly with the rules of the competition, maybe even to think it's a knockout, for them to offer some crazy prices.
It may not happen this week but if it does, don't dither, get stuck in. Forewarned is forearmed and if they haven't worked out the format properly that's their problem. Harsh maybe but that's the way it goes, someone will take advantage of others ineptitude if you don't.
Market Leaders
The organisers have assured at least one Woods - McIlroy tie by putting the two together in Group one. They'll still be desperately hoping for a repeat in the final on Friday though, but they might not get their wish. It's been a long season and both players held a chance of FedEx Cup glory right up to the end and both were involved in the emotionally draining Ryder Cup.
Rumour has it that Tiger Woods has been paid to turn up and that he has committed to the event for three years, so he'll be keen not to let Turkish Airlines down. He'll also want to bounce-back after his atrocious Ryder Cup performance and of the two; I'd prefer him over Rory.
All the Europeans that played in the Alfred Dunhill Links Championship last week flopped and although Rory has had an extra week to recover from the celebrations, I can't imagine he's been practicing hard, or that he'll be particularly inspired to perform at his imperious best here.
Selection
Time after time, match play form counts in match play events and Hunter Mahan is a match play specialist extraordinaire. Other than the woefully out of form Schwartzel, Mahan is the only player in the field that wasn't at Medinah and I couldn't help but think he was missed. He's a former winner of the WGC World Matchplay Championship and he has an outstanding Ryder Cup record.
Unfortunately for US captain, Davis Love III, Mahan's form has been so bad of late that he couldn't justify giving him a wildcard pick but you can bet your bottom dollar that there was a point in time on that fateful Sunday that he wished he'd got the tenacious Hunter in his weakening armoury.
Mahan will be chomping at the bit to show his match play prowess once again. Given he avoids both Woods and McIlroy in the group stage, he has an outstanding chance of reaching the last four and I wouldn't be at all surprised to see him go all the way.

Selection:
Hunter Mahan @ [10.0] or above