Turkish Airlines Open: Rolex winners poised to fly again in Antalya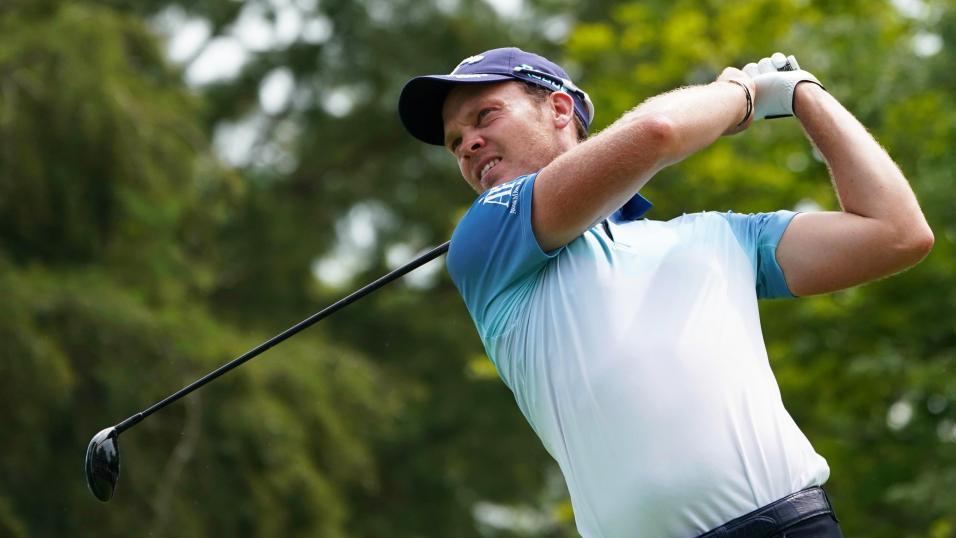 Danny Willett - one of The Punter's picks in Turkey
The European Tour heads to Turkey for the seventh edition of the Turkish Airlines Open. Read Steve's in-depth preview ahead of Thursday's start here...
"Rolex Series form is starting to look like the best form to look at in Rolex Series events. Winning one clearly boosts the confidence and three of the last four Rolex Series events have been won by someone that had already bagged one."
Tournament History
First staged six years ago, this will be the seventh edition of the Turkish Airlines Open. It was originally one of the European Tour's Final Series events but since that was abolished in favour of the new eight-tournament Rolex Series it kicks off the final leg of three Rolex Series events.
The Race to Dubai moves on to South Africa next week for the Nedbank Golf Challenge before it culminates with the season ending DP World Tour Championship in Dubai in a fortnight's time.
Venue
The Montgomerie Maxx Royal, Antalya, Turkey.
Course Details
Par 72, 7,133 yards
Stroke index in 2015 - 70.88
After three years at the Carya Golf & Spa Resort two years ago, the event returns to its original venue - the Montgomerie Maxx Royal in Antalya.
The Colin Montgomerie designed Maxx Royal opened in 2008 and this will be the fourth time it's been the host venue of the Turkish Islands Open.
The Maxx doesn't have the traditional par 72 layout of ten par fours, four par threes and four par fives, instead there are just eight par fours, five par threes and five par fives.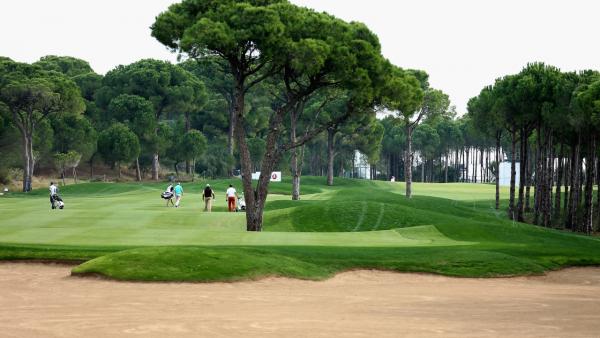 The course is tree-lined and coastal with average width fairways and fairly large undulating bentgrass greens that have previously run at around 11 on the stimpmeter.
Water is in play on holes four, five, six, seven, eight, nine, 14 and 18 and the holes on the back nine are, on average, shorter and tighter off the tee than those on the front nine. There's more on the course below in the In-Play Tactics section.
TV Coverage
Live on Sky Sports all four days, beginning at 9:00 on Thursday.
First Six Tournament Winners
2013 - Victor Dubuisson -24
2014 - Brooks Koepka -17
2015 - Victor Dubuisson -22
2016 - Thorbjørn Olesen -20
2017 - Justin Rose -18
2018 - Justin Rose -17 (playoff)
What Will it Take to Win the Turkish Airlines Open?
Here are the top-five and ties, together with stats, from the first three editions held at the Maxx Royal.
2013
1 Victor Dubuisson -24 DD 15 DA 52 GIR 5 SC 2 PA 13
2 Jamie Donaldson -22 DD 57 DA 27 GIR 15 SC 66 PA 2
T3 Tiger Woods -20 DD 46 DA 74 GIR 64 SC 62 PA 1
T3 Justin Rose -20 DD 17 DA 4 GIR 9 SC 51 PA 5
T5 Ian Poulter -19 DD 31 DA 58 GIR 8 SC 1 PA 62
T5 Raphael Jacquelin -19 DD 47 DA 12 GIR 22 SC 16 PA 9
2014
1 Brooks Koepka -17 DD 3 DA 48 GIR 5 SC 37 PA 12
2 Ian Poulter -16 DD 34 DA 29 GIR 7 SC 3 PA 39
3 Henrik Stenson -14 DD 7 DA 10 GIR 7 SC 68 PA 25
T4 Danny Willett -13 DD 13 DA 19 GIR 1 SC 74 PA 17
T4 Andy Sullivan -13 DD 26 DA 19 GIR 7 SC 3 PA 50
T4 Miguel Angel Jimenez -13 DD 63 DA 14 GIR 19 SC 6 PA 17
T4 Wade Ormsby -13 DD 67 DA 2 GIR 36 SC 19 PA 4
2015
1 Victor Dubuisson -22 DD 25 DA 37 GIR 37 SC 11 PA 2
2 Jaco Van Zyl -21 DD 35 DA 1 GIR 5 SC 10 PA 4
3 Kiradech Aphibarnrat -20 DD 12 DA 29 GIR 56 SC 12 PA 6
4 Byeong Hun An -19 DD 6 DA 57 GIR 37 SC 17 PA 2
5 Chris Wood -17 DD 60 DA 22 GIR 19 SC 8 PA 10
No stats stick out. The leaderboards are littered with short and long hitters and accuracy off the tee doesn't appear to be too important either. Tiger Woods didn't manage to do anything especially well apart from putt when finishing third in the inaugural edition and the first five home four years ago all ranked inside the top-ten for Putting Average, whereas the most important stat in 2014 was Greens In Regulation. All three winners have made more birdies than anyone else in the field and it looks like we're essentially faced with a birdie-fest.
I'm perhaps stating the obvious given both of Victor Dubuisson's wins have come here but course form stands up well at this venue, so stick with those that have already shown an aptitude for this somewhat unique layout and look to those that can dominate the long holes. The first and second ranked second and first on the par fives in 2013 and Dubuisson played the par fives in 16-under-par in 2015. A feat only equalled by Chris Wood who finished fifth.
Is There an Identikit Winner?
We've had six renewals of the event so far and only four different winners but all four have been straight out of the top drawer. All four have played Ryder Cups and two of them are major champions. Both Victor Dubuisson, who won the event twice, and Brooks Koepka, won their first European Tour events in this tournament at this venue, so a classy emerging talent might be worth siding with.
Rolex Series winners well worth considering
Brandon Stone shot 60 to win the Scottish Open from way off the pace last year and as time moves on, that result is looking more and more like an outlier when it comes to Rolex Series events (see full list below).
We've now had 21 Rolex Series events to date and the vast majority of the winners have been well-fancied, top-class players. Although only four major champions have won a Rolex Series event so far, the majority have been Ryder Cuppers and a number of players listed below will, in the fullness of time, in all probability, win at least one major.
Jon Rahm has won three Series events and Alex Noren, Justin Rose, Danny Willett and Bernd Wiesberger all have two apiece, so a pattern is beginning to emerge. Rank outsiders and/or low-ranking players, with the only exception of Brandon Stone in Scotland last year, don't win Rolex Series events.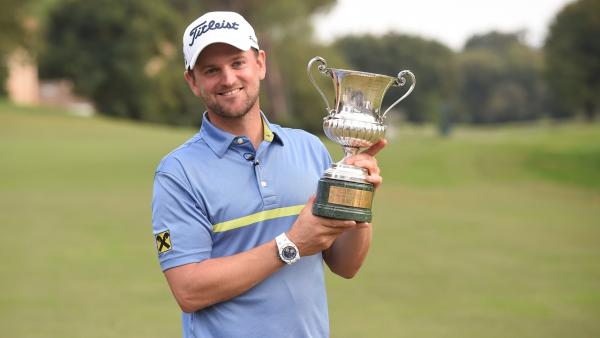 They appear to hold a certain gravitas or elevated status that prevents the lower ranked players from breaking through and Rolex Series form is starting to look like the best form to look at in Rolex Series events. Winning one clearly boosts the confidence and three of the last four Rolex Series events have been won by someone that had already bagged one. Jon Rahm was winning his third when he won the Irish Open, Danny Willett his second when he won at Wentworth in September and Wiesberger followed up his victory at the Scottish Open in July with victory in Rome a month ago.
Rolex Series Winners
BMW PGA Championship 2017 - Alex Noren 22.021/1 1/2
Open de France 2017 - Tommy Fleetwood 25.024/1
Irish Open 2017 - Jon Rahm 18.017/1 1/3
Scottish Open 2017 - Rafa Cabrera-Bello 65.064/1
Italian Open 2017 - Tyrrell Hatton 20.019/1
Turkish Airlines Open 2017 - Justin Rose 9.28/1 1/2
Nedbank Golf Challenge 2017 - Branden Grace 18.017/1
DP World Championship 2017 - Jon Rahm 14.013/1 2/3
BMW PGA Championship 2018 - Francesco Molinari 22.021/1
Italian Open 2018 - Thorbjorn Olesen 130.0129/1
Open de France 2018 - Alex Noren 19.5 2/2
Irish Open 2018 - Russell Knox 27.026/1
Scottish Open 2018 - Brandon Stone 1000.0
Turkish Airlines Open 2018 - Justin Rose 5.85/1 2/2
Nedbank Golf Challenge 2018 - Lee Westwood 55.054/1
DP World Championship 2018 - Danny Willett 150.0149/1 1/2
Abu Dhabi Championship 2019 - Shane Lowry 90.089/1
Irish Open 2019 - Jon Rahm 10.09/1 3/3
Scottish Open 2019 - Bernd Wiesberger 46.045/1
BMW PGA Championship 2018 - Danny Willett 80.079/1 2/2
Italian Open - Bernd Wiesberger 55.054/1 2/2
In-Play Tactics
The start to the course is really straightforward with the two easiest holes being the first and the fourth but it toughens up significantly after that. The last time we were here, in 2015, holes five to 12 ranked as the first, fourth, fifth, sixth, seventh, 14th and third hardest and over that eight hole stretch, only the 11th averaged under-par for the week.
Shane Lowry highlighted the disparity with his start in round four in 2014 as he was four-under par for the first four holes and five-over for the next two! Players get caught out by the sudden change from easy to hard.
Lowry was actually 14-under-par for the week on the first four holes in 2014 but he struggled with the rest of the course playing the other 14 holes in seven-over-par and if you're betting in-running that's well worth bearing in mind - especially over the first two days when I assume there'll be a two-tee start in operation.
Low scoring courses tend to suit the front-runners and that's pretty much been the case here so far. Dubuisson trailed by three strokes after round one in 2013 but he was never headed after halfway and back in 2015 he was tied for the lead with a round to go, having sat fourth at halfway. He'd trailed the runner-up, Jaco Van Zyl, by eight strokes after the opening round but the South African had opened up with a 61!
Koepka was second after 36 holes in 2015 - although he did trail by six! With rounds of 64 and 66, Ian Poulter had slipped the field after two rounds and he was six clear at halfway and was matched at just 1.68/13 in-running but after a disastrous 75 in round three he wasn't even leading with a round to go. And there was more market carnage in 2015...
Van Zyl, who'd led almost all the way, was matched at 1.684/6 and Kiradech Aphibarnrat, who'd birdied those first four holes on Sunday, was matched at just 1.491/2 before Dubuisson birdied three of the last four holes to win.


Market Leaders
Having won the last two renewals, Justin Rose was always going to be in the line-up and it's no surprise to see him head the market but as highlighted in yesterday's De-brief, I'm happy to swerve him at a different venue given his overall form.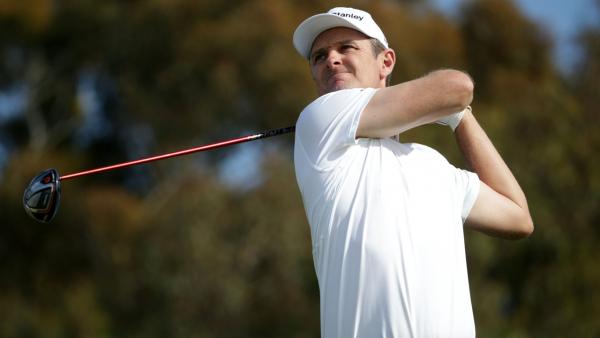 It's great to see Patrick Reed lining up in another European Tour event and his form's been decent for a while now. There was an understandable dip after his Northern Trust win in August but in his last three outings he's finished fourth at Wentworth, 17th at the ZOZO Championship in Japan, and eighth last week in China, despite a slow start. He finished the WGC HSBC Champions with a bogey-free six-under-par 66 and if he can take that momentum to Turkey, he should figure but he's yet to win on the European Tour and this his tournament debut.
Open champ, Shane Lowry, has progressive course form figures reading 44-25-8 and he'll be looking to at least leapfrog the absent Jon Rahm in the Race to Dubai standings. Lowry currently sits third behind Bernd Wiesberger and Rahm but his current form, although fairly solid, is nothing to write home about and he looks short enough to me.
Tyrrell Hatton was the big eyecatcher in Shanghai on Sunday when he closed out the WGC HSBC Champions with a seven-under-par 65 to climb up to 14th. He's been shortening up in the market all day (Monday) as a result and he looks short now at 20.019/1 given his course form figures read 19-26 and that he hasn't won in two years.
It took the market a long time to get to grips with Matt Wallace and after three wins last season, he was still available to back at 40.039/1 plus in this event 12 months ago. He's yet to win this season and he's becoming quite frustrating in-contention (even erratic) but his price just seems to keep contracting. He makes little appeal at his current price of 23.022/1 here given he's playing the course for the first time and that he shot 84 in round two last week!
The current R2D leader, Bernd Wiesberger, is trading at a few ticks higher than those already mentioned and I'm not really sure why. He's already won three times this season, including two of the last three Rolex Series events, and at the prices, he's the one I like best at the top of the market. He was seventh here in the inaugural edition back in 2013 but he followed that with 52nd in 2014 and a 50th in 2015 and that's a bit off-putting as he was generally playing quite well in both years.
Selections
Danny Willett finished way down the field last week in a tie for 73rd and that has to be a concern but he missed the cut in the European Masters (an event he'd won in 2015) before he won the BMW PGA Championship so I'm not going to let last week put me off.
Willett clearly gets up for these Rolex Series events and he has the course form in the book too having followed a tied 63rd in 2013 with a fourth in 2014 and an 11th placed finish in 2015. I thought he was fairly priced this morning at 36.035/1.
I've been hemming and hawing all day whether to back Christiaan Bezuidenhout and in the end I have. He's not played here before and he withdrew before the off at the Italian Open last month for some reason so they're negatives but he's shown a liking for tree-lined venues and he ranked fifth for Putting Average in China last week, where he had an up-and-down week.
He finished a respectable 17th in the end after rounds of 69, 72, 66 and 72 and I thought he was just big enough to chance at 46.045/1 given he's still improving and clearly a talent. I was really impressed with his win at Valderrama in June and he's someone I want to keep on the right side.
Selections:
Danny Willett @ 36.035/1
Christiaan Bezuidenhout @ 46.045/1
I'll be back on Thursday or Friday with the In-Play Blog.
*You can follow me on Twitter @SteveThePunter

Discover the latest articles
Read past articles