The Punter's De-Brief: Hahn hangs tough after Wang wallops Nacho in Morocco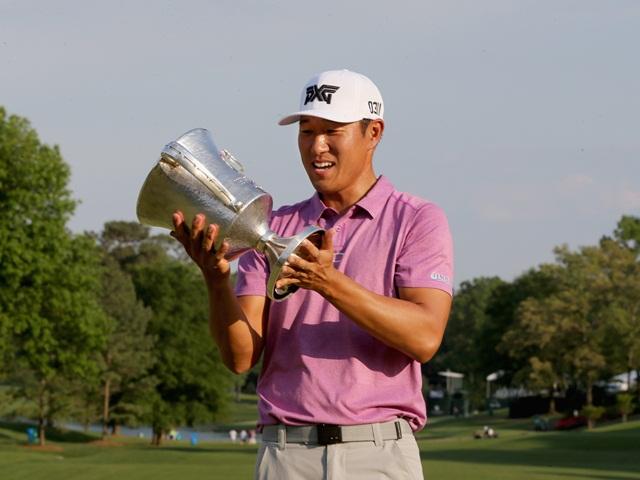 A happy James Hahn with the Wells Fargo trophy
Steve takes a look back at another entertaining week of golf trading where for the second week running, in-play picks have come up trumps...

"The PGA Tour is a bloody tough place to bet on this year! Jim Herman won the Shell Houston Open at 800.0799/1 last month and the last two winners, Hahn and Brian Stuard were both matched at 1000.0 before the off."
Both this week's tournaments were decided via a play-off contested by two outsiders. At the Trophée Hassan II, pre-event 55.054/1 shot, Jeunghun Wang, edged out my in-running pick, Nacho Elvira, who had begun the week trading at 140.0139/1, and the Wells Fargo Championship saw 1000.0 shot, James Hahn, fight out the finish with 600.0599/1 chance, Roberto Castro.

Tournament invite, Wang, holed from 18 feet on the 18th hole in regulation to tie Elvira, who had been matched at just 1.121/8. The Spaniard had looked like he was going to be the last man standing and he looked even more certain to win at the first extra hole.

Two quality strikes gave him 20 feet for eagle and with the 20-year-old Korean leaving himself 50 feet for birdie, Elvira was matched at 1.011/100! Remarkably, Wang rolled in the 50-footer, Elvira missed the birdie putt, and when they played the hole a second extra time Wang holed yet another birdie putt. This time from 20 feet and this time it gave him the title.

After eight missed cuts in-a-row, last year's Northern Trust winner, James Hahn, went off at 1000.0 but he belied his odds and current form by beating Castro at the first extra hole at Quail Hollow after the 600.0599/1 chance had found water off the tee.

Third round leader, Rickie Fowler, had been a warm favourite at the start of play and he was matched at a low of 2.0421/20 but he was never at the races after a bogey at the first had set the tone. Justin Rose was heavily favoured by the market down the stretch and he was matched at just 1.625/8 but he was a disappointment to his followers. He played the last seven holes birdie-free and two-over par to miss out on the play-off by a stroke.

My Bets
It's been a strange week really for a number of reasons. I'd resigned myself to a losing one with a round to go at both events but I finished up nicely in front in the end. My two pre-event picks were disappointing in Morocco but Elvira, who I backed yesterday at 26.025/1, more than made up for that, even if my trading was a little unconventional.

I went to the Manchester City - Arsenal game yesterday and I'm always moaning about kids on their mobiles while the game's on but there was me checking my phone relentlessly throughout the second half and when I saw Elvira was in the house and in front, just after Alexi Sanchez had equalised for the Gunners, it eased the pain slightly. I layed the Spaniard at that point at 1.211/5, and having walked to the train station and boarded, I layed him again at 1.051/20. Whether I'd have fared any better had I been at home trading properly I don't know but I doubt it. It was all a bit haphazard but it worked out in the end.

My two pre-event picks at the Wells Fargo, Rory McIlroy and Phil Mickelson, seem to throw shots away like confetti but they ended the tournament tied for fourth and beaten by just two strokes. That didn't do me any good at all but Hahn's win was a good result.

As detailed in the In-Play Blog, I felt he'd been value at around 16.015/1 and once I knew Elvira had saved the week I got him onside modestly so my week went from awful to okay and then on to quite nice in the end.

Will Rory Ever Defend?
Rory clearly adores Quail Hollow and he'll be a strong fancy to win the USPGA Championship there next year. It's an event he's already won twice, staged at a venue at which he's already won twice, but he's still looking to defend any title on any tour.

His defending stroke play form figures stretching all the way back to 2010 now read 6-17-MC-5-59-47-8-WD-MC-MC-MC-6-4. The fact that he hasn't yet made a successful defence didn't put me off him before the off this week but I have to wonder whether it was a factor.

Changes Ahead At Quail Hollow
Next year's Wells Fargo Championship will be staged at Eagle Point in Wilmington and when it returns to Quail Hollow in 2018 the course will look quite different. I know we're over a year away from the 2017 USPGA Championship but work has already started on the new layout and if you're interested in the changes, they're detailed here.

What Have We Leaned This Week
We've learned that the PGA Tour is a bloody tough place to bet on this year! Jim Herman won the Shell Houston Open at 800.0799/1 last month and the last two winners, Hahn and Brian Stuard were both matched at 1000.0 before the off. As I wrote last week, it make sense to keep at least some stakes back to trade in-running with tough results like that and it also makes sense to always take some profit.

Not only did Elvira get matched at the minimum and get beat yesterday but Hahn hit a low of 1.041/25 in regulation play and those that dived in at that price would have been mightily relieved when he won in extra time. I'd have been mortified if I hadn't kept an eye on the event in Morocco and had I heard later that he'd hit 1.011/100 and I hadn't layed any back. It really does make sense to lay back whenever a pick hits odds-on and especially when they trade that short.

We're off to Mauritius on the European Tour for the second renewal of the AfrAsia Bank Mauritius Open and I'll be back tomorrow with my preview of that event and my The Players Championship 2016 Betting Preview is ready for you to enjoy.

*You can follow me on Twitter @SteveThePunter
Discover the latest articles