Tour Championship: Devastating Day a no-brainer play, says The Punter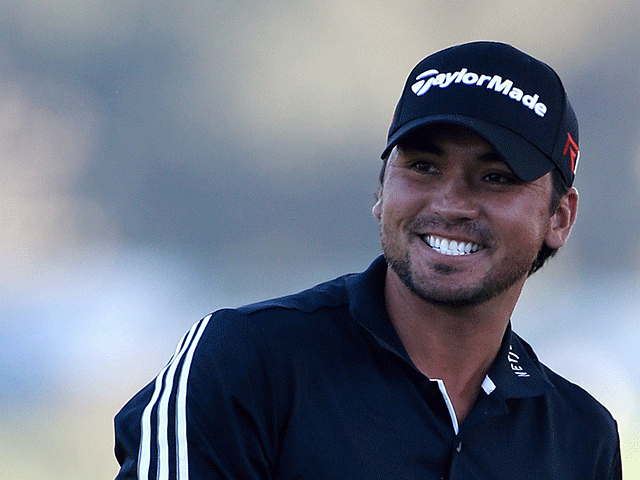 The in-form Jason Day is all smiles at the moment
The FedEx Cup playoff series finishes at East Lake on Sunday, and with five of the world's top-six players guaranteed to win the series if they win the Tour Championship we look set for a brilliant tournament. Read Steve's in-depth preview here...
"Day is playing devastating golf right now and he isn't only winning more events than the rest of the field put together, he's winning them by wide margins. He won the USPGA Championship by three strokes and both The Barclays and the BMW by six! Nearly all the stats point his way and if he holds his form he'll be virtually unstoppable."
Tournament History
The Tour Championship began life as the Nabisco Championship in 1987. It was always played in November at the end of the PGA Tour season and only the top-30 on the money list qualified. It was a successful and high-profile event to begin with, but after the turn of the century the money list leaders began swerving the event. After a long, hard season and with the majors all done and dusted, the likes of Tiger Woods preferred to give it a miss. As an end of season event designed to showcase the year's best players, it wasn't just losing its sparkle; it was starting to look a bit farcical. Something had to be done and in 2007 the FedEx Cup series was born and the Tour Championship became the final event of the series.
The FedEx Cup points system had to be tweaked a few times after a somewhat dull start. In 2007 and 2008, excitement regarding who would take the FedEx Cup was almost non-existent, as both Tiger Woods in 2007 and Vijay Singh 12 months later were virtually impossible to catch with the Tour Championship still to play but since 2009 the points have been re-set before this event, meaning that any one of the top-five in the FedEx Cup standings will win the FedEx Cup, if they win this event.
It's at this point that I usually moan about who occupies those top-five spots and how so-and-so could win the FedEx Cup Series after an ordinary year but with five of the top-six in the world rankings occupying the all important top-five spots on the FedEx Cup standings, we look set for a truly magnificent finale this year. It's a little more complicated for those ranked 6-30 but they can still win the FedEx Cup if others above them perform poorly but it's more unlikely the further down the standings you begin the week.
The changes made have had the desired effect and the last five Tour Championship winners have also won the FedEx Cup.

First Eight FedEx Cup Winners
2014 - Billy Horschel
2013 - Henrik Stenson
2012 - Brandt Snedeker
2011 - Bill Haas
2010 - Jim Furyk
2009 - Tiger Woods
2008 - Vijay Singh
2007 - Tiger Woods

Venue
East Lake Golf Club, Atlanta, Georgia

Course Details
Par 70, 7,307 yards
Stroke index in 2014 - 70.26
Dating back to 1904, East Lake has been remodelled by some renowned architects over the years. In 1913 Donald Ross completely reworked the course and then George Cobb tinkered with the place before the 1963 Ryder Cup. The club was neglected after that though, when the majority of its members switched to nearby Atlanta Athletic Club, but it was restored once again in 1994 by Rees Jones and it's thrived ever since.
In 2007, Zach Johnson shot the course record of 60 and Tiger Woods amassed an incredible 23 under-par total in the same year but it's been much tougher since, thanks to a change to the greens. With a move in the calendar to September, the committee chose to change the greens to Bermuda and the effect had been dramatic. The scoring has been much tougher but the last three winners have all managed to get to double-figures under-par.

Useful Sites
Course Site
Course Tour
Tee Times
Weather Forecast

TV Coverage
Live on Sky Sports all four days, starting on Thursday

Last Five Winners
2009 - Billy Horschel -11
2013 - Henrik Stenson -13
2012 - Brandt Snedeker -10
2011 - Bill Haas -8 (playoff)
2010 - Jim Furyk -8

What Will it Take to Win The Tour Championship?
East Lake is far from a bombers' paradise and accuracy off the tee is usually far more important than power. Only one of the last five winners (Bill Haas-9th) has ranked inside the top-ten for Driving Distance and even though Horschel ranked only 21st for Driving Accuracy 12 months ago, straight is usually far more important than long - five of the six winners before Horschel ranked inside the top-eight for DA.
In the 15 years that the event has been staged at East Lake, the winner has ranked outside the top-ten for Greens In Regulation just once - Bill Haas ranked 11th in 2011. The last two winners have both ranked first for GIR and six of the last ten winners have hit more greens than anyone else but the most crucial stat has been putting - seven of the last ten winners have had a Putting Average ranking of first, second or third. Horschel bucked that trend last year as well though as his PA ranking was only 13th and he ranked only seventh 7th for Par Three Scoring when eight of the 14 East Lake winners before him had played the short holes better than anyone else.

Is There an Angle In?
Form at other Donald Ross courses often transfers so check out the result of The Barclays at Plainfield, the 2013 USPGA Championship result from Oak Hill Country Club, the 2010 and 2011 renewals of the AT & T National at Aronimink may provide clues and consider also results at Pinehurst Country Club, which hosted the US Open in 1999, 2005 and again last year but concentrate your efforts hardest on the Wyndham Championship as that has by some distance, been the best guide...
Now that this venue and Sedgefield Country Club, home of the Wyndham, both have Bermuda greens, form at the two events should crossover very nicely and that's been the case over the last couple of years. The 2013 runner-up, Jordan Spieth, had been beaten in a playoff in the Wyndham, Webb Simpson, who finished fourth that year, is a former winner of the event and Justin Rose, who has finished second, sixth and fourth in the last three editions of this event has lots of Donald Ross form, including a fifth placed finish at the Wyndham and a win in the AT & T National at Aronimink.
Three years ago, three of the first five home here had all previously won the Wyndham and to cement the correlation even further - check out the result of last year's renewal of the Wyndham Championship... The 2008 Tour Championship winner, Villegas, beat the 2011 winner, Bill Haas, with the 2012 winner, Brandt Snedeker, back in a tie for 5th!

Is There an Identikit Winner?
We can look at stats and we can look at Donald Ross form but by far the most important thing to consider lately has been current form.
Following Horschel's wire-to-wire win last year, three of the eight Tour Championship winners, since the FedEx Cup Series began in 2007, have now won following victory in the third playoff event, the BMW Championship - Tiger Woods in 2007 and Villegas a year later also doubled-up here. And now that Jason Day has won both The Barclays and the BMW Championship this year, someone has won at least two playoff events in each of the last four years. In fact, we've now seen seven two-time winners in nine years! Nobody has ever won three playoff events in the same year but given how well the brand new world number one, Day, is playing, that could all change come Sunday evening.
There may only ever be a maximum of 30 players in the Tour Championship but most of them are fatigued and not as sharp or as focused as they've been all year. Already obscenely rich, how much they win at the end of a long season doesn't seem to make them fight too hard to climb up the leaderboard and many of those that aren't in-contention to win the series often appear completely disinterested. Sticking with those who are motivated just makes sense. Horschel was the third Tour Championship winner in-a-row that entered the final week placed in the top-five of the standings, with his destiny in his own hands, and that's a trend that I can see continuing.
I'm sceptical as to whether it's significant but for the record, although all top-drawer players, none of the last four winners have been major champions.

In-Play Tactics
Both Horschel and Stenson 12 months earlier won wire-to wire but a fast start isn't the be all and end all and winners here can come from some way off the pace.
Phil Mickelson was seven back and in 26th place after an opening round of 73 before going on to win in 2009 and like 2012 winner, Snedeker, and the 2008 champ, Villegas, he was five adrift at the halfway stage. Bill Haas was three off the lead with a round to go in 2011, Lefty was still four back, and Villegas made up a five stroke deficit in the final round.

Market Leaders
Since missing back-to-back cuts at the Players Championship and the Memorial Tournament in the middle of the summer, Jason Day has played some quite incredible golf. He was a big factor at the US Open, despite collapsing with vertigo, before missing out on the Open Championship playoff by a stroke, but since leaving his birdie putt short on the 72nd hole at St Andrews, which would have got him in to extra time, he's gone bonkers - winning four of his next six starts.
His form figures at East lake are perfectly respectable, reading 17-6-14-4, and given three players have already doubled up here having won the BMW Championship the week before (Woods, Villegas and Horschel) and that he fits well statistically, currently ranking seventh for Par 3 Scoring, sixth for Greens In Regulation and second for Putting Average, he has an outstanding chance of becoming the first player to win three FedEx Cup playoff events in the same year. His chance is obvious and his price reflects that but I'd argue he should be even shorter than he is.
Rory McIlroy is slowly getting back to his pre-injury form and his tied fourth at the BMW Championship was a decent enough effort last week but I'm happy to swerve him. Currently ranked 11th in the FedEx Cup standings, Rory will need help from others if he's going to win the FedEx Cup, even if he wins this event, and that could lead to a slight lack of motivation. He's played East Lake twice before, finishing 10th in 2012 before finishing runner-up to Horschel 12 months ago.
Following back-to-back missed cuts at the first two playoff events, Jordan Spieth would have been relieved to have avoided the cut last week but rounds of 72 and 70 saw him drift down to 12th place and it's hard to see him challenging Day here if the Aussie remains hot. Spieth shot 64 in round four on debut to finish runner-up here in 2013 but was only 27th last year.
Henrik Stenson has only played at East Lake once, when he won from the front two years ago so he'll be confident about the venue. He started slowly in the BMW last week but that wasn't surprising after his disappointing defeat in the Deutsche Bank Championship and with nothing to lose, he could easily be a factor again here. His propensity to throw away winning chances has to be factored in though and as well as he's playing, he isn't in the devastating form that he was in two years ago.
After his win over Stenson at the Deutsche Bank, Rickie Fowler will be bidding to be the eighth player in nine years to win two playoff events in the same year and for that reason alone he could be worth siding with. He followed that win with a respectable fourth last week, despite not putting especially well, but in his two starts at East Lake so far he's only finished 23rd and eighth.
Justin Rose has to come into the reckoning given how well he plays Ross-designed courses and this one in particular but at 13th in the FedEx Cup standings, history suggests he may be too far down the list to be a factor this week.

Selections
I'm going to keep things very simple and play the two men that have already recorded wins in the series - Jason Day and Rickie Fowler.
Day is playing devastating golf right now and he isn't only winning more events than the rest of the field put together, he's winning them by wide margins. He won the USPGA Championship by three strokes and both The Barclays and the BMW by six! There's obviously a chance he could put in a lacklustre display, as he did in both the WGC-Bridgestone Invitational and the Deutsche Bank, where on both occasions he could only finish 12th, but nearly all the stats point his way and if he holds his form he'll be virtually unstoppable.
He's not a terrific price at 7/2 with the Sportsbook (Industry best) or 4.84/1 on the exchange but that could soon look massive if he picks up from where he left off. The only negative that I can see is his driving. Accuracy does tend to count for plenty around East Lake and he's ranked 46th, 40th and 50th for Driving Accuracy in each of his last three starts. That's tempered my enthusiasm somewhat but it hasn't put me off.
I backed Day last week because so many players have won multiple playoff events in the same year and that's the main reason I'm backing Fowler here - although, as was the case with Day at the BMW, I've only backed him very modestly.

Selections:
Jason Day @ 4.84/1
Rickie Fowler @ 13.012/1

I'll be back tomorrow with a preview of the European Open.

*You can follow me on Twitter @SteveThePunter