The Tour Championship: Hot Billy Horschel can go in again, says The Punter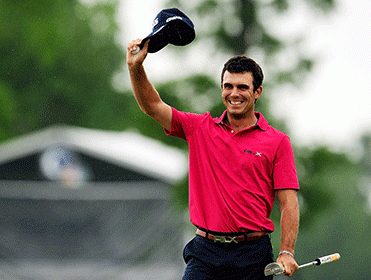 Billy Horschel – The Punter's fancy at East Lake
Our man takes a detailed look at the FedEx Cup finale at East Lake where he fancies red-hot Billy Horschel to win his second event in-a-row. Read Steve's in-depth preview here...
"Fatigue is bound to be a factor this late in the season and tiredness is far easier to ignore if you're in good form so perhaps that's why a total of five players have won two FedEx Cup Playoff events in the same year since the series began just seven years ago."

Tournament History
The Tour Championship began life as the Nabisco Championship in 1987. It was always played in November at the end of the PGA Tour season and only the top-30 on the money list qualified. It was a successful and high profile event to start with but after the turn of the century the money list leaders began not turning up. After a long hard season and with the majors all done and dusted, the likes of Tiger Woods preferred to give it a miss.
As an end of season event designed to showcase the year's best players, it was not only starting to lose its sparkle; it was starting to look a bit farcical. Something had to be done and in 2007 the FedEx Cup series was born and the Tour Championship became the final event of the series. 
The FedEx Cup points system has had to be tweaked a few times since its inception. In 2007 and 2008 excitement regarding who would take the FedEx Cup was almost non-existent, as both Woods in 2007 and Vijay Singh 12 months later were just about impossible to catch with the Tour Championship still to play but since 2009, the points have been re-set before this event, meaning that any one of the top-five in the FedEx Cup standings, (Chris Kirk, Billy Horschel, Rory McIlroy, Bubba Watson and Hunter Mahan) will win the FedEx Cup, if they win the Tour Championship.
It's a little more complicated for those ranked 6-30 but here are all the scenarios outlined for this year's protagonists.
The changes have had the desired affect and the last four Tour Championship winners have also won the FedEx Cup.

First Seven FedEx Cup Winners
2013 - Henrik Stenson
2012 - Brandt Snedeker
2011 - Bill Haas
2010 - Jim Furyk
2009 - Tiger Woods
2008 - Vijay Singh
2007 - Tiger Woods

Venue
East Lake Golf Club, Atlanta, Georgia

Course Details
Par 70, 7,319 yards
Stroke index in 2013 - 68.86
Dating back to 1904, East Lake has been remodelled by some renowned architects over the years. In 1913 Donald Ross completely reworked the course and then George Cobb tinkered with the place before the 1963 Ryder Cup. The club was neglected after that though, when the majority of its members switched to nearby Atlanta Athletic Club, but it was restored once again in 1994 by Rees Jones and it's thrived ever since.  
In 2007, Zach Johnson shot the course record of 60 and Woods amassed an incredible 23 under-par total in the same year but it's been much tougher since, thanks to a change to the greens. With a move in the calendar to September, the committee chose to change the greens to Bermuda and the affect had been dramatic. The scoring was much tougher to start with but in the last two years, the winning score has eased down again.

Useful Sites
Course Site
Course Tour
Tee Times
Weather Forecast

TV Coverage
Live on Sky Sports all four days - 18:00 on Thursday and Friday and 17:30 on Saturday and Sunday

Last Five Winners
2013 - Henrik Stenson -13
2012 - Brandt Snedeker -10
2011 - Bill Haas -8 (playoff)
2010 - Jim Furyk -8
2009 - Phil Mickelson -9

What Will it Take to Win The Tour Championship?
There are some very strong stat trends for East Lake, which should once again help point towards the winner. Driving distance isn't important at all - Henrik Stenson ranked just 27th last year and four of the last six winners have ranked no better than 14th. Accuracy off the tee is of far more importance and six of the last ten winners have ranked inside the top-five for fairways hit.
In the 14 years that the event has been staged here, the winner has ranked outside the top-ten for greens in regulation just once - Bill Haas in 2011 ranked 11th. Stenson ranked first last year and five of the last 10 winners have hit more greens than anyone else but the most crucial stat has been putting - eight of the last ten winners have had a putting average ranking of first, second or third.
Performing well on the short holes has been a big plus and eight of the 14 East Lake winners have ranked number one for par 3 performance. And finally, Stenson ranked second for birdies made but 10 of the previous 13 winners had ranked first.

Is There an Angle In?
Prior to the 2012 edition of the Tour Championship, I was under the impression that being outside the crucial top-five positions in the standings was a plus and that having your destiny in your own hands could be a negative but after the last two results I've had a complete rethink.
The last two winners have both been inside the top-five entering the final week - Stenson came into the week ranked second last year and Brandt Snedeker ranked fifth in 2012 - so the very recent evidence suggests that the extra incentive of knowing you can win the FedEx Cup with victory at the Tour Championship is anything but a negative but it's well worth pointing out that we're dealing with a tiny sample size. Even so, given they only represent one sixth of the field, I would favour those in the top-five over those outside it.
If you want to look at a course form correlation angle then form at other Donald Ross tracks may be worth examining. 
Check out last year's USPGA Championship result from Oak Hill Country Club, play close attention to the 2010 and 2011 renewals of the AT & T National at Aronimink and consider also results at Pinehurst Country Club, which hosted the US Open in 1999, 2005 and again this year but concentrate your efforts hardest on the Wyndham Championship as that has by some distance, been the best guide.
Now that both this venue and, Sedgefield Country Club, home of the Wyndham, both have Bermuda greens, form at the two events should crossover very nicely and that's been the case over the last two years. Last year's runner-up, Jordan Spieth had been beaten in a playoff in the Wyndham, Webb Simpson, who finished fourth, is a former winner of the event and Justin Rose, who finished sixth 12 months ago has lots of Donald Ross form, including a fifth placed finish at the Wyndham and a win in AT & T National at Aronimink. And two years ago, three of the first five home here had all previously won the Wyndham. 
And to cement the correlation even further - check out the result of this year's renewal of the Wyndham Championship. The 2008 Tour Championship winner, Villegas, beat the 2011 winner, Bill Haas, with the 2012 winner, Snedeker back in a tie for fifth!

Is There an Identikit Winner?
The first two winners of the Tour Championship after it was made the FedEx Cup finale (Tiger Woods in 2007 and Camilo Villegas in 2008) had both won the BMW Championship last time out and whether it's significant or not is certainly debatable but the last three winners have all been top-drawer players who haven't won a major. 

In-Play Tactics
Stenson won wire-to wire last year but a fast start isn't the be all and end all and winners here can come from some way off the pace. 
Phil Mickelson was seven back and in 26th place after an opening round of 73 before going on to win in 2009 and like 2012 winner, Snedeker, and the 2008 champ, Villegas, he was five adrift at the halfway stage. Bill Haas was three off the lead with a round to go in 2011. Lefty was still four back and Vilegas made up a five stroke deficit in the final round. 
If you're trading in-running, the finish is tough, and the par 5 15th, nearly always the easiest hole n the course, is the only realistic birdie chance in the final six holes.

Market Leaders
Rory McIlroy was in sparkling form when he could only finish 10th here on his only appearance to date in 2012 and he makes no appeal this week. He complained of feeling fatigued before last week's BMW Championship and it showed. He was bang there at halfway and a 3.02/1 favourite but both his third and fourth rounds were littered with errors, including a four-putt at the same hole, and whilst I wouldn't be entirely surprised to see him get back on track, I'd want a better price to back him to do so.
Adam Scott won here back in 2006 so there's no quibbling about his course form but even though he finished strongly last week to finish eighth, he's looked anything but hot in recent weeks. Scott has repeatedly stated he likes to target events when fresh so the fact that he's been on the go for months and that he's playing for the fourth week in-a-row is definitely a negative and he's not for me at all.
The 2010 winner, Jim Furyk, has been the subject of something of a gamble this week but I'm damned if I can see why. Given his aging nerves seem to getting the better of him on pay day of late, and that his victory here four years ago was his last on the PGA Tour, his odds of just 12.5 look extraordinarily short.
Rickie Fowler ranks highly for all the key stats this week, has finished inside the top-eight in seven of his last eight starts, and is hard to ignore but the negatives outweigh the positives for me. In his only start at East Lake he finished 23rd two years ago and as I find myself repeatedly stating week after week, he just doesn't win enough to back with faith. For all his talents, he's still only ever won one PGA Tour event.

Selections
Fatigue is bound to be a factor this late in the season and tiredness is far easier to ignore if you're in good form so perhaps that's why a total of five players have won two FedEx Cup Playoff events in the same year since the series began just seven years ago.
Given that stat, and that the last two winners of this event held their destiny in their own hands, I've taken a really good look at the top-five in the standings and the three winners of this year's playoff events - Hunter Mahan, Chris Kirk and last week's winner, Billy Horschel and the one I like best is the last named.
Horschel's stats have been very impressive over the last two weeks, he was seventh on his course debut 12 months ago and he strikes me as just the sort of character to revel in the challenge of becoming the FedEx Cup Champion. If he turns up in the sort of form he's shown over the last two weeks he's sure to again figure and I like his attitude. He doesn't strike me as the sort of character that's frightened to win and there was enough juice in his price for me to play at 26.025/1.
The Deutsche Bank Champion and FedEx Cup leader, Chris Kirk, lives less than 50 miles away from East Lake but he's reportedly only played the course twice and never in competition so course form is an unknown. He did contend strongly in the AT & T National at Aronimink in 2011 where he shot 63 in round three on his way to finishing eighth as a PGA Tour rookie so he does have Donald Ross form to his name. It's asking an awful lot for him to win again so soon on a course he doesn't know well but he has the right game for East Lake and has drifted to a price I couldn't ignore.

Selections:
Billy Horschel @ 26.025/1
Chris Kirk @ 70.069/1

I'll be back later with my KLM Open preview.

*You can follow me on Twitter @SteveThePunter

**********

Mike Norman joins Dan Roebuck to talk about Thursday's Tour Championship golf - the final event of the FedEx Cup play-offs with the winner picking up a cool $10m...
Discover the latest articles