The Punter's In-Play Blog: Denmark still clear but USA the value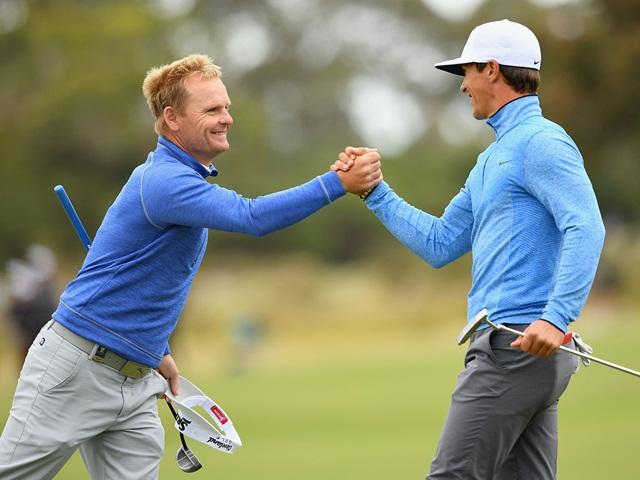 Soren Kjeldsen and Thorbjorn Olesen enjoying themselves in round two
With a round to at the World Cup of Golf, Denmark are the clear leaders and the odds-on favourites but are they good thing? Read what our man thinks with his final in-running update of the week here...
"There isn't anything to suggest Denmark can't close this out and if they can shoot three or four under-par tomorrow they'll take the world of beating but the four ball format definitely gives scope for some big changes on the leaderboard and they're not home and hosed just yet."
13:30 - November 26, 2016
A very solid two-under-par 70 in round three, bettered only by the USA on another tough scoring day at Kingston Heath, has seen the Danish duo of Soren Kjeldsen and Thorbjorn Olesen go four clear of the field. Here's the current state of play with prices to back at 13:25.
USA -10 6.86/1
China -9 23.022/1
Japan -7 36.035/1
Spain -7 50.049/1
France -7 60.059/1
Italy -6 100.099/1
-5 and 130.0129/1 bar

With two holes to play in round three, the Americans trailed the Danes by six strokes and but for a two-stroke swing at the 17th, this would be looking very close to a done deal. The Danes have already been matched at just 1.182/11 and if they hadn't bogeyed the penultimate hole and the US birdied it, the already big lead would look almost unsurmountable but with a lead of just four, and with four balls the format tomorrow, it's now far from over.
Playing with a ball each is an infinitely easier format and as the Danish paired showed on Friday, low scores are perfectly possible in four balls. The American's 69 was the best score in round three, when the field were again playing in foursomes, as they'd done on day one, and that was nine strokes worse than the Danes shot in round two.
There isn't anything to suggest Denmark can't close this out and if they can shoot three or four under-par tomorrow they'll take the world of beating but the four ball format definitely gives scope for some big changes on the leaderboard and they're not home and hosed just yet.
The USA have won the World Cup 24 times already, 19 more times than any other nation, and if the Danes are to stutter tomorrow, I can see Rickie Fowler and Jimmy Walker pressing them hard, and possibly even notching up win number 25.
Kjeldsen and Olesen are both playing brilliantly and I think Denmark will do enough tomorrow to win but I can't shake of the belief that the USA are too big at around the 6/1 mark so I've had a very small bet on them at 7.06/1.

16:40 - November 25, 2016
A hole out from the fairway for an eagle two on the third hole by Soren Kjeldsen kick started the Danish duo into life in the second round of the World Cup of Golf and they recorded a sensational run of figures between holes three and 14 that saw them play the 12 holes in a remarkable 11-under-par. After a humdrum run of three straight pars, a birdie at the final hole saw Kjeldsen and Thorbjorn Olesen skip round Kingston Heath in just 60 strokes and they lead at the halfway stage by three over China. Here's the current leaderboard with prices to back at 16:30.
China -9 13.012/1
Spain -8 7.413/2
USA -7 11.010/1
England -7 14.5
Italy -7 23.022/1
France -7 24.023/1
Japan -6 13.5
Sweden -6 19.018/1
-5 and 60.059/1 bar

Having backed the desperately disappointing defending champions, Australia, before the off and the equally disappointing Belgians in-running, I've decided to give this one up as a bad job for now. What's particularly irritating is that if I hadn't backed the pre-event favourites, I would have backed the Danes. I mentioned them and France in my preview but didn't back either so to see the Danes leading and the French on the fringes of contention is a bit irritating.
I'm not just leaving the tournament alone because it hasn't gone my way; I'm not getting involved at this stage because it's very tricky to call. The Danes price looks about right to me but I wouldn't want to get with them now, or take them on. They're back to foursomes tomorrow so scoring won't be as good as it was today and if the leaders can get round in level-par, as they did on day one, there'll be odds-on to still be in front but with the format reverting back to four balls on Sunday, being in front by just one or two strokes may not be enough.
Whether we'll see another round as scintillating as the Danes 60 today is debatable but the Dutch and the Kiwis managed 64 today and the Chinese 65 so we're almost certain to see a couple of low ones again on Sunday and if the Danish pair don't put further daylight between themselves and the field they could look a bit vulnerable this time tomorrow.
I've got a feeling they might look opposable tomorrow but for now I'm happy to let the event play out without me and I'll take another look after round three.

17:10 - November 24, 2016
I had no intention of getting up to watch the World Cup of Golf last night. Staged in Melbourne, Australia, the tee times aren't conducive to us here in the UK but I did wake in the middle of the night and take a look at the scores. I wasn't impressed. My sole selection, Australia, had played seven holes and they were two-over-par. It wasn't a great start and it didn't get any better.
I watched the play back when I got up and I was surprised to see how breezy it was. The forecast at the beginning of the week had suggested a benign week but there was enough wind to prove troublesome and only six of the 28 pairs broke par. Spain show the way on three-under-par but the Aussies are certainly not out of it yet.
They play in four balls tomorrow so the scoring should be quite a bit better and I suspect we'll see a fair bit of change on the leaderboard. I probably shouldn't be getting involved in-running this early but on one-over-par, I quite like the look of the Belgians at around the 25.024/1 mark. Nicolas Colsaerts and Thomas Pieters look to have gelled nicely and I can see them making up a bit of ground in round two. They're both aggressive birdie-machines when they're on song and they could dovetail each-other nicely with a ball each in play.
Over at the Cape Town Open, my sole selection, Zander Lombard has started fairly well - shooting three-under-par in the afternoon - but all the fancied players have started even better so I'm not hopeful. Michael Palmer leads on -9 but defending champ and pre-event favourite, Branden Stone, despite being in terrible form before the off, sits in second on -6.
It's going to be a quiet week but I'll be back tomorrow with another look at the state of play Down Under once they've reached the halfway stage.

World Cup Pre-Event Selection:
Australia @ 5/1

In-Play Bets
Belgium @ 24.023/1
USA @ 7.06/1

Cape Town Open Pre-Event Selection:
Zander Lombard @ 33/1

*You can follow me on Twitter @SteveThePunter
Discover the latest articles