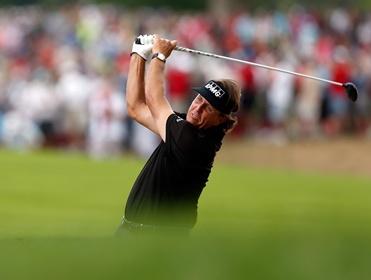 Phil Mickelson - likes East Lake and putting well again
Our man takes a good look at the FedEx Cup deciding Tour Championship. What will it take to win at East Lake and will the brand new FedEx Cup champ even need to?
"Now that he has a putting stroke that's working (some sort of variation of the claw-grip) I can see Phil being bang there again this week. He's finished in the top-four in his last two events and more importantly, he's ranked in the top-five for putting."
Tournament History
This will be the 26th staging of the Tour Championship, an event that started out as the Nabisco Championship. Up until 2006, it was contended by the top-30 on the money list but since 2007 it's been played out by the top-30 in the FedEx Cup standings as the series decider.
The FedEx Cup points system has had to be tweaked since its inception and I'm not convinced they'll ever get it right. In 2007 and 2008 excitement surrounding who would take the FedEx Cup was almost non-existent, as both Tiger Woods in 2007 and Vijay Singh 12 months later were just about impossible to catch. Since 2009, the points have been re-set before this event, meaning that the top-five in the FedEx Cup standings, (Rory McIlroy, Tiger Woods, Nick Watney, Phil Mickelson and Brandt Snedeker) will win the FedEx Cup, if they win the Tour Championship.
It sounds sensible enough but confusion often reigns. Last year, Bill Haas entered the Tour Championship in 15th place on the FedEx Cup standings and after he'd beaten Hunter Mahan in a playoff the first thing he asked was "who won the FedEx Cup?" unaware it was him!
Here's a look at all the different scenarios. Fingers, toes, abacus and calculator all required.
First Five FedEx Cup Winners
2011 - Bill Haas
2010 - Jim Furyk
2009 - Tiger Woods
2008 - Vijay Singh
2007 - Tiger Woods
Venue
East Lake Golf Club, Atlanta, Georgia

Course Details
Par 70, 7,319 yards
Stroke index in 2011 - 69.02
Dating back to 1904, East Lake has been remodelled by some renowned architects over the years. In 1913 Donald Ross completely reworked the course and then George Cobb tinkered with the place before the 1963 Ryder Cup. The club was neglected after that though, when the majority of its members switched to the nearby Atlanta Athletic Club, but it was restored once again in 1994 by Rees Jones and it's thrived ever since.
In 2007, Zach Johnson shot the course record of 60 and Tiger Woods amassed an incredible 23 under-par total but it's been much tougher since, thanks to a change to the greens. With a move in the calendar to late September, the committee chose to change the greens to Bermuda and the effect has been dramatic. Mickelson's nine under-par in 2009 is the lowest winning score since then.

Useful Sites
Course Site
Course Tour
Course Map
Tee Times
TV Coverage
Live on Sky all four days. 6.00pm on Thursday and Friday, 3.00pm on Saturday and 4.30pm on Sunday
Last Five Winners
2011 - Bill Haas -8 (playoff)
2010 - Jim Furyk -8
2009 - Phil Mickelson -9
2008 - Camilo Villegas -7 (playoff)
2007 - Tiger Woods -23
What will it take to win the Tour Championship?
I've analysed the stats extensively and I've read lots of different theories. Driving accuracy is sited as very important but bearing in mind that only 30 players contest the event, Luke Donald and Aaron Baddeley finished tied third last year when both were ranked tied 24th for DA. Donald managed second place a year earlier when only ranked tied 16th for DA and Phil Mickelson was beaten by a solitary stroke in 2008 when ranked tied 25th and won it a year later ranked tied 12th for DA. I'm not convinced.
The four winners since the greens were changed are diverse enough and it's hard to see an angle in but an ability to putt on Bermuda and make lots of birdies is probably the most important requirement.
Three of the five that hold their FedEx fate in their own hands are big-time players but I wouldn't be over-confident about Watney and Snedeker this week. Last year, Luke Donald was the only one of the top-five heading into the Tour Championship to even compete and FedEx Cup nerves can certainly play a part.

In-Play Tactics
A fast start here isn't essential and one or two winners have come from some way back, which is probably due to the small field.
As stated above, FedEx Cup nerves will be an issue. How big an issue is debatable but it's worth bearing in mind that it's possible someone could be in a position whereby second or even third in the tournament still wins then the FedEx Cup and if that scenario arises, how hard will they go for the event win?
Market Leaders
I'm not nearly as bullish about Rory McIlroy here as I was a fortnight ago before his win in the BMW Championship. The week off will in all likelihood inconvenience more than it will help and this is his first look at East Lake too. Add in the additional pressure of winning the FedEx Cup and there's no value to be had in him at [5.8] and I wouldn't be in a rush to argue against anyone wanting to lay him in the FedEx Cup winner market at a shade over [3.0] either.
Tiger Woods is a more tempting proposition at a point bigger but as I pointed out in my de-brief two weeks ago, there's something not quite right with Woods when he's been in the mix of late and I'm happy to let him go un-backed too.

Paul Krishnamurty makes a very compelling case for backing him to win the FedEx Cup and if you do like Tiger this week then that looks the sensible way to go.
Selections
I think this is a trappy contest and I could have happily left it alone but I've talked myself into a few bets, though they're all modest.
Phil Mickelson won here before the latest changes, way back in 2000, but he appears to like the new greens in particular.
He topped the putting stats in 2008 when missing out on the playoff by a stroke and he was ranked 2nd for putting the following year when he won. Incidently, he made a quadruple-bogey on day one on his way to an opening 73, which left him seven off the lead that year but he still went on to win the event by three!
With his game in disarray, he trailed in back in a tie for 22nd when defending in 2010 but he still ranked third for putting. Last year was very different though. After a sustained period of poor putting he pitched up at East Lake with a long putter and averaged over 32 putts per day, yet he still, somehow, only lost by four strokes.
Now that he has a putting stroke that's working (some sort of variation of the claw-grip) I can see him being bang there again this week. He's finished in the top-four in his last two events and more importantly, he's ranked in the top-five for putting.
I've also backed him in the FedEx Cup market at a slightly reduced price, as he can finish third in the Tour Championship and still win the biggest cheque of them all.
When Keegan Bradley turned up at East Lake for the first time 12 months ago, still ago following his win at the PGA Championship at nearby Atlanta Athletic Club, he shot an opening round 64 to lead by two. He couldn't break 70 after that but he's shown his hand. We know he can play the course, that he has found memories of the state and that he's a fine putter on Bermuda. I thought [48.0] was just about big enough to risk a few pounds.
Last and possibly least, is the only rookie to make the field, John Huh. I really rate Huh and can see him being quite a player in the years to come. Like Bradley, he too handles Bermuda well and at a huge price he could turn out to be a sporting pick.
Selections:
Phil Mickelson to win the FedEx Cup @ [13.5]
And to win the Tour Championship:
Phil Mickelson @ [15.0]
Keegan Bradley @ [48.0]
John Huh @ [140.0]
I'll be back on Friday morning with the In-Play Blog.
*Follow me on twitter @SteveThePunter