The Punter's USPGA Championship In-Play Blog: Gentleman Jim leads the way but will his aging nerves hold out?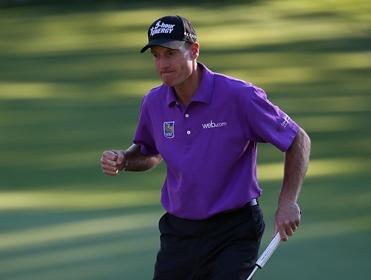 Jim Furyk celebrates his par save on 18 yesterday
With the 95th USPGA Championship intriguingly poised our man runs the rule over the leading contenders ahead of this evening's absorbing final round. Read Steve's final in-running thoughts on the week here...
"I can't help but think third round leader, Jim Furyk, looks vulnerable. He led with a round to go on the PGA Tour four times last year and he failed to convert every time"
12:30 - August 11, 2013
After two days of rain-softened, wind-free conditions, Oak Hill hadn't been the test we'd all expected over rounds one and two of this year's USPGA Championship but after 24 hours of dry weather and with thanks to a modest but tricky wind, Donald Ross' beautiful creation finally got to show its teeth yesterday.
It wasn't a bite, more a mean and moody snarl, but it certainly hurt the likes of Hunter Mahan, Martin Kaymer, Matt Kuchar and US Open champ, Justin Rose. Those four alone shot a combined 29-over-par and only four men that started the day inside the top-30, Lee Westwood, Jonas Blixt, Henrik Stenson and current leader, Jim Furyk, broke the par of 70.
It was tough yesterday and it won't get any easier today, and the same can be said about trying to pick the winner. Here's the leaderboard with prices to back, as at 12.00pm.

Jim Furyk -9 4.1
Jason Dufner -8 4.57/2
Henrik Stenson -7 4.67/2
Jonas Blixt -6 17.016/1
Adam Scott -5 9.617/2
Steve Stricker -5 15.5
Rory McIlroy -3 26.025/1
Lee Westwood -3 29.028/1
-2 and 110.0109/1 Bar
And here's my take on the contenders...
I can't help but think third round leader, Jim Furyk, looks vulnerable. He led with a round to go on the PGA Tour four times last year and he failed to convert every time and his late collapse against Sergio Garcia, when he bogeyed the last two holes to go from one up to one down at last year's Ryder Cup wasn't pretty either.
He's been working with mind-guru, Bob Rotella, to sort out his ridiculously protracted putting routine and his father and coach, Mike, has persuaded him to change to a thicker grip on his putter. All that's worked a treat so far but will his jangling 43 year old nerves withstand the heat today? Only four of the last 18 major winners were leading with a round to go and I fancy that will read four from 19 tomorrow.
Jason Dufner isn't immune to getting nervous either. It took him an age to realize his immense talent and win on the PGA Tour - something he's done just twice. He missed a very short putt on the 8th yesterday and he's liable to do something similar today, he's not great from five feet and in, but he's my idea of the most likely winner.
The search for Sweden's first male major winner may end tonight, with the bang-in-form Henrik Stenson and the unheralded Jonas Blixt paired together in the penultimate group. When Adam Scot won the US Masters he was paired with fellow countryman Marc Leishman and Justin Rose had Luke Donald for company at Merion when he lifted the US Open trophy. Could that be an omen for the Swedes?
With form figures reading 3-2-2, Stenson's been banging on the door extremely hard of late and nobody would deny the affable former Players Champion and WGC winner this next step up on the ladder. His straight driving has been an asset once again this week and he has every chance but at very similar prices, I just favour Dufner.
Blixt got very lucky on the last yesterday when he made birdie via a spectators back pocket! He hasn't got to this lofty position by luck alone though, bar for a dodgy finish on Friday he's been superb all week, and he could well be the dark horse today. Blixt has won twice on the PGA Tour in the last ten months, at the Frys.Com and more recently, the Greenbrier Classic and he can't be underestimated. I backed him in-running last night and after much deliberation I've decided to retain my position on him. I think the occasion may be too big too soon but anyone that can win twice on the PGA Tour in quick succession has some game.
Adam Scott couldn't buy a putt yesterday until he really needed it on the 17th green. Following a poor double-bogey at 16 and a shoddy drive on 17, it looked as though the Aussie's wheels were falling off completely but he banged in a lengthy par save to keep him in it and he'll have his supporters at a sporting price but I'm not one of them. Having led after round one, and having streaked clear and traded at just 2.829/5 on Friday, he's looked progressively more jaded as the weeks wore on and I can see that pattern continuing.
On the same score as Scott, veteran Steve Stricker, at first glance, looks a fair price at 15.5 but he has an awful lot on his plate. He was in a similar position after three rounds at the US Open but he was soon out of it - driving out of bounds on the second hole to record an eight. Like every other golf fan in the world, I'd love to see Stricker finally win a major but at the age of 46, it's hard to see it happening.
Rory McIlroy and Lee Westwood are fully six off the lead and they look to have far too much to do to justify odds of less than 30.029/1. It's almost impossible to see someone coming from as far as that off-the-pace to win as that but if there is to by mayhem, backing Dustin Johnson and Kevin Streelman, a shot worse off and at much bigger prices makes more appeal, and that's precisely what I've done.

Summary
The course will play harder again today so making ground up will be almost impossible and I can see at least one of the top-six holding it together enough to post a score that's good enough to win. Picking who that someone will be is devilishly difficult but I just favour Dufner, though at the prices, Blixt looks the value, if indeed there is any.
There is a very slight chance that we see total carnage amongst the leaders and if we do, both Dustin Johnson and Kevin Streelman could prosper. Both have already won this year and both look better value than McIlroy and Westwood.
I'll be back tomorrow with my De-Brief.

12:15 - August 10, 2013
Nothing messes up a golf tournament quite like wet weather and copious amounts of rain have well and truly ruined my plans at this week's USPGA Championship.
Given that only ten men had ever broken par over 72 holes around Oak Hill, I was expecting a brutal test but what we had yesterday afternoon was a birdiefest. At the halfway stage 27 players are under-par and Jason Dufner leads on -9!
So easy did Oak Hill play that Webb Simpson equalled the course record of 64 - shot previously by just two men, Ben Hogan and Curtis Strange - and a few hours later Jason Dufner broke it. In fact, he had a putt to shoot the lowest major score in history but he left his birdie putt on 18 short. Instead he has to be content with becoming the 26th man to shoot 63.
Having enjoyed the better conditions in the afternoon in round one, yesterday's early starters were made to pay for it as they endured relentless rain for much of the morning. Anything under par was a major achievement and Martin Kaymer, Justin Rose and Webb Simpson were really impressive.
Kaymer shot an immaculate bogey-free two-under par 68, Rose fought back quite brilliantly having shot a two-over 37 on the back nine (his first nine) with a stunning six-under-par front nine and Simpson's 64 was simply incredible. The conditions were really challenging and none of the other morning players got anywhere close to that score.
The rain cleared away just as the morning starters were finishing up their rounds and the birdies were soon flying in all over the place as the afternoon starters enjoyed the receptive conditions. Dufner even managed to chip in for eagle at the 2nd and I'm surprised that the differential in scores was only a fraction over one shot. The morning starters averaged 72.83, the afternoon, 71.75. To the eye, it appeared as though they were gaining an even bigger advantage.
When I posted my blog entry yesterday, the forecast had suggested a light shower in the morning and an irritating wind in the afternoon but what we got was a torrential downpour followed by an almost nonexistent zephyr so my plans were rendered redundant - although unfortunately, I did stick to them to some degree, as I backed Simpson at an average of 26.025/1, just after he'd finished his round and he's now at least ten points bigger.
If the truth be told, I'm irritated by the way this has panned-out so far. We haven't got to see the world's best tested to the max on a hard and fast-running old masterpiece of a course, as the rain has come to their rescue, and not only are my in-running plans the other side of the window but the bloke I backed last week is leading - an eventuality that always causes much frustration. For the record, it wasn't that I didn't fancy Dufner this week, I did, but he was left out purely on account of price. He was almost half the price he was last week and for me that was just too short - it's still a bit irritating though.
Anyway, that's more than enough moaning, what's the plan now? Well, the stats suggest we can't look too far down the leaderboard for the winner - the last four major winners at Oak Hill have either been leading at halfway or trailing by just a stroke so if history repeats, Dufner, who currently leads by two, is your winner. But the stats also suggested that there was no way we'd be seeing scoring this low and with such an open-looking leaderboard, I'm inclined to wait and see for now.
I thought we'd have seen far more separation by now with just a couple of players in with a chance of winning on a hard, fast, tough course where making up ground was nigh on impossible but after all the rain that's fallen we're faced with an open affair and I'm still sitting on my hands.
I'm not overly keen on Dufner's chances - I think he may have hit the front a bit too soon but I couldn't advocate backing any of the other four trading in single figures either. Adam Scott and Justin Rose are attempting something very few have done and that's to win two majors in a season and that might just hold them back and despite how well they're playing, I don't want to back either Henrik Stenson or Matt Kuchar to win their first major at such short prices either. One of these five, in all probability, will win the tournament but which one is anyone's guess.
In theory, now that the rain has stopped, the course should start to dry out and by tomorrow, making ground up will be very tough indeed but before then, we may not be done with the low scoring and it's just possible that someone from outside the top dozen can get involved. Hopefully it's pre-event pick, Sergio Garcia, who's currently six behind Dufner and who should improve as the conditions harden but I won't get my hopes up.
I'm happy enough to be on Kaymer and although I don't like the price I took, I can see Simpson hanging tough again today. Both are major winners, both played brilliantly yesterday, in the much trickier conditions, and they look like a pair that might just keep rolling forward but other than that I'm going to continue to wait. I'd love to say I strongly fancied player x or player y but I don't and all I can see at present, to quote the late, great, Jimi Hendrix, is a frustrated mess.

11:10 - August 9, 2013
Following a night of rain and with no wind to speak of, the morning starters at the USPGA Championship looked to have gotten a decent break at Oak Hill yesterday but as it transpired, it was even easier in the afternoon.
At 4.25pm, bad weather stopped play for an hour and ten minutes and when they returned to the course the birdies flowed with alacrity. Plenty of players struggled late on though, as they played the two toughest holes on the course - 17 and 18 - in heavy evening conditions. But when all was said and done, the stats show that the afternoon starters had much the better of it - they averaged 1.27 shots better than their morning counterparts (71.44 vs. 72.71).
Of the morning starters, Jim Furyk, who sits atop of the leaderboard, alongside Adam Scott on -5, fared best but the story of the morning was how poorly Tiger Woods finished his round...
Woods' backers would have been on good terms with themselves when he stood over a putt of less than four feet on the 2nd hole to get it to three-under-par for the day but as soon as that missed, they and he were in trouble.
He was matched at 3.613/5 just prior to that missed birdie putt and that didn't look extraordinarily short. He hadn't played brilliantly but he'd putted well and he looked all set to shake off the early rust and post a decent first round score, so what went wrong?
He wouldn't speak to the press after his round and although he's been roundly criticized for not doing so, maybe it was a wise decision. He must have been hopping mad to finish on +1, after double-bogeying the last, and I suspect he'd have been more than a little cross with his slow-coach playing partner, Keegan Bradley.
The group had been put on the clock and I doubt very much that was down to Tiger, or the third member of the group, Davis Love III, and when Woods eventually did speak, he blamed that for his pivotal missed putt on the 2nd.
""I stuffed it at number two. I probably should have taken a little longer, but we were on the clock."
There were similarities between Tiger's round in the morning and Phil Mickelson's in the afternoon. Like Woods, Phil shot a one-over-par 71 to trail by six and just like Woods, Lefty finished the day with a disastrous double bogey. The big difference between the two was that Woods spoke of how well he played, spouting such garbage as, "I played really well today. As I said, just a couple -- you know, one loose 9-iron in there and ended up not having much of a shot." In contrast, on the completion of his 71, Mickelson marched off to the range to try and fix his game.
I had to smile when watching Mickelson last night and I couldn't help but compare his finish to that of playing partner Scott. The Australian, who had struggled after the weather-delay, missed the 18th fairway right. He took his medicine, chipped back out onto the fairway, and then got up-and-down for par. Lefty on the other hand, missed his tee-shot left and found himself behind a wall of tress. He too could have chipped out and tried to make par in the same manner as Scott but instead he just whacked his second shot into a wall of trees - seemingly hoping for a miracle. He didn't get one, and after he then had the sense to chip out sideways but he failed to get up-and-down for bogey.
I'm not moaning about those tactics, they're Phil Mickelson tactics and he'll need to play like that to get back into this now. The quality of the leaderboard is impressive, with nine of the world's top-25 players inside the top-21 on the leaderboard and if Lefty or Woods are going to figure come Sunday, they'll need to shoot something very special today.
As detailed in the preview, history suggests you can't give away too much early ground at Oak Hill and now that the course has yielded so many early birdies and that so many players have broken par (35 in total) in round one, the chances of anyone currently sitting at par or worse winning are high and Tiger, in-particular, looks a very short price.
The course can only get tougher now. The wind is due to get up slightly this afternoon and with no more rain forecast after today it will just get faster and harder over the weekend.
I've added to my pre-event picks already but without too much success. I traded Lefty back and forth both before his round and during and I'd gotten a lovely position on him until he drove out of bounds on the par 5 4th hole! After that I was stuck with a small bet at an average of 22.021/1, so I was chuffed to see him rally after the delay (birdying three in four holes).
I probably dived-in a bit too early on Robert Garrigus, who I backed at 180.0179/1 after just four holes, and I backed Martin Kaymer during his round at 50.049/1 but he finished poorly, as did a couple of my pre-event shots.

Adam Scott is in a super position given he has an early tee-time today and he looks a perfectly reasonable price at 6.05/1 at first glance but the stats just temper my enthusiasm slightly.
Since Tiger Woods beat Bob May in a playoff in 2000, Phil Mickelson, in 2004, is the only first round leader, or co-leader, to win the USPGA Championship and Scott has a shabby recent record when he's led after round one. He won the Players Championship in 2004 when he opened up with a 65 to lead and he then went wire-to-wire at the Johnnie Walker Championship on the Asian Tour a year later but since then his only success when he's led or co-led was at the WGC - Bridgestone Invitational in 2011 and he's been beaten when he's led or co-led on 11 occasions since 2005.
Scott is at the very top of his game and he has the confidence of a recent major win, but winning from the front is hard and in a major, it's harder still, so that 6.05/1 isn't as appealing as it first appears.
My plan now is to hold fire for now and to look to strike as the morning starters finish up today, as the event starts to really take shape. In the last four majors at East Lake, the winner has been leading or within a stroke of the lead at halfway so after today, we should be able to dismiss an awful lot of the field and with the afternoon starters facing trickier conditions today, just as the morning starters finish up, could be the time to strike.
Pre-Event Selections:
Zach Johnson @ 75.074/1
Sergio Garcia @ 80.079/1
Ryan Moore @ 130.0129/1
Richard Sterne @ 250.0249/1
Boo Weekley @ 350.0349/1
Carl Pettersson @ 450.0449/1

In-Play Bets
Phil Mickelson @ an average of 22.021/1
Martin Kaymer @ 50.049/1
Robert Garrigus @ 180.0179/1
Webb Simpson @ 26.025/1
Jonas Blixt @ 38.037/1
Dustin Johnson @ 110.0109/1
Kevin Streelman @ 320.0319/1

*You can follow me on Twitter @SteveThePunter

Win more In-Play with Betfair!
If you'd backed Phil Mickelson to win The Open for £25 on Betfair – after the completion of Round 3 – you would have won £735, after 5% commission.
£25 at Ladbrokes, Bet365, Paddy Power and William Hill would have only won you £500.
That means you were £235 better off with Betfair compared to all four bookmakers.
Discover the latest articles