The Punter's US Open In-Play Blog: Kaymer cruises on at Pinehurst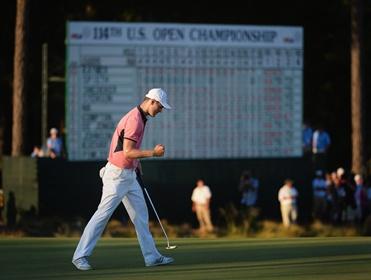 Martin Kaymer reacts to birdying the last hole yesterday
Despite shooting over par in round three, Martin Kaymer still leads the 114th US Open at Pinehurst by fully five strokes. Is his lead an unassailable one? 
"Dan Geraghty's superb each-way selection, Brooks Koepka, has a very good chance to place at a monster price and at anywhere around 2/1, he looks worth a small interest to beat Matt Kuchar, who might just be close enough to the lead to see the nerves kick in."
11.40 - June 15, 2014
With two-time heart transplant patient, Erik Compton, sitting in a tie for second after three rounds at the US Open, Hollywood scriptwriters will be sharpening their pencils today...
The 34-year-old Florida resident was diagnosed with viral cardiomyopathy as a child and has undergone two transplants, one in 1992, when he was just 12, and a second in 2008. As far as sporting comebacks go, I don't think Compton winning today could ever be eclipsed but with Martin Kaymer still five clear, the chances are the film won't get written.
On a really tough day yesterday, when only two players broke par, the unruffled German didn't play anywhere near as well as he had over the first two days but he kept his composure throughout the third round and after a two-over-par 72, he's still very much the man to beat. Here's the leaderboard with prices to back as at 11:20 UK and Ireland time.

Martin Kaymer -8 1.454/9
Rickie Fowler -3 14.013/1
Erik Compton -3 34.033/1
Henrik Stenson -2 13.012/1
Dustin Johnson -2 19.018/1
Brandt Snedeker -1 46.045/1
Matt Kuchar Level 65.064/1
Kevin Na Level 120.0119/1
Brooks Koepka Level 190.0189/1
+1 and 140.0139/1 Bar

Compton and Fowler were the two that broke par yesterday and they did it style - both men fired three-under-par 67s. Whether they'll be able to back those scores up today is highly debatable though and if there are any, the bigger threats to Kaymer could come from further back.
Since 1996, 22 men have led by five on the European Tour with a round to go and 17 have won and on the PGA Tour, it's 18 from 23, so on those stats, Kaymer has around a 78% chance of converting. I know that's simplifying the situation and that winning a major championship is a lot different to a run of the mill tour event but whichever way I look at it, as he was on Friday, and again yesterday, he's still too big in the outright market so I'm still not laying any of my wager back at this stage.
I don't look at the 2 ball betting often but I successfully took on Matt Kuchar in round four at the US Masters with an improving young player in the shape of Jonas Blixt and I'm going to take him on again here with another...
Dan Geraghty's superb each-way selection, Brooks Koepka, has a very good chance to place at a monster price and at anywhere around 2/1, he looks worth a small interest to beat Kuchar, who might just be close enough to the lead to see the nerves kick in.
I'll be back tomorrow with me de-brief.
12.00 - June 14, 2014
Although I though Martin Kaymer was value to win the US Open after his opening five-under-par 65 on Thursday, I didn't think for a second we'd be in this position at halfway. 
After rain both prior to the event and overnight on Thursday, Pinehurst isn't as fast and as furious as it might have been but it's still much faster than Congressional was three years ago when Rory McIlroy left the rest for dead and Kaymer's performance to date is even more impressive and remarkable. And he hasn't even had the best of the draw! Over the two days, Thursday's afternoon starters shot an average of almost half a stroke more than those that began in the morning on day one.
He's equalled the best 36-hole score at any major - first achieved by Nick Faldo in the 1990 Open Championship and equalled by Brandt Snedeker four years ago - and after a second successive 65, he's shot the lowest halfway score at any US Open. His nearest challenger is Brendon Todd, who's six adrift, and behind Todd, Kevin Na and Snedeker are on -3 and seven back. His biggest dangers, according to the market, are Henrik Stenson on -2 and Rory on -1 but they've got their work cut out.
Only two men have ever led a US Open by six at halfway, the aforementioned Rory in 2011 and Tiger Woods in 2000. Rory won by eight and Tiger 15.
Kaymer has led by six before, at the Abu Dhabi Championship in 2008. On that occasion he maintained the margin through round three before shooting 74 in round four to win by four. 
I can't imagine he can possibly play as well over the weekend as he has over the first two days but he really doesn't have to. He's a great frontrunner and an intelligent player that understands the task ahead. If, as I expect him to do, he plays strategic no risk golf, the others are going to have a devil of a job to get anywhere near him. I'm not laying any of my position off at this stage and at around the 1.84/5 mark he currently trades at, he's far too big.  
I'd have him no bigger than 1.51/2 at the most and if you like backing odds-on shots, you won't see many better than this. Even as a short-term trade he looks a good thing. US Open courses always get harder as the week wares on and in all likelihood he'll be just as far clear as he is now by the time he tees off. I can easily see his price contracting to around the 1.68/13 mark before he even hits a ball and I can't see any way it can get any bigger. Rory making three straight birdies might make a difference maybe but it's highly unlikely.

09.00 - June 13, 2014
The 114th US Open has got off to a fantastic start. The newly restored Pinehurst makes for great viewing and although there were one or two grumbles about the set-up, the vast majority have enjoyed it so far - I know I have. 
With no rough, the big unknown before the off was how the native waste areas would play and it looks as though they're very playable. On almost every occasion someone strayed from the fairway they were able to advance their ball quite easily and most of the time they were able to find the green without too much bother. 
Although trouble off the tee appeared hard to find, getting in a fix around the turtle-backed greens was easy enough to achieve and it's very much a traditional US Open, and one that should just build and build to a terrific crescendo come Sunday.
Very surprisingly given the way the course played for much of day one, we already have a clear leader in the shape of likable German, Martin Kaymer, who shot an incredible five-under-par 65 late in the day. That's the lowest round ever played at a US Open staged at Pinehurst and it was fully three strokes better than anyone else managed.
After Kaymer, it's a congested leaderboard - 14 others are under-par, having shot -2 or -1 and 20 players shot a level par 70 in round one. 
Pre-event favourite, Rory McIlroy, birdied the 18th to shoot +1 and stay within touching distance but second favourite, Adam Scott, struggled to an opening three-over par 73 and the well-fancied US Masters winner, Bubba Watson, who had sounded downbeat before he even started the event, looks out of it already after an opening 76.
Best of the pre-event market leaders was one of my picks, US Open specialist, Phil Mickelson, who shot level par, despite bogeying two of his last four holes. I can't say I'm over the moon with the way he finished day one or with the way the rest of my picks fared. Outsiders, JB Holmes and Aaron Baddeley, both also shot level par, and Baddeley managed it despite a triple-bogey at his opening hole, but that's as good as it gets I'm sorry to say. So what now?
Although someone has won the US Open wire-to-wire on only six occasions, it's been achieved three times this century already. Twice by Tiger Woods, in 2000 and 2002, and once by Rory, in 2011, and I fancy Kaymer's in a decent place right now. 
Only two players have led the US Open by as many as three shots after round one since 1996 and they both did well. Rory McIlroy galloped to his comfortable eight shot victory at rain-softened Congressional and 12 months later, Michael Thompson finished second. And Kaymer has led or co-led after round one six times in his career and he's been fairly clinical from the front, converted four times. 
The last such occasion was as recently as May when he grittily held on to win the Players Championship. He's under no illusions about the test that he faces and he recognises that the course will get harder as the week wears on but he's just the sort of mentally tough player to withstand the test and all things considered, the 6.411/2 available this morning is a very decent price. I haven't given up on my mob just yet but I felt compelled to have a small stakes saver on Kaymer at that price - especially after last night's rain...
The course should play much softer than expected for the morning starters and there's every chance that Kaymer can apply the pressure when he tees off at 13:02 UK and Ireland time. He's already a major champion, having won the USPGA Championship in 2010, and he's already won the Players Championship this year, an event the organisers like to refer to as the fifth major. He has the mental fortitude to withstand any bad breaks that come his way today and if he manages to nudge it round in anything better than 71 or maybe even 72, he's likely to still be in front at the close of play today and he's a bit bigger in the market than I expected at this stage. 

Pre-Event Selections:
Phil Mickelson @ 22.021/1
Sergio Garcia @ 42.041/1
Webb Simpson @ 85.084/1
Ryan Moore @ 130.0129/1
Ernie Els @ 160.0159/1
Angel Cabrera @ 220.0219/1 added after the preview
JB Holmes @ 230.0229/1
Geoff Ogilvy @ 260.0259/1 added after the preview
Aaron Baddeley @ 300.0299/1
Lucas Glover @ 940.0939/1 added after the preview
In-Play Bet
Martin Kaymer @ 6.411/2
*You can follow me on Twitter @SteveThePunter
Discover the latest articles