The Punter's US Masters In-Play Blog: Snedeker the man to beat on Masters Sunday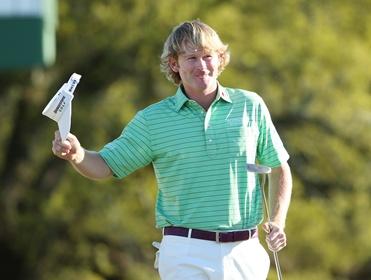 Brandt Snedeker – joint-leader and favourite at the US Masters
Steve takes a good look at all the main contenders ahead of tonight's final round in Augusta. Pre-event pick, Matt Kuchar, is still on the premises but can he convert? Read our man's final in-play thoughts on the week here...
"Prior to 2011, the place to be on Masters Sunday was in the final pairing - only once in 20 years had the winner not played in the final two-ball but that's a trend that might just be changing. Three of the last six winners, and the last two, Bubba Watson and Charl Schwartzel, all came from outside of the final group."
12:30 - April 14, 2013
If you're an English golf fan you're licking your wounds this morning after day three of the US Masters. Moving day yesterday was a dire affair, with Lee Westwood, Justin Rose and even surprise package, David Lynn, all shooting over par. The veterans Freddie Couples, Jim Furyk and my man K.J Choi all suffered too and Rory McIlroy, Jason Dufner, Dustin Johnson, Sergio Garcia and Charl Schwartzel all fell out of contention also.
We've finally reached Masters Sunday, so here's the third round leaderboard with prices to back, as at 12.00pm.
Brandt Snedeker -7 3.7511/4
Angel Cabrera -7 6.86/1
Adam Scott -6 5.14/1
Jason Day -5 10.09/1
Marc Leishman -5 25.024/1
Matt Kuchar -4 16.5
Tiger Woods -3 9.08/1
Tim Clark -3 70.069/1
-2 and 50.049/1 Bar

Prior to 2011, the place to be on Masters Sunday was in the final pairing - only once in 20 years had the winner not played in the final two-ball but that's a trend that might just be changing. Three of the last six winners, and the last two, Bubba Watson and Charl Schwartzel, all came from outside of the final group.
Watson came from three back last year and Schwartzel was four behind in 2011 and the very shape of Masters Sunday seems to be changing of late. Eight different players led on day four two years ago and last year's affair was a real humdinger too. What can we expect tonight? Here's my take on the main contenders in leaderboard order.
Reining FedEx Cup champ, Brandt Snedeker, was the big mover in the early US Masters market when he finished runner-up at both the Farmers Insurance Open and Phoenix Open before pulverising the opposition at the AT & T Pebble Beach next time out.
He was arguably the best player on the planet at that time and most definitely the best putter but he was laid low with a rib injury after winning at Pebble Beach and came into this event on the back of two missed cuts on return from injury.
He has experience of a Masters Sunday - he fell away tamely on day four five years ago and broke down when interviewed afterwards but we can expect an altogether stronger challenge this time around and he's a very worthy favourite who could prove very hard to beat. He closed out both his last two wins superbly and if he can keep his nerves at bay, I think he'll win.
Angel Cabrera has only won two US Tour events but they were both majors! He won the US
Open in 2007 and this event three years ago. This will be the third time in five years that he's played in the final pairing and in each of the last four years at Augusta he's shot 71 in round four. If he repeats the feat, will that be enough?
My worry with Cabrera is whether he can hit the line at the right time. When he won the US Open he'd been the halfway leader but had dropped away on day three. He started the final round four off the pace and a 50.049/1 shot and when he won here three years ago, although he'd tied for the lead going into round four, he'd dropped away in-running and won with a late rattle and a bit of help from others.
We saw a bit of a reaction yesterday with back-to-back bogeys when he hit the front but he's playing some great golf and Paul Krishnamurty has a great chance of bagging the biggy. Not only was he keen on his chances before yesterday's third round, he also made 'El Pato' one of his Find Me A 100 Winner picks before the off. Here's his take on round four - good luck Paul.
Adam Scott has a fine record at Augusta and he's lurked menacingly all week long. He now has another magnificent chance to break the Aussie Masters hoodoo but I can't see any value in his price at all.
He clearly thinks he's best fresh, as he took a month off before this week and when interviewed last night you could sense that he truly believes he's in great order and that he can win, but I'm not so sure. He traded as short as 1.392/5 during the final round here two years ago and he traded at just 1.021/50 at the Open Championship last year before his infamous collapse.
I'll never forget his dignified response to defeat at Lytham last July and I wouldn't begrudge him his moment in history should he earn it tonight, but I won't be backing him.
Jason Day and Marc Leishman both sit on -5 and both will bid to pip Scotty to that illusive first Aussie Green Jacket but neither make much appeal.
Day is a phenomenal talent but it's very hard to envisage him winning. His in-contention record is poor and when he did win his one and only PGA Tour title to date, the Byron Nelson in Texas in 2010, it wasn't pretty.
Leishman's story is an interesting one. Having had some success on the secondary Von Nida Tour in Australia and having failed to earn his Asian Tour card, against his family's wishes, he left Oz in 2007 to try and Monday qualify for what were then Nationwide Tour events - now known as the Web.Com Tour.
It was an extremely brave decision but it paid off. He earned enough in six events in 2007 to get conditional status on the Nationwide Tour in 2008 and he graduated to the main Tour after winning the WNB Golf Classic in October '08.
He won the Travelers Championship last year and he's a player on the up. I can't imagine he's quite ready to win the US Masters but he's a brave young man who knows how to overcome adversity. I'd rather take 25.024/1 about him than 10.09/1 about Day but it's very hard to see him winning.
My man, Matt Kuchar, who I described as the best value in the event before the off, has a chance. He'll probably need to break 70 and hope for a bit of help from the others but you never know. He doesn't get his head in front anywhere near as often as he should but there's no doubting his quality. I'm not hopeful but I haven't given up and he's priced up about right for me.
There'll be all sorts of grumblings if Tiger Woods wins after Friday's drop shenanigans and the last thing he needs is more controversy in his life now that things seem to be settling down. I've always thought he's been overly criticized and I think that's the case again this week. If he does win he'll deserve it.
If he gets on an early roll he still has the aura to spook the opposition but he's finished in the top-six in six of the last seven years since he won here in 2005 and my gut feeling is that he'll just come up short again - possibly by the two shots that were added yesterday!
Tim Clark shot the best round of the day to climb up the leaderboard yesterday so we know he's in fine form and we also know what a great record South Africans have at this event. With a final round 69, he finished runner-up in 2006 and a similar score this time around might see him go close. Playing with Woods, he won't be in the spotlight today and he's not without a slight chance. I backed him yesterday at 120.0119/1, and I have given up just yet.

In summary, although I'm miffed not to have backed Snedeker in-running (see below) earlier, I have to fancy him to convert. I managed to finally scramble onboard last night at 6.25/1 but only to recover stakes on the event and that's because I don't have absolute faith in his nerves.
If he can keep his emotions in check, he's definitely the man to beat but that is a big if. Up until the Tour Championship last year, he was always unreliable in-contention; with numerous examples of poor play in-the-mix. I do believe he's a different man now but at odds of under 4.03/1, he's not a tremendous price.
I'll be back tomorrow with my De-brief.

13:05 - April 13, 2013
Tiger Woods' price plunged again so I've layed the stakes back on the earlier bet.
I can now get away from the laptop for a few hours before the action starts tonight!

12:00 - April 13, 2013
I've taken a bit of a gamble and just backed Tiger Woods at 8.27/1.
The facts were there in black and white an hour ago but the price has shifted greatly on the strength of the comments made by the panel on Sky Sports over the last half-an-hour.
Rory McIlroy was allowed to play on here a few years ago after clearly grounding his club in a bunker and I think it's still more likely that he'll play on.
We'll see. If I'm wrong, I'm wrong, but I fancy the drift was too pronounced.

11:30 - April 13, 2013
After a dramatic and controversial second day at Augusta, Australia's Jason Day leads the US Masters by a solitary stroke.
Here's the halfway leaderboard with prices to back as at 11.30am.
Jason Day -6 8.415/2
Fred Couples -5 30.029/1
Marc Leishman -5 50.049/1
Brandt Snedeker -4 13.012/1
Jim Furyk -4 25.024/1
Angel Cabrera -4 30.029/1
Justin Rose -3 14.5
Lee Westwood -3 17.016/1
Adam Scott -3 17.016/1
Jason Dufner -3 32.031/1
K.J Choi -3 42.041/1
David Lynn -3 130.0129/1
Tiger Woods -3 4.67/2
-2 Bar

Thankfully, Day failed to birdie either of the last two holes because had he done so, the 14-year-old Chinese amateur, Guan Tianlang, would have missed the cut and that would be a sad travesty.
For the first time since 1995, since before Guan Tianlang was even born, the PGA Tour decided to penalise someone for slow play, and they picked on him, giving him a one-stroke penalty.
I'm not for a second defending slow play, it's quite correctly considered a blight on the game but as someone so succinctly tweeted yesterday, "after watching grown adults on Tour playing like snails, I find this appalling." And that's pretty much how I see it.
By all accounts he's painfully slow but so are Keegan Bradley, Kevin Na and of course, Mr. Slow-Play himself, Ben Crane, but they've not been punished. Thank heavens he made the cut because had he not it would have been tricky for officials. As is the Tiger Woods drop on 15...
If you missed it last night, Tiger Woods was extremely unlucky on the par 5 15th hole when his third shot clattered into the pin and ricocheted into the water. He then took a drop and made a six but afterwards he claimed to have dropped it two yards further back and that looks to have been an illegal drop. This piece here explains it eloquently but it seems, at the time of writing, that there's a real danger that Woods may yet be disqualified.
Onto my bets and it was a very disappointing day. I really fancied Matt Kuchar to relish the tough test and hang around all week but after birdying the second hole to get to within one of the lead and having been matched at just 9.28/1, he struggled badly and ended the day on -1.
I suspect Phil Mickelson may have panicked and pressed too soon when he saw in-play selection, Dustin Johnson, streaking off ahead. He was nicely poised on one under-par for the round and two-under for the event after eight holes but he went into meltdown after that. And so did Johnson!
My pre-event picks were struggling but Dustin Johnson appeared to be taking the event by the scruff. Having started slowly, with three straight fives, D.J looked in complete control when he birdied the par 5 13th to get to -7 but he came home in an ambulance - dropping six shots in the last five holes!
Best of mine now is K.J Choi on -3 so I'm not in the best of positions and there was more agony in-running too. It's a congested, quality-rich, hard-to-call affair and I didn't place a bet at all last night in-running but I did come close...
On three-under-par with a hole to play, I thought Brandt Snedeker looked a very fair price at 28.027/1 but I decided to wait and see how he played the final hole first. Unfortunately, we didn't see the drive, or the approach shot, and by the time we got to see him stroke his tiny birdie putt in the hole, the price had well and truly gone.
Having missed the price on Sneds, I'm just leaving things alone for now, though I don't rate him as a bad price now at 13.012/1, far from it.
The stats tell us that we need to concentrate on the small pack at the top, as Charl Schwartzel, two years ago, is the only player to win the event having been outside of the top-five at halfway since 1998, but can it really be that simple?
Provided he doesn't get slung out, Woods is an obvious threat and so too, according to the market, is Rory McIlroy. He sits alongside the likes Sergio Garcia and Schwartzel on -2 and trades at just 13.012/1.
That looks very short to me and if I had to have a bet it would be on Snedeker at the same price but I'm going to hang on for now and see what today brings, it's just too hard to call.
Sometimes the right thing to do is nothing and this feels like one such occasion.

11:50 - April 12, 2013
There was a general consensus before the start of this year's US Masters that we could be in for an absolute cracker and after day one, it looks as though we are. It looked an extremely open affair before the off and still does now.
Here's the first round leaderboard
Sergio Garcia -6
Marc Leishman -6
Dustin Johnson -5
Matt Kuchar -4
Rickie Fowler -4
Gonzalo Fernandez-Castano -4
Trevor Immelman -4
Freddie Couples -4
David Lynn -4
Jim Furyk -3
Zach Johnson -3
Adam Scott -3
-2 Bar
If recent history is anything to go by, the odds are that the winner will be one of the players already in the top-12, listed above, or either Tiger Woods or Phil Mickelson.
As detailed in the preview, since 1998, Woods and Mickelson are the only players to win the US Masters having finished outside the top-ten after day one, so it may well pay to concentrate on the early pace-setters.
Those stats would suggest you'd have to give Marc Leishman and Sergio Garcia a big chance but round one leaders don't have a great record - leading brings its own unique pressure. Trevor Immelman was tied for the lead in 2008 before he went on to win but you have to go right back to Ben Crenshaw in 1984 to find the previous round one leader to go on and win.
I've backed Dustin Johnson, who sits on his own in third on -5, modestly at 9.89/1, as I can see him making a big move early on today.
There were rumblings from a number of players yesterday about the slow pace of the greens, especially Mickelson, and that probably in part explains the lofty positions on the leaderboard of a number of players. Garcia and Gonzalo Fernandez-Castano, for example, are both players I wouldn't want to be with on fast sloping greens.
With overnight rain forecast, we might see some aggressive low-scoring from the early starters today and aggressive certainly describes Dustin Johnson. After booming a drive over the tall trees and across the dogleg on the par 5 13th yesterday, he hit a nine iron onto the green and knocked in the eagle putt!
He's always looked made for Augusta but until yesterday he hadn't showed it. The softer greens may have contributed slightly to his improvement but he's a player of immense talent who arguably should have won a major already and I felt I had to get him onside.
In addition to my wager on D.J, I've also backed past champions, Trevor Immelman and Zach Johnson and I've had a very small sentimental bet on Ernie Els, who perhaps should have won a Green Jacket before now.
I can't moan about the performance of my pre-event picks, with four of the five finishing the day under-par. Bubba Watson three-putted three times and appears to have joined the long list of defending champs to struggle but the others have fared well enough despite all four dropping shots over the final few holes.
I'm least confident about K.J. Choi (-2) and Luke Donald (-1) and I'm a little wary about Lefty (-1). After a slow start, he burst into life on the back-nine yesterday but dropped a shot on the 17th and he might just get over-aggressive too soon today. He's talking up his chance and he's sounding confident but that isn't always a precursor to a good performance will Phil. There is very definitely a danger that he could push too hard too early.
Obviously, the one I'm most happy with is Matt Kuchar, who could have fared even better. He was on -5 and in position A on the par 5 15th fairway yesterday but failed to make birdie there before bogeying 16. Regardless of the finish though, he looked in fine form and I'll be disappointed if he isn't in the shake-up come Sunday.
It was a great first day yesterday with a number of highlights. Exciting American prospect, Rickie Fowler, hit two double bogeys and just 21 putts during his four under-par 68 and England's David Lynn surprised plenty with his great start on debut. He too shot 68.
Former winners and now Champions Tour players, Bernard Langer and Freddie Couples rolled back the years to break par and at the other end of the scale, 14 year-old amateur, Guan Tianlang, from China created arguably the biggest story of the day. He confounded almost everyone by shooting a remarkable one over-par 73 and for me, that was the round of the day. Could he even make the cut?
Tiger Woods had threatened to stamp his authority on the event and was matched at just 3.4012/5 but three-putted the 14th hole to make bogey before paring the last four holes and Rory McIlroy started brightly but finished woefully. He flittered away far too many shots with the putter and two over-par on the back-nine was quite frankly a dreadful effort.
The greens are bound to speed-up considerably over the weekend and that will favour those with plenty of experience around here so I may well look to get Tiger onside today too. He looks a shade short at present at just 5.39/2 but I'll have my eye on him for sure.
Adam Scott is the only other player I've come close to backing and I see Paul Krishnamurty has gotten him onside. His Augusta record is superb, he's started well enough, and he's a reasonable price at 17.016/1 but I'm going to hang fire on him for now too.
The Punter's Pre-Event Picks
Phil Mickelson @ 15.5
Matt Kuchar @ 42.041/1
Luke Donald @ 44.043/1
Bubba Watson @ 46.045/1
K.J Choi @ 160.0159/1
In-Play Bets
D. Johnson @ 9.89/1
T. Immelman @ 95.094/1
Z. Johnson @ 95.094/1
E. Els @ 170.0169/1
Tiger Woods backed at 8.27/1 and layed back at 5.39/2
Tim Clark @ 120.0119/1
Brandt Snedeker @ 6.25/1
I'll be back in the morning with a look at the state of play at halfway.
*You can follow me on Twitter @SteveThePunter

Discover the latest articles