The Punter's US Masters In-Play Blog: Bubba wobbles as the young guns charge at Augusta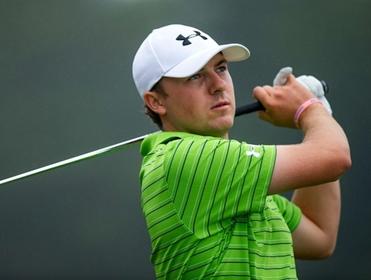 Jordan Spieth – on the verge of making history at Augusta
Bubba Watson has been reeled in by young debutant, Jordan Spieth, but our man hasn't given up on him just yet and with monster-priced pre-event pick, Miguel Angel Jimenez, also in-the-mix, Steve looks set for an exciting final round. Read his thoughts ahead of the fourth round here...
"With the quintessential blend of youth and experience, mercurial natural talent and plenty of British interest we may not have Tiger Woods this year but we do have arguably the most intriguing leaderboard in years and whatever happens tonight, it's going to be very entertaining."
11:15 - April 13, 2014
Bubba Watson went five clear and was matched at just 2.245/4 after he'd eagled the 2nd hole yesterday but it wasn't long before it became apparent that the mercurial self-taught left-hander wasn't going to walk away with the 78th US Masters and what we're left with this morning is one of the most intriguing third round leaderboards I've ever seen. Here's the current state of play with prices to back, as at 11:10

Bubba Watson -5 4.67/2
Jordon Spieth -5 5.95/1
Matt Kuchar -4 5.69/2
Jonas Blixt -4 13.012/1
Rickie Fowler -3 13.012/1
Miguel Angel Jimenez -3 21.020/1
Lee Westwood -2 13.012/1
Jim Furyk -2 26.025/1
Thomas Bjorn -2 34.033/1
Justin Rose -1 34.033/1
John Senden -1 120.0119/1
Freddie Couples -1 120.0119/1
Kevin Stadler -1 100.099/1
Ian Poulter level par 75.074/1
Gary Woodland level par 130.0129/1
+1 and 100.099/1 bar

Bubba's third round was a disappointment but not a surprise. It's never easy to dominate a golf tournament from early on and as highlighted yesterday, his past record when leading at halfway suggested he might struggle. His putting was particularly poor and time after time he failed to get the ball up to the hole but today's another day and he quite rightly heads the market still. 
At just 20, were he to win, Jordan Spieth would become the youngest ever winner of the US Masters. He'd also break the debutant hoodoo (Fuzzy Zoeller, in 1979, is the only first-time winner in the last 75 renewals) and he'd improve on his in-contention record considerably too... 
Spieth has already won on the PGA Tour - winning a three-man playoff at the John Deere Classic last year but he did that from the pack. He was six behind after round three there and on the 11 occasions he's been within five of the lead with a round to go he's failed. His age, the debutant stat and his in-contention record are all against him but 19 of the last 23 winners came out of the final pairing so that's a big plus and he's such an incredible phenomena that interpreting stats could be an exercise in futility. He's clearly going to be at the top of the game for years to come and win many a major but is he quite ready? I'm not convinced.
Matt Kuchar was my big fancy last year but I left him out this time around on account of price and on account of his poor in-contention record. He looked too short before the off, prior to yesterday's third round and he does again today. I have absolutely no doubt whatsoever that he has the game to win but I really don't think he has the minerals. He's traded at odds-on in each of the last two PGA Tour events and failed to convert and I'd be a little surprised if his nerves held up today. 
I'm more than happy to be with Jonas Blixt and I can see him hanging tough again today. Nobody is putting better and although it's hard to see him winning the event (he too will need to break the debutant hoodoo) he looks a great price at 11/5 on the Sportsbook to beat Kuchar in their two-ball. 
In what has to be considered the most charismatic pairing of the day, Paul Krishnamurty's each-way fancy, Rickie Fowler, will be playing with one of my pre-event picks, Miguel Angel Jimenez. Fowler has got back in to the argument courtesy of a five-under-par 67 in round three and The Mechanic has set up his chance at glory thanks to a stunning six-under-par 66. 
I'd love to think a Miguel Miracle was on the cards but it's so very hard to back up a low score and to back one up in the final round of a major doubly so. 
Ten minutes before the 50 year old Jimenez tees off, two men in their forties, Lee Westwood and Jim Furyk, will start their bids to break yet another trend. It's now 16 years since anyone over 40 won the Masters but if you're a fan of the Worksop Wonder, don't let that put you off. No Aussie had ever won before Adam Scott won last year and I'd file the no winner in 16 years over 40 alongside that stat. I can see Westwood figuring. 
Furyk's nerves are not what they were and I'd be very surprised if he won but Westwood looks set for a strong challenge. Being just off the pace with a round to go will suit Lee far more than leading at last summer's Open Championship did and if he's ever going to win a major, this could be it. I can't quite back him at the price but I wouldn't want to put anyone off him and I'll be cheering him on regardless. Lee's a great guy and there can't be many that don't want to wish him all the very best.
Thomas Bjorn was matched at just 8.07/1 yesterday before he limped home - dropping three strokes over the last six holes and he's another veteran bidding to break the 16 year over 40s hoodoo. Like Lee, he'll also be favoured by coming from slightly off the pace but I'm not confident and although he's a shot worse off, at the same price I fancy his playing partner, Justin Rose, has a better chance.
Whatever happens today, I'm happy that I haven't disgraced myself with my selections. With Freddie Couples alongside Rose on -1 and Gary Woodland on level par, along with the aforementioned Bubba and Miguel, four of my original nine are inside the top-15 with a round to go and I'd have settled for that before the off. 
With the quintessential blend of youth and experience, mercurial natural talent and plenty of British interest we may not have Tiger Woods this year but we do have arguably the most intriguing leaderboard in years and whatever happens tonight, it's going to be very entertaining. 
Other than my two-ball bet I'm leaving things alone for now but had I not already been on Bubba I'd be backing him this morning. The 2012 winner could well have had his blip yesterday and with so many trends and stats going against his nearest pursuers he looks a reasonable price to me. 
If you want to get involved in-running later, taking on anyone that goes odds-on could pay dividends. As highlighted in the in-play section of the preview, a number of players have traded at odds-on and failed to win recently and I could very easily envisage that happening again this year. 
I'll be back tomorrow with my De-Brief but if Miguel somehow manages to pull it off tonight, don't expect it to be early!

12:00 - April 12, 2014
We've reached the halfway stage of the US Masters and Bubba Watson has opened up a commanding lead, despite bogeying his final hole yesterday. Here's the current leaderboard with prices to back, as at 11:40.

Bubba Watson -7 3.052/1
John Senden -4 21.020/1
Adam Scott -3 6.05/1
Jordon Spieth -3 15.014/1
Thomas Bjorn -3 30.029/1
Jonas Blixt -3 40.039/1
Jimmy Walker -2 23.022/1
Jim Furyk -2 27.026/1
Freddie Couples -2 50.049/1
Jamie Donaldson -1 55.054/1
Stephen Gallacher -1 80.079/1
Russell Henley -1 85.084/1
Kevin Stadler -1 95.094/1
Kevin Streelman -1 100.099/1
Matt Kuchar level par 28.027/1
Lee Westwood level par 42.041/1
Brandt Snedeker level par 50.049/1
Louis Oosthuizen level par 70.069/1
Gonzalo Fernandez-Castano level par 150.0149/1
Lucas Glover level par 300.0299/1
Henrik Stenson +1 55.054/1
+1 and 120.0119/1 bar

Things panned out in much the way I'd expected yesterday, with the early round two starters enjoying a considerable advantage over the later starters (almost 1 ½ shots on average) and pre-event selection, Bubba Watson, made the best of it. Unfortunately, the same can't be said about my two in-play wagers...
Marc Leishman started brilliantly and after he'd birdied his first three holes to take the lead on -5, he was matched at just 12.011/1 but incredibly, he's missed the cut after playing his last 15 holes in a dreadful ten-over par!
And after getting to -4 and sitting in position A on the par 5 15th fairway, Louis Oosthuizen looked poised to figure high up on the halfway leaderboard. He was matched at just 11.010/1 and that didn't look unduly short but having watched player partner, Matt Kuchar, come up short and wet, Louis went long and over the green, from where he played a heavy-handed chip back over the green and into the water. He made an ugly eight there and bogeyed the last too. 
That's more than enough moaning from me though - find me someone without a hard luck story from Augusta and you'll find me someone who hasn't had a bet - let's move on to the current, very confusing, state of play.
Bubba Watson, for the second day in-a-row, played some sublime golf yesterday and deservedly leads by three but if you're considering ploughing in at just a shade over 3.02/1, I might be about to put you off. 
Only two halfway leaders, or co-leaders, have won the Masters this century and Bubba's record when leading after 36 holes is poor. He's led or been tied for the lead eight times on the PGA Tour at halfway but won just once and that was via a playoff! 
The good news for us Bubba backers is that he's never led by as many as three before and that he does appear to be extremely well-focussed and determined. If he can maintain his composure and hold his form, he's going to be very hard to beat but ask anyone that backed him at the Phoenix Open in February whether we can expect an easy ride and you'll get an emphatic no. He jittered away a two-stroke third round lead there and I have to confess, I am apprehensive about the weekend ahead. 
So if not Bubba, who? Here's a look at the contenders in price order.
Adam Scott fought back brilliantly yesterday after a dreadful front-nine and he looks a better bet today at 6.05/1 than he did yesterday at 6.411/2. What I should have done yesterday, and I very nearly did, was lay some Bubba back at around 2.89/5 and get the defending champ onside in-running. I was still tempted to do that this morning but after much deliberation, I'm going to leave it alone as I still think defending is such a big deal.
One of the features of this year's renewal was the high number of debutants in the field (24) and so we perhaps shouldn't be surprised that so many of them feature at halfway. Jordan Spieth is now just 15.014/1 to win it but he's not for me. So far this week he only ranks 55th for scrambling and if I were to be ultra-critical, he's gone AWOL in a few regular PGA Tour events over the weekend too. I can see why he's popular in the market but he's too short for me.
John Senden will be full of confidence after his win at the Valspar Championship a month ago but that was just his second win on the PGA Tour, and that came eight years after his first. He tends to get nervous in-the-mix and doesn't win anywhere near enough for me and indeed, he did get a bit lucky when he won last month - chipping in for birdie on the 16th hole when a bogey looked odds-on.
Jimmy Walker is another debutant in-contention and again, does that tell in the stats? He ranks just 78th for scrambling and US Masters champs rank an awful lot better for that key stat here. I can't back him either at just 23.022/1.
I do have a feeling that we could see some carnage tonight, and I do think it's possible that the stats can be blown out of the water with regards to how near to the pace you have to be at this stage (most winners are just one or two off the lead at this stage and Charl Schwartzel and Tiger Woods are the only winners to be more than four back this century) but I can't back Matt Kuchar at just 28.027/1! Schwartzel and Tiger broke the trends but they were still within six and I just can't have Kuuch from seven back.
Danish veteran, Thomas Bjorn, and Swedish young-gun, Jonas Blixt, will feature in the penultimate two-ball and I quite like both. I backed Bjorn at 46.045/1 after he'd finished his second round yesterday and he's shortened up nicely since, and I was happy enough to have a very small bet on fellow Scandinavian, Jonas Blixt this morning at 40.039/1.  Blixt is yet another first-timer but his stats are quite good and I really like his attitude. He contended well over the weekend at the US PGA Championship last year when he finished 4th in what was just his second major. He's already won twice on the PGA Tour and it's very hard to see why he's more than twice the price of the much younger Spieth.
The only other bet I've had is the tiniest of top-ups on Louis Oosthuizen at 70.069/1, who is one of a number of quality players on level par. He'll be bitterly disappointed by yesterday's balls-up on 15 but I can see him playing well again today and getting back in it. 
With a fascinating blend of youth and experience, and with the obvious question marks about so many, including the leader, we looked poised for an enthralling third round and I'm very much looking forward to the inevitable drama. I'd have loved to have been confident of a decent wager at this stage but I'm not going to force one that isn't there. I'll be back in the morning to see where it all sits with a round to go.

09.40 - April 11, 2014
A combination of tough pin placements and a tricky afternoon wind tested the field on day one of the US Masters and as a result only four men broke 70. Just 19 ended the day under par and Bill Haas' four-under par is the highest leading day one score for seven years. Here's the first round leaderboard with prices to back, as at 9:15.

Bill Haas -4 21.020/1
Adam Scott -3 6.411/2
Bubba Watson -3 9.28/1
Louis Oosthuizen -3 17.5
Brandt Snedeker -2 22.021/1
Gary Woodland -2 28.027/1
Jimmy Walker -2 36.035/1
Marc Leishman -2 38.037/1
K.J Choi -2 50.049/1
Kevin Stadler -2 80.079/1
Jonas Blixt -2 100.099/1
Rory McIlroy -1 10.09/1
Rickie Fowler -1 38.037/1
Jordon Spieth -1 38.037/1
Francesco Molinari -175.074/1
Stephen Gallacher -1 110.0109/1
Freddie Couples -1 120.0119/1
Miguel Angel Jimenez -1 120.0119/1
Matteo Manassero -1130.0129/1

Selected others
Matt Kuchar +1 32.031/1
Henrik Stenson +1 46.045/1
Sergio Garcia +2 50.049/1
Lee Westwood + 1 55.054/1
Phil Mickelson +4 65.064/1
Graeme McDowell level par 65.064/1
Jason Day +3 80.079/1
Steve Stricker level par 85.084/1
Charl Schwartzel +1 85.084/1
100.099/1 Bar

I'll start with a quick look at my pre-event picks and whilst I was bitterly disappointed, although not entirely surprised, with the unpredictable Phil Mickelson, and equally disenchanted with my headline pick, Luke Donald, I can't really complain about the start I've had, given that five of my nine are under par. Not a bad start when on only 19 of the field of 97 managed to break the par of 72. 
Lefty has already derailed his attempt to win a fourth Green Jacket, with a pair of sevens - a triple bogey at the 7th and a double at the 15th. Nobody has ever won the Masters having recorded a triple bogey and I can't see Phil changing history. And Donald double-bogeyed the 1st hole and never got going all day. Lefty shot a four-over-par 76 and Donald 79.
Bill Haas was certainly a surprise first round leader to me. His major record is very poor, with a tied 12th in the US PGA Championship in 2011, his best effort from 17 attempts. As highlighted in the preview, a fast start at Augusta is absolutely imperative but leading after round one is far from ideal. Trevor Immelman won wire-to wire in 2008 (the first to do so since Seve in 1980) but he's the only first round leader to win in 18 years. That stat, alone, along with the fact that he has three proven Augusta specialists right on his tail, make the 21.020/1 available about him somewhat unappealing.
Defending Champion, Adam Scott, traded at 5.59/2 when he'd reached four-under-par through 11 holes. A slightly disappointing finish has seen him drift back a bit but at just 6.86/1, he makes no appeal either. Jack Nicklaus, Nick Faldo and Tiger Woods are the only men to have ever defended the title and that's something that still puts me off Scotty. Although another recent stat suggests he has every chance...
Each of the last six winners have opened up with a round in the 60s and if that's to be repeated this time around, the 2014 winner will either be Haas, Scott or one of the two men sitting alongside the defending champ - the 2012 playoff protagonists, Louis Oosthuizen and Bubba Watson. Given Scott has started so well, his price is more than reasonable considering he was no more than 13.012/1 before the off and I wouldn't put anyone off backing him but defending the title is a big issue for me and I like the other two tied for second.
I've already got Bubba onside but he looks a decent price to me and had I not already backed him I'd definitely be doing so now at 9.417/2. He played brilliantly yesterday and he could have very easily shot two, three or even four shots better as he very narrowly missed a number of good-looking putts. He's been shortening up ever since he finished his round and I can see why. I have topped-up on him but I have backed two more players though...
Given he has proven Augusta form and that the stats suggest he's very nicely placed, I felt I had to take the 17.016/1 available on the Sportsbook about Oosty and I've also backed last year's fourth-place finisher, Marc Leishman. I took a chance and got him onside just before he birdied the last.
Watson, Oosty and Leishman all have the advantage of an early start today and that's another big reason to back them. The morning starters appeared to be favoured yesterday and with the forecast suggesting the same again today, with the wind proving troublesome in the afternoon, those three have a great opportunity to post a nice score. They're the only three inside the top-11 to have the advantage of an early start today so they look the ones to side with at this stage. 
Maybe we can't take the stats quite this literally, especially given the leaderboard is so bunched (39 players on +1 or better) but with that potentially crucial early start today, that trio really do look well placed. Tiger Woods and Phil Mickelson (who have seven Green Jackets between them) are the only players to win from outside the top-ten after round one since Mark O'Meara took the title way back in 1998. 
I'll be back in the morning to take a look at the state of play at halfway.

Pre-Event Selections:
Phil Mickelson @ 20.019/1
Bubba Watson @ 36.035/1
Luke Donald @ 65.064/1
Gary Woodland @ 140.0139/1
Fred Couples @ 200.0199/1
K.J Choi @ 200.0199/1
Trevor Immelman @ 240.0239/1
Miguel Angel Jimenez @ 320.0319/1
Scott Stallings @ 450.0449/1

In-Play Bets
Louis Oosthuizen @ 17.016/1 (Sportsbook)
Marc Leishman @ 50.049/1
Jonas Blixt @ 40.039/1
Thomas Bjorn @ 46.045/1
Jonas Blixt to beat Matt Kuchar @ 11/5

*You can follow me on Twitter @SteveThePunter
Discover the latest articles