The Punter's Open Championship De-Brief: Mickelson masters Muirfield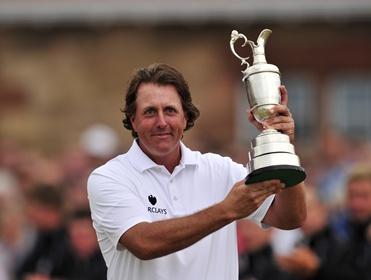 Phil Mickelson with the Claret Jug
It's been a great week for Steve with two of his pre-event picks finishing first and second but what have we learnt for next year? Read his look back at this year's Open Championship here...
"Tiger's record at the weekends at majors is starting to look very poor. He's now a combined 14-under-par over the first two days but 23-over-par over the weekend in his last seven majors. Is he finding number 15 hard to get? Without a doubt he is."
Five weeks after suffering heartbreak at the US Open, where he finished runner-up for the sixth time, and one week after winning the Scottish Open, Phil Mickelson came from five behind to win the Open Championship, with a sensational final round five-under-par 66 which he described as "the round of my life".
My Bets
After a run of five or six weeks of near misses, including playoff defeats at both events last week, I've finally nailed one! Mickelson denied me a bumper payout when he beat my pick, Branden Grace, at the Scottish last week but funnily enough, I've now forgiven him.
As detailed in the In-Play Blog, I was happy enough with my book with a round to go and things went swimmingly on day four. I nearly missed the move by Ian Poulter, who having been matched for a couple of hundred pounds at 1000.0, went on a run that included an eagle and three birdies in four holes but mercifully, I joined the party at 60.059/1 - although ultimately, I needn't have bothered.
I layed a bit of my Henrik Stenson wager back and I also backed Lee Westwood late on when he was Phil's only conceivable danger but with nobody but Poults charging from the pack, it was a relatively straightforward day.
Mickelson was a great result and I also had a decent bet on Fred Couples to finish the week as the top senior player but there's always room for a moan...
I felt a little unfortunate that my lay of Lee Westwood in the top-five market wasn't successful - given he shot a disappointing four-over-par 75 - and I'm really cross with myself for not getting anything out of my Nicholas Thompson wager in the week's other event.
I'd backed Thompson before the off at 70.069/1 and he led with a round to go but I was glorying in Lefty's win instead of watching events in Mississippi. He was matched at a low of 2.8415/8 and for plenty at 3.02/1 and I missed out on laying him at 3.8514/5 when I saw he was in big trouble at the par 5 7th (where he made a 7!) by a split second. Oh well, mustn't grumble.
Trading tips for next year?
Get your research done and get your bets on early at the all the majors. We know the field, we know the course and we know the history of all the majors well in advance, so there's no excuse not to have all your research done and dusted a week or more before the event. Of course, we don't know the condition of the course or the weather but that doesn't matter, if you're ahead of the market and you change your mind about a selection, you can always lay them back.
Mickelson was matched at 38.037/1 before the Scottish Open started and he went off at 13.012/1 on Thursday morning! I backed Henrik Stenson and Branden Grace before the Scottish Open at 70.069/1 and 150.0149/1 and both went off considerably shorter after a good week at Castle Stewart.
Concentrate on the speciality markets and look for the ones that contain plenty of deadwood. Some of the top nationality markets include plenty of out of form players or players that simply don't play well at the Open and there's often a bit of value to be had.
If you're planning to bet in-running, keep an eye on the hole averages, the weather forecasts, and follow the leaderboard and not the TV.
It's hard to work out the hole averages beforehand but once round one is out of the way it's easy enough - the Open Championship website displays them live, and backing someone before they play a run of tough holes is rarely going to work out well.
The weather didn't have a huge bearing on this year's result but most years it does and keeping tabs on the forecast is essential. The Open is always staged on a coastal links and conditions from one hour to the next can vary greatly.
If you're betting during play, don't just watch the TV coverage, follow the leaderboard really closely. I lost count of the number of times it updated a player's score miles in advance of it being shown on TV. And here's a really sad little tip that helps. Click on the player's individual scorecard - that usually updates first. It's labour intensive but it really is worth it.
Friday lunchtime and at the end of round three are often the best times to trade.
The wind usually gets up in the afternoon and halfway through round two is a great time to strike. Most punters are optimistic and the market reflects that. Players in a good position after day one but yet to play round two are very often too short and as a result, those safely in the clubhouse after round two are too big.
It often takes the market a bit of time to work itself out as the third round ends and that was certainly the case this year. I backed Angel Cabrera, Zach Johnson and Ryan Moore at odds of 42.041/1, 55.054/1 and 65.064/1 respectfully, and by the time they teed off in round four, they were trading at 30.029/1, 36.035/1 and 42.041/1 respectfully.
I can only assume that the main reason those three were so big initially was that enough layers thought that four behind Westwood was too far back and it took time for them to realise that if Westwood flopped, they were only two back of two players (Tiger Woods and Hunter Mahan) and just one behind Adam Scott.
Will Tiger ever catch Jack?
After Tiger won the US Open in 2008, he was a very long odds-on chance to catch Jack Nicklaus' major tally of 18 but he's still looking for number 15 and it's starting to look a difficult target to reach. I thought he was a bit too negative with his tactics last year at Lytham and again here and his record at the weekends at majors is starting to look very poor. He's now a combined 14-under-par over the first two days but 23-over-par over the weekend in his last seven majors. Is he finding number 15 hard to get? Without a doubt he is.
What have we learnt for next year?
The last three Open Champions have been in the 40s and they've all teed it up at the Scottish Open the week before. I think we can expect quite a strong field at Royal Aberdeen in 12 months time don't you!
Yet again the winner had bags of Open Championship experience, had finished placed in the event previously and had won within 12 months of lining-up - all strong trends reinforced emphatically and yet again, the winner hadn't played in the States the week before. Todd Hamilton remains the only winner to have done so in well over 30 years.
Well, that's enough looking back for one week, it's time to look forward to next week and to the Russian Open and the Canadian Open - both of which I'll be previewing either tomorrow night or on Tuesday morning.

*You can follow me on Twitter @SteveThePunter
Discover the latest articles